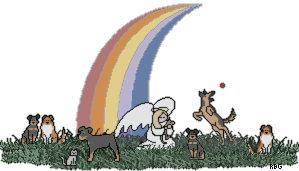 I think God will have prepared everything for
our perfect happiness. If it takes my dog being
there (in Heaven), I believe he'll be there.

~ Rev Billy Graham
This page was most difficult for me to work through;
loss and longing has never been my strong suit. It
must be so, 'death ends life, but not a relationship.'
Every now and then, soft as breath upon my skin
I feel you come back again, and I believe.
Names are magical. One word can pour such a
flood of emotion through the soul. ~ Walt Whitman
When they neared the edge of all the love they knew
And slipped from my arms into the dimension of unknown,
I have to believe that one of two things happened.
There was something divinely solid for them to stand on,
Or they were taught to fly.©
Dogs Also Grieve

for them, a quiet thing...

"Silent Sorrow"
- Maude Earl


"The Shepherd's Chief Mourner"
- Sir Edwin Landseer
home
/
index
/
me
/
timey
/
nicci
/
poledog
/
eli
/
cats
/
aProperDog
/
missing bart
/
loss
dog yard
/
pack friends
/
nice stuff
/
rehomed rottie journal
/
rescue
/
USA
/
photo album
information links
/
webrings
/
apply awards
/
award winners
/
awards received
/
guestbook
Custom Rainbow&copy ~ www.recyclebingraphics.com
background© ~ primlicious.com