c1993 by S.M. Plottner
Some talk about John Lennon
And the way he left this folly,
Some talk about Janis or Jimi,
Or the wreck of Buddy Holly,
And some say Elvis left us,
But he's alive to you no thanks,
I'm in the back of the Cadillac
Of the man that's known as Hank.

You know the time of year now,
You know your watch is wrong,
No carol plays for sweet Jesus,
The Santa Claus has gone.
It is the season of death
When destiny pulls rank,
I'm in the back of the Cadillac
Of the man that's known as Hank.

No exit beckons on Route Sixteen
Except the all-night diner,
Thin waitress pours brewed sledge
For thick Appalachian miner,
Our driver pauses to join him
As he pinches eyes blood red,
I'm in the back of the Cadillac
Of the man that's known as dead.

You know the time of year now,
You know when pain survives,
You know he sang as new year rang
He'd never leave this world alive,
Bring back baby Jesus, preacher,
Bring back that silent night,
I'm in the back of the Cadillac
And my heart has gone ghost white.

I hear vexed voice at Pure Oil,
Vocal chords cut by pure fright,
I see a glowing hospital sign,
Its letters lit by glum spite,
The doctor, his foreign tongue,
Says the man is dead on arrival,
In the back of the blue Cadillac
I'm pleading for my survival.

You know the time of year now,
You know the ache for love,
Lamb's blood on your doorpost
This time may not be enough,
The death angel rides the road
From Babylon to the Think Tank,
I'm in the back of the Cadillac
Of the man that's known as Hank.

We want to continue our journey,
Our destination none foretell,
From Knoxville to Canton, Ohio,
Is a highway hounded by hell,
A lone dog barks in blackness,
Cold engine block cannot crank,
I'm in the back of the Cadillac
Of the man that's known as Hank.

You know the season of death,
You cultivate its callus,
You know the schedule we keep
Calls us to play The Palace,
Is it glory or godless?
A song sung for your sins?
I'm in the back of Hank's Cadillac
And your cheatin' heart wants in.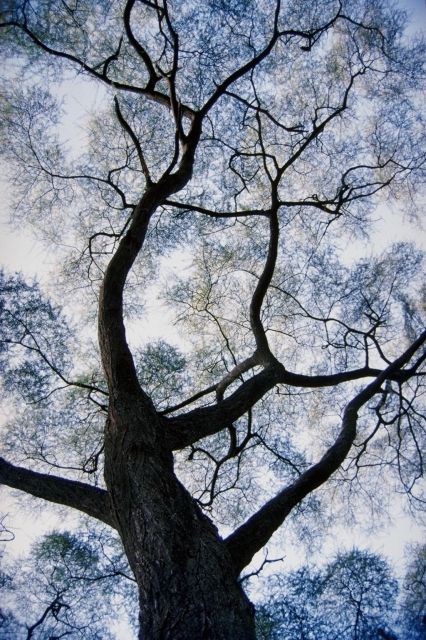 "I'll never leave this world alive."
Hank Williams, December 31, 1952
Blood Shot
c1993 by S.M. Plottner
Precipice of pristine paradise,
the distant destination, hangs
like Sistine ceiling as slow
sunset paints a Venus. And a
pale half-moon. And a star.
Then a blistering black of
no hope, far-away dark daze
of dreams lost, of empty
train bemoaning boarded
station. The sleeklong
lightblue Cadillac speeds
through coal country, its
driver drowsy, its rider
Blood Shot from the Gates
of Eden opening to his heart,
Blood Shot by I Saw The Light
lingering in lowliness, Blood
Shot by the Babe of Bethlehem
breathing on low radio, in
songs he wrote, in love he
craved, in descent into the
song-made grave, grease-garbled
engine knocks from fuel flood,
a head tilts like dull scythe
into the waving wheat fields of
want, another few miles of
asphalt and tires until the
Skyline Diner, where midnight
on pine scaffold of despair
paints a star black, another
star, and another star, until
only dark remains out there
to warn death's dampening skin
that another road, another trip
is all that awaits he who survives:
the corpse sang seven hours ago
he'd never leave this world alive.
But train at boarded station,
but sunset and midnight, brush
strokes from brushes made from
steel guitar strings, each in its
own way said: he'd never leave
this world dead. Humans grieve
the long gone voice, youth's
killer choice, dull pain of
dimming vision, slim vision of
daily dance, the light fandango,
the slow country waltz. The
trooper filled his forms,
the doctor spoke his peace,
pulling white cotton sheet
over the head of his first
dead-on-arrival of 1953,
it could have easily been you
or me, perhaps it was, perhaps
the morgue has met you, perhaps
the feeling in your chest was
the first life you ever felt
and it was your heart attack
about to happen. Jack Tyree
embalmed the body for burial,
drove it back to Alabama.
He removed the blood as the
embalmer always does, but still
rides the rider, still riding
Highway Sixteen from Knoxville,
Tennessee, to Canton, Ohio,
from gold to tapered steel,
from one gig to one gig, from
one stage to one stage, from
one song to one song, from
one day to one day, from
one night to one night, as
again, once again, sunset
paints twilight, a splash of
moon, a strand of starlight,
a Venus twinkling, a strum of
darkness, then symphony of black.
And midnight blotting coal dark
fist onto canvas of the cardiac
with only lightblue Cadillac
surviving in its aftermath
to ride, ride, ride to play
the Palace Theater, yet never
arriving, only and always riding,
and like those who loved once
and long to love again, and
those who dreamed once, and
would die to dream again, and
those who touched once, and
crave to touch again, almost
love, or almost dream, or almost
touch a stranger's hand, then
turn corpse-cold, coffin-dry,
earth clogged, and pray, pray
again, to be Blood Shot.

Crossroads
Head home now before it gets too late
Go one more mile to next splotworks
Spend a night at the Memory Motel
Get down to business before business gets down
Order your supplies before supplies run out