You Gotta Laugh!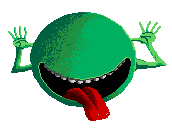 Comedy. What would we do without it. Well, I think I'd be climbing the walls, and being very vicious if I couldn't laugh. And the best sense of humour to have is a warped one. *G* More fun.

Ok now, well, I've split the stuff I like into 2 halfs, Australian comedy, and British comedy. I had to, coz I kept getting told it all took too long to load.

In the Aussie comedy corner, we have The Doug Anthony Allstars (of course). My favs, of all time. Plus, Lano & Woodley, and a couple of snitches of Jimeon & the D-Gen's Late Show.

In the British corner, we have Red Dwarf (another great fav), plus The Young Ones, Blackadder, and Fawlty Towers.

So that's a titbit of what's on the pages. I'm working on them at the moment, so sorry if you have trouble with them.

Oh yeah, I've put the link to Good News Week here, coz I really wasn't sure whether to put it here or on my sixth page. *L* It's a really great site, to fit a really great show!

Enter through here

Aussie Comedy
British Comedy
Good News Week
Monty Python Page
Back to main page
Jokes page
Limericks page

If you can't say anything nice about someone, you're probably a lot of fun to talk to.
Anything is possible if you don't know what you're talking about.
At any moment I could start being a better person. But which moment should I choose?
Many people would rather die than think. In fact they do.
The wages of sin may be death, but the hours are good.
May we all get to heaven half an hour before the devil finds out we're dead.
Bread always falls butter-side down. If it doesn't, you buttered it on the wrong side.
A little ignorance can go a long way.
I believe our destinies are determined by the stars. Life's a lot more fun when you're not responsible for your actions.
When I was born I was so surprised I didn't talk for a year and a half.
If you want to bring a centipede to a crashing halt, ask it in which order it moves its legs.
Never trust a tall dwarf. He's lying about something.
Email: corky_d@hotmail.com