The Walhonding Valley Scenic Trail
This is my website for my dreamed rail-trail project. The Walhonding Valley Trail would be built on the abandoned Penn Central railroad bed of the late Toledo, Walhonding Valley, and Ohio (or just the "Wally")Railroad. This trail would be approxiametly 20 miles long and would connect the villages of Brinkhaven and Loudonville, Ohio. In Loudonville, it would connect to the planned Ashland County South Bike Path, and in Brinkhaven to the Holmes County Trail and the Mohican Valley Trail, both part of the planned Ohio To Erie Trail.

In addition, the trail will be accessible to many amentities, listed here.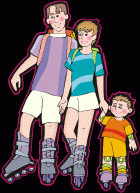 Trail Route Maps
Section of 1898 Ohio Railroad Map showing Railroad ROW and a map showing the Proposed Trail Route.
Click here to view the Walhonding Trail Map.
Trail Route Overview
Click here to see the planned route for the trail
Construction Plan
Click here to view the construction plan proposal for the trail.
Any questions, concerns, or ideas, please feel free to e-mail me at: wolvesmoon76@yahoo.com

Return to
Main Page