SoftMaple N HunterBay
Fall Litter
---
Why we are doing this litter, and why we are doing this litter at SoftMaple?
Bailey was born at SoftMaple. She was from a very special litter. I had been researching bloodlines from top working and show lines overseas when I came across a beautiful bitch that did it all. This was S&N FTCH INT&S&N CH NV-99 SW-00 Ringlets Vanquishing Gale.


Steffie


Steffi is the youngest curly in Europe ever to gain the title of Field Trial Champion. In 1999 Steffi was the winner of the Field Trial at the Curlyträffen, where she also went BEST IN SHOW. Her show Career, she has been shown extremely seldom: a total of 12 Championship Shows has given her 11 CC´s and 11 BOB or BOS. In addition, Steffi has entered the big breed specialities in Sweden and Finland three times with results: BIS, BIS-2 (Best Bitch) and BIS-5.
To see her Field Career
My first thought was to try to lease her for a litter. But with the quarantine in Sweden, it was impossible. My next thought was to try to purchase one of her pups, but I know when people export a dog, they do not let the best pup leave from a litter.And she had very few females in the litter I was looking at. So I waited. And when I saw her son's growing up.... I knew what I had to do! I fell in love with Tarras, who had the structure and working ability I was looking for.
You can see more of Tarras here
I had to check out the AKC policy of bringing in semen. Then decide if I should go for frozen semen, or chance fresh chilled. With fresh chilled, the semen can live several days, but with transporting from overseas, it could get hung up for several days with customs, or delayed flights. We went with fresh chilled semen.
You can read about the whole breeding with fresh chilled semen here
The litter resulted in two girls. I knew I was going to keep a girl, and for 49 agonizing days, we debated over which girl to keep. I loved things about both, and it was a hard decision. The decision got a lot easier when Wanda from HunterBay Curlies expressed interest in the other female. :-)
That way I could keep a close watch on how Bailey turned out, and not keep littermates....which can be a nightmare!
Wanda is a great friend of mine, and loves Bailey. Bailey is a sweet girl, who has a lot of field drive. We decided that Bailey would really do well in field training, and we both decided that for the spring and summer, that Bailey would go into *Boot Camp* with Mary Folwer, of Grace Farm's retrievers. Well, Mary fell in love with Bailey too!
Mary is the owner of Jet (CH SoftMaple's O'Dark Thirty MH WCQ CD CGC TT HOF CR-536G27M-T OFA cardiac, CERF) the first Curly Master Hunter with an AKC Championship. She talked about how the natural instinct of Bailey would mesh well with the drive of Jet. Of course this is a litter I had thought about doing down the road..... but since their two roads crossed one steamy fall night... it seemed right. As you may have noticed, Bailey is not two years old. So she can not have an OFA hip number. Since I knew the timing would be so right for a litter, but just a few months shy of her 2nd birthday, I looked into PennHip hip scoring. Penn Hip can be done when a dog is under a year, and gives a distraction index of the hips laxity. It is said (by PennHip folk) to be a better system of doing hips than OFA. I just wanted to have a hip exam done on Baily before I decided on the breeding. We also got her CERF and OFA Cardiac exam by a licensed cardiologist. those can be done before a dog is 2. The breeding was a good idea, but I was not going to compromise on genetic testing.
(I do want to mention here that PennHip was A lot more expensive than OFA Xrays were....so this was in no way a cheep way out of getting OFA done....)
The other reason I wanted this breeding to go through was that Jet is getting up there in age. This may possibly be the last natural breeding he has. I do have semen stored from him, but a natural breeding is so much better.
Now, it may seem I am concentrating on the field aspect of this litter. I am not bragging anything up to sell the litter, as they were sold before they were even born! But.... on the non-field part of the litter..... Bailey's sister Aysa was Reserve Winners Bitch at the 2004 CCRCA National Specialty.
Her brother Alphie finished his AKC Championship with 5 majors. Bailey's mom Ripple, is from the International litter, which has 8 AKC Champions in it. Bailey's grandma Bumper, is also mom of the 4 time BIS winning Rebel. And on Jet's side... he is the first AKC Champion to earn a Master Hunter title. His daughter was Winners Bitch, Best of Winners at the 2004 CCRCA National Specialty.. She is also the first liver curly to win a sporting group first. Behind Jet is Teddy. Teddy was a multi group placer who won first AKC recognized CCR National Specialty (1994) Teddy is the sire of the first female curly coated retriever in the breed's history to reach the title of Master Hunter and 2nd Master Hunter over all in the breed. He is behind Jet and Jade, and many other curlies who just love to hunt.
Since the show stuff is such a small part of a curly's life... lets move on. Bailey's sister Aysa earned her AKC Companion Dog Obed title before she was a year old. Jet has kids titled in Agility and field. One of his sons was on the cover of the fall issue of Dog Sport Magazine and was the top Curly Coated Retriever in Canada in the AAC for 2003. But the important thing is they have a lot of natural instinct, and wonderful temperaments.
I am just telling a few of my reasons for bringing Bailey to Jet. I am not trying to push this litter! There are no pups available. I Do not do a puppy diary to sell puppies. I do it to show the new puppy owners what their puppy goes through for the first weeks here at SoftMaple. These web pages are a labor of love. Love of the breed. Love of taking the time to do the litter. It is not to sell pups. I don't have puppies to make money. I loose money when I have pups. I have a job to make money...and I have to take unpaid time off from my job to take care of puppies. It sickens me to see people who have a litter to get ready cash. Since the ones that pay are the dedicated people in the breed in the long run.

Meet some of the dogs behind this pedigree
---
Some of Jet's siblings;

CH Soft Maple's Black Teddy WC JH

CH Soft Maple Crossing Delancy WC JH

Soft Maple Velvet Elvis JH WC CR-539G26M-T
---
Some of Jet's kids

CH SoftMaple's Dr Kananga OFA Hips & OFA Cardiac clear, CERF 2004

CH Softmaple's Pheasant Dreams CGC WC
Winners Bitch, BOW at the 2004 National. First liver bitch to win a Sporting Group.

CH SoftMaple Gunflint's Beauty CGC CR-715G28F-NOPI, CR-EL131F28-NOPI, CR-CA157/28F/P-NOPI, CR-CA157/39F/C-PI, CR-835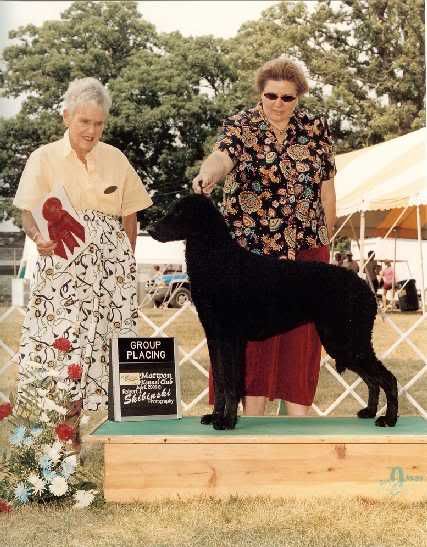 Beauty is a multi group placer

CH Softmaple Paramount All That CGC(Jazz)

Soft Maple Wind on Water ADC

SoftMaple's Pax Americana CR-680G24M CR-EL113M24
---
Some of Bailey's siblings

CH SoftMaple Boyerie's Int Affair
Finished CH with 5 majors from the puppy class

SoftMaple Odin's Raven

SoftMaple's Comin' To America CD, CGC
Reserve Winners Bitch 2004 CCRCA National Specialty
Earned AKC CD at 11 months
---
Jet's pedigree

CH SoftMaple's O'Dark Thirty MH WCQ CD CGC TT HOF CR-536G27M-T OFA cardiac, CERF 2001



Ch.Riverwatch DesertWind ROM CR-EL30 CR-429E24M, CERF


Ch. Karakul Trademark ROM CR-199G29M-T, CERF


BISS CH Ptarmigan Gail At Riverwatch CD WC CGC TT TDI National BOB 93,97,98,99 CR-EL10-T CR-336F28F-T, CERF


Ch. Avanti's Best Bet CGC ROMX CR-CA12/56F/C CR-408E24F, CERF



BISS Ch. Ptarmigan Walk The Wild Side BOB 94 National CR-339G26M-T, CERF


Ch. Springolds Irish Spring CR-252G30F, CERF

Bailey's pedigree

SoftMaple N HunterBay's Poetic Justice CGC PennHip, CR-CA158/21F/C-NOPI, CERF 2004

SUCH Ringlets Constant Wind Cardiac clear, eyes clear, hips A/B


Toakaha Koru DK18665/92 (NZ import)


NZ FTCH Toakaha Heiheiinie NZKC6171/1985

NZ FTW Toakaha Te Aurere NZKC6679/1987


INTUCh SUCh NUCh NV-99 SV-00 SJCh NJCh Ringlets Vanquishing Gale



Kelsmere Kraftsman


Swe CH Ringlets Raise the Wind

CH SoftMaple's Fairway Explorer CGC CR-CA74/16F/S-PI CR-EL98F28-PI CR-642G28F-PI, CERF


Dutch, VDH, German Ch. Caballus Inferno JWW'98, W'98, Europasieger '99, Bundessieger'99 Hips A/A (Finland), B1 (Holland) IN21832/97


Int&FIN&N Ch, NordV-95-97-98, FINW-96-97-98-99, SW-96-98, JWW-96 Caballus Fair Dinkum hips A/A, clear eye cert '99


Oak's Wild Song HD fri Norden Hips A, eyes clear 12.05.00 SF23859/94


CH Mathel Felicitation ROM CR-CA3/38F/C CR-453G24F CERF


CH Haamorin Indeksi ROM CR-CA2/89M/C-T CR-315G24M-T



CH Darelyn Zelsa CR-EL12 CR-351G31F

SoftMaple Curly Coated Retrievers
Mark and Cathy Lewandowski
8282 Soft Maple Road
Croghan New York 13327

Jet and Bailey
CH SoftMaple's O'Dark Thirty MH WCX CD CGC TT HOF CR-536G27M-T OFA cardiac, CERF
and SoftMaple N HunterBay's Poetic Justice CGC, PennHip, CR-CA158/21F/C-NOPI, CERF 2004
Pedigree