The Poetry Corner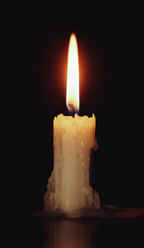 This is a page for all you writers out there. The poems you submit can be about anything in your heart and mind. All subjects welcome. I'll start the ball rolling with a little something I wrote on May 19th, 1999:

*********REBA**********

The lights are low

I am anxious

There are murmurs from the crowd

We are all waiting

There's a distant hum

I think it's my heart

The lights start to move

The music begins

She comes into view

I am taken in

I feel I can't breath

Yet I shout out loud

The tears do not fall

Yet I know they are there

I am moved by her

Her voice and her style

I will never be the same

I want it never to end

Yet I know it will

I will wait

For her return

**********************************************

A Poem sent from Amy on June 13th.

Fallen Angel

My Wings are broke

And I have fallen

With fear that racks my body

It's so dark down here

And I can't breath

Help me...........somebody?

I'm scared as Hell

From fear before me

For I cannot hear a sound

My soul cries

My heart bleeds

I fall upon the ground

My flesh is torn

For I cannot feel

I hear someone callin'

Why has this happened?

I am an Angel

Why oh why have I fallen?

*******************************************************

A poem sent by my new friend Beth on June 14th, 1999:

FOREVER LOVE

By: Beth Ellen Lozier

We've grown up together,

We've started each new school year side by side,

We were inseparable from dawn 'till dusk,

All the grown-ups talked about us,

And said what we had was,

Forever Love.

You were my first date,

And I was yours,

You asked me if I'd wear your class ring,

And you were overcome with joy when I said yes,

We knew right then we'd be together,

Forever Love.

Through the years we've grown together,

Closer and closer we've become,

I took your hand in marriage,

And said I'd love you forever in my vows,

And to me you became,

Forever Love.

We've made it through the good times,

We've made it through the bad,

We've had two children together,

And as we've watched them grow up,

The love our family has grown to know, will always be,

Forever Love.

Our fifth Anniversary came and went,

And before we knew it so had our tenth,

And on our fifteenth Anniversary,

After exchanging gifts,

They brought us out a cake that said,

Forever Love.

And now here on our fiftieth,

I am setting by your hospital bed,

The doctors say there is no chance you'll awake,

To talk to me again,

But, you have to, so just once more, I can say,

Forever Love.

They want me to sign a paper,

So they can turn off all the machines,

They say they're the only things keeping you alive,

I told them to come back later, because,

I need to find a way to say good-bye to,

Forever Love.

As I set here in the silence,

And watch you peacefully sleep,

All the memories come flooding back,

Of all the things we've done,

And all the times we've said,

Forever Love.

I told you that I loved you,

And that I'd miss you for the rest of my life,

Then I told you that you were going to a better place,

And after saying good-bye, with a kiss and two words, the best way I knew how,

The doctors pulled the plug on my,

Forever Love.

I laid you to rest,

Up upon a hill,

Many beautiful flowers were around you,

Your favorite ones I planted at your headstone,

Right under where I had engraved,

Forever Love.

Your lawyer gave me your will,

And after reading it tearfully,

I found that you had left everything to our children,

And to me just a letter, I will cherish forever,

'Cause I opened it up and saw only two words, Forever Love.

Six years have come and gone,

Many times I've came to this place,

Through the hot weather, through the cold,

I've came on special occasions,

Just to say to you,

Forever Love.

But, this will be the last time I come here alive,

I was told that I am dying,

They say that it won't hurt,

And that I don't have much time left,

So this will be the last time here on Earth I will say,

Forever Love.

I'll see you very shortly,

In your new home in heaven,

We'll be together forever and ever,

And I can't wait to see your face,

So that in person, from now on, I can say our two favorite words,

Forever Love.

I'll love you always,

And you'll always be my,

Forever Love.

*******************************************************

If you wish to have a copy of any of the poetry that you read on this page, please do the right thing and email me for permission to copy. I will then email the author.

*Disclaimer: The owner of this site does not take responsibility for the content of the poetry on this page.
Here's a wonderful award I received today, the artist's banner link can be found on my home page: Magick and Musick.
Here is another banner made for my site by Angel:
You can find a link to Angel's page at the "Magick and Musick" home page. Isn't she a wonderful graphics artist? I think so.

Okay, I HAD to do it, here is a picture of my FAVORITE character from Disney's "A Bug's Life". For those of you that don't know, her name is DOT....
This Ring of Poetry site is owned by DeLinda. Want to join the Ring of Poetry? Ring of Poetry created by: Kim Strob & Lisa Nerone
[Prev] [Skip Previous] [Next] [Skip Next] [Next 5]
How to get on this page:
Write a poem
Submit it to the e-mail address on the bottom of this page
Keep checking to see if you've been added
To My Kristine W. Page
Back to Gates' Page
To My Magick Spell Page
Back to Linda's Page
Back to Reba's Page
Back to Beth's Page
HOME Page (Magick and Musick)
Click Here to Find Out How to Have a PERSONALIZED Magick Spell or Incantation!

Email: zeldas224@aol.com