Milliya's Foster Heaven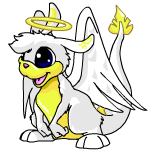 Hey! Welcome to TNO! My name is milliya, and Iím a part of the Welcoming Committee. Iím really glad to have you here and I hope you find your way around well. If you need any help, you can ask another member, or post in the Get Adopted By A Vet thread. If you want to adopt a pet, our Adoption FAQ will show you how, or you can foster a pet. Our Fostering FAQ can help you with that. Yes, our guild and forums have rules, but Iím sure you wonít have any problems with those. If you follow our rules, youíll most likely be visited by a pixie. You can help and get promoted. There are lots of things to do here! I hope you have fun!
Current Orphans
My Favorite Web Sites
Neopets
Free Web Building Help
Angelfire HTML Library
HTML Gear - free polls, guestbooks, and more!