The Events of the Summer of 2019

(To view the fun events and activities of the 2019 Winter by Clicking HERE)

* Golf season has come and Buffy & John have begun their annual competition on the golf course. Our season long golf tournament is for bragging rights for low net against GHIN handicaps, match play, closest to the pin (for a beer) and low putts. The chart below is a record tracking the competition for the 2019 golf season.

Buffy was the 2018 Golf Champion and will vigorously devend her title in 2019.

| | |
| --- | --- |
| John congratulates Buffy as the 2018 B&J Champ | Buffy's Winning Scorecard |
*
We celebrated little sister Anne's birthday on August 22nd at our regular birthday celebration restaurant, Portofino's with host owner Mendi Asani. Joining us were sister Peg, Anne's son Scott, Jackie and their sons Nolan and Brodie.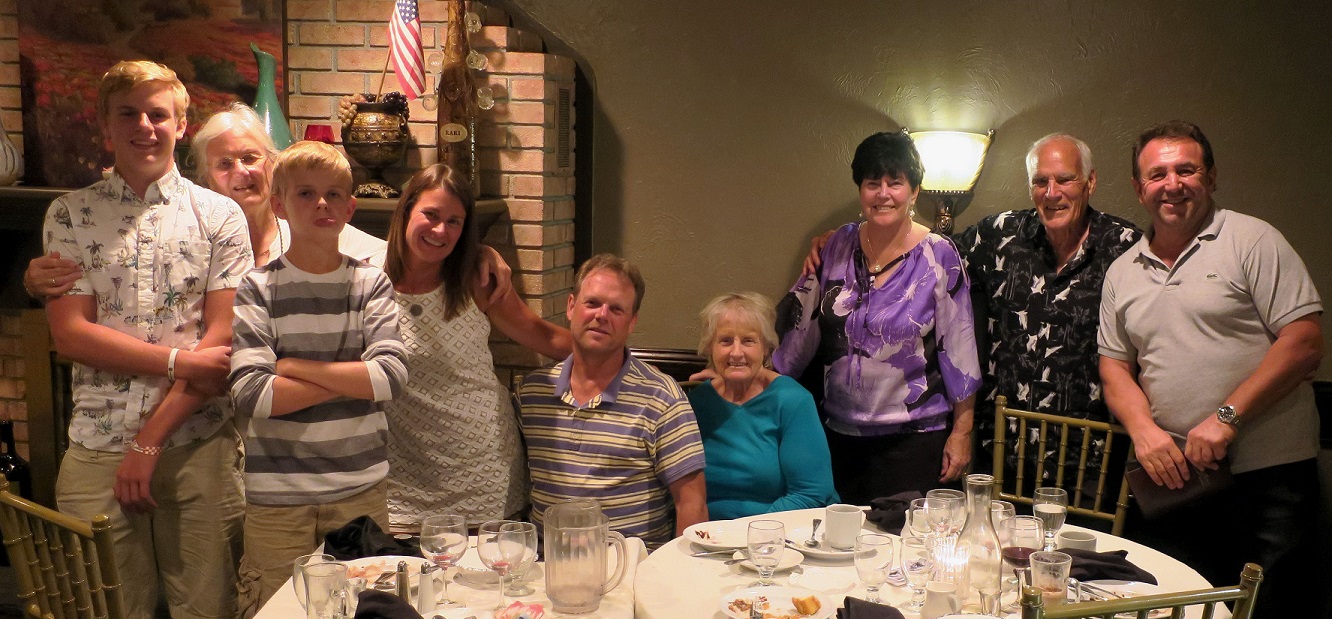 Left to Right: Nolan, Peg, Nolin, Jackie, Scott, Birthday Girl Anne, Buffy, John & Mendi Asani
* Buffy & John celebrated the 50th Anniversary of the Woodstock Music Festival by attending the Warwick Summer Concert Series "1 Night of Peace & Music". It brought back great memories of Woodstock as captured in John's book "The Woodstock 94 Story" which is available in eBook and hardcover formats on Lulu.com.
| | | |
| --- | --- | --- |
| | | Buffy & friend Barbara Hellwig rock at Warwick Woodstock |
* Buffy and John played in and photographed the Thursday 9 n Dine Golf Tournament at Ballyowen Golf Club with friends Derik and Cathy. The sunset was better than the golf but it was a fun night on a beautiful golf course with friends.
* Buffy and John played in the 2nd Crystal Cup Qualifier. John won closest to the pin and after the party met friends Bonnie and Rich to celebrate Bonnie's birthday on the deck in back of the Grande Cascades Hotel at Crystal Springs. It was fun!
| | |
| --- | --- |
| John with Crystal Springs' Adam Donlin receiving close to pin | Buffy & John with Bonnie and Rich celebrating Bonnie's birthday |
* Buffy & John celebrated the birth of America on July 4th with a quiet day at home with a classic 4th of July hot dog dinner on the deck after toasting America and saying "Thanks to God for all our Blessings".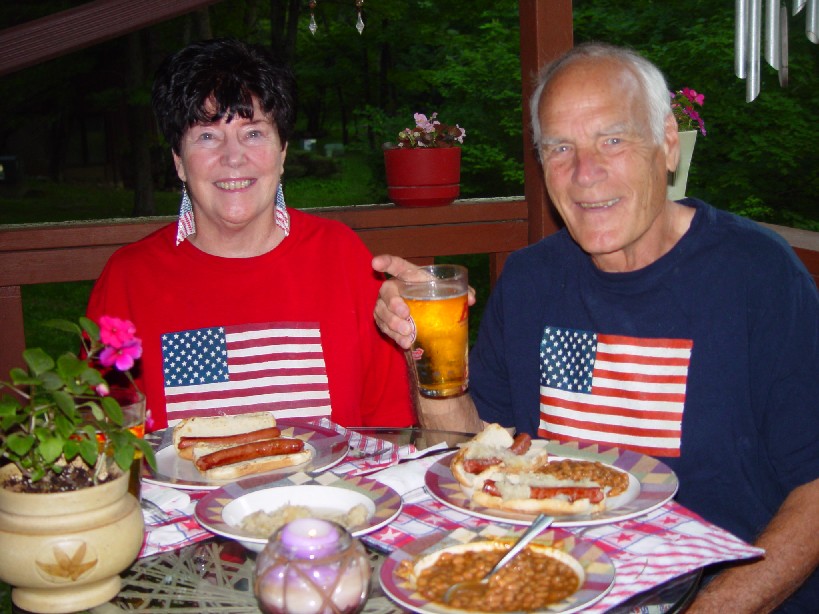 * The 25th playing of the Hidden Valley Closed Golf Classic was held on Saturday, May 4th at the Hidden Acres Golf Course with a celebration party at the Flat Brook Tap House. Friends gathered to have fun, enjoy a friendly round of golf, partake in a few adult beverages and pizza, enjoy the music of Jimbo Paulovich and veiw a photo slide show "The 25 Year History of the Hidden Valley Closed Golf Classic". The determination of the 2019 winner came down to the last shot on the 18th hole. Buffy hit her tee shot within 10 feet of the hole and needed to sink the put to card a 1 under par 69 just one stroke better than the second place team. Buffy also won longest drive for women.
| | |
| --- | --- |
| Team Whiting takes the win at the 2019 25th Hidden Valley Closed Golf Classic | John is happy to present Buffy with the Women's Longest Drive Trophy |
* John wrote a book to encourage more women to learn to play golf entitled "The Women's Guide to Learning to Play Golf for Fun!" The book is available online from Barnes & Nobel, Amazon.com and Lulu.com. Get your wife or girlfriend out on the golf course and have fun. Click on the book image below to visit a book sales site.