[Back To RWTB.ORG]-[About Sabum Says]-[Archive List]

Sabum Says
Current Strip: #24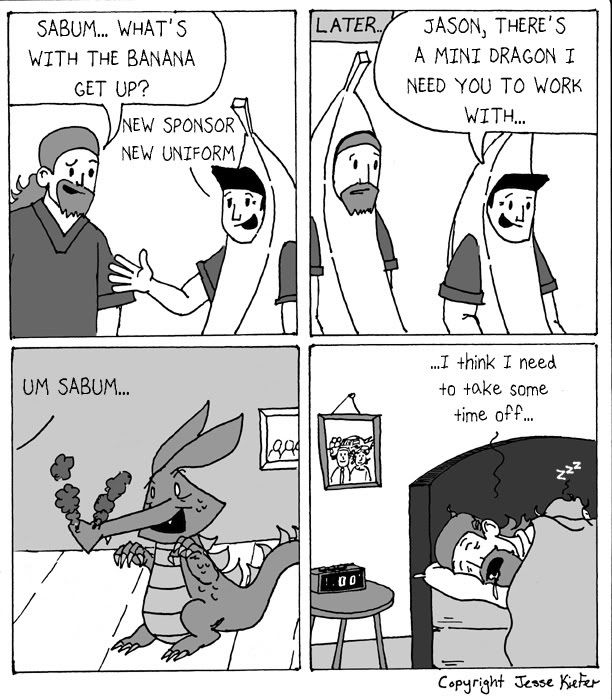 Current Strip: #23

Strip Archives
Sabum Says #1
Sabum Says #2
Sabum Says #3
Sabum Says #4
Sabum Says #5
Sabum Says #6
Sabum Says #7
Sabum Says #8
Sabum Says #9
Sabum Says #10
Sabum Says #11
Sabum Says #12
Sabum Says #13
Sabum Says #14 Read the blog for this strip!
Sabum Says #15
Sabum Says #16
Sabum Says #17
Sabum Says #18
Sabum Says #19
Sabum Says #20
Sabum Says #21
Sabum Says #22
Sabum Says #23
Sabum Says #24
Bonus Strip #1:Cousin Christine
Bonus Strip #2:Ninja Cop (inside joke... sorry)
Color Sketch: The Pony Tail Crew
B&W Sketch: Jack on his soapbox
Color Sketch: Sabum Says Comic Cover

About "Sabum Says"
In the summer of 2006 I decided to try my hand at comics. Even though the strip is called "Sabum Says" This strip is actually about Jason O'Keefe who is a top instructor at a Martial arts school owned by "Sabum" (a term that is similar to Sensei). This strip was heavily influenced by Wes Molebash's You'll Have That.

Some of the things depicted have actually happened to me, some are gross exaggerations, and several just didn't happen (but easily could have). It is loosely based on the Rosenbach Martial Arts school so you may notice that several instructors have been parodied, the characters do not always reflect the physical likeness of actual individuals. However to protect the students of Rosenbach Warrior Training Branches the students depicted in this strip are not fashioned after nor are they parodies of any current or former students.

Really quick I want to state for the record that I am not "making fun of" what we do (in martial arts), several opportunities have arisen that were just plain funny and I've had a lot of fun sharing them in this format. I hope that you enjoy them too.

Favorite Comic Strips (Online):


Ugly Hill
Dandy and Company
Awesome Marcus Ninja
Goblins
Year One (Marvel Comics Parody)