My Virtual Photo Album
Welcome to my online photo album.
This page will be under constant change so please feel free to come back often to see the lastest updates.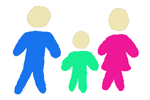 Family Photos
This is Gram. Gram is 'playing' on the computer. See, you're never too old to learn :c)
Auntie working hard on... something.
Mom's Christmas gift: 1999
Looks more like Tequila than Shooter.
Now that there's Brandi in our lives, it looks like her! Go figure
Brandi came to our home July 1st, 2001 - Welcome

Here's Brandi
Special Events
Shirley & Brenda's Graduation Party
---
---
This page created by Dianne. Copyright © 2001 Di Inc. All Rights Reserved.