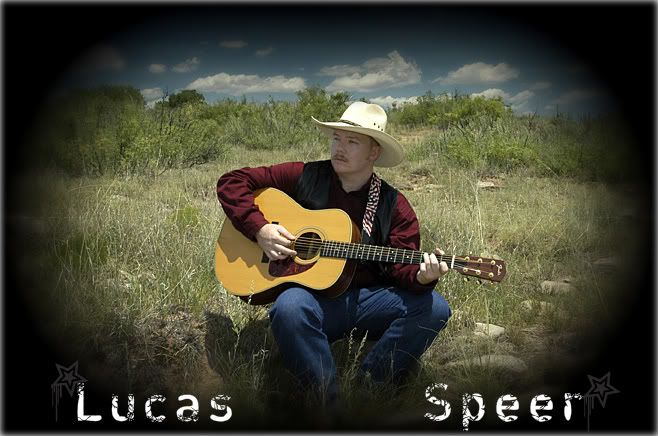 Welcome to the Official Website of Texas Country and Western Singer Lucas Speer
Latest News
Lucas has been performing for now on 14 years and he learns something new everyday. His love for music continues and he loves performing.
If you haven't heard Lucas yet, your are truly missing out. He has a self titled album Lucas Speer on sale now and if you haven't heard
him please see the videos or the link for Lucas' version of the Mel Street song "Borrowed Angel". Thank You for supporting Lucas and Country Music!!!

Lucas has recently played live on 92.1 Country Legends with Radio Personality Mike Crow. Lucas won the contest to perform live on 92.1 by
playing at Boo Rays in Weatherford, Texas where each week up until the end of June singer and songwriters strut their stuff!
Lucas won the spot the very first night he appeared and got a standing ovation when he sang "Everything That Glitters Is Not Gold".
He was very excited and was on the morning show the folowing Wednesday with Mike Crow.Lucas performed "Everything That Glitters Is Not Gold" and dedicated
the song to the late Dan Seals who orginally sang the song, he also done Merl Haggards "Sing Me Back Home'. Lucas done a wonderful job and continues to perform various places!

At Cross Timbers Country Opry Lucas is a regular performer and is signed up to compete in the Opry showdown on July 25, 2009 in Stephenville, TX. The winner will go on
to compete with other opry winners and they will go all the way to state level. The winner wins $100,000.00 and gets 10 hours recording hours in a studio. Please come out and support Lucas!!
Thanks for visiting my website and for your support!!!

View My Guestbook
Sign My Guestbook