Peter Cottontail's Cottage.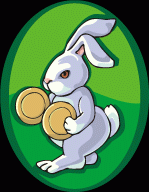 According to the Bass/Rankin TV Production of "Here Comes Peter Cottontail" created back in the 1970's, April Valley is the Home of Peter Cottontail (aka "The Easter Bunny") and his cohorts. It is a place of Easter Carols and wonder. That is the theme behind this mini website. The legend states that in the heart of April Valley is the Home of Peter Cottontail and the Outdoor Easter Factory where all the Easter Eggs, Bonnets, Gifts and Candy are made. Peter Cottontail enjoys the active role he plays during the Easter Season, but like Santa and Christmas, Peter knows he is NOT "The reason for the season." Like Christmas, JESUS CHRIST IS THE REASON FOR THE SEASON! On the very first Good Friday, almost 2000 years ago, Christ took all the sins of the world, past present, and future; and he hung on the Cross of Calvary, and paid the ultimate penalty for all of Mankind's Sins. Then he conquered death, Hell, and sin, by rising from the dead on the Third Day (Easter Morning). Since then, if anyone asks Jesus Christ to be his Savior, and save him from his sins, then he will also be victorious over death, Hell and sin, through Jesus Christ. That is "The True Meaning of Easter."
The Head Easter Bunny invites you to leave your comments on what Easter really means to you.
Leave your comments for The Easter Bunny:
Click Here.
Or return to April Valley's Home Page.

Email: BillBaxterDTM@aol.com