Hey, Welcome to Soundchek's RAINE MAIDA PAGE. Updated frequently. Come in and visit!!! :)
Personal Info Name: Michael Raine Maida
Occupation: Vocalist and Rythm guitarist of Our Lady Peace
Birthdate: February 18, 1970
Education: Ridley College,University of Toronto
Schools: All Saints Elementry, Scarlett Hights High
Country: Canada
City: Toronto, Ontario
Brother: Adam (18years younger than raine)
Facts About Raine
-Raine was originally christened as "Michael Raine Maida" however he does go under his stage name "Raine" to avoid confusion with fellow band member Mike Turner.
-Raine was a former Criminology student at the University of Toronto.
-Raine penned the now-famous song "4AM" in honor of his father.
-OLP's charismatic frontman was apparently a little too charismatic during the "Naveed" tour which resulted in a knee and a back injury.
"You enter as a musician and if your not careful, you wind up an entertainer." -Raine to SHIFT MAGAZINE
Raine's Biography
Raine Maida is considered one of the founding members of Our Lady Peace. You may have skimmed over a classified ad placed in a local magazine, Now, while eating your morning breakfast that spawned Canada's most popular rock band. Raine's vision led the band most recently to secure Canada's Favourite Group at the MMVAs for the second year.
Through Raine's melancholy lyrics, OLP has become a household name. Raine's unique childhood has given way to songs that have been taken straight out of his life in the album "Clumsy", which he describes as "more personal than Naveed." From nearly killing his friend in "Big Dumb Rocket" to his high flying acrobats in "Trapeze". Raine has never ceased to delight and enthrall us with an interesting story or two. Raine is an excellent composer also.
Raine Maida sang the now famous song 4.AM in honor to his dad, that song was never converted to a music video. A.M are the initials of his dad and he wrote the song at 4 in the morning.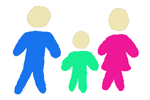 Show off your friends.