Foster a Pet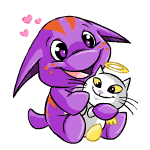 At the rate I am going now, I can only work on one pet at the time. I have one space open in my account dedicated to a pound pet. So I need as much help as possible to get pets stats raised and hopefully painted. If you would like to help out, there are a few things you need to know.
First off, fostering is not an easy thing to do. It's another mouth to feed, more NP to spend, and just more trouble in general. The more pets you have, the more true this is. So be prepared to take on the extra responsibility. There is the cost of the lab ray or code stones to raise stats. Although I do not require it, there is the costs of books to raise intelligence. There are toys you need to buy to keep it happy. You should take all these things in to consideration.
There are also benefits if you do decide to help me foster. Once a month or so, there will be a drawing or give away. It will either be a map piece, a code stone, a faerie, possibly a paint brush. It will be something to help your pet train and become more eye catching. However, you have to be active in the foster program for more than a month before you are eligible to recieve these. There will also be prizes given out for different aspects of improvement. We will focus on one aspect of the pet each month.
Now, if I haven't scared you off yet, there are some requirements below that I ask of anyone who is fostering.
Rules for Foster Parenting
You have to have been playing for 3 months atleast
I will need a print screen of your bank account or the accsess screen of the lab ray. (This is confidential and in no way reveals your password password)
Your pets should be in good health with pretty good stats of their own
You should be able to come online atleast once a week to attend to your pet.
Before you can recieve free prizes, you have to participate actively and show improvement for atleast a month
If you recieve the pet in "finished" status, you can only change use codestones or something that will not change the basics of the pet
If you are fostering the pet while it is in an "unfinished" state, you are welcome to use whatever you like to help it improve as long as you send an update with any major changes to me so I can update the website.
You must be able to recieve neomails from non-neofriends so someone can let you know when they want the pet
You may not adopt out a pet unless you run it by someone on the council first.
Email: sinnocent_heart@yahoo.com