jOjO's House of Previously Owned Aardvarks
You are the
person to visit my page since 6/03/98

Well you're here now. It's too late to get out.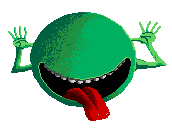 I'm new at this, so you're not allowed to make fun of me. Right now this sight is pretty lame, though I think the little guy pushing the ball up the hill is pretty cool, but it's under construction, and there will be more to come soon.


Now all you lucky little fishies get to read about me. Hee hee hee. The power is making me giddy! Hee hee hee, you poor saps....At any rate, I'm eighteen, and this is my first website. It is the result of a computer, and way too much free time on my hands. My interests are pretty apparent, just look around the page. I don't like typing, so I'm going to stop now. This site will be updated a lot, so check back. E-Mail me and tell me what you think. There are some links below.

Also, please sign my guest book, because so far it is a very thin little book.