ABORTION is MURDER
Human Embryo-Just 6 weeks after conception. 
All parts have been in place for 2 weeks, and 
brain waves are evident.

I am strongly against the barbaric practice called Abortion. Abortion goes against the Bible, Nature, Morality in general, and against the main reason we have hospitals and doctors in the first place. The reason we have Medicine, Doctors, surgeons and other medical personel is to preserve life, not destroy it. It is not the Woman's body, it is the babies. the Mother is only the blood/nutrient supplier. An unborn baby has more of a right to live than the mother has to kill it. I'm sure you've heard all the arguments. I wish I had the time to state them, but I don't. Below is some Great sites that say them for me.

LINKS
The American Holocaust Memorial
Life Before Birth @ Christiananswers.net
The Moral Question of Abortion..great pics here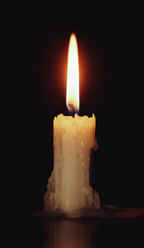 Every time a baby is conceived, there is potential
 for the baby to be born and to live their life. It is 
not our place, nor our right, to take that away from them. 
Their "being" is a candle and we should not be able to take 
their human rights away by blowing them out of existance.  















Email: casey000@hotmail.com