Birds of Prey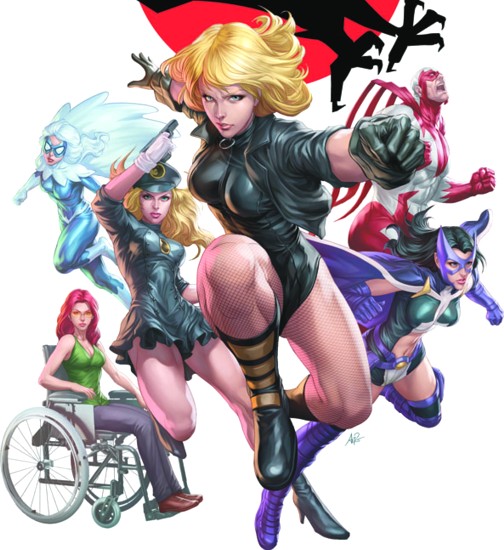 Barbara Gordon, Batgirl. One of the Dark Knight's most trusted allies. A lithe and agile crimefighter until the Joker's gun left her paralyzed for life. Unwilling to retire, Barbara recaptured her sense of worth by creating a new identity. Augmenting her detective skills with state-of-the-art electronics, she created the new alter ego as the ultimate information resource to the super-hero community. Before long, even those few who knew her real name began thinking of her only new identity: Oracle.
Oracle learned the ropes of espionage as an ally of the Suicide Squad before starting her own international crimebusting operation, the Birds of Prey.
Her first agent, Power Girl, left the team when a mission went awry and innocent people were killed, something that strains their relationship today. Oracle's next agent was Black Canary, and the two slowly became best friends. Canary's tour of duty defined the team and its methods of operation, giving it the long-term credibility it would need to outlast her once she finally left the group.
Originally based inside a clock tower in Gotham City, the Birds now operate from the top floors of the Dalten Towers in the shadow of Metropolis' Daily Planet building, flying to missions via the Aerie One Cessna and the Aerie Two Helicopter, both specially modified by the late Ted Cord. No one operative could replace Canary. Instead, Oracle now recruits allies largely on as-needed basis, some regularly, others only when their specific skills are required.

Members:
Oracle
Black Canary
The Huntress
Lady Blackhawk
Hawk I
Dove II

Supporting Heroes:
Nightwing
Batgirl
Green Arrow
Blue Beetle
Wildcat
Savant
Creote

Former Members:
Power Girl
Catwoman
Vixen
Gypsy
Katana
Lady Shiva
Judomaster II
Manhunter IV
Hawkgirl
Big Barda
Spy Smasher II
Misfit

Villains:
Cheshire
Blockbuster
Braun
Gorilla Grodd
Hellhound
Iron Brigade
The Joker
Charaxes
King Kobra
Lynx
Lashina
Spellbinder
Lady Vic
Brutale
Copperhead

Villainous Teams:
The Ravens