to
LMV EMBROIDERY AND PAGEANT PINS
PAGEANT PINS & TIARAS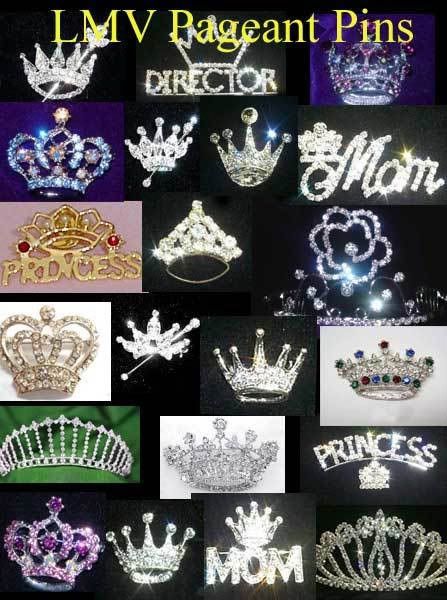 Above is just a sample of what we carry. We carry Director, judges, crown pins, king, queen and princess pins and other items!!! Click on the link below or picture above to visit our pins page! Check out our Pageant Pins/Jewelry page for more items available...Keep checking back as new items are added often.
<
Click here to email for more info or to place an order.

LMV Offers Embroidery Services
Order your T-shirt or Sweatshirt today for that special customized Gift.

IN STOCK Sale price Tshirts for white and light steel colors $9.00

White sizes: 2/4(3), 6/8(4), 10/12(3), 14/16(3), Ad Sm(4), Ad Lg(3), Ad Xlg(1)

Light Steel Sizes: 2/4(1), 6/8(2), 10/12(1), 14/16(4), Ad Sm(2)


IN STOCK Colored tshirts $10.00 ea


Red Sizes: 10/12 (3),Ad Small(1)

Azalea Sizes:(hot pink) 6/8(1), 14/16(1), Ad XL(1)

Classic Pink (light pink) 2/4(1), 6/8(1),10/12(1), 14/16(2)

Slate 6/8(2)

Cornflower (blue) 10/12(1)

Sky Blue: 14/16(1)

Gold size: 2/4(1)
Sweatshirts begin at $11.00 (if available)
Embroidered T-shirts/Sweatshirts
Embroidered 1 and 2 color material banners


Need a pageant banner for that special little girl or contest winner? Embroidered wrap banners start at $17.00 each for white satin or $21.00 for 2-color satin material plus shipping/insurance extra. We don't charge extra for shoulder designs and we don't restrict embroidery space by inches. Example: some only allow 15 inches of embroidery and then the price goes up. We will do our best to fit your title in the banner if size allows.Samples page for more photos and MORE details.
Click here to order your monogrammed banner
Now offering Make Up Capes and Tote Bags. See Samples Page for MORE details.
Email for more details on embroidered items....We may have what you want or may be able to get it! Money Orders or Paypal accepted.
Where do you want to go?
Embroidery Samples Page
Design Samples Page
Pins/Tiaras Page