All About Katie: Things you want to know but are too wise to ask!
"I can't explain myself for I'm not myself, you see."
Please bear with me, I'm working on this page.


Vital Statistics
Name: Katharine
Nicknames: Kate, Katie, Kathy, KittyKat, KD
Age: 24
Occupation: Optician (for the moment)
Life Goal: To become a doctor of internal medicine

Childhood Dream: To be a famous actress (who knows, the bug never went away)

and to write a best selling novel(a dream I've yet to give up on)

Availability Status: To be decided... visit the Katie Poll to place your vote!!


Likes and Dislikes
Well, this could take some time, but here goes. For starters, I love to read as you will guess if you go to Katie's Book Reviews. I prefer to focus on the strange and unusual. I am an ameteur ghost hunter, focusing on materialization and photography of unseen presences. I hope to get some great shots this summer when the Constellation comes back to the Baltimore Harbour on July 2, 1999. I also like to do tarot readings and play around with ouija boards(though I've yet to talk with Elvis. Do you think he's left that building too?). Religiously, I have no professed faith because if you analyze all of the monotheistic religions of the world, they are pretty much the same so I just address my prayers: TO WHOM IT MAY CONCERN. From time to time, I do plan to bore you with some of my stories and poems. Fair warning. Any other questions you might have about me you can send to kdward@angelfire.com
Another item that may be of interest to you is a bi-monthly newsletter I plan to start in September of 1999. It will be a place for philosophical minds to share ideas on religion, magick, and life, the universe, and everything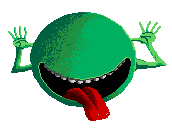 , so if you want to

, drop me a note with NEWSLETTER in the subject line. Also, submission pieces will be accepted until August 10, 1999, by midnight. Please put SUBMISSION in the subject line and try to keep the pieces to under 1500 words for fiction and 3000 words for non-fiction.