Facts About Alexander Graham Bell
Invented the telephone
Was born on March 3,1847 in Scotland
Became a U.S citizen in 1882
Married Mabel Hubbard in 1877
His mom and wife were both deaf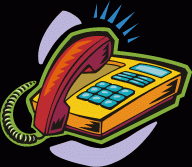 ---
Talk,talk,talk
Electric wires
'Lectric signals
Everyone loves it
Pretty
Helpful
Only useful
Not bad
Even though it was invented in 1876You may ask why I chose this topic. The answer to that is because i think it's a very cool topic to reasearch.Isn't it amazing how telephones can reach each other instantly? Have you thought of how phones lines can reach each other from all around the world? Telephones go from line to line using electrical signals.When making a local call, it goes first to a routing network the to the place you are trying to contact. It is based on the sound and waves.
Visit Other Great Sites on Telephones!
Check Out Cool Facts On Telephones!
Find Out How A Telephone Works!
Play Telephone Games!