NO KLAN, SKIN HEADS OR RACISTS WANTED!!
YOU'VE ALREADY CAUSED ENOUGH PROBLEMS SO GO AWAY!
WARNING!
This Reb Site is not politically correct. All Yankees, liberals and scalawags beware. You may not agree with me, but then, I may not agree with you either.
Special thanks to the Savage-Goodner Camp, League of the South, A. Jay Skii and several others that I can't remember the names, for all the free clip art, gif's, midi's and wav's. Y'all deserve a great big rebel yell!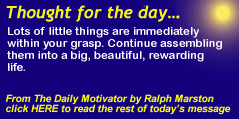 The weather from the front porch today.

For Upcoming Confederate Events click here.
HELP SAVE THE MANSFIELD BATTLEFIELD! Visit the Friends of Mansfield Battlefield at www.mansfieldbattlefield.org
Don't Forget, Hug A Vet
Questions or comments? Drop me a line.

View My Guestbook
Sign My Guestbook

To continue on, please click here
.
Have a Dixie Day!