The Race Is On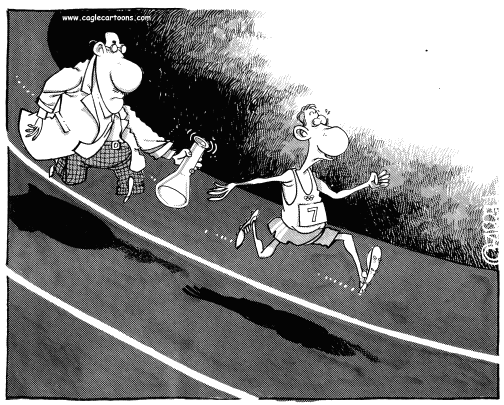 Well the Race Is On and it's Western Iowa coming up the Back Stretch.
Walker to Headline Multi-County NW Iowa GOP Fundraiser April 24
Linn County is Falling Back it's Trying Not To Break.
Though there WAS a time we also had events like this.
We had a HIGHLY Sucessful Spring Event,
A Chili Cook Off. I recall a few years ago we too had a headline draw at it
Herman Cain. We PACKED the Long Branch to the rafters.
Then it was decided to move it to the Fall and later to also move into a venue that could hold at the most 20% of the crowd that we could handle in the Past.
Yee, I DID support the last one. I think my ticket purchases were about 16% of their revenue,
But we lost 3 years of momentum and continuity and turned a roaring success into a dismal disaster.
Moving was not the only facter,
Having a Screaming Fits about Volunteers putting more than 5 mints on Tables and Public Humiliation of Hard Working Volunteers that even to reports that got back to me, Embarrassed the Long Branch Staff.
Had already motivated some of our more dedicated volunteers to
LEAVE.
Some may say that what I write on this website causes volunteers to leave
THEY WOULD BE ABSOLUTELY CORRECT.
But it is not me writting here that motivates them to leave.,
But what I write About.
Me writing here seems to motivate some of them to share with me the reasons they plan to leave.
Which has given me in some cases the opportunity to try to talk them out of leaving.
With mixed sucess.
However we now have a moslty New Executive Board
So maybe things will be different
Maybe at the March Meeting they will surprise us with New Plans for a Spring event that will rival the NW Iowa one and equal what we have acheived in the Past.
That is if they have not spent all their time since the last meeting,
Devising New Methods of Taking Over what Sub-Committees still funciton and can do their Jobs.
A Linn County Version of
We Are From the Executive Board and We Are Here To Help You.
Accept the Joys of Assimilation,
You no longer have to Worry about what to think do or say.
Simply Stay Silent, Remember What Your Place Is
and Do What You Are Told
Posted by ky/kentuckydan at 7:45 AM CST
Updated: Tuesday, 3 March 2015 8:08 AM CST
Post Comment
|
Permalink
|
Share This Post