Our trip to NASA's Langley Research Center
During the summer of 1999, Mr.Danny K. Blevins and Mr.Mike Burchett were part of the NASA/NSTA "NEW" program at NASA Langley Research Center in Hampton, Virginia.
Vacation Pictures
Put in pictures from your last vacation.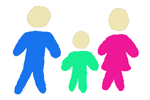 Friends
Show off your friends.
Special Events
Put up pictures from special occasions, such as parties, weddings, and graduations.