Printable Version

THE STEEL AND CONCRETE
MISSION FIELD NEWSLETTER
November 1999


GOD'S GIVING AND OUR THANKS
by Bro. Gregory Wamsley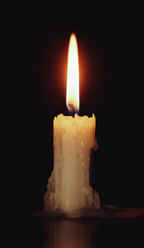 It is that time again! Thanksgiving is upon us! We are to be thankful for what God gives; hence the holiday's name: "Thanksgiving." For most kids it's only a reminder that Christmas will soon be here. For most adults, at the least, it's a time of planning, cooking, expectation, and wondering who will show up for the great turkey feast. In all this, I haven't forgotten what the Bible says: "To be the greatest, be the least."

As a young child I, too, looked forward to the great meal at my grandparent's house, our annual football game, and the after dinner contest over who would get the couch. There are even funny little memories that will never pass, like who was going to put the single baked bean into my brother's water glass. It was, and possibly still is, a time of family, tradition, and prayer before dinner . But when it came to truly thanking Jesus, there was not much of that there. Where was then, and where is today, the focus on the most important family of all: God's family, rooted in Christ, standing firm, standing tall.

As I watch the news and read the papers they say crime is down, but Satan's still on his caper. Society still sows seeds of disobedience to God unaware, never getting their desired harvest. To them I say, "Beware!" May we be more spiritually "seed-ly" and less physically "need-ly." Satan wants our time to be spent on thoughts of what we will lose by giving ourselves to God. In comparison to God's giving, those are things we wouldn't even choose.

You see there is no hocus-pocus. I like to think of it as God's giving and our thanks, to keep things in focus. We shouldn't ask God for things we really don't want. I am a witness: keep in mind that He is in the "abundant" business. Remember, it was Peter's request to join Christ out on the water, but once out there it was his doubt and fear that caused him to falter. This Thanksgiving, people will be too full to focus on next month and how Christmas will be popping up all around. But what if we die this month, or God's trumpet proclaiming Christ's return should sound? Would we go to be with Him in the sky all around, or find out we missed Him and be left on the ground?

Some may say, "No one ever gave me anything. What have I to be thankful for?" Christ still stands there and knocks if they would only open the door. Although holidays have a way of breaking loved ones' intentions, God still allows trial and tests in our lives to get our attention. Wood existed before the Carpenter, the Ocean before the Sailor, the Wool before the Weaver, and Crime before the Jailer. And God existed before all our problems and failures. May we not focus on what's going wrong in our lives, but learn to focus on the gifts God's blessed us with, to be thankful and to bless others in return. It breaks my heart to see a world that is thankful for a hard-core sin message, but not thankful for a hard-line Gospel Salvation passage.

Saved people can die with a physical ailment and still go to heaven, but unsaved people, when they die, cannot go to heaven with a spiritual ailment. Jesus didn't have to come down here to earth to raise the dead and heal the sick and diseased: He could have done all that from heaven if He pleased. He came down here to earth to save us and take our place on the cross. It is in Him today that His children suffer no loss. As stated in the book of John, chapter 12, it was in His flesh that Christ had to feel the whole world's heaviness of sin. For that cause He came to die, for our lives to truly begin.

God's gift still gives to us today. There will be no excuse in the end and nothing to say. If God hadn't given us gifts, we wouldn't have them anyway. Let's be thankful and loving and bless others today. May those of us in His family, both near and far away in heart, not go about doing our own thing, being scattered far and apart. Be aware of just who our God is, and of the life for Him we are to be living. Have faith, trust, and obey. After all, it's Thanksgiving!

HOW I FOUND JESUS
by Brother Rufus A. Pinkett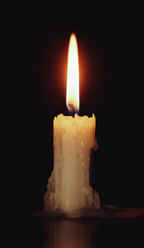 Impossible! Me find Jesus? You may say, "It's impossible," and that's what I had thought one day; but God says in Him all things are possible. It was at my uncle's funeral, after the service, when I was talking to Rev. Brown, that I confessed to him. I told him of my problems with drugs and addiction, and the problems that manifested by hanging around friends that did the same. I didn't care how I looked and I soon lost all self control.

I'd had a lot of grief from family and the deaths of my Mother and Aunt as well. Needless to say, I experienced a great deal of frustration building up. Instead of talking to someone, I turned to drugs to ease my pain. After I'd gotten "high," I'd then pray to be O.K. All I seemed to care about was the drugs and where to get them.

As I spoke to Rev. Brown, I told him that I had gotten busted and was in a lot of trouble and that I'd be going away for a while. He went on talking with me, telling me everything would be O.K. as long as I believed and trusted in Jesus Christ, because through Him anything is possible. I hadn't actually lost my faith. I had come from a "religious" background, but I definitely got off on the wrong foot.

Rev. Brown asked me if I wanted him to pray for me, and I said "Yes, would you?" As he prayed for me I could feel a great relief and great burden being lifted off of me as if I were a different person. It's interesting that I was actually about to enter court in three days and I had not given up on hope. Actually, I was facing 90 years in prison. But getting back to the church and Rev. Brown, I can't help speaking about the pressure that was coming off of me as Rev. Brown prayed.

It wasn't until that day when Rev Brown prayed for me did I actually feel I was to face one of the toughest Judges around, who is known for not giving any breaks. I was blessed to only get 12 years. Remember, I should have gotten 90. No doubt it was my reaching rock bottom, and almost totally losing my faith and belief, that led me back to the House of the Lord (and believe me that was the best thing I could have done). Because truly, through Him all things are possible.

I believe if it were not for my faith in the Lord I'd have gotten that 90 years. It is my desire to make use of this time being locked up and better myself for Christ. I have no doubt that I will be able to do that as long as I keep my faith in my Savior and Lord.

YOU MIGHT SAY
by Brother R. Pinkett

You might say, "Nobody loves me."
God says, "I love you."
You might say, "I cannot do it."
God says, "You can do all things in Christ Jesus."
You might say, "I don't have enough faith."
God says, "I have given everyone a measure of faith."
You might say, "I'm not smart enough."
God says, "I'll give you wisdom."
You might say, "I feel all alone."
God says, "I will never leave you nor forsake you."

THIS IS MY BIBLE
author unknown

This is my Bible.
I am what it says I am,
I can do what it says I can do.
I am a believer, and not a doubter.
I am a doer, and not just a hearer
and my life is the better
after having heard the word of faith.
Faith comes by hearing,
and hearing by the Word of God.

THE LORD IS MY PILOT
by A. Mason

The Lord is my pilot ~ He guides my way,
He makes my decisions ~ each and every day.
As long as He stays in the driver's seat,
Everything will turn out ~ oh, so sweet!

Whenever I try to take control
I mess up so I'm told.
As long as I follow His Word to the tee,
He won't let no unnecessary harm come to me.

So I finally asked Him, you see,
So now my Lord is living in me.
For the Lord is my pilot, He will
Never depart as long as I keep Him
Deep in my heart.

MY HEART IS THERE!
Favorite poem of the late Chas. E. Cowman
from "Streams In The Desert"

Where, on eternal hills, my loved one dwells
Among the lilies and the asphodels;
Clad in the brightness of the Great White Throne,
Glad is the smile of Him that sits thereon,
The glory gilding all His wealth of hair
and making His immortal face more fair ~
THERE IS MY TREASURE AND MY HEART IS THERE.

With Him who made all earthly life so sweet,
So fit to live, and yet to die so meet;
So mild, so grand, so gentle, and so brave,
So ready to forgive, so strong to save.
His fair, pure Spirit makes the heavens more fair,
And thither rises all my longing prayer ~
THERE IS MY TREASURE AND MY HEART IS THERE.

"TRIALS AND TRIA-BULATION MAZE"
To save this maze, right click
and save picture to your hard drive.

"GIVE THANKS"
by Henry Smith

Give thanks with a grateful heart,
Give thanks to the Holy One,
Give thanks because He's given
Jesus Christ His Son. (repeat)

And now let the weak say, "I am strong,"
Let the poor say "I am rich
Because of what the Lord has
Done for us!"

Give thanks, give thanks.

Next
Home