My New Rendering Business
Mood:
happy
Now Playing: silence
Topic: My Art
For a while now, I have been entertaining the idea of starting a home rendering business, but never knew quite how to approach it. Very recently, I had the idea of marketing this service directly to realtors, who may offer home renderings as gifts to their clients at home closings. As I see it there could potentially be a very high demand for good quality renderings in his kind of market, and even national sales ability if I use the internet as a sales tool. Over the weekend I spoke to my neighbor
Ann King
, who is a top-notch realtor with
Prestige Properties
. She was very encouraging of this idea.
Currently, I am developing a group of rendering types and a price structure. I will offer both watercolor and pen & ink renderings. Perhaps other types in the future. I am in the process of developing samples of the watercolor renderings, but recently I came across this pen which will serve as my model (at least technically) for my pen & ink home renderings.
My plan is to market to realtors, have a web presence marketing through Craiglist, and maybe Ebay, Overstock, or other art auction sites. Hopefully, I will be able to get a secondary market as well, of referrals from the realtor's clients who received the renderings.
I will be creating a website with samples, prices, and a way for people to order. Until then, you can
Contact me
to discuss.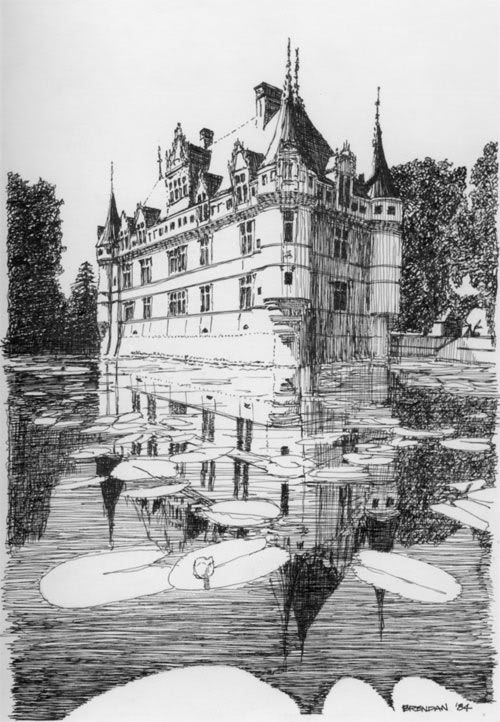 P.S. This style of drawing comes directly from my training as an architect. I realize that it's quite a different style of drawing from my chosen style of expressive artwork. But, as Andy Warhol would say, an artist doesn't have to be just one thing. Picasso could draw in a very detailed "tradtional" style. But it's not what his soul was crying out for ultimately.
I actually enjoy both styles of drawings. For me they each provide very different personal benefits that the other does not. So I think I can have the best of both worlds this way. In the meantime, it would be really nice to get paid to do it.
Image Copyright 1982 Brendan Miggins. All Rights Reserved.