ARTIST STATEMENT
Topic: My Art
ARTIST STATEMENT
I have been an actively producing artist for over twenty years, during which time I have been exhibited and collected internationally. I am a largely self-taught artist. My professional education and training was in architectural design, for which I had an intensive interest since I was a young child. Born a natural explorer, I have always actively self-taught myself many disciplines that I was naturally drawn to including: art, architecture, interior design, graphic design, music composition and music production among others.
I create my images spontaneously and intuitively, oftentimes through meditation and prayer. My art is as much a spiritual practice as well as a livelihood. The sources of my imagery vary and come from both the inner and the outer worlds. My inward focused images occur as emotional, psychological and spiritual 'scapes. Those with a more outward focus occur as studies of natural phenomenon like lightning & the moment when lightning strikes, light reflections on the surface of water, the flickering of candlelight, etc.. I feel, I'm sure as many artists do, that I observe what others do not see. I believe my imagery strives to make the 'Unseen' seen, make the 'Invisible' visible.
Formally within my imagery, I enjoy studying the vibration of color and light, as well as the fluctuations of scale. Often my images appear both very, very large, and very, very small at the same time; occurring as simultaneous macrocosms and microcosms.
I use a variety of mediums including oil & acrylic paintings, watercolor, soft and oil pastels, monoprints, pencil charcoal, sculpture, and digital art. Currently I am working on several series of small works on paper in oil pastel and watercolor.
Thank you for your interest in my work.
Brendan T. Miggins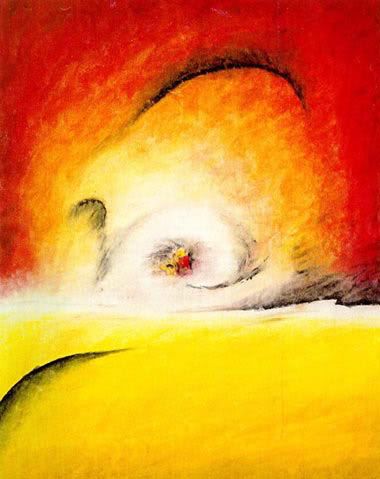 Awakening
, Brendan Miggins, 1991.