Keep the Flame Burning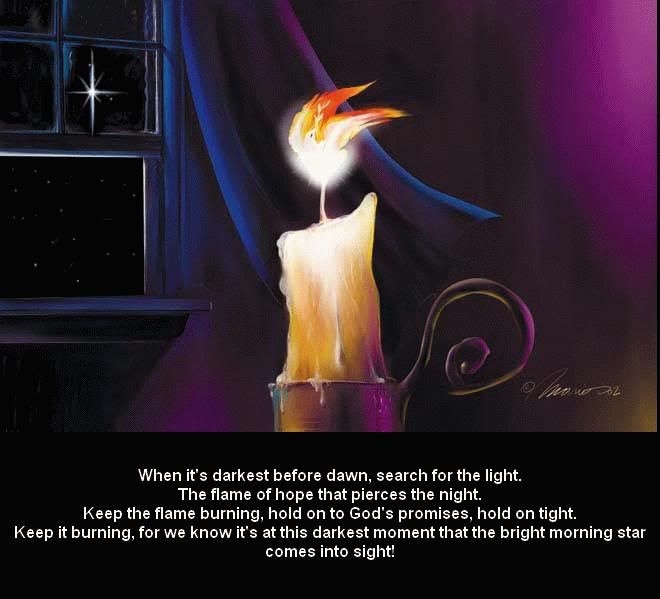 2 Peter 1:19 &nbsp&nbsp&nbsp And we have the word of the prophets made more certain, and you will do well to pay attention to it, as to a light shining in a dark place, until the day dawns and the morning star rises in your hearts.
Lord, keep the flame of hope alive in each of our hearts, for we know that night will not last forever and with dawn comes the bright morning star!
Colossians 1:4-6 &nbsp&nbsp&nbsp because we have heard of your faith in Christ Jesus and of the love you have for all the saints-- 5the faith and love that spring from the hope that is stored up for you in heaven and that you have already heard about in the word of truth, the gospel 6that has come to you. All over the world this gospel is bearing fruit and growing, just as it has been doing among you since the day you heard it and understood God's grace in all its truth.
Romans 5:5 &nbsp&nbsp&nbsp And hope does not disappoint us, because God has poured out his love into our hearts by the Holy Spirit, whom he has given us.
Romans 12:12 &nbsp&nbsp&nbsp Be joyful in hope, patient in affliction, faithful in prayer.
Hebrews 6:19 &nbsp&nbsp&nbsp We have this hope (Jesus Christ) as an anchor for the soul, firm and secure...
Revealation 22:16 &nbsp&nbsp&nbsp I am ... the bright morning star.
Romans 15:13 &nbsp&nbsp&nbsp Thank You Lord that Jesus Christ is the anchor of our soul - our hope. May the God of hope fill each of us with all joy and peace as we trust in Him, so that we may overflow with hope by the power of the Holy Spirit. In the name of Jesus Christ.