Welcome to Elmo's
Homepage
---
Hi! I'm Amy. Thanks for visiting my page! PLEASE sign my guestbook or e-mail me with suggestions, comments, or whatever you want. Thanks!! (-:

---
Contents:
About Me
My Personal Shrine to Seinfeld
---
My Favorite Links:

Go to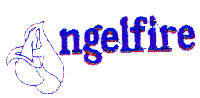 ...the best place to get a free home page.


Simpsons fans will enjoy both of these web sites:
The Simpsons Official Site
100% Unofficial Simpsons Site

A great place to search for ANYTHING is none other than... YAHOO!


Check out my friends' pages...
Sara Chrysler's Page
Jeremy Cronkhite's Purdue Page*
...and my sister's original page or her "Domain of Uselessness".
*DISCLAIMER: This link DOES NOT make me a Purdue fan! (:
---
---
The number of people who have visited my page is up to a
of:
---
PLEASE sign my empty little Guestbook!
Sign My Guestbook
View My Guestbook
---
---
Email: elmo98@angelfire.com
---
Thank you...
Come again!