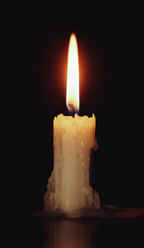 "Like a candle in shadow,
So are loving words in a time of trouble ."
--T.F. Ragsdale
Hello. My name is Tammy. I don't claim to be a world renowned poet, but after having some minor success I thought I might put some of my poems up on the web.
Most of the poems here were written for or inspired by my daughter. I will be happy to accept submissios to this page. To see your poem here just go to my submissions page or send an email. You can read the submissions in In Verse my page of online poetry. You can also chat with poets and others in my chat room. POEMS REMAIN THE PROPERTY OF THE ORIGINAL AUTHORS.



Join the Blue Ribbon Online Free Speech Campaign!
Poems
National library of poetry entries.

Last year's entry The Immortal Published in anthology and read on tape.
This year's entry Our Side of the Prism.
View List of T.F. Ragsdale's Poetry
Click here to read submissions
OR READ POETRY BY TRAVIS
I also have a trivia page. My Almanac

Chat Now


Why not send a greeting card?
This Writer's Realm is owned by T.F. Ragsdale.

Want to join The Writer's Realm Writing Ring?

[CHATROOMS!!!] [Skip Prev] [Prev] [Next] [Skip Next] [Random] [Next 5] [List Sites]
SmartClicks: Target Advertising For Free
My Favorite Links
Try Black Rose for more poetry
Free Banners at Cliffhanger's Banner Barn
Matt's Script Archive - Awesome Web Server Scripts

Email: wordmaiden@hotmail.com