CROCODILIAN SCRATCHBOARDS by JOHN AGNEW
is a new, traveling museum exhibition scheduled to launch in the Fall of 2015. It is an exhibition of twenty scratchboards of various crocodiles, alligators, Gharials and caimans, plus ten preparatory sketches and paintings by John N. Agnew, recently designated as a Master Scratchboard Artist by the International Society of Scratchboard Artists.

John Agnew is an artist of the natural world. His career began in natural history museums and zoos where he designed exhibits, produced illustrations, and painted murals and dioramas in the U.S. and as far away as Moscow. In his hometown alone, John has produced nearly thirty thousand square feet of murals and dioramas for the Cincinnati Museum of Natural History and Science, the Cincinnati Zoo, and Cincinnati and Hamilton County Parks.
One of John's favorite subject groups is Crocodilians; the crocodiles, alligators, caimans and gharials of the world. While John works in a variety of media, he most often portrays crocs in scratchboard because it is so well suited to the textures and detail of these prehistoric subjects.
Crocodilians are the last of the giant reptiles that survived the great extinction of the dinosaurs 65 million years ago, and a window into the past. While the appearance of a man-eating croc can inspire fear in humans, their appearance in scratchboards of a master like John Agnew can transform this fearsome predator into a subject of unspeakable beauty.

New Guinea Crocodile
This close up of the face of a new Guinea Crocodile is a map of crocodile texture. It is nearly an abstract image, but retains enough features of the animal to say, "Crocodile" with an emphasis on reptile. The teeth, the staring eye with a vertical pupil and the reptilian armor convey the message. The smallest dark spots in the scales of the croc are tiny sense organs, bundles of nerves that convey a sense of touch and possibly the electrical fields of prey animals." -John Agnew

John has traveled worldwide in search of his subjects, including Borneo, Thailand and the Peruvian Amazon in addition to much of the United States. Among John's many accomplishments and honors was his 2011 appointment as Artist in Residence at Everglades. John Agnew's work has been featured in Artist's Magazine, Reptiles Magazine, and various other periodicals. In 2001, North Light Books published a book entitled Painting The Secret World Of Nature written and illustrated entirely by John Agnew.
CROCODILIAN SCRATCHBOARDS BY JOHN AGNEW consists of approximately thirty scratchboards, preparatory drawings/sketches, and paintings, title and text panels, interpretive digital labels, plus access to an on-line catalogue.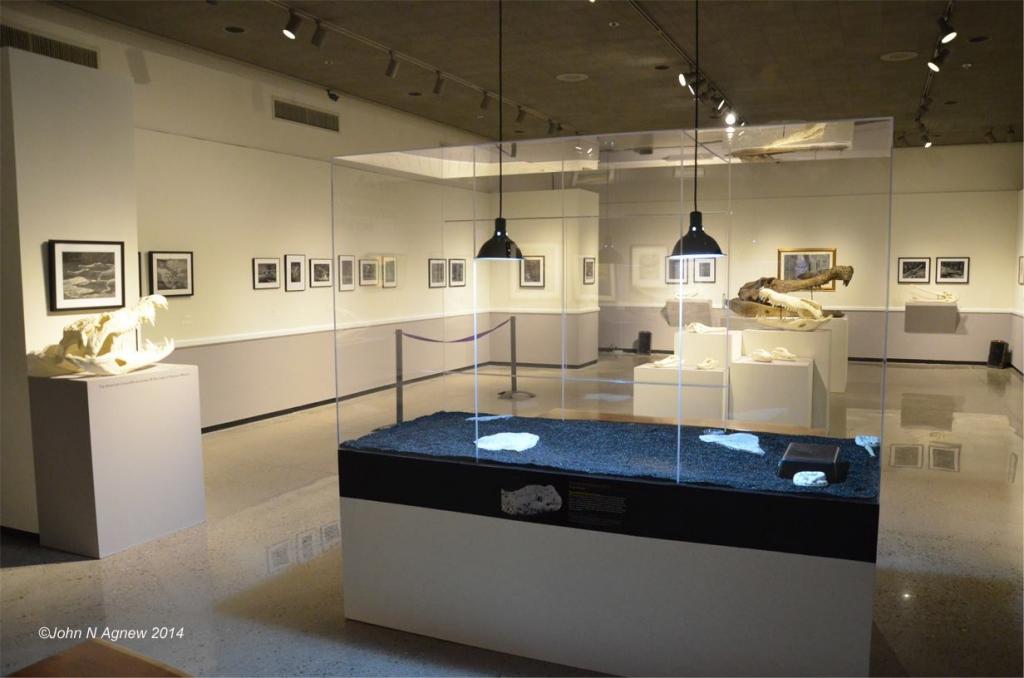 Exhibit installation at the Arizona-Sonora Desert Museum in Tucson, Arizona. Crocodile skulls and white rattlesnakes added by the ASDM.

CROCODILIAN SCRATCHBOARDS BY JOHN AGNEW explores crocodilians as studies in texture and form. Agnew likes the scratchboard technique for its affinity to the engravings in early texts about zoology, and its ability to treat the species in exquisite detail. The contrast of black and white lines is well suited for showing off intimate details of a crocodile's scaly texture. Intimate portraits like those above, plus scenes from daily crocodilian life are all subjects explored in this exhibit. In addition to scratchboard, field sketches and paintings of crocodilians and their world-wide habitat round out this exhibit.
Crocodile Dreams
"Thick, rugged body armor covers the backs of these sleeping giants. These are farm-bred hybrids, a cross between the endangered Siamese Crocodile and the Saltwater Crocodile, bred to grow very large very quickly. The Raja Birdwing butterfly belies the immense power of the crocodile sleeping beneath it." -John Agnew