ICELAND'S MUSIC SCENE IS LEGENDARY, AND FOR SUCH A LITTLE COUNTRY, THE ISLAND DOES PRODUCE A LOT OF TALENTED MUSICIANS AND SINGERS AND BANDS -- AND THE OCCASIONAL SUPERSTAR. Do you want to know the reason why? According to the Kimono guitarist I chatted with in my most recent visit to Reykjavik: "The difference between the music scene in Iceland and other countries is that it is so small here, musicians have nothing to gain, and nothing to lose. So people end up doing whatever they want to do." I have to agree that Icelandic music is remarkably original even as it plunders the storehouses of American and English rock inspiration -- listen to Sigur Ros and it is easy to hear the Radiohead influences, even the odd dash of Iron Maiden. The great thing about Icelandic bands and musicians is that they are able to take outside influences ranging from punk to Brit-Pop and hip-hop, mash it altogether, and produce something which sounds unnervingly new. Something gets dropped into the mix in the process and I can only consider it to be of indigenous nature -- the original Icelandic sound. Where does it come from? From Icelandic folk music? Scandinavian church choir music (hence the angelic vocals of Sigur Ros and other bands)? I am not quite sure, but I know that it is there.

PLACES TO SHOP:
There are basicaly three main record shops in Reykjavik -- wait, four if you count the big book store (whose name escapes me) who have CDs and DVDs and stuff on the first floor (self published Icelandic poetry and mystery novels on the second floor.) There may be more than this, but in my opinion there are only three record stores in Reykjavik worth going to. At one, you can relish the knowledge that you are walking on Bjork's sacred space.
12 Tónar: Skólavörðustígur 15 | 101 Reykjavík | Sími: 511 5656 | Web: http://www.12tonar.is/.
Tone means "music" in Icelandic, and 12 Tónar refers to the 12 tones of the musical alphabet, from A-sharp to G-minor, or whatever. Rokk is Icelandic for rock. Whenever I am in Iceland, 12 Tónar is one of the first places I head towards to get my dose of Icelandic rokk. To get there you climb the mild incline of Skólavörðustígur from the groovy underground Kofi Tomosar cafe, up towards the big Viking statue and church, and stop off when you see the yellow and blue 12 Tonar sign. The first time I was in Iceland, I walked straight past it without thinking it was anything more than a used knickknacks outlet. How wrong I was! Though it may be small, this is the best place to shop for Icelandic music in Iceland. The staff are always friendly and young. Head downstairs, you can sit down, bathe in the footlevel sunlight as you peruse the racks. Staff serve you coffee, you can listen to the latest Icelandic releases on headphones on a a comfy old couch while browsing art magazines from Japan (that is what I did the last time I was there, anyway.)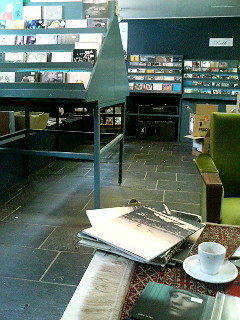 Along with Bad Taste Records, this is the place to come if you looking for native Icelandic music. The staff are no doubt musicians themselves and there are plenty of in-house events, whether it is Iceland Airwaves time or no. I have heard there are free concerts held here every Friday at five, although I have never attended any. Search 12 Tónar on YouTube, and you can find performances by Kira Kira and Ólöf Arnalds and so on. Go to the 12 Tónar website linked above and you can find bands discovered, recorded and promoted by the store. I have bought CDs there and they seem to cost around 1000 Kronurs a disk. My Summer As A Salvation Soldier, otherwise known as þórir (the album was called Anarchists Are Hopeless Romantics). It might have been because I had just split up with my girlfriend, but listening to the CD in the humid Tokyo summer of 2006, I got the feeling that this þórir might be suffering from clinical depression. Maybe that was his aim on this album -- I know he has some more upbeat numbers, such as Canada Oh Canada (Land of the Free). That song rocks. Þórir is also apparently the lead singer of a folk/punk band Deathmetal Supersquad.í 12 Tónum you may also find:
Some of the klippur (clips) online (and on YouTube) you can find featuring this record shop:



Bad Taste Records: .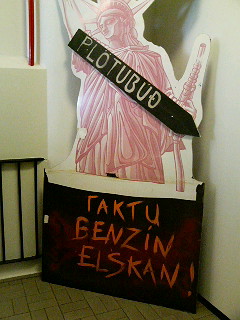 Geisladiskabúð Valda: .
Laugavegur 65, 101 Reykjavík Tel. +354 562 9002 Geisladiskabúð Valda is a small record store focusing mostly on classic rock and heavy metal. At the store you can get CDs, DVDs, records, PC games, etc. But the main focus is heavy music such as heavy metal and death metal. A good store for fans of metal to check out and they'll defiantly find something they like at Geisladiskabúð Valda.
Skifan: Laugavegur 26; Kringlan | Web: http://www.skifan.is/Skifan/.
101 Reykjavík Tel. +354 591 5310.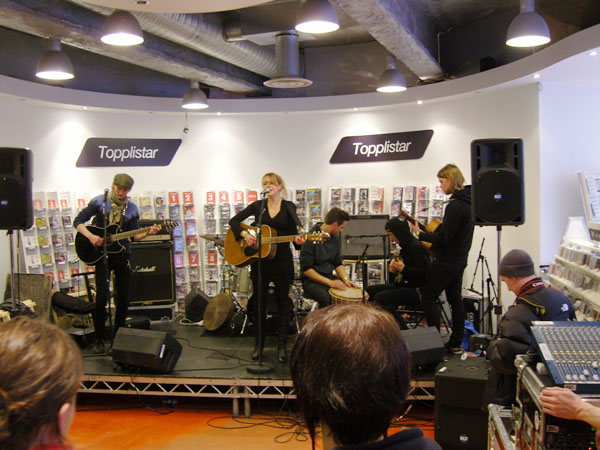 Record Records ehf: Egilsgata 28, Reykjavik, rvk 101.
Sign up for the newsletter.

THE GREAT UNSIGNED
As with anywhere, those bands with labels are just the tip of the iceberg in iceland. Beneath the ocean lies a great vault of untapped talent. How about those underground/unsigned bönd in Iceland, where do you find them? There are a number of websites to facilitate your search.

m o r e : i c e + r o k k

++I Love Icelandic Music Forever Blog++++Grindavik Photos++ ++Hafnarfirði Photos++++Gay Iceland++Icelandic SUVs++++Reykjavik++++Reykjavik Nightlife Guide++