WOMEN'S SECTION
Click verse to see diverse versions.
HOME
Yahweh
CONSONANTS OR VOWELS?
Baal Gad
YAHWEH Transliterated Scriptures
YAHWEH SONGS
Yahweh Communicant
ALL Nations
LAW Links
PRIDE
A License To Sin
THE FAITH
Redemption
SABBATHS
Sacrifice
Unclean
WOMEN'S SECTION
Children & Young Adults
TEMPLE MOUNT LINKS
Qodesh Garments
ALLAH
CULTS
CULT DEFINED
Peace Page
OH HELL!
Something Fishy
YAHWEH SURF LINKS
Trinity Links
BIRTHDAY CELEBRATIONS
Pagan Holidays
SATAN CLAWS
News Links
LANGUAGES
Jewish
LOST TRIBES
Cross
STAR
Computer Helps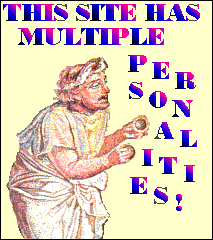 DISCLAIMER: As mentioned on my other web sites and pages, I do not espouse to all of the beliefs expressed on the reciprocal links I have provided here. My web sites are a venture into the pros and cons of diverse aspects of religious beliefs. I leave it completely up to each individual to decide what is truth and what is not. I am also not responsible for any cost or donation purchases that are made through these links. These reciprocal links are purely for educational and research purpose only. Please view these links at your own discretion.
FEATURE LINKS
Would you like to be a feature link at the top of this page?
E-MAIL ME with your request and I will get back to you ASAP.
On The Narrow Path of Set-Apart Womanhood
Topics include Head Covering, Being A Keeper at Home, The Sabbath and Biblical Holidays(Feasts Days), Modesty (Dresses, Skirts, and Jumpers), Living with Fibromyalgia, Multiple Sclerosis, Free Homeschooling, Health, Quiverful (Elohim planning the family size), Torah, The Sacred Names of Our Heavenly Father and Messiah, and Our Hebrew Roots.
Should Women Be Ministers?
By Network Minister
M. Tichi
Updated and Corrected: 2-23-2012
CHAYIL ISHAH
(formerly - freedomcenterwest.org)

[ARCHIVED]

Women United In Faith
Virtuous Daughters
Yahweh's Sisterhood In Yahshua
Religious Discrimination of Women
© G.M. Woerlee
[ARCHIVED]
CLOTHING For Men and Women
By Voy Wilks
Assembly of Yahweh (7th day)
Plain-n-Simple
Headcoverings
Looking For Modest And Comfortable Swimwear?
Freedom Center West
Designed to educate and encourage women in their search for truth and freedom.
The King's Daughters
Magazine
Women's Forum
This is a forum for women and moderated by women. This forum is intended ONLY for women to use. If you wish to be permitted to use this forum, please post your request in the
General Discussions
forum.
Sisters For Yah
Sarah's Tent
An E-Magazine for Messianic Women
~ Of Women and Holy Order ~
Jewish Women And Girls
Online Torah Commentary
AdriYahnah's Place
LADY LIBERTY
Give Me Liberty Or Give Me Death
True Marriage
- A Scriptural Study By Isaac Aluochier
Stewardship:
The Ideal Woman
Gospel Truth Ministries
- Taking the whole Word to the whole World
Women Apostles?
- Sevice in the Assembly
Annie's Home Page
Monica's
Bible Study Notes
Women in the Ministry
What is Women's Role
in the Assembly?
The Role of Women in the Assembly
By Scott & Jane Diffenderfer
Messianic Home
- Building Biblical Families
MARRIGE BY THE BIBLE
- Marriage Counseling Questionnaire
Mission To Israel
Responsibility of Headship
Yahweh's New Covenant Assembly
Modest Apparel Christian Clothing
Seamstress Sewing Custom Patterns Dresses Long
HEAD COVERINGS
[DOC] Letter From Woman
About Headcovering
Reader's Questions On Head Coverings
Joy In The World
Head Coverings
By Devorah - Scarves, Veils, Snoods & Kippot
Women's Headcoverings
: A Messianic Viewpoint
HEADCOVERINGS
and the Body of Messiah
Wives,
Submit to Yahweh!
Mothers,
Love Your Role! - Mothers and the Role of Women at Home
@ EliYah.com
Secure the Blessings
of filling your Proper Role - The blessings of a family as the Creator intended it to be. Headcoverings are also discussed.
@ SCRIPTURAL HELPS
COVERINGS
by Gary D. Naler - This book is dedicated to: Women For being the most needed companion for men. For mothering, bringing forth offspring to replenish the earth. For giving hope, for the present and for the future. For helping pay the price for the hope set before us.
@ The Remant Bride
- BibleStudy
7th Day Sabbath
[Headcovering Sisters]
@ 7th Day Sabbath Believers Directory

Modesty
Headcoverings
WOMEN PREACHING
Uncleanness
@Congregation of YHWH
Women
- Are You Obedient?
Men and Women,
Husbands and Wives

GladRags
Elder's Wife
@ Paleo Times
- Yahweh's Word from Ancient Times
Women
(content page)
@ Servants of Yahweh
- Many more articles that may be of interest to women
Especially For Sisters
@ Antipas
- Christadelphians
Women Preachers
@ Stewarton Bible School
...Home Page - Scotland
Polygamy
@ A 'Voice' In The Wilderness
- Toronto Canada - A Stewarton Bible School affiliate
Does the Bible
allow Women to Preach?
Biblical
Questions and Answers
@ Yahweh's Restoration Ministry
web site.
God Makes Promises
To Women
@ Global Journal
of Classical Theology

Muslim Matrimonials and more!
Feel free to e-mail me a link that you think might be of interest to submit on this page or any other page.
TID BIT
What does FGM stand for?
Answer: Female Genital Mutilation.
Believe it or not, FGM or female circumcision refers to a traditional, centuries old practice where the clitorides of girls are cut off, burned, or otherwise damaged. This practice still happens to nearly two million young girls in some areas of Africa, the Middle East and Southeastern Asia.
A lot of private groups and government organizations find this practice unethical and unhealthy. Not only can female circumcision be harmful to a girl's mental and sexual health, it can also impact her physical well-being depending on the lack of sanitary conditions and instruments, and the experience of the person performing the circumcision.
To learn more about this practice, check out
RAINBO
or the
World Health Organization
.
Also see my "Sacrifice" web page.
SECOND GROUP OF LINKS
Review of Elizabeth Johnson's She Who Is
God Drew The Line
Against Women Preachers by Cohen G. Reckart, Pastor
@ Apostolics Net
& Jesus Messiah Fellowship
The Sacred Name
Merlin Stone
When God Was a Woman
(1976)
SPIRIT BRIDE MINISTRIES
[Polygamist] -
Should a Christian Woman
Wear a HEADCOVERING?
The Truth About Eternal Plural Marriage
@ New Covenant Church of God
- B'rit Chadashah Assembly of Yahweh
Isabel Towianska's
Polygamy Homepage
Hebrew Goddess
In the Beginning
There was a Goddess
Polytheism in Genesis:
Baal and Ashtoreth vs. Yahweh
@ The Secular Web
Goddess Worship
- The worship of women throughout the ages
YAHWEH:
"Thy Maker Is Thine Husband"
@ And Adam Knew Eve
A Dictionary of Sex in the Bible
EVE
and the Identity of Women
Ashtoreth
- Hebrew (Mythic) The History of Women through Art
@ WIC
- Women's International Center, Education Through Communication
MORE WEB RINGS
GUEST BOOK NOTE: You have the option of viewing and signing my Bravenet guest book which a has a questionaire or viewing and signing my Dreambook guest book or both.
Read my Dreambook guestbook!
Sign my Dreambook