PEACE OF YAHWEH

Numbers 6:24-27
All Scriptural references that I post on my web site must be read in the entirety of the context from which they are taken.
READ THE WORD OF YAHWEH!
I do not espouse to all the beliefs of the following links, but I do want to live in a world of peace.
Although, the prophecies must be fulfilled. (cf.
IsaYAH [Isaiah] 55:11
,
MattithYAH [Matthew] 24:35
)
Nation shall rise against nation ... There shall be weeping and gnashing of teeth [anger and hatred].
(
MatithYAH [Matthew] 22: 1-14 & Chapter 24
)
... they will beat their swords into ploughshares, and their spears into pruninghooks; nation will not lift up sword against nation, neither will they learn war anymore (IsaYAH 2:4).
The Wars We Fight
THE WORLD PEACE PRAYER SOCIETY
Blessed are the peacemakers; for they will be called the sons of Yahweh (MattithYAH [Matthew] 5:9).
FCNL
This site offers free bumper stickers and peace yard signs for a suggested donation of $5.00
HOME
Yahweh
CONSONANTS OR VOWELS?
Baal Gad
YAHWEH Transliterated Scriptures
YAHWEH SONGS
Yahweh Communicant
ALL Nations
LAW Links
PRIDE
A License To Sin
THE FAITH
Redemption
SABBATHS
Sacrifice
Unclean
WOMEN'S SECTION
Children & Young Adults
TEMPLE MOUNT LINKS
Qodesh Garments
ALLAH
CULTS
CULT DEFINED
Peace Page
OH HELL!
Something Fishy
YAHWEH SURF LINKS
Trinity Links
BIRTHDAY CELEBRATIONS
Pagan Holidays
SATAN CLAWS
News Links
LANGUAGES
Jewish
LOST TRIBES
Cross
STAR
Computer Helps
DISCLAIMER: As mentioned on my other web sites and pages, I do not espouse to all of the beliefs expressed on the reciprocal links I have provided here. My web sites are a venture into the pros and cons of diverse aspects of religious beliefs. I leave it completely up to each individual to decide what is truth and what is not. I am also not responsible for any cost or donation purchases that are made through these links. These reciprocal links are purely for educational and research purpose only. Please view these links at your own discretion.
FEATURE LINKS
Would you like to be a feature link at the top of this page?
E-MAIL ME with your request and I will get back to you ASAP.
A Book Calling For Drastic Change In The Present Course Of Jewish/Christian/Islamic Self Identity
This book has recently undergone an extensive revision. It emphasizes the origins of the religious beliefs that have led to Islamic terrorism and suggests sound theological solutions.
To Get Involved Also See:
Inquiry Abraham
DISSIDENT VOICE
Dr. Yisrayl Hawkins
The House of Yahweh
Abilene, Texas, USA
His life's endeavour has been to make a concerted effort to bring about world peace. He is first and foremost a Biblical Scholar, a Doctor of Biblical Law and Author who is concerned with ethical principles, moral values and humanitarian practices. Dr. Hawkins has authored 53 books, including "There is Someone Out There", "The End" and "The Peaceful Solution, Volume I, II and III" which is the latest collection of works. These volumes outline an in depth educational proposal and guide which teaches individuals, neighbours, nations and countries how to have peace through non-violence. The peaceful Solution, examines the intricacy of conflict resolution, outlines the pattern of war, and delivers the ethics of peace. These particular volumes were written in response to the urgent pleas of international leaders who have expressed their fear and concern of a pending global nuclear holocaust.
Yisrayl Hawkins
has had the privilege of meeting with over 100 different world and religious leaders, mostly in the Middle East where war is a way of life. (Shimon Peres, Acman Quaria, Ezer Weizman, Sheik Akrama Sabri to name a few). A peaceful solution to global problems was a focal point of these scheduled visits. Many of these political leaders representatives have recognized the potentiality of his plan and solution for peace and have agreed to support its causes. For his efforts in promoting peace, Yisryl Hawkins has just recently received an award from the Palistinian Legislative Council.
Nonviolent Jesus
An unofficial blog by a member of the Catholic peace movement, Pax Christi, to bring the light of Church teachings to current war policy in the United States.

NO WAR


FOR ISRAEL
Electronic Intifada
SONGS FOR WORLD PEACE
How about a little humor, or is humor dead?
Why Do They Hate Us?
SENIORS FOR PEACE to Air on PBS.

LINKS PAGE
LIGHT A CANDLE


FOR PEACE
History began there.
The most important event in history will happen there.
History's final showdown will take place there.
Military Families Speak Out
Iraq Coalition Casualty Count
Albert Einstein
War, Peace, Disarmament and Patriotism
The Peace Encyclopedia
National Homeland Security Knowledgebase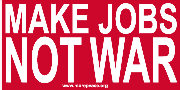 This site offers free bumper sticker.


Practical, Positive Alternatives For Peace

Kara's Homepage

About Abortion STOP IT !!
WARNING!
Graphic Images On The Next Two Links.
Not for those with a weak stomach.


ABORTION IS MURDER!

SEEDS OF PEACE Empowering Children of War to Break the Cycle of Violence


PEACE WIRE
WAGING PEACE
Radio For Peace International
Peace Corps

MERCY CORPS
Carnegie Endowment for International Peace


CNIMN (Not In My Name) supports the Israeli soldiers and conscripts who have the Courage to Refuse - Courage to Refuse campaign website

Physicians For Social Responsibility
GLOBAL ACTION TO PREVENT WAR, A Coalition - Building Effort To Stop War, Genocide & Internal Armed Conflict


COOPERATIVE PEACE by James Peter Warbasse


Oregon Peace Works

Xuan Minh, 3, looks out from his bed at the Tu Du Hospital in Ho Chi Min city on Friday March 25, 2005, suffering from what is believed to be the effects of the jungle defoliant Agent Orange, used heavily in the region by the U.S. armed forces during the Vietnam War. Vietnam celebrates the end of hostilities on April 30, 2005, marking 30 years since war in Vietnam ended. (AP Photo/Richard Vogel)

The Tiny Victims of Desert Storm
Photography by Derek Hudson
Text by Kenneth Miller
Reporting by Jimmie Briggs
Kennedi


Kennedi was born without a thyroid. Her face is grotesquely swollen, sprinkled with red, knotted lumps. What disfigures her features, however, is another congenital condition: hemangiomas, benign tumors made of tangled blood vessels. [Her parents] suspect that Kennedi's troubles have their origins in the Gulf, where [her father] served as an Army paratrooper. …he faced a mind-boggling array of environmental hazards. Like an estimated 45,000 of his comrades, he has developed symptoms linked to an elusive affliction known as Gulf War syndrome. Kennedi's dad, Darrell, tested positive for radiation exposure, but unless his testes are dissected no link to her condition can be proved.
Lea


Spina bifida cripples her legs. Her upper body is so weak that she can't push herself in a wheelchair on carpeting. To strengthen her bones, she spends hours in a contraption that holds her upright. Her father went to the Gulf as a civilian helicopter mechanic.
Jayce


Jayce was born with hands and feet attached to twisted stumps. He also had a hole in his heart, a hemophilia-like blood condition and underdeveloped ear canals. Doctors recently amputated his legs at the knees to make it easier to fit him with prosthetics.
Casey


Casey was born with Goldenhar's syndrome, characterized by a lopsided head and spine. His left ear was missing, his digestive tract disconnected. Trying to repair his scrambled innards, surgeons at Walter Reed Army Medical Center damaged his vocal cords and colon…His parents feed him and remove his wastes through holes in his belly.
In a conference room at the Womack Army Medical Center in Fort Bragg, NC…Army Sgt. John Mabus has brought along his babies, Zachary and Andrew, who suffer from an incomplete fusion of the skull.
…Pentagon bureaucrats are quick to cite a statistic that drives these parents wild: At least 3 percent of American babies are born with abnormalities.
The Association of Birth Defect Children says it has found the first cluster of defects in the offspring of U.S. Gulf War veterans: 10 babies with severe Goldenhar's syndrome, a condition that usually strikes one in 26,000.
Earlier this year [the Pentagon's] Dr. Joseph told LIFE that, although trained as a pediatrician, he was entirely unfamiliar with "Goldhavers or Gold Heart-whatever." It's precisely that kind of response that enrages veterans with afflicted babies.
Of the 400 sick vets who had already answered committee inquiries, a startling 65 percent reported birth defects or immune-system problems in children conceived after the war.
According to a 1994 report by the General Accounting Office American soldiers were exposed to 21 potential "reproductive toxicants," any of which might have harmed them or their future children. Some physicians who have treated Gulf vets believe they may be suffering from a general overload of chemical pollutants—and their body fluids are actually toxic. (Indeed, many veterans' wives are sick; a few complain that their husbands' semen blisters their skin.) Some chemicals, such as mustard gas, have been shown to affect sperm production…
www.life.com
--------------------------------------------------------------------------------
The next article doesn't give as much detail as the prophecies, but it does give a small glimpse into the future concerning what the world leaders think they want now.
Depleted Uranium, A Scientific Perspective An interview with Leuren Moret, geoscientist Moret: A young veteran named Melissa Sterry of Connecticut has introduced a bill into the Connecticut Legislature requiring independent testing of returning Afghan and Gulf War veterans going back to 2001. She said that she did it because she's sick, and her friends are dead, and that's from serving in the 2003 conflict.
The U.S. has blocked any accountability at international and national levels. There's a total cover-up just like with Agent Orange, the atomic veterans, MKULTRA, the mind control experiments the CIA did. This is more of the same, but the issue is much, much worse because the genetic future of all those contaminated is affected. Vast regions around our world, as well as our atmosphere, are contaminated with the depleted uranium. It's the equivalent number of atoms, as the Japanese professor calculated it, to over 400,000 Nagasaki bombs that has been released into the atmosphere. That's really an underestimate.
The atmosphere globally is contaminated with it. We have huge dust storms that are a million square miles and transport millions of tons of dust and sand every year around the world.
The main centers of these dust storms are the Gobi Desert in China, which is where the Chinese did atmospheric testing, so that's all contaminated with radiation, and it gets transported right over Japan, and it comes straight across the Pacific and dumps all its sand and dust on the U.S., North America. It's loaded with radioactive isotopes, soot, pesticides, chemicals, pollution_everything is in it_fungi, bacteria, viruses.
The Sahara Desert is another huge dust center, and it goes up all over Europe and straight across the Atlantic…
The third region is the Western United States, which is where the Nevada test site is located. We did 1,200 nuclear weapons tests there, so all this radiation that is already there, which is bad enough, has caused a global cancer epidemic since 1945. All of the radiation was the equivalent of 40,000 Nagasaki bombs.
In April of 2003, The World Health Organization said they expect global cancer rates to increase 50 percent by the year 2020.
Prophecy reveals that cancer and other disease epidemics would increase more in this time period than at any other time in the history of man.
The DU (depleted uranium) burns at such high temperatures. It's a pyrophoric metal, which means it burns. The bullets and big caliber shells are actually on fire when they come out of the gun barrel because they are ignited by the friction in the gun barrel. Seventy percent of the DU metal becomes a metal vapor. …the 1943 memo to General Leslie Grove under the Manhattan Project. It's the blueprint for depleted uranium. They dropped the atomic bombs, but they did not use the DU weapons because they thought they were too horrific.
…a pediatrician in Basra [Iraq] and an oncologist, a cancer specialist has 10 members of his family with cancer…and this is just from Gulf War I.
If [soldiers] were in Bradley Fighting Vehicles, they're coming home with rectal cancer from sitting on ammunition boxes. The young women are reporting terrible problems with endometriosis. …18 and 19 and 20 year olds.
[Depleted uranium particles] are 100 times smaller than a white blood cell. The particles go through the nose, go through the olfactory and into the brain, and it messes up [the soldiers] cognitive abilities, thought processes.
It damages their mood-control mechanism in the brain. Four soldiers at Fort Bragg came back from Afghanistan, and within two months, those four had murdered their wives. This is part of the damage to the brain from the radiation and the particles.
Of 251 Gulf War I veterans in Mississippi, in 67 percent of them, their babies born after the war were deemed to have severe birth defects. They had brains missing, arms and legs missing, organs missing. They were born without eyes. They had horrible blood diseases. It's horrific.
Basically, it's like smoking crack, only you're smoking radioactive crack. It goes straight into the blood stream. It's a systemic poison and a radiological poison.
It's being mixed globally. We're getting secondary smoke. It's the secondary smoke effect. You know the people who inhabit a room with smokers? They are getting that secondary smoke, and so are we.
Iconoclast: Is that secondary smoke getting thicker as we speak?
Moret: Yeah, the concentration of the depleted uranium particles in the atmosphere all around the globe is increasing. There are indications that the U.S. will go in June and bomb the heck out of Iran. We're monitoring the U.S. Army ammunition factories. They have very large orders for those huge bunker buster bombs that have 5,000 lbs. of DU in the warhead.
It's going to kill off the world's population. It already is, and it doesn't just affect people. It affects all living systems. The plants, the animals, the bacteria; it affects everything.
Notice what the Prophet Isayah was inspired to write about these Last Days, showing that no one is exempt from the curses mankind is causing, not even the earth.
Isayah 24:1-6— 1 Before Yahweh's very eyes, the earth is made empty and it is made waste. Its face is perverted, and its inhabitants are scattered abroad.
2 And it will be: as with the people, so with the priest; as with the servant, so with his owner; as with the maid, so with her mistress; as with the buyer, so with the seller; as with the lender, so with the borrower; as with him who takes usury, so with him who gives usury to him:
3 The land will be utterly emptied and utterly plundered, for Yahweh has spoken this word.
4 The earth mourns and fades away, the world mourns and fades away, and the haughty people of the earth languish.
5 The earth also is defiled under the inhabitants of it, because they have transgressed the Laws, changed the ordinance, and broken the everlasting covenant.
6 Because of this, the curse has devoured the earth, and they who dwell therein are desolate; therefore, the inhabitants of the earth are burned, and few men left.
There are still plutonium and uranium floating around the Earth from bomb testing. These particles are so tiny that molecules bumping into them keep them lofted in the air, and the only way for them to get out of the atmosphere is rain, snow, fog, pollution, which will clear them out of the air and deposit them in the environment. They come down and land on stuff and stick to it like a glue. Once they are removed from the atmosphere, they stick to any surfaces they land on.
What is over there (in Iraq) is over here in about four days. It becomes a part of atmospheric dust.
Mosheh was inspired to tell us about this powder and dust that would fall upon mankind until he is destroyed. Anyone who does not believe these prophecies will be caught off-guard when the prophesied destruction that will darken the sun is upon us.
Deuteronomy 28:24—
It will come to pass that you will cause the rain of your land to be powder and dust: from heaven it shall come down upon you, until you are destroyed.
We've conducted four nuclear wars since 1991. DU is a nuclear weapon.
Within six months, the U.S. government had sold the DU weapons system to 12 entities which included many branches of the U.S. military and other countries, about 12 or 17 countries. The only countries we know that have used DU are Britain, the U.S. and Israel. Yugoslavia, Iraq, and Afghanistan are completely uninhabitable.
[Marion Falk-a retired chemical physicist who built nuclear bombs] said the purpose of weapons used by the military is not only to injure and kill the enemy soldiers, but the purpose is to kill, maim, and disease the civilian population because it reduces the productivity of a country and pretty soon a lot of their resources are going to be used for taking care of sick people.
Of course, once you cause mutation in the DNA, that damage is passed on to future generations of that affected person…
[Evolutionary diseases] are inherited by all future generations and passed on. …if you damage the DNA in the egg or the sperm, that is passed on to all future generations.
[Veterans] have depleted uranium in their semen. When they're intimate with their partners, they internally contaminate them with depleted uranium. The women become sick themselves. They have depleted uranium in their bodies, and there is something called burning syndrome.
[The widow of a Canadian Gulf War veteran] said, "I had 20 condoms full of frozen peas in my freezer at all times, and after we were intimate, I would insert one into my vagina, and that is the only way I could bear the pain from the burning semen."
The name of this article is "Weapons of Self-Destruction."
…It was Chernoblyl and other nuclear disasters that actually destroyed the Soviet Union because the former Soviet Union is very, very sick from all the radiation that was released.
Two years ago the U.S. government admitted that every single person living in the United States between 1957 and 1963 was internally exposed to radiation. So for any pregnant woman during those years, her fetus was exposed.
By 1963, when the U.S. tested a nuclear bomb almost every day (they did 250 tests in one year because the treaty was going to be signed), the fishing catch declined by 50 percent. In the Pacific, it declined 60 percent because there was Russian, Chinese, French, and U.S. testing in the Pacific.
Iconoclast: So we're still eating those contaminated fish today.
Moret: It's a global nuclear holocaust. That's why they call it "omnicide," which means it kills all living things…
…the problem with Uranium 238, which is 99.39 percent DU, is that it decays in over 20 steps into other radioactive isotopes.
It goes right in your nose. It crosses the olfactory bulb into your brain. It's a systemic poison. It goes everywhere. [These particles] get picked up in the lipids and probably the cholesterol and go right through the cell membranes of the cell. They screw up the cell processes. They screw up the signaling between the cells because the cells all talk to each other and coordinate what they're doing. It messes up brain function.
After the Gulf War, they had maybe one baby a week born with birth defects… Now they are having 10-12 a day.
An Iraqi doctor told me that babies are being born now that are lumps of flesh.
Anywhere from within 100 miles of a nuclear power plant is where two-thirds of all breast cancer deaths occurred in the U.S. between 1985 and 1989.
If you eat clams or mussels or crabs or things like that, even certain kinds of fish that eat off of the mud at the bottom of the river, you have much higher levels of radiation in your tissues. …this man from Washington State died suddenly. They did an autopsy, and he was full of radioactive zinc. They studied his diet and discovered he loved to eat oysters. …the oyster beds…were 200 miles off shore.
Soldiers on the battlefield have reported a metallic taste in their mouth. That's the actual taste of the uranium metal. …This particulate matter damages the neuromuscular system, the nerves… These particles are very, very insoluble, so they can't even dissolve in body fluids, so they can't be excreted from the body.
Another problem is that soldiers have crumbling teeth.
Iconoclast: Tell me about the test that detects for DU in the body.
Moret: The chromosome test is the best indicator. It's $5,000. The urine test is $1,000.
The Lone Star Iconoclast

PROPHECY LINKS
ECOLOGICAL & ENVIRONMENTAL PEACE LINKS

THE PARADISE FOREST

GREENPEACE LINKS



A Biblical Perspective On War
War in the Gulf by John MacArthur, Jr.

Israel Defence Forces

Hebrew
Israel Defence Forces

English

AKA - Oppose The Troops, and Citizens Against The Troops

ABOUT, OPPOSE THE TROOPS--THE OFFICIAL WEBSITE
Also See NEWS LINKS

GUEST BOOK NOTE: You have the option of viewing and signing my Bravenet guest book which a has a questionaire or viewing and signing my Dreambook guest book or both.



Read my Dreambook guestbook!
Sign my Dreambook