LANGUAGES
HOME
Yahweh
CONSONANTS OR VOWELS?
Baal Gad
YAHWEH Transliterated Scriptures
YAHWEH SONGS
Yahweh Communicant
ALL Nations
LAW Links
PRIDE
A License To Sin
THE FAITH
Redemption
SABBATHS
Sacrifice
Unclean
WOMEN'S SECTION
Children & Young Adults
TEMPLE MOUNT LINKS
Qodesh Garments
ALLAH
CULTS
CULT DEFINED
Peace Page
OH HELL!
Something Fishy
YAHWEH SURF LINKS
Trinity Links
BIRTHDAY CELEBRATIONS
Pagan Holidays
SATAN CLAWS
News Links
LANGUAGES
Jewish
LOST TRIBES
Cross
STAR
Computer Helps
DISCLAIMER: As mentioned on my other web sites and pages, I do not espouse to all of the beliefs expressed on the reciprocal links I have provided here. My web sites are a venture into the pros and cons of diverse aspects of religious beliefs. I leave it completely up to each individual to decide what is truth and what is not. I am also not responsible for any cost or donation purchases that are made through these links. These reciprocal links are purely for educational and research purpose only. Please view these links at your own discretion.
FEATURE LINKS
Would you like to be a feature link at the top of this page?
E-MAIL ME with your request and I will get back to you ASAP.
Biblical Hebrew A Student Grammar
FREE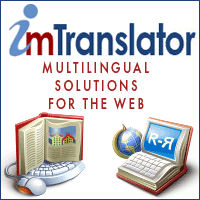 CLICK HERE
FOR FREE: HEBREW TO ENGLISH TRANSLATOR
Learn Hebrew Online For Free!
@ Virtual Ulpan
Learn Assyrian
Foundation Stone
A Free And Easy Way To Learn Hebrew
Hebrew For Goyim
The Jerusalem Connection Report
English fonts that look like Hebrew
Hebrew Font
Downloads
CLICK HERE
FOR:
Download 'Paleo-Hebrew' font: Sun | Macintosh | Windows
Download 'Greek' font: Sun | Macintosh | Windows
Download 'Jerusalem' font: Sun | Macintosh | Windows
(Links found at the very bottom of page.)
Ancient Near Eastern Languages
Dictionaries And Encyclopedias
Biblical Hebrew Language
GUEST BOOK NOTE: You have the option of viewing and signing my Bravenet guest book which a has a questionnaire or viewing and signing my Dreambook guest book or both.
Read my Dreambook guestbook!
Sign my Dreambook
72 Foreign Languages Translated into English
Translator Certification Examinations Ancient Language Studies
languages-on-the-web
Everything to learn foreign languages... and more
Was The So Called "New Testament"
Originally Penned And Inspired In Greek?
English Pronunciation ? !!!
If you can pronounce correctly every word in this poem, you will be speaking English better than 90% of the native English speakers in the world. After trying the verses, a Frenchman said he'd prefer six months of hard labour to reading six lines aloud. Try them yourself.
Dearest creature in creation, Study English pronunciation. I will teach you in my verse Sounds like corpse, corps, horse, and worse. I will keep you, Suzy, busy, Make your head with heat grow dizzy. Tear in eye, your dress will tear. So shall I! Oh hear my prayer. Just compare heart, beard, and heard, Dies and diet, lord and word, Sword and sward, retain and Britain. (Mind the latter, how it's written.) Now I surely will not plague you With such words as plaque and ague. But be careful how you speak: Say break and steak, but bleak and streak; Cloven, oven, how and low, Script, receipt, show, poem, and toe. Hear me say, devoid of trickery, Daughter, laughter, and Terpsichore, Typhoid, measles, topsails, aisles, Exiles, similes, and reviles; Scholar, vicar, and cigar, Solar, mica, war and far; One, anemone, Balmoral, Kitchen, lichen, laundry, laurel; Gertrude, German, wind and mind, Scene, Melpomene, mankind. Billet does not rhyme with ballet, Bouquet, wallet, mallet, chalet. Blood and flood are not like food, Nor is mould like should and would. Viscous, viscount, load and broad, Toward, to forward, to reward. And your pronunciation's OK When you correctly say croquet, Rounded, wounded, grieve and sieve, Friend and fiend, alive and live. Ivy, privy, famous; clamour And enamour rhyme with hammer. River, rival, tomb, bomb, comb, Doll and roll and some and home. Stranger does not rhyme with anger, Neither does devour with clangour. Souls but foul, haunt but aunt, Font, front, wont, want, grand, and grant, Shoes, goes, does. Now first say finger, And then singer, ginger, linger, Real, zeal, mauve, gauze, gouge and gauge, Marriage, foliage, mirage, and age. Query does not rhyme with very, Nor does fury sound like bury. Dost, lost, post and doth, cloth, loth. Job, nob, bosom, transom, oath. Though the differences seem little, We say actual but victual. Refer does not rhyme with deafer. Foeffer does, and zephyr, heifer. Mint, pint, senate and sedate; Dull, bull, and George ate late. Scenic, Arabic, Pacific, Science, conscience, scientific. Liberty, library, heave and heaven, Rachel, ache, moustache, eleven. We say hallowed, but allowed, People, leopard, towed, but vowed. Mark the differences, moreover, Between mover, cover, clover; Leeches, breeches, wise, precise, Chalice, but police and lice; Camel, constable, unstable, Principle, disciple, label. Petal, panel, and canal, Wait, surprise, plait, promise, pal. Worm and storm, chaise, chaos, chair, Senator, spectator, mayor. Tour, but our and succour, four. Gas, alas, and Arkansas. Sea, idea, Korea, area, Psalm, Maria, but malaria. Youth, south, southern, cleanse and clean. Doctrine, turpentine, marine. Compare alien with Italian, Dandelion and battalion. Sally with ally, yea, ye, Eye, I, ay, aye, whey, and key. Say aver, but ever, fever, Neither, leisure, skein, deceiver. Heron, granary, canary. Crevice and device and aerie. Face, but preface, not efface. Phlegm, phlegmatic, ass, glass, bass. Large, but target, gin, give, verging, Ought, out, joust and scour, scourging. Ear, but earn and wear and tear Do not rhyme with here but ere. Seven is right, but so is even, Hyphen, roughen, nephew Stephen, Monkey, donkey, Turk and jerk, Ask, grasp, wasp, and cork and work. Pronunciation (think of Psyche!) Is a paling stout and spikey? Won't it make you lose your wits, Writing groats and saying grits? It's a dark abyss or tunnel: Strewn with stones, stowed, solace, gunwale, Islington and Isle of Wight, Housewife, verdict and indict. Finally, which rhymes with enough, Though, through, plough, or dough, or cough? Hiccough has the sound of cup. My advice is to give up!!!

Free Translation System