Law Links
PSALMS
Is My Fovorite Book Of The Scriptures
Ten Commandments Carved On Door Of U.S. Supreme Court
HOME
Yahweh
CONSONANTS OR VOWELS?
Baal Gad
YAHWEH Transliterated Scriptures
YAHWEH SONGS
Yahweh Communicant
ALL Nations
LAW Links
PRIDE
A License To Sin
THE FAITH
Redemption
SABBATHS
Sacrifice
Unclean
WOMEN'S SECTION
Children & Young Adults
TEMPLE MOUNT LINKS
Qodesh Garments
ALLAH
CULTS
CULT DEFINED
Peace Page
OH HELL!
Something Fishy
YAHWEH SURF LINKS
Trinity Links
BIRTHDAY CELEBRATIONS
Pagan Holidays
SATAN CLAWS
News Links
LANGUAGES
Jewish
LOST TRIBES
Cross
STAR
Computer Helps
DISCLAIMER: As mentioned on my other web sites and pages, I do not espouse to all of the beliefs expressed on the reciprocal links I have provided here. My web sites are a venture into the pros and cons of diverse aspects of religious beliefs. I leave it completely up to each individual to decide what is truth and what is not. I am also not responsible for any cost or donational purchases that are made through these links. These reciprocal links are purely for educational and research purpose only. Please view these links at your own discretion.
FEATURE LINKS
Would you like to be a feature link at the top of this page?
E-MAIL ME with your request and I will get back to you ASAP.
Also see my web pages "Redemption" and "Law".
Yada Yahweh Radio - Torah Tuesdays - Episode 1
"The first christians relied on the Old Testament as their chief religious book. To them it was of divine origin and authority." ----SOURCE---- Dr. Samuel Davidson; The "Canon" The Encyclopedia Britannica
613 Laws
The "613 Laws" no one individual is required to guard all 613. The concept of their being 613 Laws in the Torah came from Rabbi Moshe ben Maimon (Maimonides) or the RaMBaM (1135-1204 C.E.). He is the one that coined the idea that there were(are) 613 Laws in the Torah in his book "Mishnah Torah." Some of the Misswoth are for women, so a man can't keep those. Some of the Misswoth are for farms, so an individual whom is not a farmer can't keep those. Some of the Misswoth deal with appointed Judges in the society, so if a person is not an appointed Judge they don't guard those. If a woman is a Lewite by birth, she still cannot take on the Laws of Kohein (Priest). A man whom for example is not the Kohein HaGadol (High Priest) could not for example do what the High Priest was called to do on Yom Kippur. cannot Also close to half of the Misswoth, Hhuqim, and Mishpatim in the Torah deal specifically with the Koheinim, Lewites, the Miskhan and the service to the sacrifices. I think the more correct language is that each individual whom lives by the Torah has a place of responsibiltiy within its commands. This may be the better the concept of one individual keep 613 Laws, some of which don't apply to him/her, can be somewhat confusing to people who don't know.
We know that word Torah is from the word Hora'ah (instruction).
And because
iniquity [disobedience of Yahweh's instruction]
; will abound, the love of the many will grow cold
(Mattithyah [Matthew] 24:12).
But then I will declare to them; I never knew you. Get away from me, you
workers of iniquity [who disobey Yahweh's instruction]
!
(Mattithyah [Matthew] 7:23).
Iniquity [Disobedience of Yahweh's Instruction]
The Scriptural definition of sin is the
TRANSGRESSION
of the Law. (I John 3:4). To trangress the Law is to violate the Law. The
LAW
that is spoken of here is Father Yahweh's Law, not man's law. Back at this time it was refered to as the Torah, which actually means Teaching. Scripture instructs us to turn from or repent of sin, NOT to continue in sin. Many religions
"OF THIS WORLD"
DECEPTIVELY
(also cf.
Revelation 16:14
) teach that we no longer have to obey Yahweh's Teaching (Torah, Law), because it has been "nailed to the (
PAGAN
) cross", "done away with", "no longer in effect", "annulled", "made
VOID
", that it is "a
BURDEN
", (also cf.
I John 5:3
) "impossible to keep", and
"for the Jews only"
.
To "magnify the law" doesn't mean to "do away with" it. It means to make it more applicable than ever! In one of his many prophecies about the coming servant of Yahweh, Isaiah prophesied, "He will magnify the law, and make it honorable," Isayah 42:21. Not destroy the law or "do away with" it, but magnify it!
Moses' Law vs. God's Ten Commandment Law
Mattithyah [Matthew] 7:21-
Heart of Zion
TORAH SOFTWARE
For Mesianic Jews and Christian Beleivers in Messiah

"The Law of Yahweh
is impossible to keep."
This is a statement that most Christian religions espouse to and it completely contradicts Luke's record of the priest Zecharyah and his wife Elizabeth.
"They were both righteous before Yahweh, blamelessly walking in all the commandments of Yahweh."
(Luke 1:6)
There are many others that are mentioned in Scripture that found favor ("grace") with Father Yahweh and lived up to His standard of perfection. Only eight people survived the Great Deluge, because only those eight did "all that YAHWEH commanded" (
Genesis 7:1-5
). Only Lot and his two daughters survived Sodom and Gamorrah (
Genesis 19:16
) because only they were righteous (
2 Kepha [Peter] 2:7-8
). Out of 600,000 Hebrews who left Egypt during the Exodus, 599,998 died before they could cross the river into their promised land 40 years later. Caleb and Yahshua Son of Nun [Joshua Ben Nun] were the only survivors of the wilderness trek from Egypt to Canaan (
Numbers 26:65
). Why? Because only Caleb and Yahshua [Joshua Ben Nun] "followed YAHWEH fully" (
Numbers 32:11-12
). This is the reason why there were few left in Egypt, because they didn't obey YAHWEH (
Deuteronomy 28:62
). Because the earth transgressed the Law of YAHWEH, the curse devoured the earth, and there were few men left. Yahshua said the same about us also. "For many be called, but few chosen" (
Mattithyah [Matthew] 20:16
&
22:14
), and there will be few that are redeemed (
Luke 13:23-24
), and there will be few that find eternal life (
Mattithyah [Matthew] 7:14
). Many people will profess to do many wonderful works in Yahshua's Name, but only a few will do the Will of Father Yahweh, and only those few will be redeemed (
Mattithyah [Matthew] 7:21-23
). As a matter of fact, Yahshua had many disciples walking with Him while He was here on earth, but at one point, many disciples walked with Yahshua no more, and only a few were left who followed Him (
Yahchanan [John] 6:66
).
JESUS AND THE LAW
READ IT ONLINE!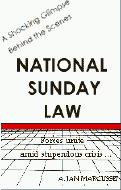 The One Law
From Enoch to the Dead Sea Scrolls
The Nazarene Way
Common Objections
for not Obeying the Ten Commandments
Issues and Answers:
The Anti-Christ is Hiding in Plain Sight
[PDF] What Was Nailed to the Cross? by Shem Eliyah Eber
[PDF] The 10 Declairations - A Translation followed by Commentary Based upon Scripture by Shem Eliyah Eber
TORAH
- Prologue to the Torah
"The Law is an expression of [YAHWEH'S] WILL. Romans 7:2-9" (From: THE GUIDEPOST FAMILY CONCORDANCE PG. 401)
"Each day, hundreds of visitors to the Gulf Coast Exploreum linger at one clear plastic case in particular.
It is the world's oldest copy of the Ten Commandments, its tiny black text exquisitely inked onto the crinkled surface of a brown animal skin."
Dead Sea Scrolls Come to Mobile Museum
Torah Quiz
Christian Brothers
High School Homepage
[PDF] Delighting in the Good Law of Yahweh:
An Old Testament Perspective Paul R. Raabe - Concordia Seminary, St. Louis
Go Down Moses
Biblical Law
by Richard C. Nickels
LEGALISM
Not Subject to the Law
of God - Under Law?
COVENANTS
Observing Mitzvot:
How to Love God and Neighbor
LAWN SIGN
THE BIG TEN
-THE LAW of GOD
THE LAW OF GOD
- Old Testament Scriptures
Laws,
laws, and MORE laws...
Concerning Law and Grace
The Overcomer's Refuge
IS COLOSSIANS 2:14-17
A "DIFFICULT SCRIPTURE"?
A Question About The Law
BLESSINGS AND CURSINGS
Yahweh's Perfect Law
- Yahweh's Restoration Ministry
The Perfect Law
of Yahweh
YAHWEH'S PERFECT LAW
- TheTruth Ministries Online
[PDF] Delighting in the Good Law of Yahweh:
An Old Testament Perspective by Paul R. Raabe - Concordia Seminary, St. Louis
To Whom Do the Laws of the YAHUDIM
("Jews") Apply?
THE MARK NAME
AND NUMBER OF THE BEAST
Yahweh's Torah
, A way of life
All Believers In Yahshua
should be keeping the law
PAUL NEVER SAID
the Law was abolished. Read for yourself.
WARNING
on Paul's writings
"UNDER THE LAW"
- What It Means
Clossians 2:
Handwriting of ordinances
Yahshua:
Violation of the Law will abound.
Walk in the Spirit
- What it Means
The Ten Commandments
- Are We Only to Keep These?
Galatians Chapter 3
Verse by Verse
Matthew 5:17-19
- Yahshua did not come to destroy the Law.
1 Timothy
Chater 1 - Law is not for the righteous
Romans 14
Who is the weak brother?
The Law:
For Jews only?
SERVING
in the oldness of the letter?
The Coming Kingdom
Of Yahweh
THE 613 COMMANDMENTS
Why Aren't Your Prayers
Answered Today?
Yahweh's 613 Laws Of Peace
Of All Nations
The 613
Commandments
613 Mitzvot
Wikipedia - The Free Encyclopedia
The Law:
All 613 Commandments!
"Tell me, you who want to be under the law, are you not aware of what the law says?" (Galatians 4:21)
"UNDER THE LAW"
What It Means
Forty Years of Transition
(Keeping the Law)
Understand Biblical Works
Knowing Yahweh's Laws
Yahweh's Commandments:
In Light of Judaism, Christianity and Islam...

The Torah
Law of Moses
Yahweh's Teachings
Proving OLD TESTAMENT LAW
from the NEW TESTAMENT
Why Does YRM
teach the Old Testament Laws? E-mail
'Days, Months, Times, Years'
What did Paul mean when he wrote
to the Galatians in 4:10-11?
Why Biblical Law? - A lesson from the Potter

Forsaking Sound Doctrine
by Jacob O. Meyer
SO WE'RE SAVED BY GRACE?
Are you saying that we need to keep the 613 laws
and ordinances that were given to the children of Israel, and if so, how can we if the chidren of Israel were unable to?
How to Asertain the Righteous Requiements of the Law
by Isaac Aluochier
Law Abolished?
Is The Law Done Away?
Was the "Law" Abolised?:
A Messianic Perspective by Rich & Laura Argo
The Mystery of Iniquity
- Are the Commandments for Christians, or not?
ARE THE LAWS
AS MENTIONED IN THE BIBLE, REALLY DONE AWAY WITH?
Are We Still Required
To Keep The Law?
Is the New Covenant
the same covenant as the Old Covenant with no change in the Law/Torah?
What it means to be
"Under the Law"
Law Or Grace
The Spirit
of the Law
Leviticus and the Law
by: David Mundy
Whosoever
- An Online Magazine For Gay, Lesbian, Bisexual, and Transgendered Christians
Also see my web pages
"A License To Sin"
&
"Jewish"
GUEST BOOK NOTE: You have the option of viewing and signing my Bravenet guest book which a has a questionaire or viewing and signing my Dreambook guest book or both.
Read my Dreambook guestbook!
Sign my Dreambook