BIRTHDAY CELEBRATIONS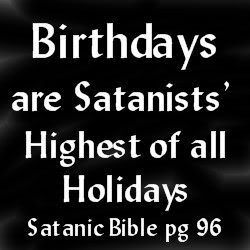 Back in 1969 Anton Lavey wrote The Satanic Bible. On page 96 on the 1976 version, it mentions birthdays:
THE highest of all holidays in the Satanic religion is the date of one's own birth. This is in direct contradiction to the holy of holy days of other religions, which deify a particular god who has been created in an anthropomorphic form of their own image, thereby showing that the ego is not really buried.
The Satanist feels: "Why not really be honest and if you are going to create a god in your image, why not create that god as yourself." Every man is a god if he chooses to recognize himself as one. So, the Satanist celebrates his own birthday as the most important holiday of the year. After all, aren't you happier about the fact that you were born than you are about the birth of someone you have never even met? Or for that matter, aside from religious holidays, why pay higher tribute to the birthday of a president or to a date in history than we do to the day we were brought into this greatest of all worlds?
Despite the fact that some of us may not have been wanted, or at least were not particularly planned, we're glad, even if no one else is, that we're here! You should give yourself a pat on the back, buy yourself whatever you want, treat yourself like the king (or god) that you are, and generally celebrate your birthday with as much pomp and ceremony as possible.
After one's own birthday, the two major Satanic holidays are Walpurgisnacht and Halloween (or All Hallows' Eve). SOURCE
HOME
Yahweh
CONSONANTS OR VOWELS?
Baal Gad
YAHWEH Transliterated Scriptures
YAHWEH SONGS
Yahweh Communicant
ALL Nations
LAW Links
PRIDE
A License To Sin
THE FAITH
Redemption
SABBATHS
Sacrifice
Unclean
WOMEN'S SECTION
Children & Young Adults
TEMPLE MOUNT LINKS
Qodesh Garments
ALLAH
CULTS
CULT DEFINED
Peace Page
OH HELL!
Something Fishy
YAHWEH SURF LINKS
Trinity Links
BIRTHDAY CELEBRATIONS
Pagan Holidays
SATAN CLAWS
News Links
LANGUAGES
Jewish
LOST TRIBES
Cross
STAR
Computer Helps
DISCLAIMER: As mentioned on my other web sites and pages, I do not espouse to all of the beliefs expressed on the reciprocal links I have provided here. My web sites are a venture into the pros and cons of diverse aspects of religious beliefs. I leave it completely up to each individual to decide what is truth and what is not. I am also not responsible for any cost or donation purchases that are made through these links. These reciprocal links are purely for educational and research purpose only. Please view these links at your own discretion.
NOTE: I specifically emphasize CELEBRATE
(commemorate with ceremonies or festivities)
This is not on whether one OBSERVES THE TIME OF ONES BIRTH TO DESIGNATE AGE. Certainly we would CELEBRATE ones birth ON THE DAY THAT THEY WERE BORN, but not every year, since we are only born into this world once. Celebrating ones birth yearly is obviously a pagan practice and not of Father Yahweh, since nowhere in Father Yahweh's Teaching (Torah) does He ever instruct us to celebrate the date of our birth YEARLY.
Diverse views are given on the reciprocal links at the bottom of this page.
FEATURE LINK
Would you like to be a "FEATURE LINK" at the top of this page?
E-MAIL ME
with your request and I will get back to you ASAP.
Birthdays
Pagan/Occult Origins in the Satanic Bible
[PDF] Birthday Celebrations
Could the celebration of birthdays come from Ancient Pagan Festivals of Godworship?
Find out the Truth about birthdays. FREE BOOKLET(S).
Also See My "Satan Claws" Page.
The Surprising Origin of the Custom of Celebrating Birthdays!
William F. Dankenbring Worshipers of Yahweh Never Indulged in the Pagan Practice of Annually Celebrating Birth Dates (Birthdays) Birthday Observances In Scholarly Sources "There are no positive data in the Bible or in rabbinical literature concerning birthday festivals among the ancient Jews ... Even if not common among the people, yet kings and princes probably practiced it, following the custom of their heathen contemporaries ..." (Isidore Singer, "Birthdays," The Jewish Encyclopedia, III, 221).
"The example of Herod, the tetrarch (Matt. xiv, 6) the celebration of whose birthday cost John the baptist his life, can scarcely be regarded as such, the family to which he belonged being notorious for its adoption of heathen customs. In fact, the later Jews regarded birthday celebrations as parts of idolatrous worship (Lightfoot, Hor. Hebr. ad Matt. xiv, 6), and this probably on account of the idolatrous rites with which they were observed in honor of those who were regarded as the patron gods of the day on which the party was born." (John McClintock and James Strong, "Birthday," Cyclopedia of Biblical, Theological, and Ecclesiastical Literature, 1968 rep., I, 817).
"For Romans birthdays ... According to 2 Mac 6:7 the birthdays of the Syrians kings were commemorated every month by means of sacrifices, of which, in the times of Antiochus Epiphanes, the Jews were forced to partake." (James Hastings, Birthday," A Dictionary of the Bible, 1900 ed.). Josephus wrote that Herod Agrippa I celebrated his birthday, like his uncle Antipus, but these supposed Jewish proselytes were notorious for imitating pagan customs instead of conforming to the Hebrew Scriptures. - Antiquitie of the Jews, Book XXIX, chap. VII, par. 1.
The Word of Yahweh only makes direct reference to only two birthday celebrations, those of Pharaoh of Egypt (eighteenth century B.C.E.) and Herod Antipas (first century C.E.). At both of these like celebrations a violent death occured, the hanging of Pharaoh's chief baker in the first instance and the beheading of YAHchanan the Immercer (John the Baptist) in the latter. - Genesis 40: 18-22; 41:13; MattithYAH (Matthew) 14: 6-11; YAHchanan Mark (Mark) 6: 21-28.
There also is dispute to the understanding of other passages of whether they are in reference to birthday celebrations or not. One is in HosheYAH (Hosea) 7: 5 "on the day of our king". This may possibly indicate a birthday party for the opostate king of Israel when the princes "sickened themselves ... because of wine," it could also be in reference to the anniversery day of his accession to the throne when similar festivities were held. Another is when Iyyob's (Job) sons "held a banquet at the house of each one of his own day". Iyyob (Job) 1:4 There is dispute here of the Hebrew word meaning. These are brought up and discussed in the links below.
Reading from The International Standard Bible Encyclopedia, by Bromiley, page 515... Josephus (BJ vii 3.1) refers to Titus' celebration of his brother's and father's birthdays (genethlia) by slaughtering Jewish captives. By the time of the NT, genesia could be used to designate the birthday celebration of a living prominent person, hence Mt. 14:6; 6:21. When Herod celebrated his birthday he was acting in accord with Hellenistic custom; there is no evidence for the celebration of birthdays in Israel in pre-Hellenistic times.
YAHshua inaugurated a binding Memorial , not of His birth, but of His death (Luke 22:19). If early worshipers did not celebrate or memorialize an annual birthdate for YAHshua, much less would they celebrate their own birth date annually.
Historian Augustus Neander writes: "The notion of a birthday festival was far from the ideas of the Christians of this period." (The History of the Christian Religion and Church, During th First Three Centuries, translated by Henry John Rose, New York 1848, p. 190).
"Origen [a writer of the third centry C.E.] ... insist that 'of all the holy people in the Scriptures, no one is recorded to have kept a feast or held a great banquet on his birthday. It is only sinners (like Pharaoh and Herod) who make great rejoicings over the dayon which they were born into this world below'" - The Catholic Encyclopedia, 1911, Vol, X, p. 709.
M'Clintock & Strong's Cyclopedia (Vol. I, p. 817) says the Jews "regarded birthday celebrations as parts of idolatrous worship ... , and this probably on the account of the idolatrous rites with which they were observed in honor of those who were regarded as the patron gods of the day on which the party was born." In lew of this quote and the following information Funk & Wagnalls... it is clearly seen that the observance of birth dates (birthdays) is connected with Astrology which is emphatically condemned by Yahweh in His Word. - Deuteronomy 18: 10-12; Iyyob (Job) 31; 26-28; IsaYAH (Isaiah) 47:13.
Certain primative societies veiw birthdays as danger periods when one is susceptible to attack by evil spirits. Hence, parties and good wishes of friends, bring gifts to appease the evil spirits, and offering sacrifices to "their protective spirits" are all part of the birthday celebration. (Funk & Wagnalls Dictionary of Folklore, Mythology and Legend, Vol. One, p. 144)
"Every Egyptian attached much importance to the day, and even to the hour of his birth; and it is probable that in Persia... each individual kept his birthday with great rejoicing, welcoming all of his friend with all the amusments of society, and a more than usual profusion of the delicacies of the *TABLE." - M'Clintock & Strong's Cyclopedia, Vol. I, p. 817.
*TABLE - "But you are those who forsake Yahweh, who froget My holy mountain, who prepare a TABLE for THAT TROOP (Gad ['gawd'] or God - the gods of Luck and Fortune)" {IsaYAH [Isaiah] 65:11}
"...you can not partake of Yahweh's TABLE and the TABLE of demons. (1 Corinthians 10:21)
Religion THAT IS PURE AND UNDEFILED before YAHWEH our Father is this: to visit the fatherless and the widows in their affliction, and to KEEP ONESELF UNSPOTTED FROM THE WORLD. (Yaaqob [James] 1:27)
Therefore, just as you have recieved YAHshua Messiah our Head, so WALK AS HE WALKED. (Colossians 2:6)
Take The Birthday Survey Are Birthday Celebrations
Christian? Did Early Christians Celebrate Birthdays?
Should Christians Celebrate Birthdays?
Do Birthdays Have Pagan Origins?
By COGwriter
Should Christians Celebrate Birthdays? SHOULD YOU WISH PEOPLE "HAPPY BIRTHDAY"?
SATAN'S BIRTHDAY Are Birthdays Evil?
By Dan J. Love, Minister, Sabbatarian Congregations of Yahweh Christmas - Messiah's Birthday? Exact Date Of Yeshua's Birth
By Roy A. Reinhold When Was Yeshua Born? Messiah's Birth At Sukkot
By Dr. James Trimm GUEST BOOK NOTE: You have the option of viewing and signing my Bravenet guest book which a has a questionnaire or viewing and signing my Dreambook guest book or both.


Read my Dreambook guestbook!
Sign my Dreambook