Holy Names
HOME
Yahweh
CONSONANTS OR VOWELS?
Baal Gad
YAHWEH Transliterated Scriptures
YAHWEH SONGS
Yahweh Communicant
ALL Nations
LAW Links
PRIDE
A License To Sin
THE FAITH
Redemption
SABBATHS
Sacrifice
Unclean
WOMEN'S SECTION
Children & Young Adults
TEMPLE MOUNT LINKS
Qodesh Garments
ALLAH
CULTS
CULT DEFINED
Peace Page
OH HELL!
Something Fishy
YAHWEH SURF LINKS
Trinity Links
BIRTHDAY CELEBRATIONS
Pagan Holidays
SATAN CLAWS
News Links
LANGUAGES
Jewish
LOST TRIBES
Cross
STAR
Computer Helps
DISCLAIMER: As mentioned on my other web sites and pages, I do not espouse to all of the beliefs expressed on the reciprocal links I have provided here. My web sites are a venture into the pros and cons of diverse aspects of religious beliefs. I leave it completely up to each individual to decide what is truth and what is not. I am also not responsible for any cost or donation purchases that are made through these links. These reciprocal links are purely for educational and research purpose only. Please view these links at your own discretion.
FEATURE LINKS
Would you like to be a feature link at the top of this page?
E-MAIL ME with your request and I will get back to you ASAP.


ISRAEL & PALESTINE: THE MAPS TELL THE TRUE STORY
The truth is that far from being the poor victim it likes to portray itself as, Israel is in fact the most aggressive and belligerent nation in the region, having invaded pretty much everyone it shares a border with.

A Muslim's Journey To Hope

A Biography of Prophet Mohammad
Hilal Plaza
Islamic Clothing Shopping, Islamic E-Books, Free Islamic E-Books
[PDF] Should Christians Use Allah in Bible Translations?
by Joshua Massey

A Book Calling For Drastic Change In The Present Course Of Jewish/Christian/Islamic Self Identity
This book has recently undergone an extensive revision. It emphasizes the origins of the religious beliefs that have led to Islamic terrorism and suggests sound theological solutions.
To Get Involved Also See:
Inquiry Abraham
God Allah
TERRORISM AWARNESS PROJECT
DoraTarjumaQuran
An Experience You Can't Afford To Miss
"We should invade their countries, kill their leaders, and convert them to Christianity." - Ann Coulter
SOURCE
ARCHIVED
MORE THAN DREAMS
How about a little humor, or is humor dead?
Why Do They Hate Us?
BET ON IRAQ
Innovative Minds
ENGLISH VERSION
MORE NEWS LINKS
The Creation of the Universe

Muslim Matrimonials and more!
Islamic Research Foundation International, Inc.

Dr. Elnaggarzr's Web Site

The Boy With A Moon & Star On His Head
LYRICS

Cat Stevens.com
[Book] Yahweh Jehovah, Or Allah
By Shabir Ally
[PDF] READ IT ONLINE!

JESUS WILL RETURN

Affiliate of Previous Web Site
[PDF] ONE GOD
Many Names

Click On Book To Order

See larger photo
Allah or Yahweh:
an Introduction to Islam
Is Allah Yahweh
GLOSSARY OF ISLAMIC TERMS
Compiled by Ishaq Zahid
Islam Tomorrow


The following site also has five other language translations of the Qar'an.



The "Samaritan" Error
In the Qur'an

Thoughts On Abrogation?
Think About It!

Reply to Morey's
Moon -god Myth & Other Deceptive Attacts On Islam

Qur'anic Accuracy
Vs. Biblical Error: The Kings of Pharaoh of Egypt
BISMIKAALLAHUMA
Is 'Yahweh'
the "Divine Name" of God?
Islam QA
SULTAN
ISLAMIC LINKS - Discover Islam - The Fastest Growing Religion in the World ! Learn about The Real Islam !

An enlightened guide to Islamic beliefs, culture and civilization
CLICK HERE
To Go To 'The True Religion Forum'

ISLAM
The second largest world religion...and growing.
Allah-God-Yahweh
- Is Allah the name of the true God? by William Qarraa
The Muslim and The Followers of Jesus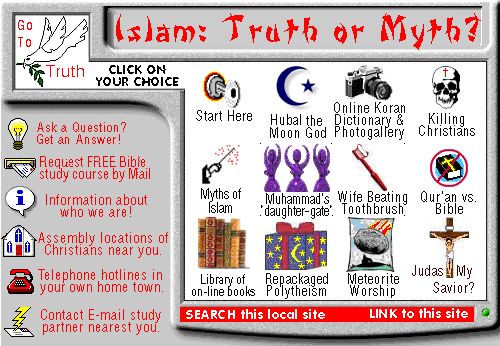 Allah and Elohim
are they the same God?, Who is Allah etc.
ALLAH

The Moon God

Who has performed the greatest act of love? Yahweh or Allah



MINISTRIES
Is Allah the name of God?


Discover Islam Terror! - Islamic Terrorism, Arab Palestinian suicide bomber, Jihad, Al Qeada, ...
A "Bible Revelations" Presentation

MOZIANI

Your Voice in a World where Zionism, Steel, and Fire, have Turned Justice Mute

Why I am NOT A Muslim
An Open Letter To Osama bin Laden and Ayman Al-Zawahiri. (Wherever You Are)
Aslam-o-Alaikum!
Do you know what degree of shame, abomination, misery and wretchedness is being heaped on the innocent and peace-following Muslims all over the world because of this so-called and self styled Jihad of yours?
Do you know how many innocent, unsullied people are being daily butchered as result of this professed Jihad of yours? How many children are being orphaned and women being widowed precisely for the same reason.
And do you know, killing one faultless human being is like killing the entire humanity. You must definitely be knowing that you will surely be held accountable for this all bloodshed. Will you, then, be able to face your God? I challenge, no!
Then, why have you become an agent of some hidden hand. Why are you taking the responsibility of the murder of entire humanity to yourself on his behest. Why are you dragging the Muslims down? Why are you demeaning Islam by presenting it as a terrorist religion? Acting like this, which religion are you rendering a great service to? Are you raising the standard of Islam high or you (if you reflect on it) are causing the heads of the followers of the path of the righteous bow down with shame in-front of the entire humanity.
Today most of the Muslims believe that you are not a true Muslim but planted by the enemies to destroy the image of Islam.
For God's sake, take recourse to sense, and announce a CEASEFIRE at once so the inhabitants of world may be introduced to that divine aspect of the Muslims at whose hands no soul suffer, whose words and actions bear no tinge of dichotomy, whose speech, when uttered, conveys to others the message of love and protection, whose thoughts, when thought, are devoted to the well being of others. Herein lies the true success, and herein lies the victory of the true religion of Allah.
S.A.Rehman
(Peace Activist)
PAKISTAN
Copies being sent to Muslim Brothers and Sisters for information and with a request to pray for an earliest end of the war.
PEOPLE OF THE BOOK
Anti-Jew Quotes
In the rivalry between religions, no other religion in the world makes the accusation that Christianity makes against the Jews, that they are literally murderers of Yahweh ... to be a murderer of Yahweh means to be the opponent of anything decent, anything humane, anything moral, anything ethical." (Quote by Richard Rubenstein, Professor of Religion, Florida University)
"A theology was developed claiming that pagan Christians were the true Israel, Yahweh's chosen people. Yahweh had cast aside the Jews. He had sent them His only son and they had rejected him. Yahweh's chosen people had betrayed Him and had become the false Israel, the Devil's Israel. The Christians were now Yahweh's chosen people. The Jews had forfeited everything, including their own past, Abraham, Moses and all." (The Longest Hatred, A study guide to Thames Television Series on Anti-Semitism, page 5)
In a leaflet entitled The Jews and their Lies, published in 1543, Martin Luther wrote:
"Their (the Jews') synagogues are pigsties, they ought to be burned ... they live by evil and plunder, they are wicked beasts that ought to be driven out like mad dogs ... May (we) all be free of this insufferable, devilish burden - the Jews."
The following is taken from: When Day and Night Cease by Ramon Bennet, pages 201-202
Imam Hassan al-Bana (former leader of the Egyptian Muslim Brotherhood) once said:
"Israel will exist and continue to exist until Islam eliminates it, just as it eliminated what preceded it (referring to the defeat of the Crusaders)"
Gamal Abdel Nasser was quoted in Time Magazine, December 1967 as saying:
"There will be a war of extermination and a momentous massacre which will be spoken of like the Mongolian massacres and the Crusades. No Jew will be left alive."
King Farouk of Egypt said:
"The Jew in Palestine must be exterminated. There can be no option for those of us who revere the name of Allah. There will only be jihad."
King Idris of Libya said:
"The Zionist conquest of Palestine is an affront to Muslims. This colonialist barbarism cannot and will not be tolerated. There can be no compromise until every Jew is dead and gone."
Haj Amin el Husseini, Grand Muslim Mufti 1946
"The entire Jewish population must be destroyed or be driven into the sea. Allah has bestowed upon us the rare privilege of finishing what Hitler only began. Let the jihad begin. Murder the Jews. Murder them all."

More Recent Quotes
"Our guns and our weapons will continue to be aimed at our enemies until all of Palestine will be liberated and Yahweh will give us the state that he promised." (Mahamud Azahar, senior leader in Hamas Islamic Resistance movement, to a rally in Gaza city, October 1996).
"No East, no West - Only Muslim Jerusalem." From a handbill distributed by the Israeli Islamic Movement. (Haaretz newspaper Sep.1 1996)
Yasser Arafat visiting Jerusalem (BBC, Oct 21.1996) "We will not give up our great struggle until the establishment of the Palestinian State with Jerusalem as its capital."
Speaking before Palestinian forces in Gaza on September 24 1996, Arafat said:
"They will fight for Allah, and they will kill and be killed ... Palestine is our land and Jerusalem is our capital." (Maariv newspaper, October 4th 1996)
Yasser Arafat at a press conference in Norway on 29/10/96: "You don't understand the terminology. The small Jihad means violence, the big one means a Palestinian State. I mean a big one."
Also see my "Jewish?" web page for Talmudic absurdities and the like.

GUEST BOOK NOTE: You have the option of viewing and signing my Bravenet guest book which a has a questionnaire or viewing and signing my Dreambook guest book or both.
Read my Dreambook guestbook!
Sign my Dreambook
LINKS OF INTEREST