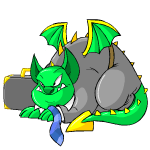 The National Neopian Bank
Good afternoon Madam. It's great to see you again. What can I do for you today?
Account Type : Ultimate Riches!
Current Balance : 19,135,450 NP
Ultimate Riches! Interest Rate : 10.5% per year.
Yearly Interest : 4,222,011 NP

This interest rate means that you will gain 11,011 NP per day (it's rounded up)! You will have to claim this yourself by clicking the Collect Interest button below.
Deposit Neopoints
---
Make a Withdrawal
If you withdraw Neopoints too many times a day, the bank staff may get angry and refuse to serve you!
---
Collect Daily Interest
Oops! You have deposited and/or withdrawn Neopoints today. This means you will not be able to collect your interest until tomorrow. Sorry about this! Make sure you collect interest at the start of every day.
---
Upgrade Your Account
If you wish to upgrade your account to the next level, then you must meet the minimum balance required by the account. Please select the type of account, and meet the minimum additional deposit and then press 'Change Account'.