Robbie Arrigo Fan Club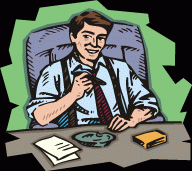 Arrigo's Favorite Things To Do
Read the Newspaper
Watch Gang's of New York .. again
Play checkers with his Mom
Welcome to the Robbie Arrigo Fan Club. Here you can learn about our favorite bullshit, I mean history, teacher. From his flamboyuant hand gestures to his harsh, demanding, manly, dictative voice. Mr. Arrigo graduated "college" about a month and a half ago, and loves the color purple. When Miss Burgeon lets him off the leash he loves to frolick and hang out with his boyfriend.
This site is under construction so check back for updates.
Mr. Buysee site to come.