Annum Belli: 2003--The Year That Went Through the Wars
OKAY, NEW UPDATE, FOLKS (TUESDAY, JULY 13, 2004)!! We've finally switched the Archived Stuff from the second half of 2003 in here from Archive Lair 2. That Archive Lair will now be stuffed with the first half of 2004. Maybe one day we'll stick all this stuff into Ebooks, if we can find the Appropriate software, and excavate these OverStuffed caves to hold all new stuff. And so it goes...
*****
A Family Reunion on the Other Side: Celebrating Crochet Artist Irene Jacobsen Olsen (1909-2003)
--Photo of Irene and Paul Olsen's wedding in 1932. Click on the photo for a larger version.
SPECIAL REPORT (TUESDAY, DECEMBER 9, 2003): Good afternoon, friends and LairCronies. Some news both Sad and Unsurprising reached us on Sunday afternoon, when we heard of the death of the LairMistress's paternal grandmother, textile artist Irene Jacobsen Olsen, who passed away Saturday evening in Cookeville, Tennessee at the age of 94. It became immediately Apparent that it was a very good thing that I had made an "extra" trip out to my folks' place in Fairfield Glade, TN in October, when I had several opportunities to visit with my grandmother, and even to take a couple of snapshots of her with a disposable camera. She was mentally sharp, as always, and in good spirits, but had been in rather poor health and physically frail for many years. We mentioned in the previous headline article that she had taken a bad fall recently, breaking one wrist and putting a nasty gash over one eye. Being hospitalized yet again, and heavily sedated on painkillers to the point of being unable to speak clearly, apparently led to her (and her Guardian Angels') decision to Move On this past Saturday evening, and I'm sure there were plenty of close relatives and friends on the Other Side ready to assist in her transition.
Irene was born on the South Coast of Norway on October 11, 1909, in a farming community that utilized some of the thousands of small islands ringing the coast as summer grazing grounds for their livestock. Her family eventually followed their father over to the United States in stages during the late 1920's, Irene and her older sister making the trip when they were 18 and 22, respectively. She met and married fellow South Coast Norwegian Paul Olsen in 1932 at age 23; my dad, Tom Olsen, was born in 1936. Irene spent upwards of eight decades mentally designing and creating beautiful items of crochet work (a talent shared with her mother, Theresa Jacobsen); my parents own some of these items, and a good many elaborate doilies and blankets also decorated my grandparents' living space. Most recently, she exhibited some of her work at the Cedar Hills Retirement Center in Cookeville, TN. I can see some of this genetic influence in my father's designing and engineering talents, and in my own penchant for designing and making my own cross-stitch and polymer clay artifacts.
Anyway, we here on this Earthly Plane will miss Irene greatly, but her clanfolk on the Other Side are no doubt breaking out a fresh round of coffee, lefse, gjetost and creamcake to celebrate her successful passage in the Ultimate Migration! Among her still-EarthBound relatives, a memorial in her honor is scheduled for December 27 in Tennessee, where we plan to be for the Holidays. May she and all our kinfolk in Spirit be with us at Christmas, enjoying Peace, Love, Youth and Good Health forever!!
*****
Dude, Don't You Just Hate It When Your Pistol Jams Up...?!!
SPECIAL REPORT (MONDAY, DECEMBER 15, 2003): Wow. Some Distant cousin of Saddam Hussein snitched on the ol' bastard's whereabouts while in Imperial custody, and just yesterday evening, around 8:30 pm Baghdad time, a bunch of U.S. troops and Kurdish cronies fished Saddam out of a so-called "spider hole" (Yeesh...the very sound of that is highly Creepy) near his MakeShift hideaway on a Tikriti farm. He carried a pistol that he never got around to using, and also carried a small suitcase containing $750,000 in U.S. bills, while looking like a bearded extra from The Ten Commandments.
We here at the Lair are beyond Surprised at this turn of events; we never expected that Saddam Hussein would allow himself to be Captured Alive. We figured that he would blow himself up first, or fatally shoot himself, before letting himself be hauled into U.S. custody. But I guess either: (1) he chickened out on that option; or (2) his pistol malfunctioned at the last minute. In a way, we are also rather DisAppointed; this is bound to be a major coup for Darth Dubya and Co., and the last thing we want is THEM back on the job this time next year! But it is a good thing that Saddam got Nabbed eventually, nonetheless; we only hope that this will hasten the end of the (highly Illegal) occupation, and the development of new elections for a government of, by and for the people of Iraq (that does NOT take its marching orders from the White House or Big Oil!!). Not to mention said citizenry's curtailing of U.S. attempts to sell off everything in Iraq that they can't Privatize, willy-nilly...
*****
QUESTION OF THE WEEK (TUESDAY, DECEMBER 2, 2003): Why has there been virtually no reporting on this side of the pond about the recent Happy Event in the U.K.--namely, the birth on Saturday, November 8 of Louise Alice Elizabeth Mary, daughter of Britain's Prince Edward and Sophie, Countess of Wessex? Granted, Edward and Sophie are the Notorious "disappearing Royals"; they married in 1999 in a small, sparsely-televised ceremony, and virtually nobody has heard from them Since. But I'm sure that U.S. Anglophiles would still appreciate seeing the outcome of the couple's first successful pregnancy!!
***
LikeWise, special Congratulations go out from the Lair to Michele and Ryan Bennett, daughter and son-in-law of Agape Lutheran Chapel's Secretary/Mother Superior, Luann Baker and her spouse, Jim Baker, on the birth of their first child, Brooke Elise Bennett on Tuesday, November 25 (Sorry, we got their surname wrong Yesterday--Gulp!)!! Perhaps the chapel website will feature photos of the lovely wee girl, with her full head of hair, very Shortly!
*****
Our Music Business Site of the Week goes Local this week, with our selection of Seattle's Very Own Vera Project, a treasury of music and music-business resources for local youth, and increasingly, non-youth as well! The Vera Project folks were heavily InVolved with the work that went into Seattle's Bands Against Bush events last month, and they have always been Dedicated to enhancing, educating and edifying the All-Ages music scene. Check out their Respectable LairLinks section, their packed-with-resources Home Lair, and the latest information about their UpComing Veracity Open Mic events!!
*****
Hanging in Limbo, Watching the Waxing Moon...
SATURDAY, NOVEMBER 29, 2003: Another week has Come and Gone, lovely Cronies, and the Christian version of Winter Solstice watch (i.e. Advent) starts ToMorrow, I believe! Time to make more big, thick candles Engraved with Neolithic ceramic motifs, to the bemusement of everyone else. I only hope the temperature will soon be a bit above 40 F, so we can play Outside again without freezing our fingers off.
I, the LairMistress of ConFused Acclaim, will be visiting relatives in Tennessee at Christmas Again, this time between December 18 and January 3. Hopefully my relatives will be feeling better by then; my dad is dealing with some Substantial health issues, and my grandmother was injured recently in a fall, and got rather badly banged up in the neck and wrist. Thus I feel quite fortunate to have avoided colds and the latest flu strains thus far (I caught a new strain of the flu in February 2002, with pneumonia on top of it, despite having gotten a flu shot the previous December; the result was several days of very high fever, about two weeks of generalized hell on earth, and the loss of about twenty percent of my hair, from which I am still recovering around my front hairline!). Hopefully I will totally break with my tradition of catching a nasty head cold right around Christmas Eve.
Aside from all that, I don't have much in the way of news. So far, we have no Jason Webley Ghostwatch Sightings to report, and we missed Dappin' Butoh's Intimate Stage performance this month. However, we at Dorothy Day House had our Annual Thanksgiving (catered) Dinner yesterday evening, and I got to see part of the Westlake Center tree-lighting and other Shop-Till-You-Drop initiatory festivities a bit later on. Also, we will keep you posted if the Seattle Rebel Alliance or Bands Against Bush has anything Planned in advance of the March 20 WorldWide Protest marches Coming Up. As Always, Stay Tuned!!
*****
When Darkness Falls Around You, and the North Wind Comes to Blow...
SATURDAY, NOVEMBER 15, 2003: Good afternoon, dear Chilly Cronies of Rainytown, on the Ides of November!! Our latest Jason Webley coverage has just been ConSigned to Archive Lair 1, FYI, but we'll still make sure that our Overlong-as-Always Concert Review is still accessible to all! We've come around Full Circle to a new Celtic Lunar Year, but fortunately, autumn leaves are still Plentiful, rainstorms NotWithStanding. The LairMistress weaves autumn leaves into chains to decorate her Inner Sanctum every year, for the curious perusal of any visitors who Slink In! For some reason, the leaves dry more quickly and thoroughly (to the point of near-mummification) in some parts of the room than in others. I haven't yet figured out what variations in room temperature and humidity contribute to this phenomenon; but it occurs in much the same fashion in the same parts of my little studio every fall.
Anyway, the only news of much consequence is that I've been tapped to provide music at a monthly Poetry Reading here in the University District, at the Grand Illusion Coffeehouse, next Friday, November 21! Apparently my busking here and there is attracting some attention; now I just have to verify the rumor I picked up recently, namely that they no longer require permits to perform in the Bus Tunnel in Downtown Seattle. Anyone heard any confirmation of this, LairBuskers??
UPDATE (WEDNESDAY, NOVEMBER 26, 2003): No, you no longer need permits from King County Metro to perform in the tunnel stations (we now have this on good authority from two or more fellow Buskers!); however, performances are restricted to the tunnel entrances. This could be fun, especially at the King Street and Convention Center outdoor entrances.
Also, the LairMistress pulled off her solo coffeehouse debut in fine style last Friday at the Star Lite at the Oasis Coffeehouse, attached to the Grand Illusion Cinema!! I just did a couple of short sets with guitar and frame drum in between a couple of poetry readings, with onlookers in both the cafe and adjoining cinema corridor. Really pretty painless, OverAll, and some nice exposure Besides. Now, if only it would warm up even slightly Outside, so we could get back on the busking beat with risking cracks to the guitar or frostbite on my fingers!!
As Always, More Later...
[Note: The title of this article quotes from the song "Turning Toward the Morning", © by Gordon Bok--a song particularly Appropriate to this time of year.]
*****
Our Music Business Site of the Week, believe it or not, is SiteProNews! Why, you might ask? Well, I've been busy as All Getout since I got back from Tennessee, helping to promote the Jason Webley Death Day Show; and besides that, I temporarily misplaced my list of Potential Biz Sites of the Week! And so, for this week, I've picked my favorite Website Promotion Site, since its articles, LairLinks and free email newsletter can all be helpful in promoting any kind of business, including online Musical Enterprises. And we indie musicians ARE businesspeople, are we not...?!

*****
Winged Death's-Head Wielding Accordion, Coming Soon to a Concert Hall Near You...!!
MONDAY, OCTOBER 27, 2003: Samhain Ahoy, LairCronies and Jason Webley fans!! The big Town Hall Death Day Concert is now less than a week Away, on Saturday, November 1! Ever since I got back from Tennessee this past weekend, I've been Scrambling to catch up on my duties as one of Jason's designated flyer-posters, covering the U-District, Pioneer Square, portions of Capitol Hill, Belltown, heavy traffic areas of Downtown, Pike Place Market, Wallingford and Ballard, all in one weekend!! My poor feet and shins are aching something fierce right about now! I'm also trying to figure out, via the Jason Webley Forum, how many other folks are posting flyers around the area, and what areas have already been Covered. Oh, and I have, of course, taped a flyer on the front door of New Wave Travel! Now, if I can just get my hands on a fresh supply of scotch or packing tape, I can go see if anyone's postered Greenlake, Roosevelt and Ravenna next. Has anyone hit the Eastside yet? I don't know if I'll have the time or energy to get out there or not! But anyway, myself, a bunch o' Webley Cronies, dancers, puppeteers, bandmates and, just maybe, Punk Rock Faeries are Counting Down the days till the Big Event! And just remember, LairPals, let us not hesitate to pull down the rider on the milk-white steed at MilesCross at the stroke of midnight, if it becomes Necessary!! AAARRRGHHH!!!
UPDATE (SATURDAY, NOVEMBER 1, 2003): This is the Day, LairCronies, the Day of the Dead itself!! The staff of the lovely Town Hall should be Very Afraid at this moment!! Now that I've become a Compulsive flyer-poster for the Cause, my postering duties have concluded (as of yesterday evening), and my decorative autumn leaf-collecting duties have begun! Anyway, I shall be at Town Hall this night, with a disposable camera and some warm clothing for whatever OutDoor activity ensues during or following the musical segment of our evening. AAARRRRRGHH!!
NEW UPDATE (WEDNESDAY, NOVEMBER 5, 2003): Oh, my God, what a Time we had! Broken hearts, floating puppets, and feathers on strings!! And now, we are Ready, more or less, to post and publish the LairMistress's Jason Webley DeathDay Concert Review for 2003!!
***
--Linocut © 2003 by Jason Webley.
You know, this reminds me of some 17th century headstones I've seen in coastal Virginia and North Carolina, topped with winged death's heads. I've never seen any playing accordion, however...
In any case, it's back to work I go!! Also, check out Mike Whybark's Blog for the remaining segments of two interviews that he did with Jason, one back in April and the second sometime this month over the phone...
*****
Our Music Business Site of the Week is Bards Crier: Free Music Marketing and Promotion Tips for Musicians! Here is a high-quality, well-organized, and still-growing Indie Resource Lair, written and maintained by Marc Gunn of the Brobdingnagian Bards, one of the top-selling Celtic bands on MP3.com. Take a sojourn through this user-friendly Resource Lair, and check out the Free Music Articles, the Music Business News Page, the Free Music Promotion Resources; and, most Notable, the Special Promotion Tips SubLair for Unsigned Musicians! Every LairLink in this TreasureCave leads to more and more Useful and Inspirational knowledge through numerous SubLair layers; and best of all, the Bards Crier shows every sign of having plenty of growth left to accomplish!!
*****
Travel Announcement and Other Observations...
WEDNESDAY, OCTOBER 15, 2003: Happy Ides of October, LairLurkers!! Or, Happy Ides of Ancestor Moon, for all my fellow Starhawk fans! I just wanted to let you know that I will be making a WeekLong fall visit to Tennessee to see the folks; in fact, I depart Tomorrow! It'll be a good chance to kick back and learn (or relearn) some new song lyrics that I've been collecting for some time, but haven't had much time to give them serious attention.
In Other news, Jason Webley appears to be back home, preparing to Die Again come Samhain Night, Saturday, November 1!! Hopefully he hasn't forgotten about mailing concert flyers out for me to plaster downtown and environs with! While in Tennessee, we will do our best to get the word out Online, regardless...
SPECIAL APPEAL: While running a Google search for some trad folk lyrics Recently, we stumbled across a song lyrics database from Naugatuck, Connecticut called International Lyrics Playground. Its webmaster, Tyler (Ty) Nelson was recently diagnosed with an aggressive form of tonsil and neck cancer (squamous carcinoma); and, though he has health insurance, he will soon be facing Substantial expenses that he and his family will be struggling to meet on their own, especially as Tyler is self-employed. So, on their behalf, and because his LyricLair is a very Impressive site indeed, we encourage all LairLurkers to hop over to his site via the LairLinks given Above, and do your best to help out a fellow indie musician and LairMaster! Thanks very much on Ty's behalf!!
SPECIAL NOTICE: Imagine our deep shock and sadness, LairFolkies, when we picked up the most Recent issue of Sing Out! Magazine, and read the Tragic news of the death of LongTime Trapezoid fiddler/singer Freyda Epstein on May 17 in Virginia, in a Horrific vehicular homicide-suicide by a deranged man fleeing arrest for the near-fatal stabbing of his girlfriend. He was also killed in the resulting collision. The same Sing Out! column also made mention of the recent death of Malagasy valiha player/maker Silvestre Randafison on July 12 at age 75. Monsieur Randafison was an Ethnomusicology artist-in-residence at the University of Washington in 1992-93, the same school year that Nusrat Fateh Ali Khan taught in the same department of the School of Music. I met him several times during that school year and the following summer; not only was he a gifted and charming musician, he was also the first person I'd gotten to speak French with since I was in college. Both artists will be deeply missed.
*****
By the way, the Lair is now Affiliated with the Seattle Chapter of Bands Against Bush, the Rock Against Reagan-inspired InterNational musical/political movement for Regime Change in the Good Ol' USA!! The above LairLink points to the Seattle Chapter's WebLair, in addition to the Olympia Chapter's Lair at BandsAgainstBush.com, and a more General site at BandsAgainstBush.org. The Bands Against Bush shows are scheduled for this coming weekend, October 11-12, and the next Seattle meeting is Tonight, October 6!! So keep checking the first LairLink for info on the shows, and various OnGoing activities by our new Music/Politics bridge organization!!
UPDATE (WEDNESDAY, OCTOBER 15): I was tabling at the Seattle Bands Against Bush concert at Coffee Messiah on Saturday night. It was a very Modest show, but it did indeed happen. It featured Fedge (also the booker for CM's Songwriter Showcases) and a young band called The Phobophobes, who were very loud for that space. Our organization's post-concert followup meeting is scheduled for Tuesday, October 28.

*****
Some Disturbing Developments...
MONDAY, OCTOBER 6, 2003: Some Unexpected and Dismaying developments have happened of late, with direct impacts, More or Less, upon the Lair and Environs:
The previous headliner that I ctrl-x'd to Archive won't paste in the friggin' Archive Lair!! ..Either that, or it will turn out to have pasted four or five times when I next preview Archive Lair 1. This is due to the fact that...
Our regular Internet connection has been on the Blitz here at New Wave Travel for the past week or so, and I haven't figured out how to fix it yet!! I can't even check my email (not to mention deleting all the "herbal Vi@gra" SpamCrap) on my usual computer!!
UPDATE (THURSDAY, OCT. 9): My Internet Connection is back up, more or less InTact! However, I'm having a bit of trouble doing Yahoo! searches; and Altavista's Homepage has disappeared completely into the Ether...
Nusrat Fateh Ali Khan's Official website has Shut Down!! This really screws up a number of LairPages, including various tribute articles, concert reviews and LairMusic SubLairs!! Guess it's time to find a good substitute for said Official nfak.com...
UPDATE: And Last but Not Least...As of last night, Tuesday, October 7, California voters have chosen Actor Arnold Schwarzenegger (hope I spelled that right) as their new Governor!! The man has never held political office before, and he "inherits", as news pundits say, a state government deep in the red. What's he going to do, host Hollywood-based benefit shows on Pay-Per-View?! This is going to be Consummately Interesting...
Anyway, that is why I'm a bit delayed in my Jason Tour coverage and Fall Festivals columns. I hope this mess will be satisfactorily Resolved very soon. Stay Tuned for the new tour info that will come up shortly, unless this old T-Rex of a machine deletes everything I just typed in...
*****
JASON WEBLEY WEST COAST TOUR UPDATE (FRIDAY, OCTOBER 10, 2003): Ahoy, Pirate Cronies! The Shanteyman, at Long Last, is Homeward Bound!! On our last update, we ended up with the Wednesday, October 8 gig at the well-traveled Eugene, OR club, Sam Bond's Garage. Then Yesterday, Thursday, October 9 came a relatively short hop up to Corvallis, OR for the gig at Interzone (this LairLink is a map of the location). Today's (Friday, October 10) continues the NorthWard drive up to Portland, OR for a performance at Reed College's Eliot Chapel (a Perfect venue for puppets and plush vegetables, no doubt). The final gig of this tour will find Jason and Adam in Olympia, WA at the Heart and Soul Dance Studio! Alas, I will not be making the trip down to Olympia for this show--I will, Instead, be tabling for the Bands Against Bush gig at Coffee Messiah here in Capitol Hill (see the special notice Above)!! I won't make it to any of Jason's other area gigs before the "TBA Show" on October 24, either, as I will be out in Tennessee from October 16 to the morning of October 24. I will also miss tomorrow's Meany Hall performance by Moroccan/Sephardic cantor Emil Zrihan, who appears to be a Jewish spiritual brother to Nusrat Fateh Ali Khan. Thus, I'd damn well better be sure that my will-call tickets inherited from Josh and Cam are available when I come for them at Town Hall (and that the folks at the door believe me when I claim to be Josh)!! AAARRRRGHH!!!
*****
Our Music Business Site of the Week is Berklee Music School Online! A music school as Biz Site of the Week?! Oh, yeah! Click on the Aforementioned LairLink and see just how Impressive it can be for aspiring Indie musicians! Not only courses, but downloadable texts and software for the courses! Post and Search the Gigs Directory, alongside a course on creating a Killer Promo Kit. Their Musician's/Music Business Directory also contains lots of LairLink SubComplexes to other Directories. And the School itself is Open for Exploration, so you can Try before you Buy! Really, LairFolkies, what's not to Crow Over?!!
*****
UPDATE (SATURDAY, SEPTEMBER 27, 2003): Okay, now for the Updated Jason Webley tour coverage--I haven't seen many new messages in the Guestbook lately, so I hope there hasn't been too much of a problem with shows being Undermined by transportation problems, etc. However, assuming that all is going according to Schedule:
On Thursday, September 25, Jason and puppeteer Adam Ende (of Monkey Wrench Puppet Lab) headed from Redlands, CA down to Los Angeles for two separate gigs: the first at UCLA's Art Department building (here is the appropriate sector of the Campus Map); and the second at a place called the Creative Arts Space on Santa Monica Boulevard. The next day, Friday, September 26 was officially Up in the Air as of the tour's beginning, but Jason and Adam were seeking a gig in LA, Ventura or Santa Barbara. Today, Saturday, September 27, the plan is a longer hop from Los Angeles down to San Diego, to make a return visit to UC-San Diego's Radical Coffeehouse without a street address, Ché Café. That is the SouthernMost point of this tour. From there, the lads begin the NorthBound leg of the trip, San Diego up to Big Sur, CA for another return visit to the Welcoming arms of the Henry Miller Library. That's as much as we've had time to map out as of now, dear Cronies; so keep Tuning In for further details, as we mull over the cheapest way to get from Seattle to Olympia for the final West Coast Tour gig!!
*****
SPECIAL NOTE (TUESDAY, SEPTEMBER 16, 2003): Special CONGRATULATIONS are In Order for two families known to the Lair, both of whom recently welcomed New Additions: Leann Tayler Evans and Chad Evans are now the Immensely Proud parents of Lily Marie Evans, all of whom currently live in Utah (Important Stats to be added Shortly)! And LikeWise, Congratulations go out to Holly Figueroa and Family, on the birth of Gabriel Armando Figueroa on Friday, September 5 (GadZooks! Another Virgo Folkie on the planet!!). A charming pic of wee Gabe and his proud big sister, Maddy, can be found at this LairLink. Best Wishes and Best of Luck to these young LairCronies and their Next of Kin!!
*****
Sorry I Didn't Cover the Whole East Coast Tour, but Half the East Coast is Under Water!!
--Hurricane photo © by Bill Lang.
MONDAY, SEPTEMBER 22: Well, I've been a bit Amiss lately in Obsessive Jason Webley Tour Coverage. I only detailed about the first half of his East Coast tour, short as it was, on our previous Headline article (now in the Recent Archive Lair). Thankfully, however, Jason escaped with his life and got back to Seattle in time for some fairly decent weather over this past weekend after a brief cold spell. And none too soon--the Weather Channel reports that the East Coast is being battered with Chilly Wind and Rain Part II, though this one is not a hurricane. Just their luck--and they've barely begun bailing out from the onslaught of Hurricane Isabel along much of the mid-Atlantic coast.
At any rate, Jason began his fall West Coast Tour yesterday, Sunday, September 21 in the company of Seattle puppeteer Adam Ende, who created the "Jason Puppet" featured at the beginning of this year's ReBirth Concert. Last night's show involved a drive from Seattle to Williams, Oregon, to perform at the Williams Grange. For tonight, they will have a six-hour drive from Williams down to Stockton, California to perform at the Caffeine Den. Tomorrow, Tuesday, September 22, they continue on to Claremont, CA for a gig at Pomona College in the Edmonds Ballroom (here is a map of the Pomona Campus). And on Wednesday, they'll have a relatively short hop over to Redlands, CA for a return visit to Java the Hut Coffeehouse at the University of Redlands.
Whew!! That's a lot of traveling, on top of all the rest Jason has done this season! I need to hurry up and get a properly-edited demo CD done, so I can get more paying indoor gigs myself! Right now, I'm still playing on the street as often as possible (while struggling to get up at a Decent morning hour most days) and, you might say, "touring" most of Seattle's open mic spots as the weather cools down. With the passing of both Johnny Cash and June Carter Cash this year, many local folkies have been playing Johnny Cash and Carter Family songs quite often lately in tribute. Pity that I don't know more of these songs, since they're not too far removed from my own Preferred genres. Incidentally, we street performers face certain challenges on a day-to-day basis that we need to be careful about: I am probably the only one around here who hasn't been harrassed by local police, but I do get chatted up by an array of strange characters that I need to fend off as politely as possible. Such as the weird guy at Pike Place Market recently, who offered to pay me ten dollars to cut his toenails. Total stranger, never saw him before in my life, coming up out of nowhere wanting his toenails done!! I didn't do it, of course--I suspected that he might have been wanting more than his toenails done...Anyway, alertness issues Aside, I still very much enjoy performing, both Indoors and Out--now, if I can just figure out how to conjure up more revenue from said Ventures...
*****
SEPTEMBER 11, 2003
"Thus I was taught that love was our Lord's meaning. And I saw quite clearly in this and in all, that before God made us, he loved us, which love was never slaked nor ever shall be. And in this love he has done all his work, and in this love he has made all things profitable to us. And in this love our life is everlasting. In our creation we had a beginning. But the love wherein he made us was in him with no beginning. And all this shall be seen in God without end.
"...All shall be well
and all shall be well
and all manner of things shall be well."
--Julian of Norwich (1342-1420)
***
9/11 Links: Special Page
Yahoo! 9/11 Newslinks
Seattle Times Anniversary Page
New York Independent Media Center
CNN.com Special Page
CNN Worldwide Vigils Page
Independent Media Center NewsBlast
SPECIAL NOTE: Finally, here are the lyrics to the song I wrote the night before the war started (March 19, 2003), Prayer to Repel the Invasion of Iraq!!
*****
Hey, Jason--Forget the Taser, There's a BigAss Hurricane Headed Your Way!!
--Photo courtesy of MSN.com, NASA TV via AP.
TUESDAY, SEPTEMBER 16, 2003: Lord have mercy. Both my parents (currently vacationing in Maine) and Jason Webley (currently touring the Northeast) had best keep their heads up and eyes open--there's a Holy Terror of a storm called Hurricane Isabel within 500 miles of the east coast!! It's quieted a bit from its Original windspeed of 160 mph, but it's still strong enough to break a few sets of glasses before it's through! The Weather Channel Online will give you the latest details on this storm, which is headed Straight for Cape Hatteras, resulting in a mass exodus off of Nags Head which is still In Progress.
Anyway, Jason started off his first East Coast tour this past Friday, September 12 at a New York City club called The Fez (here is a map of the location), together with the NY band Life in a Blender who also shared the stage with Jason this past May at our own Old Fire House in Redmond. Jason's Rhode Island gig the following day was cancelled, for some reason; so presumably he headed Straight for Pittsfield, Massachusetts from there. That gig took place on Monday, September 15 at a place called the Berkshire Athenium. That brings us to Today, Tuesday, September 16, when Jason will be heading a mere 20 minutes Southeast to Washington, MA, to play at an equally cushy-sounding place called Bucksteep Manor. At any rate, we all hope that Jason and his new East Coast Cronies manage to evade the hurricane somehow, and that he left the taser from the Blue Moon show at home--you're Unlikely to get through airport security brandishing one of those things!!
*****
Our Music Business Site of the Week is Big Wheel Productions, the Official promoters of our pal Mike McQuilken's new band, Life After Liftoff! You may or may not have heard of Big Wheel, but we decided to go with a regional music promoter this week, after a long spell of world-famous promo sites that are so big, they seem little more than Philosophical Abstractions. These folks are based in Portland, providing web services, online and offline promotions, music business consultations and even electronic media kits for your (or your favorite band's) website! And we suspect that Electronic Press Kits (EPK's) are the wave of the future, and may even save a few trees from being killed to produce those bulky promo kit folder thingies!!
*****
Bumbershoot 2003: What a Teeshirt Just Told Me...
WEDNESDAY, SEPTEMBER 3, 2003: Well, folks, we've just gotten past both Bumbershoot 2003 and the LairMistress's birthday (see Above), and trying, as Usual, to get ReAdjusted to the Mundane world and back to our Everyday busking beat. And just about an hour ago, I passed by a neighborhood Seattle Weekly distributor, as he was dropping off stacks of said publication down at Bulldog News on the Ave. Lo and Behold, this gentleman was wearing a Bumbershoot teeshirt--from 1994.
My 1994 Bumbershoot teeshirt wore out and got relegated to the rag bag eons ago; but look at the names on the back of this stranger's surviving 1994 shirt: Black Umfolosi, Angelique Kidjo, Archie Roach and Ruby Hunter, Boubacar Traore, Ofra Haza, the Red Elvises. Bumbershoot was a premier world music festival back then; it introduced me to scores of musicians from Africa, Asia, Australia, Latin America and Eastern Europe that I would never have encountered elsewhere.
Now flash forward to 2003: of all the stages, theaters and other venues the Seattle Center has to offer, the world music and reggae acts have been relegated to one small stage near the new Fisher Pavilion, plus Arthur Hull's Drum Circle Tent. Overall, the festival now is dominated by indie rock, hiphop, punk revival, new jazz, poetry slams, and (the most Interesting thing at present) street performers. The marketing demographic has changed, tastes have changed; and, to hear our local alternative papers' music critics talk, "world music" is almost a derogatory term these days (it seems to have come to refer to mush-fusion bands of aging Anglo hippies banging on djembes and wailing faux-pan-Asian wordless chants, or something like that). And yet, swarms of people converged on the One Little Stage for the evening shows by Hassan Hakmoun (who got me dancing like I've not done in several years), the Planet Beat Sound System, the tabla playing of Karsh Kale, and the hysterically funny Eek-a-Mouse (that was the first time I've ever seen or heard The Mouse before, and he is well worth checking out, the Stranger's dim view notwithstanding!).
When I spoke to Mr. Hakmoun after his lovely performance, we agreed that Bumbershoot desperately needs more international performances, and I promised to write to One Reel to make that very Pointed suggestion. Being that WOMAD USA was cancelled once again this year, inspiration for this writing will not be hard to come by. Perhaps more people will attend and spend money at the festival with major draws like REM and Bonnie Raitt (not that there's anything wrong with these folks, BTW); but obviously plenty of people still crave world music, and more world music is definitely needed in this country at large, to get us back in touch with the rest of the world as part of the post-9/11 healing process! This will be a major part of the Lair's musical/activist campaign during the Coming year; and all LairLurkers who burrow through these pages are welcome, indeed urged, to join us in bringing the world's musical cultures to the post-traumatized ears of Americans Once Again!! TOGETHER ACROSS THE WORLD!!
*****
NEWSFLASH!! (MONDAY, AUGUST 25, 2003): Though some LairLinks connections remain to be made through it, the Lair's Brand New Annual Report: Goal Scenario 2003 has FINALLY made it Online!! Yeah, sure, now that 2003 is about two-thirds Over...Anyway, have a look at this new Cave o' Blather whenever you get the chance, while we are trying to come up with an Interesting New Article to headline the Home Lair with...
*****
WEDNESDAY, SEPTEMBER 3, 2003: Good afternoon, LairCronies! We forgot to add this Yesterday, but the LairMistress wishes to send out her Best Regards to all LairLurkers, in honor of her own 39th Birthday, which occurred on Tuesday, September 2nd! We just didn't get around to writing this on the correct date, as we were occupied with drafting 2003 Financial Statements for New Wave Travel, or something totally Irrelevant, as far as the Lair is Concerned!! (P.S.: Click on the image Above for a larger version)
*****
Our Music Business Site of the Week is CDBaby.com! This is the Independent CD Distribution place that (literally) every indie musician on the planet is talking about! All of our previous music biz sites of the week highly recommend it! Other CD distribution sites recommend it! We just took a while to choose it as Music Biz Site of the Week because we thought their logo was bloody Lame (whoever that kid is, he/she will probably go Postal in high school in about 15 years)! But do check them out, with our blessing--if you're an indie musician, by all accounts you'd do well to consider selling your music through them! And if you're not an indie musician but are thinking about taking that path, check out their exceptionally Impressive Musician's Promotion Tips Page! However, we're still not going to slap their LairLogo anywhere near THIS Lair--you'll have to make do with the Above text link Instead!!
*****
ANCESTRAL IMAGE III: It nearly slipped our minds, but Today, Tuesday, August 26, 2003, is the 42nd Anniversary of the LairMistress's parents, Tom and Eileen Olsen! Above is one of their wedding pictures, in which the 25-year-old Newlyweds (much younger than the LairMistress is now!) are flanked by the Groom's maternal grandparents. Thanks to said Groom for emailing a reminder recently, and Congratulations to both of them!! Click on the photo for a somewhat larger version...
*****
SPECIAL NOTE (TUESDAY, AUGUST 26, 2003): In addition to acknowledging today as my parents' 42nd anniversary (see Ancestral Image entry Above!), Congratulations also go out to Josh and Cam Larios, who at long last Tied the Knot themselves this past Saturday, August 23!! I don't know if they've got any photo galleries of the happy event up yet, but Josh just did post some details of the retail organizations involved in putting the ceremony and reception together. May Josh and Cam have many happy years ahead, in their Charming little house in the Ravenna vicinity!!
UPDATE (THURSDAY, AUGUST 28): Here is a series of Wedding Photo Galleries within Josh's larger Photo Gallery Collection!!
*****
AND WHAT IS THE ACCORDION GUY DOING...? (ALSO MONDAY, AUGUST 25): Well, Jason Webley is off again, after something like a long weekend back on the Home Front! On Saturday, August 16 we (Jason, Maureen, a bunch of their Islewilde friends whom I only just met, and I) had a very pleasant afternoon at Vashon Island's Annual Islewilde Festival, wherein everyone was dressed up as Ancient Romans, in keeping with this year's theme (that is, all except one dude who appeared as Albert Einstein on a bad hair day; we're not sure how he fit in with an Ancient Roman theme). I got myself a nice blue toga, literally for a song; Jason got recruited for the Circus Maximus orchestra after his solo set; and both of us got nice foot massages toward the end of the afternoon (and I hope Maureen got one too, after all of her Roman Bath work, running around, playing in the early pageant, etc.!). At some point, as he later recounted, Jason apparently ate some polenta with bits of PORK (gasp!) mixed in with it, with some odd after-effects in his following few shows in this area. Cronies on the Eastside reported in the Guestbook that last Wednesday's show at the Old Fire House was "rather odd", even for Jason; and a similar state of Pork Withdrawal turned him into a mixture of singer and storyteller (generating a funny sort of emotional rollercoaster in the crowd) when I saw him again last Thursday night at the Kickstand Cafe in Tacoma (the first time I've been down to Tacoma in over a decade!). Perhaps he needed a juice fast, or something. Still, it was a very fun show, in a small space, with no mikes or amplification, once it got rolling.
Anyway, Jason is off down the coast again. Yesterday (Sunday, August 24), he was scheduled at the "highly prestigious time" (his words) of 10:30 in the morning at the Cotati Accordion Festival in Cotati, California. And today, he and a couple thousand other Northwesterners are headed down to the Bleak Nevada desert locale of the Burning Man Festival, which I've never attended, but about which I've heard Much--especially about all the Eccentric performance art that takes place, and all the advance preparation that attendees must take care of (you bring everything you need with you, and take everything home with you when it's over). Besides all this, Jason is already talking about what will be involved in the November 1 concert at Seattle's Town Hall; he will have to attract over 900 Cronies to attend this thing, and recruit a bunch of assistants to help with the show as well. I've already emailed him to say I'll help in whatever capacity, as long as I can still "see enough of the show to write about it later." We'll see what happens. Work on Enchantment is also seriously needed; I fear something that may lie ahead. But Despair Not, Nor Surrender! The rune song looms on the horizon, and we shall rise above them all! So, let us be Centered, each in their own Magic, and banish the double shadow..."Tonight is Halloween, Lady..."
*****
SPECIAL ANNOUNCEMENT (WEDNESDAY, AUGUST 13, 2003): I, the LairMistress, am not running for Governor of California; I've got Enough on my plate As Is. Our pal Mike Whybark, however, apparently is--on which party's ticket, I don't know. Perhaps Jason Webley should be his running mate; we're not sure which state he's living in at the moment!
*****

JASON WEBLEY USA/CANADA SUMMER TOUR CHRONICLE (THURSDAY, AUGUST 14): I can just imagine the Recent radio monologue by Garrison Keillor, right after Jason ran RoughShod through the great state of Minnesota: "Well, folks, it WAS a quiet week in Lake Wobegon...that is, until this young out-of-town guy with an accordion suddenly developed car trouble--apparently for the fifth time that week. And, well...things haven't been quite the same down at the Sidetrack Tap ever since, especially after the young guy's big, orange plush carrot got all knotted up inside Cousin Bert's piano. And then...well, perhaps I really should start over at the beginning..."

Annnnywayyy...(as Irish talk-show host Gay Byrne used to say), this, LairCronies, is the final week of Jason's Midwest/Northwest/Canada Tour, and then he actually does a few shows HERE in the Puget Sound area, beginning this weekend!! On Monday, August 11, Jason and Luke made the trek from Edmonton, AB to Calgary, AB, there to appear at a place called Karma Presents. The next day, Tuesday the 12th brought them back on the American side of the border, driving down to Helena, Montana, to a club called Flickers (the street address of which, Last Chance Gulch, was more interesting than the club name!). Yesterday, Wednesday, August 13 began a bit of a crisscross process, with the long drive from Helena to Spokane, WA for the gig at The Shop, followed the next day (Today, in fact), by a drive back East to Moscow, Idaho for a House Concert. And that, Friends and Folkies, is the official end of that tour, though, Of Course, now comes the long haul back to Seattle, in time to make Jason's Saturday, August 16, 4pm appearance at Vashon's Islewilde Festival, where we heartily intend to be for our reunion with the Accordion Guy!! As mentioned Earlier, we will, alas, miss his free concert at the Old Fire House in Redmond on Wednesday, August 20, but we are definitely Contemplating a trip down to Tacoma for the gig at the Kickstand Cafe the Following evening! Anyway, we trust that Jason had a Successful time of spreading the joy and healing magic of Music That Tears Itself Apart to our friends back east and up north--hope some of them have journal entries and photo galleries to post for us to Peruse Later!! AARRRRRGHH!!
*****
Remembering Nusrat Fateh Ali Khan (1948-1997), Six Years Later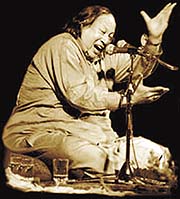 ***
WHAT I SAW WHEN I LOGGED ONTO NUSRAT'S OFFICIAL WEBSITE ON THE AFTERNOON OF SUNDAY, AUGUST 17, 1997:
Nusrat Fateh Ali passed away August 16, 1997 at 11:57 a.m. GST in London, England.
His fans all over the world will miss him greatly.
"When I sing for God, I feel myself in accord with God,
and the house of God, Mecca, is right in front of me.
And I worship.
When I sing for Mohammed, peace be upon him, our prophet,
I feel like I am sitting right next to his tomb, Medina, and paying him respect
and admitting to myself that I accept his message."
--Nusrat Fateh Ali Khan, May 1997.
Nusrat was 49 years old.
***
FROM JOURNAL ENTRY BY THE LAIRMISTRESS, DATED MONDAY, AUGUST 18, 1997:
"Nusrat, Khansaheb, my love, my treasure, please don't leave me just yet! My conversation with you was only just beginning! Why must you leave now? I should have been your pupil along with many others--your student, your collaborator, your Celtoqawwali co-conspirator. Who will fill this void now?
"...I never cared about any differences between us; and when we shared music, food, conversation and companionship, the differences melted away and no longer mattered. That's when I knew heaven was here and now, not only in the hereafter, because I felt and experienced it...when you sang and we danced, no one cared how their fellow dancers differed from themselves. Now I must commit myself to the same task."
***
FROM JOURNAL ENTRY ENTITLED "FORMAL LETTER OF PROTEST, DATED 8/22/1997", ADDRESSING GOD, REGARDING THE DEATH OF NUSRAT FATEH ALI KHAN ON AUGUST 16, 1997:
"...I have long had the impression that you are opposed to everything I want to do, exactly because it's something I want to do; and I have felt that I had to fight you tooth and nail for every dream that became a reality, every victory I wrenched from the jaws of defeat. And perhaps, because I was so determined not to give up this quest [to study music with Nusrat], you allowed the whole thing to come crashing into dust around my feet...I must protest this situation in the strongest possible terms of which I am capable, as a human being and a musician. Life itself should be ecstasy; so many of us are starved for it. I wasn't born with music to go through my whole life doing market research and document coding. I had so many dreams, and they have been not only stolen from me but destroyed altogether, and I do not have to take this lying down.
"...Of what use is it to keep [the realization of my dreams] from me, just to prove that you can? Maybe you enjoy stealing people's dreams from them...But this you can be sure of: even if I did not accomplish some of my most precious dreams, I still dared to dream them. And I will NEVER give up dreaming!"
***
FROM TRANSLATION OF THE IRISH LYRICS OF "MO THRUÁNTACHT MO CHUMHA" (MY PARTING-GRIEF IS MY RUIN), IN MEMORY OF NUSRAT-- © 2000 by Karen I. Olsen:
Come inside with me,
And let your blessing rest on us.
Your equal is not to be found;
You are the cream of musicians,
My thousand treasures, my beloved.
The sun rose to your sound,
And winter departed from us;
You were spoken of far and wide,
But you didn't laugh at my dream of music.
Nualláin Óg [Nusrat], don't go away from me.
***
Pakistan Postage Stamp in Memory of Ustad Nusrat Fateh Ali Khan, issued August 16, 1999,
on Second Anniversary of his Passing.
***
WHAT IS REMEMBERED, LIVES.
*****
Our Music Business Site of the Week is Starpolish.com! This Music Biz Lair is what our own Lair tries to be: an easily-Navigable hive of resources and information for independent musicians! The carefully categorized Advice Column Directory is especially impressive; but you will also enjoy browsing through their News and Feature Articles page, their Artists Directory, and their Growing supply of Musicians' Resource LairLinks! Plus, there's even a Store for Featured Artists' merchandise, and plenty of LairLinks to other Lairs for music biz DIY promotion. So, if you're an indie musician needing "help to help yourself", you should be able to find it here!!
*****
SPECIAL MUSIC NOTE (THURSDAY, AUGUST 14, 2003): Tomorrow, Friday the 15th, we will be doing our Sixth Annual Private Memorial in honor of the Death Anniversary of our Muse in Spirit, Ustad Nusrat Fateh Ali Khan. This will be held, as Usual, at Agape Lutheran Campus Chapel. The Memorial will be held on Friday the 15th instead of the Actual date, August 16, because (1) we will be attending the Islewilde Festival on Vashon Island on Saturday the 16th; and (2) Agape Chapel is typically closed on Saturdays. What is Remembered, Lives...
*****
There Is No Dream I Cannot Make Real
MONDAY, AUGUST 11, 2003: In the path between me and my living dream, I see a double shadow, hear a silent echo. This does not look good. The sight and sound of them have chilled my heart, turned my veins to ice, and made me cry many an evening; and at times, I didn't even know the reason why. Why have I been crying, and feeling chilled at the heart? Because the double shadow, the silent but living echo, are clouding my view of the beloved dream and barring my way towards it, seemingly keeping me from getting any closer to it. The double shadow may be devouring and stealing the dream, I fear, and I don't know how to prevent this without needlessly harming someone. Alongside the living dream, however, there should not be a double shadow, at least not if I am excluded from it.
Come on, I am stronger than that. There is no dream I cannot make real! Away with being barred from realizing my dearest dreams! I banish the feeling of helplessness in the face of the double shadow! Let no one tell me my dreams are "not meant to be", if they know what's good for them! Follow the path to the life force at the Earth's core, and let me be grounded and centered in its power. Then let me go to the inner landscape, so that I may change the shape of the outer one. Then I will banish the double shadow, drown out the silent echo, and sit close to the embodiment of my living dream!
I am meant for the inner chamber of my living dream. Let no one bar the door to me! I prepare to board the ship that is ready to weigh anchor; I will help to sail this ship until my own is completely built and tested for seaworthiness. If anyone challenges my presence on this ship, then I will challenge them to get out of their chairs and help me build my own ship, for which I have no design and few tools. Meanwhile, I will stay on this ship I see before me, so that I will get to know how such a ship is built and sailed. Away with the double shadow and the silent echo that appear to be steering the ship into a strange void! Away, as well, with the mirrors of the double shadow, positioned to enlarge it, and with those who expect me to be happy with this situation! A double shadow is not good for a living dream, unless it is, in fact, cast by the dreamer.
There is no dream I cannot make real. I will take the inside track toward the living dream, behind the double shadow, underneath the seam of the silent echo. First I will follow, then lead, the dream out from the perimeter of the void. Help me build my own ship, good people, one worthy of the dream, and even better than it should be! The silent echo will be dispersed by a song from the heart, and the double shadow will melt apart from the dream, and be sent on its way in peace! Together Across the World!!
*****
JASON WEBLEY USA/CANADA SUMMER TOUR CHRONICLE: Giant Leaps have been made by Jason's vehicle over the past few days! The Lake Michigan gigs are past, followed by a couple of shows in Minnesota (aaarrrrgh, sure, y'betcha!), and then north of the border to cover much of Canada in under a week!! Two gigs allegedly Occurred on Wednesday, August 6, beginning with a long drive from Milwaukee, WI to Inner Grove Heights, MN (or is it "Inver Grove Heights"? Yahoo! Maps can't seem to find any such place as "Inner Grove Heights"!) for a 6 pm gig at Taco Toro's. Gig No. 2 required a drive west to Minneapolis to make a 9 pm appearance at Loring's Kitty Kat Klub with one Joe Smith. Thursday, August 7 was no easier, with a Giant Leap north across the border to Winnipeg, Manitoba to play at the Albert Arms Club. Another 7-plus hour drive west came along the next day (actually Today, Friday, August 8), to Saskatoon, SK to play "under the bridge at midnight" at the Saskatoon Fringe Festival--but at least Jason and Luke get to stay there two days (under the bridge or Otherwise). That takes us to this coming Sunday, August 10, with a relatively Conventional gig at O'Byrne's club in Edmonton, Alberta. Incidentally, I've just discovered that Jason is scheduled to play at the Old Firehouse in Redmond, WA on Wednesday, August 20, the VERY day I've agreed to facilitate our apartment's monthly House Meeting! Rats!! WHY did I volunteer for that job?! Guess I'll have to catch Jason at the Islewilde Festival as much as possible the Previous weekend!!
*****
Ancestral Image II: Wedding photo of the LairMistress's Paternal Grandparents, Irene Jacobsen Olsen and Paul Olsen (second from left, back row), in Brooklyn, NY, 1932. Click on the photo to see a larger version!
*****
A ReTelling of an Old Parable...
THURSDAY, JULY 24, 2003: Once upon a time, a man was walking across a field--an ordinary man, walking across a seemingly ordinary field, on a seemingly ordinary day--when he stumbled across a Hidden Treasure buried in the field. Guess it wasn't buried particularly well, or something. But anyway, it was a most exquisite treasure, an object of extraordinary color and character; at every angle from which the man studied it, it appeared all the more beautiful. Desiring to possess this treasure for his very own, the man reburied the treasure, dashed home, and sold a number of his most prized possessions in order to purchase the field with the Hidden Treasure within it. However, when he had purchased the field and raced out to claim the exquisite treasure, he found that it was missing! In a panic, the man searched everywhere for his newly-bought treasure, going over in his mind every possible thing that could have happened to it in his absence. Had someone uncovered and stolen it? Had some wild or domestic animal dragged it away? Had someone plowed through the field and accidentally moved the treasure into the next field, or a different part of this one?
Only one man knew what had actually happened to the Hidden Treasure. This man had known of the treasure's existence for several years, but he had not tried to take it from the field or purchase it for himself. He would simply go out into the field every day, or as often as he could, uncover the Hidden Treasure, and sit on the ground admiring it for a while--sometimes by himself, and sometimes with a few friends or his own children. Then he would rebury the treasure, and quietly leave the field with a renewed appreciation for the beautiful things that could be found everywhere on earth.
Then one day, this second man found out that another man was about to buy the field, and would thenceforth be the owner of the Hidden Treasure as well, and of whatever else was contained within the field. He became deeply worried and distressed, for he knew that, from now on, he would no longer be allowed to go freely into the field to uncover and admire the Hidden Treasure. He knew that he had to do something immediately, to take drastic action if necessary, because he could not bear the thought of the treasure being locked away and denied his admiring gaze from then on. And so, although it went against everything he believed in and had been taught from infancy, he scurried into the field while its purchase was still in progress, uncovered the Hidden Treasure, wrapped it in his coat and took it into a stretch of forest land still held in common by the people of several villages. He buried it in an unobtrusive location, marked with a secret symbol of sorts, so that once again he would be able to uncover and admire its beauty and character whenever he wished. For there are some treasures in this world that are not meant to be claimed and held by a private owner, but rather should be freely accessed, admired, cherished and cared for by many people, for the uplifting and nourishing of their hearts and souls.
This has been a Fast and Loose ReTelling of one of Jesus' "Kingdom of Heaven" aphorisms (with a markedly Different outcome!), referred to briefly in Matthew 13:44. Take a look at this story, Dear LairLurkers, and ponder its connection, metaphorically speaking, to the next article below this one.
*****
SPECIAL CONDOLENCES go out from the Lair to all the families, friends and fans of the Portland-based band EXPLODING HEARTS, three of whom (named Adam, Matt and Jeremy) were killed in a tragic accident involving their tour van on Sunday, July 20, en route between San Francisco and Eugene. I am not familiar with this band, but I do know that they played in Seattle not more than two or three weeks ago. Those who died were all between 20 and 23 years of age. Let this be yet another lesson to us never to take anything in life for granted, to appreciate good live music while we've got it, and to always wear our seat belts. Love and Courage to the young musicians now in Spirit, to their families and friends, and to their surviving BandCrony and their Manager!! Peace!!
*****
ARCHIVE LAIR NEWSFLASH (WEDNESDAY, JULY 9, 2003): We finally did it, LairCronies!! If you Slunk In here and heard a lot of groaning, cranking, wheezing and hazardous avalanches of dirt and gravel just now, do not be Alarmed! That was just the (somewhat OverDue) remodeling of the Archive Lairs that you heard. Okay. As of Right Now, all the Home Lair entries from 2002 are housed in ARCHIVE LAIR 2002. The huge collection of Home Lair entries from January through June 2003 have just been Heaved on sixteen CyberTrailers into the Always-Murky ARCHIVE LAIR 2. And from today, ARCHIVE LAIR 1 will house Home Lair entries from July through December 2003 as they come Along. Man, that was some loading project!! Now for some green tea on ice...
***
LAIRLINKS NEWSFLASH!! (WEDNESDAY, JULY 9, 2003): Folks, this one is even more Exciting! After two years on the Nosebleed Section of the Back Burner, the LairLinks Directory's LAIRLOOT SUBCOMPLEX is FINALLY Up and Running! Not Finished, but Up, nonetheless!! The LairLoot SubComplex contains LairLinks pages on how this Maddening WorldWide CyberUniverse can help you get cash in your pocket (if you play your cards right), with LairLinks relating to Alternative Work situations, Freelance Music and Writing gigs, Affiliate Programs, e-Commerce, and More! Now, if some of this stuff will just be a bit of use and profit to the LairMistress herself...!!
***
JASON WEBLEY USA/CANADA SUMMER TOUR CHRONICLE: How much energy is being Unearthed halfway across the country, LairCronies, and how I wish that I were Closer to it!! As we write, Jason and Luke are in the midst of the Lake Michigan Leg of their Voyage; and no doubt Lake Michigan looks Splendid this time of year! We last left them in Champaign/Urbana, IL (can't people agree on what to call this town?!); from there, on Saturday, August 2, they headed northeast to Muncie, Indiana, for a gig at a club called The MT Cup. That was the 5 pm. gig. That same evening, they trekked out to Indianapolis, for Jason to be featured in a concert series called Punk Rock Night, that evening held at The Melody Inn. The next day, Sunday, August 3, saw them driving north to their first Lake Michigan gig in South Haven, Michigan, at the South Haven Center for the Arts in the company of the band Andru Bemis and the 40 Thieves. Assuming they survived that one, Monday, Aug. 4 found our lads driving along the south edge of the Lake to Chicago, IL for a gig at Wheaton Grand (is that a club or a hotel bar?). That brings us to Today, Tuesday, Aug. 5, when Jason and Luke go further north along the Lake to Milwaukee, WI, where Jason is billed at Pierce Street House, located, conveniently enough, on one Pierce Street. From there, it's off to Minnesota for a couple of gigs during the middle of this week! Follow the Carrot, ya sure y'betcha!! Wish I was there!!
*****
JASON WEBLEY USA/CANADA SUMMER TOUR CHRONICLE: Well, this week (assuming everything is currently On Schedule) finds Jason and Luke leaving Denver's fair city and Rampaging across vast swathes of the Midwest's Corn Belt. We hope the lads enjoy lots of corn. My brother used to live in Ames, Iowa, where the local post office had this Bizarre mural of working-class Midwesterners worshipping a Gigantic ear of corn, prompting him to label the ISU vicinity "the land of the Corn God." But I digress.
Anyway, Sunday, July 27 found our boys making the Mammoth drive from Denver to Oklahoma City, in time for Monday's gig at a place called The Red Cup. This was followed by an equally long trek north to Fairfield, Iowa, where Jason is scheduled to play Tonight, Wednesday, July 30 at Cafe Paradiso (does Jason actually have listeners in central Iowa?!). A shorter hop follows the next day, Thursday, July 31, from Fairfield to Iowa City, there to appear at Gabe's Oasis. Finally, on Friday, August 1, Jason's next run is from Iowa City to Urbana, Illinois, to play a gig at a campus Unitarian-Universalist club called the Channing-Murray Foundation. By then, they'll be getting fairly close to my part of the country! Just one little wonder: how much of the driving is Jason doing, and how is the car behaving itself Thus Far?!
*****
Our Music Business Site of the Week is NetMusic.com! More than a LairLinks Collection, if still in Development, check out its alphabetical Artist LairLinks, Newspage, Musicians Only Section and developing Streaming Music features! This Music Lair even has its own eStore, which opens up in a separate window. A young site, but one that shows promise as a one-stop Online showcase for many independent bands around the Globe!
*****
JASON WEBLEY USA/CANADA SUMMER TOUR CHRONICLE: Hail and Farewell, my dear Accordion Monsters!! We, the Seattle Crowd of Jason's Cronies, were greatly Pleased to welcome Daniel Ari and Aaron Seeman, Accordion Guys of the Bay Area, to the Vera Project, in Cahoots with our One and Only Captain Jason Webley, he of the Chronic Touring Bug, whose return to Seattle we have anxiously Awaited for many weeks! I myself was equally pleased to finally introduce Jason to my Mom, who apparently had a pretty good time in this all-ages venue, despite Jason and Company's delay in traffic, and herself having to sit out on the sidewalk with assorted Cronies (prior to the doors opening), some of whom allayed her fears of being "out of place" by keeping her company in a four-person booth near the back of the showroom! Jason's parents and friend/choreographer Maureen were also in attendance, holding down the fort at the CD Sales table. For the now-in-progress Tour, Jason has turned over the driving reins to longtime Crony Luke, who kindly responded to Jason's recent appeal for tour transportation, in light of his (Jason's) Strange habit of jinxing cars that he himself owns and/or drives.
Anyway, Jason's first big US/Canada Tour has just begun, as of Monday, July 21, with a show at Atomic City Records in my aunt Sharon's old stomping grounds of Richland, WA. Here is a map of the Seattle to Richland drive. From there, the tour proceeded to Sun Valley, Idaho on Tuesday, July 22 at a place called the Space Club. A second Idaho gig followed the next day in Twin Falls, Idaho at the Java Club. That brings us to today, Thursday, July 24, when Jason will attempt a giant leap due Southwest to Salt Lake City for a gig at Club Halo. The week will finish up on Saturday the 26th, with Jason sharing the stage at the Larimer Lounge in Denver, Colorado with the band Devotchka, who appear to be something like Colorado's answer to our own Kultur Shock. Again, I do desperately wish that I was riding along, as Fiddler, BandCrony, Opener, Madwoman in the Attic, Whatever! Anyway, we'll try to keep this Chronicle Updated as Often as possible, if we can tear ourselves away from busking long enough! Stay Tuned!!
Also, check out Mike Whybark's serial interview with Jason, which will be published in four parts this week, and perhaps in a printed publication Later!
*****
J20 2003: HAPPY BIRTHDAY TO THE LAIR!!
FRIDAY, JUNE 20, 2003: KARI'S LAIR IS 2 YEARS OLD TODAY!! Who woulda thunkit?!!
TOGETHER ACROSS THE WORLD!!
*****
Gulf Wars Episode VI or So: Does the Empire Have Enough Rope to Hang Itself Yet?
THURSDAY, JULY 17, 2003: So, what's going on in the news these days? Even in the Seattle Times and other mainstream publications, Darth Dubya & Co. are all but being called Lying Weasels to their faces. CIA Director George Tenet "takes the fall" for the Bogus intelligence about Saddam going shopping for uranium in Africa. The alleged links between Saddam and Osama are Unravelling faster than my steel-plated guitar strings. The aforementioned two baddies are still (apparently) Alive and Missing. All they have to do to terrorize us these days is have more Intercepted "chatter", online or off, and the Empire starts quaking in its boots and raises the Terrorism Alert up to Orange again, with nary a boxcutter Unsheathed. Over in Iraq, every cab driver that values his life is carrying concealed hand grenades (that according to our friend Salam Pax, the Baghdad Blogger). The occupying "Coalition" forces are losing soldiers to Iraqi resistance attacks every day, and the survivors are being cautioned not to eat anything offered by Iraqis, lest it be Poisoned. Both violent and nonviolent resistance is in full swing, with Iraqis increasingly Emboldened and Determined to take charge of their own country, and drive out the oil-hungry Empire. Paul Wolfowitz all but admits that the war was about commandeering the Iraqi oil supply, adding that alleged WMD's was all the Administration folks could agree on as a rationale for invading Iraq. Evangelists are invading Iraq as well, under cover of providing humanitarian assistance, but Iraqis surf the net and listen to the radio too, and know very well what some of said evangelists have been saying about their majority faith. Let's see, now, have we missed anything? (More LairLinks are coming for this article as we can find them).
*****
JASON WEBLEY TOUR SCHEDULE UPDATE (THURSDAY, JULY 17): How I wish, once again, that I was going along!! Hopefully, by tomorrow I will have a bit of breathing space to chronicle Jason's North American adventures. In the meantime, I am street-performing up a storm in order to have sufficient funds for the Seattle show of the Monsters of Accordion Tour, featuring Jason, Daniel Ari and Aaron Seeman! And I still hope to be able to drag along my Mom, who is scraping away on her viola all this week at an Issaquah, WA Music Camp! I don't know if she knows it yet or not, but that's what I have in mind for us to do on Sunday night at the Vera Project! Jason, did I mention that I "want to travel with you, maybe show you lands I know" (from one of my own song lyrics)? AAARRRRGH!!!
NEW UPDATE (FRIDAY, JULY 18): Tonight Jason and two fellow Monster Accordionists are (after a Monstrous drive north--about 8 hours' worth--from San Francisco, CA) Scheduled to play Sam Bond's Garage in Eugene, OR, one of Jason's new favorite hangouts! Only two days away for us, Mateys!!
*****
Our Music Business Site of the Week (partly from lack of Newer and UpDated Data) is Northwest Programs for the Arts (NPA)! This is the Home Lair not only for NPA Arts Funding Programs, which I fully intend to check out, but also for the Save Public Art program, and the Seattle Music Fest, that cozy little summer music festival on Alki Beach, which is coming up on August 8-10 this year! We definitely hope to be able to attend once Again, if they'll just do something about the SuperHeated beach sand...!!
*****
Support Our Dixie Chicks! Buy their CD's Here! And Here is their Upcoming Tour Schedule!!
*****
Condolences from the Lair...
SPECIAL REPORT (THURSDAY, JULY 3, 2003): Strange how these things seem to happen in Threes. We at the Lair would like to send our Sincere Condolences out to the following folks:
...To Dr. Ann El-Moslimany and family, on the loss of her husband and Islamic School of Seattle co-founder, Dr. Mohammad El-Moslimany, who passed away on Monday, June 30 at age 79 after a long illness. Inullaha wa-Inullahe Rajion.
...To the Family and Friends of Chelan County Deputy Sheriff Saul Gallegos, age 35, who was fatally shot during a traffic stop this past Thursday, June 26. Our particular sympathies go out to his wife and four young children. Lo siento mucho, pobrecitos. He is to be buried shortly back in his home town in Mexico.
...and, Last but Not Least (not the Least Bit!) to the Family and Friends of Legendary screen and stage artist Katharine Hepburn, who passed away at her home in Old Saybrook, CT on Sunday, June 29, at a Feisty 96 years of Feminist youth (with her trousers on, we hope!). Check out the recent cartoon in her honor in the Seattle Post-Intelligencer!
UPDATE (WEDNESDAY, JULY 9, 2003): Special thoughts and prayers also go out to the family and friends of the Iranian twin sisters Ladan and Laleh Bijani, who died yesterday, July 8, during surgery to separate their conjoined heads. We celebrate their courage, tenacity and daring to risk and dream of new possibilities against all odds!
*****
Beginning Year Three: Wish List for the Lair's Birthday!
SPECIAL REPORT (TUESDAY, JUNE 17, 2003): Guess What, all you DieHard LairLurkers! The Lair's Second (2nd) Birthday is coming up this Friday, June 20!! Over the past two years, the Lair has developed and changed and evolved, all the while keeping our megabyte usage within Manageable levels. It is growing bigger, however, with our new LairLoot SubComplex FINALLY in development, at least, and the Home Lair being updated more regularly than before! The LairMistress is a bit busy busking these days, what with the Summer Festival season now UnderWay here in Seattle. However, we try to keep this crazy Lair moving, growing and changing at a pace that makes it Interesting; and since we plan on adding Keyword Metatags to most of the LairPages, the Lair as a whole will hopefully be all the more Visible on the web, without (please God/dess) attracting too much more attention by those Accursed SpamBots!! You don't even want to know the sort of stuff we've been getting by email Lately!!
Anyway, we REALLY want to get moving on a number of things ASAP, if we can just keep our energy levels up:
THAT, in fact, is the Number One thing on the Wish List: we want More Energy! Nothing makes busking and LairBuilding tougher than lacking the energy and/or will to drag oneself out of bed in the morning in a Timely fashion!!
I really need a decent music practice space, especially for polishing up my singing with fiddle drones.
I want to get my First CD out this year, dammit!! At the very least, I want to record two or three more open mic spots at the Rainbow Tavern on Sunday nights! I've got two completed now, and want to do some more, after which I want to edit these into a presentable live demo CD! We will need grant funding of some kind in order to embark on a full-scale CD project, however! Any info on sources of grant funding (or similar funding sources) will be infinitely Appreciated!!
The LairMistress is now Available to do opening sets or shared bills for a multitude of musical events, having cut her opening-set teeth at the Junoon show in May of last year! We need to get the word out of such availability as widely as possible, which also makes the need for recorded output all the more Pressing!
I want to live with positive-minded artists, whose thinking is Expansive and Unlimited. Where I'm living now is great, but some of the energy in the neighborhood is rife with limited thinking and options and reinforcement of scarcity. My brain needs energy of the exact Opposite quality!
I still want to be Jason Webley's fiddler and BandCrony!! In the meantime, however, my own performance style needs focus and polishing, and I want to get a sharper idea of who I am PersonaWise when performing, whether indoors or out! I've been talking a lot with Jason's Ghosts Lately, and they've offered some very positive and constructive advice and suggestions (I even felt, at times, as if I was channeling one of them while busking at Folklife Recently!). Liam Clancy has always been an important performing role model as well; and the late Nusrat Fateh Ali Khan was a Tremendous inspiration in the areas of improvised vocal work and instrumental arrangement. Anyway, I want to figure out how to do a better job as a street performer and make more money at it besides--money is still pretty tight these days!
I REALLY need to get cracking on the Lair's Annual Report/Goal Scenario 2003 as soon as humanly Possible.
I also need to introduce as many of the LairLoot Pages as I've got in a presentable state Thus Far.
***
JASON WEBLEY EUROPEAN PIRATE TAKEOVER UPDATE (THURSDAY, JUNE 26, 2003): Well, if things are going According to Schedule, Jason should be well on his way to taking over Merrie Olde Englande by now, or at least rendering London's music scene a helluva lot Drunker!! This weekend, he is slated to crash the UK's Renowned Glastonbury Festival, which will run Friday the 27th through Sunday the 29th. Hopefully he's already got his ticket, unless buskers and Pirate Kings don't need them. Since arriving in the UK, however, Jason apparently has already invaded a London pub called The Klinker at Sussex this past Tuesday the 24th; no doubt its patrons were Bemused and A-mused upon first seeing a slender, brooding figure in a beige trenchcoat and brown hat dragging an accordion, assorted vegetables, and a plastic sack full of noisemaker bottles into the place! Jason, I don't know what the vegetables in London are currently like, but I do remember the veggie stands in and around Dublin to be almost uniformly Wretched, except for Indigenous things like potatoes, cabbage and courgettes (mini-zucchinis)! So take care, and watch out for Mad Cucumber Disease or Whatever...!!
*****
Our Music Business Site of the Week is IndieFan! This is a rapidly Developing site whereby indie bands and artists can promote themselves with a certain degree of built-in flare! They've got their own Live Radio SubLair; two different Review Pages; several News Pages divided by Genre; a small but growing LairLinks Directory; and our favorites, the Downloadable News and Free Content pasteup pages. Thus this MusicLair, while still growing, is already a good resource for Indie musicians who want their self-promotion presence on the Web to look a lot more Professional, not to mention Prettier!!
*****
The LairMistress on an International Student ID Card, taken January 1984 at age 19. For some reason, our webshell won't let us upload this shot, so we uploaded it for a Beliefnet Prayer Circle entry, and are linking to it from the Home Lair. Photo background embellished on Photoshop 4.0.
*****
LEIU in Seattle: They Shoot Protesters, Don't They?
SPECIAL REPORT (WEDNESDAY, JUNE 4, 2003): Greetings once Again from the Seattle Rebel Alliance, LairLurkers WorldWide! The Law Enforcement Intelligence Unit (LEIU) is holding their periodic conference here in Seattle all during this week (Monday the 2nd through Friday the 6th). If any of you are the Praying type, do bow your heads and thank whatever Higher Power you're into that the LairMistress did not get shot by the cops on Monday, the day a bunch of us Dangerous Protest types got together to protest the LEIU's presence at our own Red Lion Hotel near Westlake! We were surrounded by police in riot gear the whole time; and for some reason, near the end of our rally, they overreacted egregiously and used weapons on our relatively small crowd (around 700 or so)!! The police claim that some people started throwing bottles and ball-bearings at them, "forcing" them to respond. I never saw anyone throw anything at police or anyone else; but whatever anyone did, it did not warrant dozens of riot cops descending on us and firing teargas cannisters, pepper spray, concussion grenades and rubber bullets into the crowd; not to mention hemming us in and preventing us from going back to Westlake Plaza as a group! KIRO TV reporters claimed, during the 11:00 news that night, that we had "refused to leave the area", thus precipitating the police assault--completely Untrue.
Our original plan was to encircle the hotel, do some chanting and banging things at both the front and back entrances, and then peacefully return to Westlake from whence we started. Admittedly, the whole thing was a bit disorganized and confused; nobody seemed to be in charge of leading the marchers, and peacekeepers were Few and Far Between. But having done our procession around the hotel, we found that police on foot and bicycles were blocking our return at 4th and Pike; when we circled back up to the 5th Avenue block, another row of police prevented us from crossing at the 5th and Pike intersection. We also could not get away through the shopping center across the street from the Red Lion; a row of patrol officers was blocking the front entrance there. Police were also watching us from atop both the hotel and the shopping center building. Therefore, it wasn't a matter of "refusing to leave"; we were PREVENTED from leaving and returning to Westlake as a group! Similar actions were taken by police during the antiwar marches in Pioneer Square the week the war started.
Now, I've never been shot at by anyone Before in my life; it was quite an experience. I felt like the bunch of us had been ambushed, and were being repeatedly driven into a panic for sport by the police. During the rounds of teargas and concussion grenades, I was nearly knocked to the ground and trampled at least twice by people fleeing the assaults. Had our crowd been much bigger, someone could have been seriously injured or even killed. Rubber bullets can be lethal if they hit you hard enough in the head/neck region. I was far enough away from the teargas attacks that my eyes escaped exposure, though I coughed a bit and kept smelling something like vinegar in the air. I found an open bottle still half full of water that someone had dropped, and ran around trying to help as many people as possible with eyewashing (lots of people got serious eye and skin burning from the spray and teargas). A number of people had come Prepared for such an attack, and were treating burn victims with baking soda and liquid Maalox solutions as well as regular water. When we were finally allowed to make our way back to Westlake Plaza, police fired a large number of rubber bullets after us just before we reached the edge of the Plaza at 4th and Pike, and several people were hit among the many who were running, cursing and screaming. I kept ducking behind trees, granite sculptures, or whatever was available, as I didn't know how far away the bullets were being fired, or from which precise direction. In any case, whatever any of the marchers did that was deemed Provocative, it most definitely did not warrant a drastic assault of that degree by law enforcement officers. It was as if they were deliberately trying to drive us into a panic, make us scatter in all directions and trample each other, or get a riot started, precipitating further attacks. Was this somebody's idea of how to entertain law enforcement out-of-towners?!
*****
Gulf Wars Continued: The Rebel Alliance Goes On!
WEDNESDAY, MAY 28, 2003: Greetings, Friends and LairCrawlers! We've just wrapped up this year's Northwest Folklife Festival, during which the LairMistress worked like mad, singing with guitar and fiddle drones under the trees near the first aid tent (my primary spot), when I wasn't watching and listening to a bunch of other people and groups make themselves Nervous and Sweaty!
So, what has happened Recently regarding the Previous two articles (regarding MercyCorps and the Chapel boycott)? Well, I haven't really gone back to Agape Chapel Fulltime, but I got so HomeSick for the place after a few weeks that I have been stopping by for coffee Now and Again! I still stand by my position, however, that promoting some political views while trying to suppress the expression of others is Lame bordering on Flaky (and possibly treading on dangerous Legal ground, for a religious organization). As for MercyCorps and what planet they've been Lurking on, we still haven't gotten around to asking them where they were when Seattle activists were sending Illegal medicine shipments to Iraq, but we did converse by email with UNICEF-USA, and discovered that, in fact, they have had a fulltime presence in Iraq since at least 1983, and thus were certainly aware of the 13-year-long humanitarian crisis under the sanctions regime. At least they, unlike some other organizations, cannot be accused of living among wild mountain goats in the NorthernMost reaches of the Canadian Rockies since 1990.
Speaking of the Iraq Sanctions, the United Nations Security Council has, at Long Last, voted to lift the sanctions (at their May 22 meeting) on the urging of the U.S. and Britain. A dizzingly Happy development on its face, after all our years of activism, pressure and civil disobedience in developing the WorldWide Rebel Alliance! BUT...!! This vote was Coupled with UN approval of the U.S./British occupation of Iraq and control of its natural resources (read: oil supply), with no end in sight to either component of Darth Dubya's Imperial agenda. Darth Dubya and Co. are also mulling over the prospect of Further Imperial adventures in Iran and Syria, wondering what to do about North Korea, and hoping to stomp further on the Rebel Alliance at home via the Domestic Security Enhancement Act (DSEA) which may, among other things, make security measures under the original Patriot Act permanent. Not only that, but they have also attempted to perform unacceptable surveillance measures on Islamic Centers NationWide (by demanding copies of membership lists, among Other things), and are now trying to develop a database of people's manner of physical movements (a type of "fingerprinting" strategy still in the Experimental stage).
So, Friends, Folkies and Rebel Alliance Co-Conspirators, the battle is not Over, by a long shot! Despair Not, Nor Surrender!! Do not be Despondent over not being able to stop the war altogether; our WorldWide stand against Imperial forces pushed back the war's commencement by six months, at Least; and they were severely Limited in what they could do to Iraq's civilians, as they knew Full Well that, as the slogan says, "The Whole World is Watching"! Undoubtedly these efforts of ours to keep an eye on the Empire helped to save Heaven knows how many innocent lives, though this strategy was far from FoolProof. So, what to do Next? Well, do not despair, do not panic, and do not limit your activism to merely "feeling peaceful inside". In a nutshell, our work Now entails expanding our linkage to activists and groups WorldWide, as well as our bridge building to people of all nations and cultures, because we and they will come to deal with each other directly, often, and soon, rendering governments of the Totalitarian and Imperial varieties essentially Irrelevant! Said governments can no longer be the ones to determine public policy and InterNational relations; they are thoroughly in bed with each other and dominated by MultiNational Corporate interests! So, if a better world for all is to be, it is entirely up to me and thee, y'all!! TOGETHER ACROSS THE WORLD!!!
*****
JASON WEBLEY EUROPEAN PIRATE TAKEOVER UPDATE: Arrrrrgh!! We've been so busy street performing Here, There and EveryWhere, we've hardly had time or energy to keep within the loop on Jason's touring adventures! We had a Lovely if Brief reunion with him at Redmond's Old Fire House on Friday, May 16, where he told us he would likely not have time to drop by the U-District Street Fair that weekend, since he was leaving for Moscow that coming Monday (May 19). Now, with a bit of help from BadTaste Productions, Jason is playing a series of gigs in Moscow, St. Petersburg, and Obinsk, before heading west to take over the music clubs of Western Europe (esp. in Germany and the Netherlands)! UPDATE (FRIDAY, MAY 30): It's probably already happened in St. Petersburg time, but Jason is doing/has done a gig at the Red Club Tonight! His birthday (Sunday, June 1) will be spent back in Moscow in a Special Bash at Club Conserva!! Tomato Goddess Willing, he will be safely back with us in early July, in time for the roving Monsters of Accordion Festival (July 16-20). How we wish he had been with us at Folklife; on the other hand, we had us a pretty good shot at stealing the lad's festival market! Trust your Tomato!! AAARRRGH!!
*****
Our Music Business Site of the Week is JamBase! As often as we've seen and heard this place mentioned by Jarrod Kaplan of Taarka (among other groups), and other local artists and bands, you'd think we'd have featured JamBase here at the Home Lair by now, eh?! Though it describes itself simply as "the leading provider of tour dates, information, reviews, articles and links for thousands of improvisational bands worldwide", in fact, this is one of those Indie Music promotional sites with an INSANE amount of stuff on it. Here you will find a regularly Updated Festivals Guide, an Audio/Rhapsody Catalog, a directory of Music Contests, a page of Audio LairLinks, and an always-Impressive LairLinks Complex--and everything arranged and catalogued by State and/or City or "Scene"! I should go to work for these folks--it looks like the Perfect job for musical obsessive-compulsives like the LairMistress!!
*****
Gulf Wars Episode IV: What Planet Does MercyCorps Live On?
PLUS: Boycott of the Chapel
TUESDAY, MAY 13, 2003: Incredible. Believe it or not, LairCronies, the internationally-Renowned humanitarian organization MercyCorps has only JUST NOW discovered that the people of Iraq are suffering needlessly from malnutrition and preventable disease epidemics, if their television advertising is to be Believed! What planet have they been Lurking on during the past dozen years? The people of Iraq have been suffering and dying from starvation and disease since early in 1991, due to a destruction of their infrastructure via the first Gulf War and ongoing bombing over the (Illegal) "No-Fly Zones" (which included deliberate bombing of ripened wheat fields and herds of livestock every summer!), and a lack of food, medicine, water purification and infrastructure maintenance equipment under the sanctions regime! Where were MercyCorps when my fellow antisanctions activists and I were risking fines and imprisonment to send food, medicine and water purification materials to Iraq over the past five or six years? Where were they during all of the Iraq Sanctions Challenge trips and the Campaign for Conscience? Surely at least SOME of these folks knew of these efforts to save a few lives between U.S. and U.K. bombing strikes! "The Battle against hunger and disease has just begun", Indeed! We at the Lair plan to make inquiries of these fine folks. We will let you know how they respond, if at all.
***
Now for our Second Item, the Lair's declared Boycott of Agape Lutheran Chapel, where the LairMistress has been attending church and playing guitar in the band for lo these many years. I have used the two handy (if extremely slow) computers in the chapel library many times over the years, most Recently for updating the Home Lair, since my usual computer at New Wave Travel somehow got Switched and Replaced with this elderly, paranoid-delusional machine that won't allow me into my own webshell for "security reasons", and which opens up both the modem's CD-Rom drawers every time I venture into Josh Larios' website (I don't yet know if that means the computer is Attracted or Repelled by Josh's writings and text generators). In any case, the good pastor of Agape Chapel Recently decided to bar me from further use of the library computers, due, apparently, to his objection to the cute little VoteToImpeach.org LairBanner (since Archived) calling for Darth Dubya's (George W. Bush's) Impeachment, which I posted here at the Home Lair. Though I repeatedly requested to know why the free expression of political opinions via chapel computers should be Problematic or even Significant, the pastor, generally a tad more Conservative than we are, was not swayed, and requested that I do my LairWork at a different location for which the chapel need not pay the monthly DSL charge. While puzzling over this Strange development a few minutes later, I happened to walk past one of the chapel lobby's bulletin boards, on which I found, prominently Displayed, a small flyer announcing an appearance and lecture by talk radio host Kirby Wilbur of the decidedly right-wing talk radio station KVI-570 AM. This is the guy who has delighted in sending his listeners out to harass nonviolent antiwar demonstrations, and has been involved in the creation of a pro-war website called MoveForward.org. The flyer said (to paraphrase) that Mr. Wilbur intended to discuss, among other things, the influence of his Christian beliefs on his life, how his beliefs affect and guide his work as a radio host, etc. etc. [Yikes! There goes my breakfast...]
Okay, then, figure this one out: Why is it okay for the chapel to promote a lecture by a right-wing AM radio blowhard, but it's not okay for me to use computers in the chapel library to express Progressive political views? After all, it's not like we're calling for Dubya's assassination or anything; we just want his Crazy Imperialistic butt out of office before he blows half the planet off the map. Nothing illegal about saying that. So, boys, girls and LairLurkers, can we say "Hypocracy"?! Evidently the Powers That Be at the chapel only want Certain ideas and opinions reflected therein, and I'm not about to censor myself every time I walk in the door.
Well, then, what is the Lair's official response to such right-wing Ecclesiastical Silliness? That's an Easy one: Post an even BIGGER VoteToImpeach LairBanner (see Below), for Starters! BWAAHAHAHAHA!! Beyond that, we've decided to stage a boycott of the Chapel for the time being, a General absence of the LairMistress and her contributions to this community's activities, unless or until they decide that they have room for a broader range of opinions and viewpoints. The terms "Christian" and "conservative" are not necessarily equivalent or completely interchangeable (at least we HOPE not!), and it's about time somebody took a stand to prove and demonstrate this. We'll also let you know what happens in this Unfortunate situation. Meanwhile, we keep plugging along in the quest for our own niche in the Music Biz...
*****
JASON WEBLEY WEST COAST TOUR UPDATE (TUESDAY, MAY 13, 2003): Well, folks, since this, Jason's first tour of the season, is a relatively short one, we haven't kept the Home Lair Updated on it everyday. However, here is the LairLink to Jason's Events Page, with a fairly Detailed breakdown of west coast gigs (sometimes two per day!). Tonight, May 13, Jason will be at the Red and Black Cafe in beautiful downtown Portland, Oregon, having gotten as far south as Berkeley, CA for the Legendary Gilman Street "Punk Prom", and being now on his way back North! Here is a map of the Portland site, and a map of today's 285 mile drive north from Ashland, Oregon! Jason, good luck and good health! See you next Friday at the Old Fire House, the Tomato Goddess willing!!
*****
Beltane 2003: Winged Carrots, Forest Fires and Flying Lessons
SPECIAL REPORT (MONDAY, MAY 5, 2003): Good night, LairCronies, this is Cinco de Mayo itself! I'd nearly forgotten about that, with the Crazy time we had on Saturday! But then, we were expecting a Crazy time on Saturday. It was well that I got up to the Ravenna-Eckstein Community Center more than two hours before concert time, because there were already a good half-dozen or more folks and one cat sitting in a circle just inside the front doors, along with a basket of carrots outfitted with wings. Something was going to fly, so it was said, and several people had gotten together in advance and fastened paper wings to 40-odd carrots, in the hope that at least a few of them might take off. A huge papier mache tree could be seen on a lift in the gym where the concert was held, and Jason himself came out once or twice to recruit volunteers for setup assistance. As the will-call line grew by the minute, everyone took the opportunity to reacquaint themselves with members of the old crowd that they hadn't seen in a while. Jason had kindly held tickets for me and several other folks who didn't have credit cards appropriate for PayPal purchases, so all I needed to do was pay the person with the ticket box when she came down the line.
This concert was different, even by Jason's usual standards, and some folks have been taken aback by it. Aside from some of the typical props such as puppets, balloons and the May Day presents of seed packets and condoms (as were distributed at the May Day show last year), the show felt more like a single musical play than a conventional set of songs. This involved a fair amount of risk-taking on Jason's part, and it wasn't quite to everyone's tastes. However, the desire to express the themes of spring, rebirth, fertility, new life and the development of new growth (and, by extension, new music) came across quite well overall. The one thing seriously missing was the accordion, which only came out toward the end, and accompanied us on the midnight procession to Ravenna Park in the rain. We all would have loved to see much more of that crazy accordion with all its frenetic passion. But there were more new songs to enjoy; a series of "flying lessons", and a hapless rubber chicken, pulled out of white cocoons that Jason tore into with his teeth; Jason's entire immediate family took part in the performance (I didn't know his mom played the banjo!), and there was even a brief tribute to the late Fred Rogers. There were feathers--lots of feathers--clouds of downy, white feathers flying everywhere, sticking in our hair and shoes, being pulled out of papier mache cocoons by Jason, and thrown in all directions by the crowd. Modern/Butoh dancer Maureen Freehill, who has become a kind of "High Priestess" to our Seattle crowd (she was, indeed, the "Sea Goddess", as I called her, at Halloween 2001 and May Day 2002), was given the role of the May Queen, in honor of it being her birthday that very day. There are some who say that Jason didn't seem quite as "present", or something, as he usually is; but this may have had something to do with the structure of the concert-as-musical-drama that he was trying to pull off. Certainly there was no mistaking the old Jason with Accordion during the procession, the planting of the Maypole, and the unleashing of the hot air balloons.
The men and women of the audience had been split up into separate sides of the gym prior to the show (and I feared falling over people when the lights went out suddenly on my way in); and we also processed out to the park by separate routes--in a drizzling rain--with Jason leading the men and Maureen leading the women, the latter distributing flowers to us along the way. The two crowds met up at one juncture midway through the park, but guides sternly ordered us apart again, "to avoid temptation!" That was quite a jog across the park and ravine, mostly uphill this time, unlike the mostly-downhill trek from the Paradox Theater back in November. We finally found ourselves in the same grove where we had tied Jason to the tree; per Maureen's directions, the women "adorned" the maypole hole with our flowers, as the guys gathered in a semicircle opposite us and Jason (leading a team of several other men) brought in a huge, narrow pole with a long, tapered end to plant therein. Maureen, in a long green dress and garlanded crown, raised her arms and directed the pole-bearers around the circle once or twice, before the pole was suggestively thrust in and out of the flower-adorned hole several times and finally planted fully. It struck me as being very like a Swedish Midsommar pole-raising, only more choreographed and rougher, with more obvious sexual and pagan-ritualistic overtones. Plus, we did it at midnight and in the rain. Wild circle dancing and hopping followed, led by Jason and Maureen dancing arm-in-arm; and when we were too tired to hop anymore, we sang more choruses of Jason's "Sow your Seeds" song, and began lighting up the miniature hot-air balloons. Considering what became of them, we're lucky it was raining, and it was too wet for the surrounding trees to catch fire! The balloons (four of them) were plastic bags (about three to four feet long), equipped with some sort of fire-holding device, which blew heated air into the bags and caused them to swell and rise. When each was fully inflated, Jason let it rise into the air, to wild cheering which turned to cries of "Oh, SHIT!!" as each balloon either caught fire or got caught in tree branches. I half expected to see police helicopters looming overhead, but none appeared, at least as long as I was there. Finally, Jason announced, "Feel free to make love in the woods [in the rain?!!]", and wove his way through the crowd talking to people. Since I needed to catch a bus back downtown while they were still running, I stuck around only long enough to thank Jason for holding a ticket for me, to inquire if he might drop in at the U-District Street Fair (he wasn't sure), and to wish Maureen a Happy Birthday while attaching my winged carrot to the Maypole.
Anyway, Jason has now left for a short West Coast tour; he passed through most of Oregon all yesterday afternoon, and should be in Arcata, CA by now. Once I've gotten hold of the appropriate LairLinks, I will provide you the maps, etc. Meanwhile, I keep plugging away at my own performing, and recording open mic spots at the Rainbow Tavern on Sunday nights. I hope to have enough original songs recorded and edited soon for demos and an EP or two. Wish me luck, Jason, and best of luck to you on the road! Love, Peace and Courage to you and all the Crowd o' Cronies!!
*****
Our Music Business Site of the Week is, believe it or not, Garage Rehearsal Studios right here in Seattle, just south of Safeco Field! This is a studio that is much more than the average practice space, offering special deals on live rehearsal and demo CD recording, discounted prices on things like guitar strings and drumsticks, and free rehearsal time for referrals of new customers. Plus, though we haven't yet seen the place Firsthand, it has a reputation for clean spaces (as their welcome page puts it, "[Are you] Tired of rehearsal spaces that smell funky?") and Tremendous acoustics! And the website is very neatly done Besides! So go check them out on our behalf, Okay?!
*****
Babatunde Olatunji (1927-2003): The Drums Have Gone Quiet, But the Passion Goes On
I am the drum, you are the drum, and we are the drum. Because the whole world revolves in rhythm, and rhythm is the soul of life, for everything that we do in life is in rhythm. -- Babatunde Olatunji
SPECIAL REPORT (WEDNESDAY, APRIL 16, 2003): It was just this past Palm Sunday (April 13) that two pieces of sad news reached us here at the Lair: the second annual cancellation of WOMAD-USA, and the passing on April 6 of the great Nigerian master drummer, cultural ambassador and WorldWide drumming role model, Michael Babatunde Olatunji, known as "Baba" to many other drummers, and (even to nondrummers) as the creator of the "Drums of Passion" record series, beginning in the late 1950's. He passed on at his current home in California from complications of diabetes at the age of 76 (though I've heard his age given as high as 84). I had no idea that he had been so ill, though I was aware that he had struggled with cataracts for a while.
Baba was an honored guest and featured workshop leader at Seattle's own World Rhythm Festival for a number of years. I saw and heard him drumming and singing more than once at the festival's opening and closing ceremonies (which also often featured the late Native American drummer and singer, Beaver Chief); and one year, I had the tremendous opportunity to attend one of his workshops, which was not only a class, but an entire exposition of the spirituality and philosophy of traditional drumming. At both the ceremonies and the workshop, he drummed, sang and taught brilliantly (and what a strong voice he had for a man his age!), despite the fact that he could barely see due to cataracts, and had to be led from place to place by a female relative.
This year, our World Rhythm Festival will be held during the weekend of April 25-27 (see Spring Festival chart below). At least this festival will apparently go on as Scheduled, despite the certain damper and void left by Baba's passing. Most likely the festival will be Dedicated in his memory. If only the WOMAD Festival could be Revived in this area, somehow, as well! King County officials cite security concerns and visa complications connected with bringing over international performers; but a festival of international performers is EXACTLY what this region, and our entire country, needs right now! Our fellow Americans, musical and otherwise, need to meet musicians from all over the world all over again, to rediscover the common ground and common language of music that they share with musicians everywhere, including from Muslim countries! If Americans could meet Muslim musicians at an entire festival dedicated to these cultures (such as the World Music Institute has produced in years Past), it would undermine Darth Dubya and Co's entire campaign against Arab/Muslim cultures (and their historical and cultural heritage, such as has been Devastated by the recent destruction by looters--with impunity--of the Baghdad National Museum and National Library), as the common humanity of us all would shine openly once Again! This is the way to honor musicians such as Babatunde Olatunji, Nusrat Fateh Ali Khan, Ustad Alla Rakha, and the spirit of what America is really about as well--to unite Americans with their sisters and brothers WorldWide through music and drumming, Now and Always!!
TOGETHER ACROSS THE WORLD!!!
Here is the Lair's DRUMMING LAIRLINKS PAGE, now Dedicated in Loving Memory of Babatunde Olatunji.
***
Anyway, here again is our current collection of Antiwar LairLinks that we've had piled up on our Bookmarks collection for some time now, though we're keeping up the LairLinks to the F15 WorldWide Protests Photo Collage, and to Common Dreams.org, as I'm getting seriously Hooked on their Daily fare:
Salam's Weblog from Baghdad, Iraq
Seattle Times Shock & Awe Coverage
Iraq Peace Team Diaries
Yahoo Full Coverage: Shock and Awe
Yahoo Full Coverage: Antiwar Movement
UK Independent: Shock & Awe Headlines
Iraq Journal.org
MichaelMoore.com
Michael Moore on "Operation Oily Residue"
Baghdad Radio Online
Iraq Body Count
Uruklink.net (Iraq News and Resource Site)
BBC News: Eyewitness from Baghdad
In These Times
Iraq Daily Online
AlterNet.org
Iraq4U.com's News and Articles Center
Vietnam Veterans Against the War/Anti-Imperialist
Truth Out.org
No War Against Iraq
Vote to Impeach Bush
Move On.org
Veterans for Common Sense
No Blood for Oil
No Iraq War Coalition
Rebirth Seattle/Waging Peace
Greenpeace Action Alert Page
SeattleActivism.org
End the War
Education for Peace in Iraq Center (EPIC-USA)
Irish Antiwar.org
Direct Action to Stop the War
Peace Work Music Network
Working for Change Website
The website of the Permanent Mission of Iraq to the U.N. is currently Offline.
*****
JASON WEBLEY GHOSTWATCH UPDATE O' THE WEEK (TUESDAY, APRIL 29, 2003): Spring has sprung, the grass has riz, and Jason's Ghost is becoming increasingly Visible of late, now that we're down to less than a week before, in the words of his updated homepage, "Something Will Fly"!! According to one recent source who may prefer to Remain Anonymous, Jason was spotted within the past fortnight at Coffee Messiah in Capitol Hill, so apparently some of the dead still crave caffeine!! And, of course, let us not forget that the May 3rd Spring Concert is On as Scheduled at the Ravenna-Eckstein Community Center, and flyers for this show are starting to pop up like spring posies all over town! I also wish that a party might be held in Jason's honor before he leaves for his first tour of the season (on the West Coast)--the first of many this summer and fall!! AARRRRRGHH!!
*****
Well, IndieFolkies, we're still wading through an Immense backlog of Potential nominees, but for our MUSIC BUSINESS SITE OF THE WEEK this week (and we do apologize for a bit of an Updating delay!), honors go to Indiegrrl.com, the Official website of an organization for women in independent music founded by our own Holly Figueroa in May 1998. We'll have to spend some time analyzing all the details of this Music Biz Lair, but it got our attention especially for all the LairLinks spinning outward to a multitude of other Music Biz and Women's Music sites, each with their own web of LairLinks, and so it goes. Perhaps some of them have been Perusing our own LairLinks Complex!!
*****
JASON WEBLEY GHOSTWATCH UPDATE O' THE WEEK (TUESDAY, APRIL 8, 2003): Ahoy, Carrot Lovers and LairLurkers Everywhere!! Check out Jason's freshly updated Home Lair, and see the New Growth! The Ghost will not be Departed for much longer! In fact, if you check out the new Concerts Page, you will see that the Ghost has been peppering much of the planet with promo kits and CD samples during his latest sojourn among the Ancestors, and he is very much In Demand this summer, all over the U.S. and Europe (so that's what he meant when he said last month that he'd been doing "a lot of things")! Hopefully, though, we'll still be able to see him at the U-District Street Fair next month. And before we forget, Jason officially comes back to life at his Spring Concert on May 3, 8 pm, at the Ravenna-Eckstein Community Center--guess that'll have to replace the Paradox for the time being!!
*****
Gulf Wars Week 3: On Death and (Resisting) Taxes...
"I took back my hand and I showed him the door.
No dollar of mine would I part with this day,
For fueling the engines of a bloody cruel war
In my forefathers' home, far away."
--Stan Rogers, "The House of Orange" (song lyrics)
WEDNESDAY, APRIL 9, 2003: Even as we Lurk, LairCronies, the Ancient city of Baghdad is being trashed. Darth Dubya is all but declaring "victory" on the shredded bodies of multitudes of Iraqi civilians who have been judged Guilty by Association with Darth Saddam. Speaking of Saddam Hussein, is he Dead or Alive? Slippery old eel, is Saddam, the devil's own prophylactic; heaven knows how many tunnels and passageways he could be secreting below or across all these "Presidential Palaces" that are Now mostly in ruins and being stripped by looters. A supposed meeting site for Saddam and what remains of his central council was hit a couple of evenings ago by four bunker-busters, in yet another (illegal) presidential assassination attempt. Yet nobody knows quite yet whether Saddam survived this attack or not, or if he was even there. Bodies pulled from the rubble so far include those of a young boy, a young adult woman and an elderly man, none of whom appears to fit Saddam's description.
Mind you, folks, we of the Rebel Alliance (Seattle Chapter) have no great objection to Saddam Hussein and his regime being removed from power. We most definitely have a problem, however, with civilians getting their heads or arms blown off by Cruise shrapnel or cluster bomblets in the process. "Well, that's war..." people here keep chirping at us. "Well, it's still f***ing wrong!!" we keep saying, out loud or otherwise. It's as if the chirpers are saying, if it doesn't happen HERE, oh well, c'est la vie (Oops! We're not supposed to use French phrases in this country anymore, now, are we?!). For all the Continued blather about the Anglo-U.S. invasion about to "liberate" Iraq, all I can see in the Pitiless bombing strikes is pure hatred of Muslims and Middle Eastern peoples being Unleashed. There HAD to have been a Nonviolent legal or political process in place in international law to remove and prosecute corrupt regimes who commit war crimes and crimes against humanity (Darth Dubya and his regime now Among them)--or, if there currently is none Appropriate to the prosecution and removal of Saddam's regime and others like it, there damn well SHOULD be one established by the United Nations in the Immediate future!!
As to our Second point, then: not long after the war started, I made up my mind to become a War Tax Resister. I'm not about to put a penny of mine into Darth Dubya's Death Machine. Most likely I barely made enough last year to bother filing, in any case. So now we're busy looking up info on War Tax Resistance, while still doing street performance (I did indeed sing the new song, "Prayer to Repel the Invasion of Iraq" this past Sunday at the Peace Vigil in Ballard, and mostly remembered the lyrics as written besides!!), getting ready for Jason Webley's "New Growth" (see below), studying my own recording options, and preparing for Seattle's April 12 Event, which will be our contribution to the International Protest of the invasion and occupation of Iraq. So keep watching the news while we try to stay Updated, dear LairLurkers, and let's try to defund the occupation if we can't stop the war! Regime Change in the U.S.A.!!
TOGETHER ACROSS THE WORLD!!
***
SPECIAL NOTE (MONDAY, APRIL 14, 2003): Alas, dear friends and fellow LairDrummers, we only just heard Yesterday of the passing of Nigerian Master Drummer and Cultural Ambassador Babatunde Olatunji on Saturday, April 6, at the age of 75! More commentary on Baba is shortly Forthcoming!
*****
SPECIAL MUSIC NOTE (MARCH 7): Seattle's own Victory Music org has taken, for some reason, to posting its Monthly Event Calendar online Only, rather than in the Victory Newsletter. I'm not sure why they're doing this, but the Online version is a good bit more Readable than the Newsletter version ever was, I'll give 'em that...
*****
Our Music Business Site of the Week is the Brand NewBorn 2003 Seattle Musicians' Directory, published in hardcopy form this week by The Stranger! The LairLink Above leads to the Web version of this Directory; this LairLink will take you to the Acrobat/PDF version, for which you need the free Adobe Acrobat download (LairLink thereto provided at the first web LairLink). The LairMistress finally got her listing in this Directory on time for your perusal and enjoyment! Another reason for this Site O' the Week choice is that I'm Way Behind on finding new Music Biz site listings on our email newsletters (see our previous Music Biz site selection, now Archived)!
*****
Gulf Wars Day 15: Fatal Bloopers, Home Front Tantrums, and Saddam the Super-Patriot
THURSDAY, APRIL 3, 2003: Well, Friends and Folkies, here I sit at one of the Slow and Senile computers in the Agape Lutheran Chapel library, since my current workstation computer at New Wave Travel seems to be Paranoid Delusional, preventing me from entering the Lair's Webshell via some sort of security system that apparently thinks the Webshell is a porno site. Anyhow, what's happened lately in our unauthorized invasion of Iraq?
Well, for one thing, some of the pilots appear to be flying drunk, or under the influence of testosterone poisoning (unless somebody is slipping hashish into their tea). A British troop was attacked by an American pilot in an A10 jet a few days ago, during which one British lad was killed and his buddies barely escaped incineration as two of their tanks exploded. One British helicopter crashed just outside the Kuwait border camp shortly after the invasion started, killing a dozen American and British soldiers. Two helicopters collided in midair a few days later, killing all on board and possibly some people on the ground besides. One jet pilot coming back from an attack slipped clean off the runway of his aircraft carrier and into the Arabian Sea, ejecting just in time to avoid drowning. Because of recent ambushes by Iraqi soldiers in civilian clothing, Coalition forces have gotten in the habit of treating any civilians they come across as Suspicious, frequently with tragic results--including a Recent attack on a van full of fleeing villagers from Hilla, in which only one man of an extended family of sixteen survived. Gee, is it asking too much to expect these guys to fight Sober?
Things are getting a tad Ugly here at home as well. Hate crime incidents against Arabs and Muslims have been on the increase; French and Canadian people are, quite needlessly and ridiculously, being made to feel Unwelcome in this country; Pakistani nationals are being arrested while trying to flee into Canada; and peace activists of the Rebel Alliance are being libeled, verbally and physically abused, and otherwise harrassed and persecuted by pro-war folks. Unlike the grassroots-organized peace rallies, many of the pro-war rallies tend to be sponsored by corporations like Clear Channel and right-wing radio hosts like KVI's Kirby Wilbur, who send their flocks out to harrass peace rallies and marches. Pro-war letter-writers to the newspapers accuse us peace activists of supporting Saddam Hussein, committing treason, hating our country, having no original ideas, burning flags and physically attacking police and war supporters (which I have not seen happening in any gatherings I've been to). A lot of people on both sides are just being plain Rude and Uncivil to each other, which is really not in anyone's best interests. This country is big enough to handle a near-limitless range of opinions, and humans are quite capable of getting along personally while agreeing to disagree. After all, if we cannot coexist peacefully here at home with people we disagree with, how are we supposed to encourage peace anywhere else in the world?!
The most Bizarre development in this whole Insane WarSport has been the transformation of Saddam Hussein's image in the Middle East. Now that Saddam's Republican Guard and citizen militias are showing that they have no intention of rolling over and capitulating to an invasion and occupation of their country, the once-hated and disdained Saddam has become elevated in the eyes of neighboring societies to an Arab Hero and Iraqi Super-Patriot. He may be gassing, raping and torturing his own citizens, and having his sons-in-law murdered right and left; but, by God, he's standing up to the Western superpower! Iraqi refugees who had fled their country right before the invasion started are streaming back into Iraq to join the resistance fighters, and Arab and Iranian militias are said to be volunteering to come over to help them out. As a recent letter-writer to the Seattle Times has pointed out, Darth Dubya has, in just eleven days, united the Arab world like nothing has before, elevated Saddam to a hero status, sparked a massive popular resistance in Iraq itself, alienated the entire Middle East and many of our allies WorldWide, and given Al-Qaeda the best promotional campaign they ever had. Osama must be bloody proud of him. And still no Iraqi villagers greeting American troops with flowers and tea. Too bad. We're supposed to be "liberating" these folks whose cities we're bombing to rubble, right? Sure would be nice if more of them stayed Alive long enough to taste future freedom. Especially the kids. Who the hell is looking out for Iraq's children, who comprise at least 40 percent of that country's population...?
Anyway, more LairLinks are Turning Up every day; if any LairLurkers come across Independent/Alternative news sources, especially from independent writers in Iraq and surrounding countries, do let us know via our Guestbook (see urls above)! We're assuming that both official American and official Iraqi news agencies are in Pure Propaganda Mode right now, so we're pretty much taking them with a large grain of salt. Stay Tuned as we keep looking up and posting LairLinks to Interesting and Alternative NewsLairs! TOGETHER ACROSS THE WORLD!!
***
Before we forget, the next Big Event coming up in Seattle will be the International Day of Protest on Saturday, April 12, with a gathering starting at Capitol Hill's Volunteer Park. Prior to then, an INOC Meeting will be held at Keystone Congregational Church at 3 pm, Saturday, April 5; that evening at 7:00, there will be a video and lecture by Gulf War Veterans on Depleted Uranium at University Temple United Methodist Church on the Ave. The next day at noon (Sunday, April 6), the Ballard Peace Activists will be holding their monthly Peace Vigil ("Rain or Shine...ya sure you betcha!"), where the LairMistress hopes to introduce her new song, "Prayer to Repel the Invasion of Iraq", assuming she can remember all the lyrics by now. Anyway, it'll be a full schedule here at the Lair this weekend!
***
RACHEL CORRIE PRESENTE! (1980-2003)
The
candlelight vigil I attended
last night (March 16) at Red Square, University of Washington, was a Special memorial to
Rachel Corrie
, the
International Solidarity Movement
member who was run over and killed by an IDF bulldozer while attempting to guard a Palestinian family's home in Rafah, Gaza Strip against demolition by the Israeli military.
***
As a further Special Appeal, shamanic practitioners the world over are asked to do what they can to convince the elements, plant and animal clans, the ancestors of the Iraqi people, and the Iraqi terrain itself to take all necessary action to repel an invasion and protect the human clans now living in Iraq! Peace, Love and Courage to us all! TOGETHER ACROSS THE WORLD!!
***
JASON WEBLEY GHOSTWATCH UPDATE O' THE WEEK (TUESDAY, APRIL 1, 2003): This week's Update comes from a couple of SecondHand sources. A couple of Recent posts in Jason's Guestbook made references to something called the Punk Prom, to be held at 924 Gilman Street (that Curious little punk club named after its Berkeley, CA address) at some time in the future. Said posts, in fact, suggested that their authors were looking forward to seeing Jason (or his Ghost) there. So we did a little online research, and Behold! Jason IS scheduled to perform in the Punk Prom on May 10, according to the Gilman's Gig Page, as well as the Gig Page of a band called the Pansy Division. Well, well...will there be a Rising from the Dead here in Seattle prior to Then? We certainly hope so!!
*****
Gulf Wars Week 2: Operation Iraqi Sandstorm
SATURDAY, MARCH 29, 2003: Good afternoon, LairCronies and Rebel Alliance Comrades!! Sorry it's taken me a while to update the Home Lair, but the computer I usually work at has been replaced (during my brief absence) with some old clunker that won't let me into the Lair's webshell to do editing! I tell ya, turn your back for five minutes and your LairMistress's work station gets pilfered!
So, what's happened since I last wrote? The Rebel Alliance, as soon as our illegal WarSport broke out, implemented their preplanned Seven-Day Emergency Response at the Federal Building, with different local peace organizations sponsoring each day of actions, music, poetry, snake marches and waving at cars from behind a set of police barricades. Much of the time, we were being Shadowed by scores of police and "Homeland Security" troops in full riot gear, but they behaved themselves for the most part. Some arrests were made during the weekend rallies, however, when groups of protesters got boxed in by cops on bikes and motorscooters between the Federal Building and Pioneer Square, and the police jumped all over people trying to proceed with their march. I witnessed some police provocation of marches during the Freezing afternoon last Saturday. Seattle police and the city government have been quite paranoid about unauthorized marches downtown ever since the WTO Festival Resistance got out of hand back in 1999. In any case, it feels quite important to join with the peace crowd as often as possible, to keep each other's spirits Lifted and determination High!!
In war news, much consternation is being expressed at Darth Dubya's Imperial Headquarters over the fact that Iraqi Republican Guard troops and guerrilla militias throughout Iraq are fighting like hell to resist occupation, rather than meekly surrendering with civilians welcoming the troops with flowers and tea as previously Expected. With every day of airstrikes, Iraqi civilians and millions of other people in the Middle East are growing increasingly hostile toward their self-proclaimed "liberators." The weather is not cooperating either; the U.S. and U.K. troops have sandstorms, heavy rains and other Elemental phenomena getting in their way as much as possible. Guess my prayer to the elements in Iraq could be working. The WorldWide Rebel Alliance is still marshalling people in opposition to the continuation of this illegal invasion and attack on Iraq. The "irrelevant" United Nations is currently divided between deciding its role in postwar humanitarian supply missions and trying to order a ceasefire (which Darth Dubya and Co., of course, refuse to contemplate, no matter how many "Coalition" casualties pile up). Darth Dubya is accusing Iraq of not fighting by Geneva Convention rules--a hilarious irony that should be obvious to all who are following this debacle. We at the Lair are trying to collect as many Independent and Alternative news sources as possible, and to make them available to all who stumble into the Home Lair and its Alt-Media PassionLair Page. The next Big Event scheduled right now is another International Protest on April 12; however, the Downtown Neighbors for Peace are having ourselves a Pizza Party in Belltown this very night (Saturday, March 29)! TOGETHER ACROSS THE WORLD!! AAARRRRGHH!!
*****
JASON WEBLEY GHOSTWATCH UPDATE O' THE WEEK (TUESDAY, MARCH 11, 2003): Wonder of Wonders! I HAVE SEEN THE GHOST!! However, he would probably prefer that I not divulge Where or When for the time being, unless or until he chooses to announce his own First Official Apparition of 2003. He is looking quite well for a Dead Guy, and has been quietly Busy besides; I'm supremely glad to see that he didn't literally freeze to death in the low-20's temperatures on the night of the Day of the Dead Show. Anyway, let's just say that we all had a very nice evening, and it was LOVELY to see him again (completely by surprise!) after several months of missing him so very much. Hope we can run into him again Soon prior to May Day (or Whenever he decides to be Resuscitated once Again)!!
*****
Prayer to Repel the Invasion
Fog that covers Iraqi mountains,
Clouds that hover on ranging hills,
Come down the mountains, through the glens
And cover the land.
Clouds too heavy to throw a stick through,
Fog too thick to see your feet through,
Cover the land,
Protect the human clans.
Cover the land,
Stretch out protecting hands...
And repel invasion now,
Stop the invaders now and tomorrow.
Harm them not, but drive them back;
Harm them not, but drive them home.
I charge you, guard the land.
Repel invasion now.
Repel invasion now.
Iraqi elders now in spirit,
Children killed these dozen years,
Rise up and haunt their night vision
Here and now.
Not in my name this invasion:
See, I stand with you in spirit
Here and now.
I tried to stop the sanctions on you
Here and now.
Halt the invasion now...
--from "Prayer to Repel the Invasion of Iraq"; words and music © 2003 by Karen I. Olsen.
*****
SPECIAL REPORT (FRIDAY, MARCH 21, 2003): The Horrific "Shock and Awe" assault has begun in Baghdad. Firebombing of innocent civilians all over this city of 4.5-5 million people is now in progress as we write. Darth Dubya and Co., Soulless bastards that they are, claim this is "liberating" the people of Iraq, when in fact they are perpetrating an Illegal act of aggression, a war crime, a crime against humanity, an assault of conquest. I can't begin to tell you how much I hate the lot of them. Marines removed an Iraqi flag this morning from the port city of Umm Qasr, replacing it with an American flag as if they own the place. Here in Seattle, today is Day 3 of the Rebel Alliance's Emergency Response protests and picketing of the downtown Federal Building. Darth Dubya refuses to listen to reason and storms a sovereign nation in violation of International law and our own Constitution, hence making his government the same Outlaw Regime and Rogue State (or, as Pope John Paul II has called it, a Rogue Superpower) that he deems the Iraqi regime to be; but remember, dear Cronies, Karmic Justice does happen. You reap what you sow. What goes around comes around. To harm the innocent is to bring the harm down on one's own head, Multiplied Threefold. I spent most of yesterday running between the Federal Building and Westlake Plaza, but I finally got up here this afternoon to check the email and update the Home Lair as you can see. I am still researching LairLinks relating to this crisis.
TOGETHER ACROSS THE WORLD!!!
*****
Back to the Garden: The Land of Eden Needs Emergency Security Assistance
SPECIAL REPORT (MONDAY, MARCH 17, 2003): Greetings in the name of Saint Patrick, LairCronies! We at the Lair wish WholeHeartedly that this day brought more Hopeful news; but Darth Dubya has just gone On Air telling Darth Saddam and his family to vacate Iraq within 48 hours, or the country will be attacked by Dubya's 300,000 Bored soldiers massing along the Iraq-Kuwait border! We actually heard most of this speech by a special connection to one of New Wave Travel's telephones only minutes Ago. Last night, Seattle activists formed dozens of candlelight vigils as part of the Global Rolling Vigil in which hundreds of cities WorldWide participated. But Darth Dubya's threatened action requires an active guarding of Iraq's borders to repel an Imminent invasion! How will this be done? The remaining members of our Iraq Peace Teams represent but a handful of the people needed for Nonviolent Resistance against an invasion of Iraq! Anyone who visits the Lair is asked to stage a Virtual resistance to repel the invasion: by emailing the White House in large numbers, and waging similar contact of the United Nations, especially UN Secretary-General Kofi Annan, appealing to them to order a halt to any such foreign invasion. Whatever happens, the people of the world must continue to stand together and make it clear that they have withdrawn their support for such blatantly Imperial behavior! More informational LairLinks are on the way regarding these new developments.
*****
Darth Dubya: Chairman of the Bored
TUESDAY, MARCH 11, 2003: The times on Planet Gaia are Still, shall we say, just a little too Interesting. Darth Dubya and Co. have started a Phone Campaign targeted at the U.N. Security Council, kind of like an election campaign phonebank, urging U.N. members to support his Holy Cause of mass murder of Iraqi civilians to get at Darth Saddam. He's also set a new deadline of March 17 for the U.N. to Rubberstamp a resolution in support of Dubya's war ("so the Iraqis can get bombed just like the Irish", hardeharhar...). And just today, the military airtested its Brand Spanking New weapon of mass destruction, the MOAB bomb, a Charming little 21,000-pound machine that sprays flammable liquid stuff over a huge area and then cleverly sets the flammable cloud Aflame! Wonder which dictators still on Dubya's Christmas Card List will send out purchase order contracts to get that baby?
Meanwhile, our close to 300,000 luckless military personnel (soon to be morphed into Darth Dubya's Imperial Stormtroopers) are sitting in the Kuwaiti desert conducting drills, and Otherwise getting acute Cabin Fever. Guess Dubya's betting on 300,000 seriously Bored soldiers being a Dangerous thing once they've finally gotten the orders to Attack and Invade. Heck, it worked in Desert Storm, right? I remember living in South Phoenix and working on the old Yavapai Indian School archaeological site in the summer of 1990, with all of us feeling so bad about reports of our troops sitting in the Saudi desert for months on end, nearly dying of boredom but for good ol' "Baghdad Betty" informing the boys, via shortwave radio, that their wives and girlfriends were sleeping with "film stars like Tom Selleck and Bart Simpson (!!!)" in their Prolonged absence.
Anyway, back home in RainyTown/Jet City/Latteland [i.e. Seattle], the Rebel Alliance is busily dispatching busloads of peace demonstrators down to San Francisco for the March 15 Demonstrations in Solidarity with the DC March 15 Convergence on the White House. We're not sure if Corresponding events are Happening here in Seattle or not. These Monthly marches may look to Darth Dubya like Mere "focus groups", but they darn well have succeeded in pushing back D-Day for the past six months or so! More difficult will be actually changing the Dubya Administration's agenda of occupying Iraq, taking over and contracting out Iraq's oil production, securing a big piece of Iraq's water supply for Israel's use, and implementing U.S. "benevolent global hegemony" (read: world domination), established by destroying any country that they think might be competing with the U.S. in amassing its own military power. These agenda items are the REAL reasons for this Long-Threatened war action, with the real reason for toppling Saddam Hussein being that he refuses to be a good little U.S. puppet-slash-suckup, and take his marching orders from the White House. Sad to say, our government tends to wink at nasty dictators (not to mention selling them weapons of mass destruction), until they stop being good little suckups, and then they become (hey presto!) "The New Face of Evil"!! Even as we write, North Korean dictator Kim Jong-Il is next in line as Antichrist of the Month after Saddam is taken out (Saddam is likely pretty Peeved at this little Bespectacled dude trying to steal his thunder)...
*****
JASON WEBLEY GHOSTWATCH UPDATE O' THE WEEK (3/6/03): Well, all that happened over the past weekend was that I visited Jason's tree once again in Cowan/Ravenna Park, sang a couple of the songs I've written for him recently, and left a little ceramic memento behind. I just hope it didn't get damaged by the subsequent rainstorms. I want him to be alive again, and us performing together (soon as I get a new fiddle bridge, anyway)!!
*****
Lysistrata Says: No Peace--No Sex!!
SATURDAY, MARCH 1, 2003: Well, Friends of the Lair, the U.N. inspections are continuing in Iraq, Iraq (after some hesitation) is Agreeing "in Principle" to destroy its Controversial Al-Samoud 2 missiles, Darth Dubya and Co. are wetting their pants in frustration at being Faked Out yet again, they are now attaching to the Disarmament requirement the new demand that Saddam Hussein go into Exile...and the Rebel Alliance is launching WorldWide readings of the Greek comedy Lysistrata! That's right. Somebody came up with this activity due to the play's Interesting plot line wherein an Athenian woman named Lysistrata leads a women's antiwar campaign on both sides of the Pelopponesian War to refuse to sleep with their husbands until the latter stop fighting and resolve the conflict diplomatically. Anyway, these WorldWide readings are slated for this coming Monday, March 3, at various times and places. This LairLink gives the times and places for readings, both Free and for antiwar donations, in the Seattle area!
Meanwhile, the Seattle Rebel Alliance is Gearing Up for the March 5 National Moratorium to Stop the War on Iraq, and the March 8-9 International Women's Day Seattle Festivities. And the LairMistress is busily clearing the muck out of her throat and sinuses after the Latest infection, and has Resumed busking at her Usual hangouts while working up the guts to expand her busking territory Further! AAARRGH!!
UPDATE (THURSDAY, MARCH 6, 2003): I attended a reading of Lysistrata on Monday at the Capitol Hill Artists' Cooperative Theater, after hearing a Tantalizing excerpt of the play at Espresso Roma here in the U-District! A very funny, very bawdy piece of work it certainly was, with one man filling in one of the female roles, the male characters Outfitted with huge, fake phalluses, and editorial comment about the Iraq situation and 9/11 being inserted into the script here and there! We really should do this again Soon!!
Also, we had plenty of fun Yesterday (March 5) joining many people WorldWide on the National Moratorium to Stop the War! Now for the International Women's Day events Coming Up this weekend, and the International March 15 actions Besides (see LairLinks Above).
***
Check out the LairLink to the February 15 Peace Rally in Antarctica!! There aren't many people living in Antarctica, but apparently the folks at McMurdo Station didn't want to be left out of the Worldwide F15 rallies and marches! This page came to us courtesy of the English version of the Norway Independent Media Center! Plus, for an even Prettier sight, check out this Amazing photo collage of FEBRUARY 15 PROTESTS AROUND THE WORLD!!
***
Here are LairLinks to some Peace orgs and Alt-Media sites, most of which are New to us here:
Democracy Now!
Village Voice Online
Common Dreams
International Solidarity Movement
Free Speech Radio News
Seattle Buddhist Peace Fellowship
Port Townsend Peace Movement
September 11 Families for Peaceful Tomorrows
February 15: World Says No to War
Electronic Iraq
The Tikkun Community
Center for Economic and Social Rights
AlterNet Online
Move On.org
The Garden
NeighborNets Foundation
Iraq Peace Team Homepage
Iraq Peace Team Diaries
Win Without War Coalition
Peace Brigades International
i.e. America Radio Online
RollingThunder Central
NEW! The Lysistrata Project
Lysistrata Readings in Seattle: March 3
Coalition for World Peace
Musicians United to Win Without War
*****
Our Music Business Site(s) of the Week are a Tie among all the Sites that send us their Lovely Free email newsletters. These newsletters are Where we find most of our other candidates for Site of the Week, in point of fact! And so, this week, we are publicly acknowledging these Always-Informative Music Biz Info Sources for the first time! These are: Indie-Music.com, MusicDish, BandRadio.com, and TAXI.com. Needless to say, we are much Indebted to these folks for all the free Music Business info, and we heartily recommend that LairLurkers with Like interests check out any or all of them!
*****
JASON WEBLEY GHOSTWATCH UPDATE O' THE WEEK (TUESDAY, FEBRUARY 25, 2003): Not much has happened on the Ghostwatch this week, but The Rebar is putting on an additional performance of Mike and John's "Ballyhoo" on March 7! Let's hope we can grab tickets for that one, lest it never be Revived Again!! Also, as I commented Recently in the Jason Webley Forum, some odd membership rule changes at MP3.com have severely reduced the number of songs on display at Jason's MP3 page.
*****
F15 2003: The World Says No to War, and The Empire Strikes Back, Voodoo Style
THURSDAY, FEBRUARY 20, 2003: Well, dear Cronies, now we have proof positive that Darth Dubya is using the Dark Side of the Force against us, though we are Unbowed and Undefeated (and so, unfortunately, is he, for the time being)! Millions of people the world Over joined hands across the miles, and marched against the Threatened invasion of Iraq on February 15-16, and we were There! And, in Seattle, so was Lots of Rain! But there we were, a Massive column larger than the January 18 march, Completely filling downtown from the Seattle Center to the INS Building in Pioneer Square, with thousands to Spare! The WorldWide action began in Melbourne, Australia, and spread by timezone across the globe all weekend! So, although Darth Dubya and his Craven Cronies attempted to hex Seattle with Recurring showers, the weather couldn't rain on our parade!!
However. I already had a bit of a cold coming out there on Saturday morning, and by the time myself and the bodhran finished the march and dragged ourselves home, wet and Exhausted, the cold had Escalated into a Miserable sinus infection! I won't gross you out with the details, but by the time I got up to the health clinic Yesterday (Wednesday) afternoon, the infection had spread to both eyes as well! Luckily, the antibiotic appears to be working well on both Already; but I suspect that Darth Dubya must have a Waxen figure in my image, and has Hexed my eyes and throat on account of my long, Preachy email that I sent to the White House last week! In said email, I politely but firmly advised His Imperial Majesty, among other points, that his current attempts to run the whole world his way, and to "reshape the Middle East region" are not his frigging job. Meanwhile, at the United Nations, work is continuing Apace to avert a war, with France (currently leading the opposition to war and urging that comprehensive U.N. inspections of Iraq be Allowed to continue) being Alternately praised by antiwar activists and boycotted by our opposition. Vive La France! said a number of signs in our march on Saturday. My favorite sign, though, was a Handpainted piece of cardboard with the Following limerick in basic black paint:
A bunch of good folks in Seattle,
As Bush was preparing for battle,
Said, "We won't go along,
We know right from wrong;
Sorry, Cowboy, we ain't your Cattle!"
Great job to the Unknown author!! And now, LairCronies and Comrades of the Rebel Alliance, stay Tuned for the next Big Things, which are: (1) Not In Our Name's March 5 Event: the National Moratorium to Stop the War; and (2) International ANSWER's Emergency Convergence on the White House, Slated for March 15!!
Here are reviews of the Seattle F15 March by the Seattle Post-Intelligencer, the Seattle Times, and the Seattle Independent Media Center. Here, also, is Starhawk's report on the NYC March; Yahoo's Full Coverage page on the Antiwar Movement, and CNN's Iraq Tracker Page. And here, lest we forget, is SNOW's guide to Emergency Responses to War.
*****
I'll Snap That Bridge in Two When I Come to It
TUESDAY, FEBRUARY 11, 2003: Well, I suppose it had to happen one of these days. I was tuning the fiddle up at Agape Chapel one day last week, when my already-warped bridge snapped cleanly in Two with a horrendous Crack! I've been playing this fiddle for close to 28 years now, and I've never had that happen before! What to do now? I've got an old spare bridge tucked Away in one of the case's compartments; but it's rather decrepit-looking itself, and I don't quite trust myself to install a bridge without something Weird Happening to the sound post as well. Guess it's time for a trip to Dusty Strings, my favorite musical instrument health clinic, to figure out the cost for new bridge purchase and installation. I'm almost Afraid to find out. Rats. We'll let y'all know what transpires Later.
*****
JASON WEBLEY GHOSTWATCH UPDATE O' THE WEEK (WEDNESDAY, JANUARY 29, 2003): Word has reached Jason's spam-addled Guestbook that the musical play, VIC: Spirit Made Flesh, for which Jason wrote the musical score, will soon be playing at the Open Circle Theater! This play is a dramatization of the life of 19th century feminist and freethinker Victoria Woodhull, with Maria Glanz (of "See Me Naked" fame), in the title role. The Open Circle, located at 429 Boren Avenue North (corner of Boren and Republican), will be running the play between February 7 and March 1. We'll have to check this out next month, time and funds Permitting!!
GHOSTWATCH UPDATE (THURSDAY, FEBRUARY 6, 2003): A few more Ghostwatch-Related items have Recently come to our attention:
The Feather Page LairLinked to Jason's photo on the Homepage has been Updated yet again...
The Rebar Club is hosting a revival of Player King's fringe-fave play, "Ballyhoo", during January 24 through February 23! I think a new guy is playing John Osebold's role. More info and LairLinks as we Unearth 'em.
For some reason, the lads of The Sweet Science have just changed their band's name to The Dead Science. WTF?! Does that have something to do with the demise of the Paradox Theater's venue as of Feb. 1st?
Remember, you heard it here...Whenever you Stumbled Across this page!
*****
Our Music Business Site of the Week is KWEEVAK.COM, an insanely JamPacked Indie music business portal full of articles, MP3 Links, artist listings, Interactive pages, contests, and LairLinks to Everything from the Indie Music kitchen sink on Up! We haven't nearly gotten through the whole site yet, and we dare ya to try it without having Mindblowing side effects!! We'll just put one of their LairBanners under this column, so all our LairCronies can check out this place for themselves!
*****
MONDAY, FEBRUARY 3, 2002: FYI--The recently compiled Anti-War LairLinks and news items has just been Archived. Please note that tomorrow, Feb. 4, is TargetOil's day to protest at neighborhood gas stations. Wednesday, February 5, is the expected date of Secretary of State Colin Powell's address to the UN Security Council. We will keep you Posted on Upcoming events and Unexpected developments.
*****
*****
Gulf Wars Episode III: The Empire Is Kept Waiting
Long Ago, in a Galaxy Far, Far Away...
MONDAY, FEBRUARY 10, 2003:
It is a time of great turbulence on Planet Gaia. Darth Dubya's
Sinister Scheme for World Domination
is slowly being
Figured Out
by the world's people, including citizens of his own country; and the
United Nations
is showing
Increased resistance
to the efforts of Darth Dubya and his henchmen to turn that international body into his own Imperial Council. At the same time, a there is a Recurring disturbance in the Force coming from the general direction of
North Korea
, but Dubya's obsession is with the
conquest of Iraq
as the preamble to the greater conquest of the Caspian Region's oil supply, referred to in
Explicit terms
in the Secretary of State's
Recent allusions
to the "reshaping of the Middle East region to the enhancement of U.S. interests." Meanwhile, back in the Emerald City, the LairMistress, having joined the Seattle contingent of the Rebel Alliance (a/k/a the
Sound Nonviolent Opponents of War (SNOW) Coalition
), is frantically Juggling
anti-war/anti-sanctions actions
and endless planning meetings with outdoor busking, open mic performances, assemblage of open mic CD recordings and other promo kit materials, and the finishing of three polymer clay vessels, just past their first baking. And, on top of that, of course, the Timely Updating of the Home Lair and its Regular short columns. From a series of computers, she continues to bombard the would-be Imperial White House with petitions for rationality and compassion. The United States, for some reason, has instituted a
Code Orange alert
during the past weekend. May the Force be with us all.
*****
Our Music Business Site of the Week is Folkweb.com! They help to market, promote and sell CD's for Unsigned/Undiscovered folk and acoustic artists and groups; remember, they prefer folks who are less likely than usual to be heard on the radio. They divide the site into artist categories such as "Chicks with Guitars", "Dudes with Axes" and "Funny Duos", among other things. Check the site out and let us know what you think; we haven't actually seen the whole thing Yet...
*****
All That Glitters...Space Shuttle Columbia R.I.P. (1981-2003)
SPECIAL REPORT (MONDAY, FEBRUARY 3, 2002): On this Festival of Lights, Imbolc/Brigid/Candlemas 2003, the lights we saw in the sky on the morning of Saturday, February 1, were burning fragments of the Space Shuttle Columbia, the oldest American space shuttle, hurtling toward Earth from a height of 39 miles (203,000 feet) above us. I had completely forgotten that a space shuttle flight was in progress. When I left my apartment that morning, I saw the flag on the top of the Space Needle being lowered, and wondered if some public figure had just died, or if the flag was just being taken in for some reason. I heard nothing of the news until the middle of that afternoon, right after a late lunch, when I met some old faculty friends from UW walking up the Ave. At the same moment, I noticed that the flag at the Post Office was at half-staff. After greeting the couple, I pointed up at the flag and asked, "Who died?" They said it was because of the space shuttle explosion. I thought at first that they were talking about the anniversary of the Challenger disaster of January 1986, which I still remember well (I was a senior at the College of William and Mary at the time). No, they said it had just happened that morning--the space shuttle Columbia had broken apart and exploded during re-entry, and all seven crew members had died. "My God, ANOTHER ONE?!!" I yelped, and raced off to Odegaard Library to look up the story online after bidding my friends farewell. The crew included Israel's first space shuttle astronaut, and India's first female astronaut, as well as one African-American astronaut who grew up near Spokane, WA. More than 80 scientific experiments and a drawing by a teenage Holocaust victim were lost with them. Here at the Lair, a temporary truce has been declared with President Bush, as we join him and all people of goodwill in mourning their loss and celebrating their lives and work.
Some LairLinks to Special Reports on the loss of the Space Shuttle Columbia and her Heroic Crew:
New York Times Special Coverage Index
Seattle Times Special Coverage
Seattle PI Special Report
Yahoo! Full Coverage: Columbia Disaster
President Bush's Address to Nation
CNN Special Report Index
*****
Unfortunately, the Tonasket Barter Faire of Tonasket, WA, has already happened (on October 19-20). But they still have a Cool website to check out! Thanks to Kathleen Deane of the group SisterMonk Harem for providing the LairLink by Email!!
Likewise, Sketchfest 2002 is also done for the year, but their Home Lair is worth a look as Well!
*****
The Great Peace March: How We Spent a Wild Weekend Turning the Tide
SPECIAL REPORT (TUESDAY, JANUARY 21, 2003): "It's 2003. Do you know where your civil liberties are?" This was just one of the hand-painted signs that we saw Yesterday on the Great March from Seattle's Garfield High School to the Federal Building on Second Avenue downtown! Official media counts numbered us as around 5,000, but others guess between 10,000 and 15,000. I certainly had no intention of trying to count the bunch of us, but with every hill we summited, I and many others near the front would look behind us, and see the huge column of people, taking up both lanes of Yesler Way, still coming up the previous hill we had just climbed up and down! When we finally arrived at the Federal Building, a tape of Martin Luther King's 1967 speech, Beyond Vietnam, was playing through a huge sound system for all of downtown to hear. The police presence was considerable, but I didn't see any arrests or overt violence. This, of course, is only the beginning, as we feel the energy across the world Shifting away from the drive to war with Iraq!
SPECIAL UPDATE (MONDAY, JANUARY 27, 2003): Please read Robin Miller's remarkable Open Letter to the American People on War with Iraq. Also, on a Lighter note, check out the lyrics to the so far-Anonymous Song for Dubya, a hilarious parody of "If You're Happy and You Know It...". This song is making the rounds on many websites now, and the author is not widely known at the moment. All together, now-- "If you cannot find Osama, bomb Iraq..."
Here is the Seattle Times' coverage of the J20 Seattle March and the J18 March on Washington. Here are the Seattle PI's articles on the Seattle March and the DC March. Here is some BBC World News coverage of the U.S. antiwar movement. And here is the Menu and News LairLinks page for a new site that just Popped Up, OurNewWorld.org!!
Also, we just located Starhawk's account of the DC events, posted on her official website! Another of Starhawk's articles also points us to the Home Lair of Code Pink: Women's Pre-Emptive Strike for Peace!
***
The local media conveniently forgot to Show Up for our Friday night march (Friday 1/17) between St. James' Cathedral and St. Mark's Cathedral in Seattle, but here is a brief article on that event by Seattle Independent Media.
***
Here are the LairLinks for DC Independent Media and the March on DC Schedule of Events.
And Now, for your Perusal, Illumination and Lurking Pleasure, here are some of the most Relevant LairLinks relating to the situation At Hand:
IRAQ SANCTIONS LAIRLINKS PAGE
ACTIVIST LAIRLINKS PAGE
ALT-MEDIA LAIRLINKS PAGE
Michael Moore's Homepage
Article by Jay Bookman: The President's Real Goal in Iraq
Institute for Public Accuracy (IPA)
Yahoo! Full Coverage: Iraq
Council on American-Islamic Relations (CAIR)
BBC World News
Independent Media Central
Seattle Independent Media
Amnesty International
Human Rights Watch
The Palestine Chronicle
Iraqi News Agency (INA)
Iraq.net Information Network
Sound Nonviolent Opponents of War (SNOW)
Southern Poverty Law Center
Common Dreams.org
*****
Our Music Business Site(s) of the Week are Garage Sessions and their Musician's Community partner, Tonos.com! Check them out especially for the music recording software, and potential A&R exposure. Plus, they advertise in the Seattle Weekly!
*****
JASON WEBLEY GHOSTWATCH UPDATE O' THE WEEK (TUESDAY, JANUARY 21, 2003): Not much Happened on the Ghostwatch front this week, but the LairMistress was, at Long Last, properly Initiated into the Seattle Butoh Dance scene, when I attended this month's Intimate Stage program at Joah Laage's house this past Sunday evening. A very intimate and intense program it was, featuring Tina Pilonetti, Joan Laage herself (representing the Moon), Alan Sutherland and Mandy Gulla. 'Twas well worth the admission besides--for 12 bucks, we were treated to three Intense and Masterful performances, followed by a buffet-style dinner and a video of Mexican ritual Butoh artist Diego Piñon, Tina Pilonetti's primary teacher and influence. And, of course, let us not forget the chocolates...!! We'll surely have to do this again soon, if I can remember to call in my reservation in a Timely fashion!!
*****
Our Music Business Site of the Week is The Electric Fence, a Seattle-based website for the marketing, promotion and professional/financial management of Independent Musicians and Artists. At last, a Local site shows up in this column!!
*****
J18 2003: The March on Washington Looms...
SPECIAL REPORT (FRIDAY, JANUARY 17, 2003): Peace and Goodwill, Dear Cronies! A Goodly contingent of Seattle's peace and anti-Iraq Sanctions activists are headed to DC (known in these parts as "The Other Washington") for a massive mobilization in opposition to Bush's hellbent war on Iraq! If we had the funds, we would be among them, but Other activities are planned for this area for those who are Stuck at home on this Historic occasion! Tonight at 7:00 pm, there is a Candlelight March across Capitol Hill; tomorrow evening, any number of Potlucks for Peace will be Underway; and a whole Plethora of other planned actions will occur through the observation of Martin Luther King Jr.'s Birthday (see Festival LairLinks below) on Monday, January 20! Plenty of reports will be LairLinked here at the Home Lair as they come in, and we wish to send all our Love, Gratitude, Respect and Solidarity with everyone In Attendance at the March on Washington! Let us all join hands across the world, and bind the hands of those Out for Blood! Pirate Banners to the Wind!! AARRRGH!!!
*****
DON'T WORRY FOLKS; WE'RE KEEPING THESE POLITICAL and TOPICAL ALT-MEDIA LAIRLINKS UP FOR AWHILE: JUST DOING OUR PART TO PISS OFF THE RIGHT, RELIGIOUS OR OTHERWISE...
IRAQ SANCTIONS LAIRLINKS PAGE
ACTIVIST LAIRLINKS PAGE
ALT-MEDIA LAIRLINKS PAGE
Michael Moore's Homepage
Article by Jay Bookman: The President's Real Goal in Iraq
Institute for Public Accuracy (IPA)
IPA's Detailed Analysis of Bush's Speech on Iraq
Pakistan Link Online (CA-based)
Council on American-Islamic Relations (CAIR)
BBC World News
Independent Media Central
Amnesty International
Human Rights Watch
The Palestine Chronicle
Iraqi News Agency (INA)
Iraq.net Information Network

Southern Poverty Law Center
*****
Hear Ye, Lurk Ye...Part Too
SATURDAY, JANUARY 4, 2003: HAPPY NEW YEAR, Piratical Cronies of the Lair!! The LairMistress is back in her own Hyper-Rainy neck of the woods, where the precip has barely let up since I landed in Seatac on New Year's Eve (after an unusually bumpy ride cross-country, where several people got sick and the rest of us were praying like mad for the wind gusts to Simmer Down)! We were home in time to watch the lovely Space Needle fireworks display, of which I took a number of pics on a disposable camera that the Apartment Elves presented me with on my return. Now that the year ends with a different digit, time to renew my performing permits and my commitment to keep putting the music Out There! I also hope to see my pals in the band Sweet Science this evening at the Sit 'n' Spin, not to mention the folks at the INOC meeting at 4:00 this afternoon. Anyway, moving right along...it's also time to Update the news entries now Archived:
Again, we're back home in Seattle. I apologize for not updating the Home Lair much during my vacation, but that was mostly because my folks have a Gateway computer with an attitude problem. The bloody thing got Cranky on me the first time I logged on, and would never let me into my email account! I had to make a couple of special trips to the local library to clean the spam out of my Inbox while there! Perhaps a wee chat with the nice folks at Earthlink and Gateway is In Order.
In the Affiliate Programs Department, the folks at Apollo's Axes finally got back to us, confirming the Lair's registration as an Affiliate! We were just about to give up on them, or at least to email back to see if the registration went through or not. And, of course, we are already registered with our old pals at Indie-Music.com. So expect to see banners LairLinking to both music lairs very Shortly!
As you already know, we were saddened to learn Recently of the Paradox Theater's impending vacancy of the wise old theatrical building in the U-District, site of some of the area's best All-Ages music events! We haven't heard where they will move to after February, but a new organization called the Artist Reformation Project (ARP) has been formed to manage the production, so I'm sure we haven't heard the Last of the Paradox just yet!
The Animation Factory site is still down. Guess we'll have to make do with the animated gifs we already have for right now, and go searching the Net for some new ones, besides emailing someone to find out what's happened to our lovely animated gif source!
Plans are in the works to make and sell more ceramic materials, computer art and such, not to mention finding new spots for busking and making a compilation CD from taped open mic spots and other performing ops. No time like the present! Can somebody show us how to turn CD tracks into mp3 or .wav files? Also, unfortunately, the recent word on MP3.com is that they're discontinuing their pay-for-play program, which may send many of their artists scurrying for other paying mp3 directories...
SPECIAL UPDATE (ALSO SATURDAY, 1/4): Hooray!! We've found the New and Improved Animation Factory Site! This time, we've also made sure to Bookmark that sucker! Many thanks to Gifworks.com for pointing the way!!
*****
JASON WEBLEY GHOSTWATCH UPDATES (SATURDAY, JANUARY 4, 2003): Okay, we've got somewhat of a Backlog of Updates now:
The page that LairLinks from the photo on Jason's Homepage now includes a link to a new mp3: Click on the famous photo and see what Comes Up!
It may not yet be finished, but there's a whole new Adjunct Lair attached to Jason's site, beginning with this new Home Lair!
We went back to the Sacrificial Tree in Cowan/Ravenna park recently. Not much has changed, but we left a wee message there just as I saw myself doing in a dream back in Tennessee. Said message is Tied to a Feather.
Somebody who looks a lot like Jason was sighted in the U-District's Tower Records store recently, and a photograph of the sighting has been posted in ye olde Guestbook. Check it out and see: Is it he, or no?!
A ghostly mist sweeps through our streets, and a Strange Grace gathers over the town. Stay Tuned for more Updates as we get them!!
Arrrgh!!
*****
Our Music Business Site of the Week is the FourFront Media & Music Website, featuring the Northwest's own music marketing wizard, Christopher Knab! I've been to at least one of Chris' workshops at Folklife in past years, and I can vouch for the fact that this gentleman knows his subject matter, which is clearly evident on this site as well! Here are articles, columns, news updates, and pages devoted to all aspects of music promotion and publicity; an impressive array of LairLinks rounds out the generous treasury of resources. Quite simply, if you are an independent musician, you really need to see, hear and read Christopher Knab!!
*****
NEW TO-DO LIST (Left Over from the Hibernation entry...):
Prepare performer's promo kit (and get decent 8x10 glossies for it somehow)
Spread the word to local performers and groups I know that I'm available if they ever need an opener
Audition at the same clubs the aforementioned people are performing at.
*****
*****
*****