Ian's RPG Page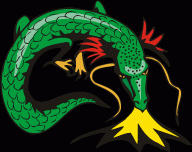 My Favorite Things About RPG's:
Interactive
Customizable
Fun
My Favorite Web Sites
Great multiplayer online RPG
Free Web Building Help
Angelfire HTML Library
HTML Gear - free polls, guestbooks, and more!

My Personal D&D Alignment:
I Am A: Chaotic Evil Human Thief Mage

Alignment:
Chaotic Evil characters are the most 'evil' people out there. They are willing to do anything to get ahead, and will kill anyone who stands in their way. A chaotic evil person sees no value in order and governments, and believes to the utmost in the tenant that 'Might Makes Right'.

Race:
Humans are the 'average' race. They have the shortest life spans, and because of this, they tend to avoid the racial prejudices that other races are known for. They are also very curious and tend to live 'for the moment'.

Primary Class:
Thieves are the most roguish of the classes. They are sneaky and nimble-fingered, and have skills with traps and locks. While not all use these skills for burglary, that is a common occupation of this class.

Secondary Class:
Mages harness the magical energies for their own use. Spells, spell books, and long hours in the library are their loves. While often not physically strong, their mental talents can make up for this.

Deity:
Mask is the Neutral Evil god of rogues, thieves. He is also known as the Lord of Shadows. He appears as a lithe man, shadowed, wearing dark clothing. His followers believe in stealth and wariness. They wear black and gray clothing, and carry weapons and armor similar to that of a thief. They frequently wear masks to conceal their identity. Mask's symbol is a dark, checkered mask.