Deana's Home Page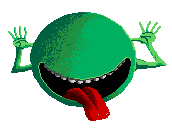 Happy New Millenium! Thanks for stopping by for a gander at my page. Please take a moment to sign my guest book and be sure to stop in again!

General stuff
Pictures
About me and my family
Zaccagnini's around the World
Friends' Home Pages
AWESOME Video Store (Mine)

Cool links-check 'em out
Christian Links
Alternative Christian Music Links
Billy Graham Evangelistic Association
Christianity Online
Especially for Christians

Animal Rights Links
Defenders of Wildlife
Animal Rights Page
National Wildlife Federation
National Humane Education Society
The Humane Society of the United States
Aesop-The leather alternative

Health and Wellness Links
Homeopathy Home Page
Holistic Healing Web Page
Veggies Unite!
Nutrition Matters
Ask Dr. Weil
Dr. Drew's Home Page
Balance Fitness Magazine Online
Vegetarian Times Magazine Online

Music, Video, & Misc.


Beanie Baby Heaven
Internet Humor
Bigstar.com-Music and Movies
CDnow
Reel.com-Music and Movies
Alanis Morissette Official Home Page
Official Barenaked Ladies Page (the Band)
The Discovery Channel Online
The Disney Home Page
BWCA Page
College of St. Benedict/St. John's University Home Page
University of Minnesota Home Page
Search Engines


Sign My Guestbook
View My Guestbook


Visitors
Whatcha thinking?