Welcome to Foogie's Music Vids!
Foogie's Music Video Awards:
MOVE IT (13 awards):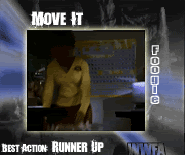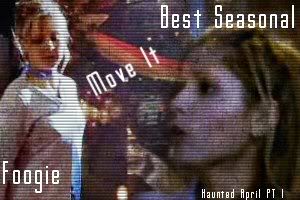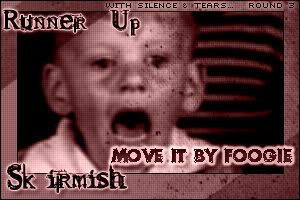 SECOND SOLUTION (4 awards):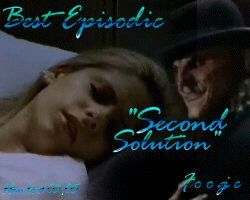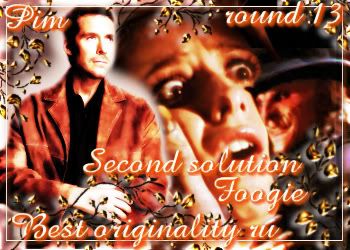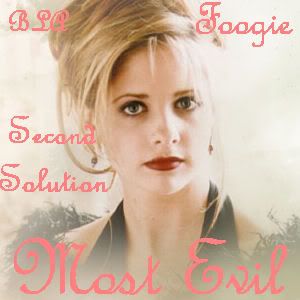 A XANDER TALE (5 awards):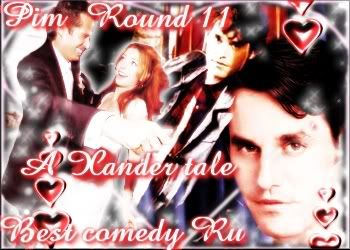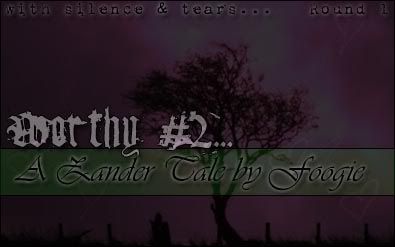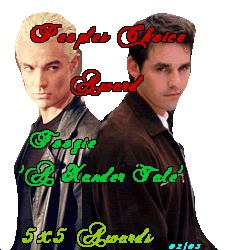 Kung Fu Fighting (5 awards):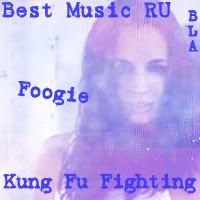 Reviews (Move It):
Move It By Foogie
Wow i would have never guessed this song to fit any concept about Buffy , but i must say you worked it in well. Great season one vid. Love all the actionyness. You used all the best scenes from this season . great work!
(Haunted Awards- SlaveofSpike)

Reviews (Second Solution):
Second Solution- Foogie:
WOW! My favourite Foogie Vid! It's Awesome fast paced editng
(Shoopdancer)
Second Solution by Foogie
This really made me want to see that episode again. Great use of the song and the clips. Well done.
(with silence and tears)
Second Solution By Foogie
"Love the fast paced song! great ep too. nice editing. good work."
(Haunted)
Reviews (A Xander Tale):
"Xander does have a unique High School Experience and the Song fits his experience so well! From The Pack to The Zeppo, it shows them all! It is a hilarious video that will have you begging for more!" By Shoopdancer (SDVAA)
A Xander Tale -
I love the song, so good start there. this clip shows some of the more memorably xander moments. I love the break you neck esquence that was funny and matched the music well. I also really really love the first 'verybody' effect with xander from the pack turning to thecamera. It looked great and the timing was good. Its neat to see xander in his cooler moments, and also some of his funnier moments. However there were some clips that made me wonder...um huh? Overall a nice fun clip, enjoyable to watch. Well done.- (Stormwolfe 5x5 Awards).

A Xander Tale By: Foogie
Cec: How funny! This was such a cute video. The colorizing effects are very cool.

Marie: Like the song you chose. 'Let's Get Retarded' lol. Good character video and nice clip selection. Nice job.

Kaycee: Great Xander vid! I just love his character! Good song for him, too. I liked the scene choices you used; very enjoyable to watch!

Justin: This video made me laugh, I liked how "Started" was replaced with "Retarded". Good & Funny Great vid, BTW liked the green blood lol.

(Judges- The Bad Bad Man awards)
Full on Xander. It's great. Very funny and entertaining. Xander is a complex character that often get's overlooked.Thanks for showing him in this light.
(with silence and tears)
Reviews (Reptile Boy):
"The Music works well with the Clips. The Video goes for just the right amount of time and shows you things you want to see. "-By Shoopdancer (SDVAA)
Reptile boy -
Its nice to see some of the lesser vidded eps being explored. this was a good episodic clip. well done. - (Stormwolfe 5x5 awards)
Reptile Boy By: Foogie
Cec: I like where it cuts from the newspaper picture of the kidnapped girl, to that same girl in the basement. I like the white flashes too!

Marie: Nice episodic video. Good editing and good song choice as well.

Kaycee: Good job! I really liked this episode and you did a great job of making an episodic to it! Nice scene choices and I liked how the clips were quick. Very entertaining!

Justin: The Song went very well with clips. Overall pretty good video!
(Judges- The Bad Bad Man Awards)