Welcome to my little corner of the world.
Here you will see many things about the first new car
I have owned in nearly 30 years.
So sit back and relax and enjoy the show.

DEB PROUDLY PRESENTS HER 2006 CHEVROLET HHR
"Smoke" The NASCAR HHR
We are thrilled to announce that we have been selected
2007 HHR Of The Year
at ChevyHHRFamily.net


UNICEF
Click here to hear a classic Chevrolet tune.
Please click on the banner below
to visit the forum thread announcing our
being selected 2007 HHR Of The Year
at ChevyHHRFamily.net.
A special thanks to everyone in the family for their
support, encouragement and friendship.
You folks are top notch...I love you all.


Thank you for visiting my HHR gallery and links page.
Below you will find links to my favorite HHR places.
I will be adding more links as I get them.
If you have a link you would like to have me add,
please e-mail me at SmokeTheNASCARHHR@q.com
Please enjoy yourself and come back again soon!!!

Please click the iPod play button to
hear my NASCAR tunes.





We would like to thank Kay Lamb Shannon for allowing us
to use her beautiful artwork above and add our text and an HHR.

Please be sure to visit her online gallery to see the rest of her artwork.
You can see all of her other amazing artwork HERE.

We traveled Route 66..."The Mother Road"
with other HHR's July 18-21, 2008

Just click on the banner below and you're on your way!!!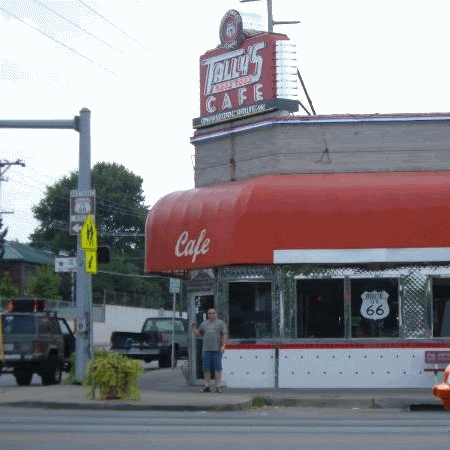 A special thanks goes out to a fellow forum member, Ike's Blackjack
for the graphic above that depicts "Smoke" rolling by Tally's
which is on Route 66 in Tulsa. Thanks Ike...great work.

Speaking of fellow forum members, these folks
did a wonderful thing for me in July 2007.
They banded together and sent me to Kansas Speedway
for a Gordon/Andretti Ride-Along.
Below is one of the videos taken by Jeremy from our forum
of my ride in the #8 Budweiser Chevrolet.
Thanks for being there with me Jeremy.



If you would like to see more pictures from this adventure,
click HERE to see my photos from that terrific day.




A friend of mine, Charlie "CJ" Krause has come up with a
great modification to the stock HHR grille.
Check out the new grille he did for "Smoke"...it looks awesome!!!
Thanks CJ.




To see the "how-to" for this mod, feel free to visit THIS thread at ChevyHHRFamily.net




I have put together a slide show of my Chevrolet HHR
that I think my friends and family will enjoy.
Please click the HHR tag below to see my presentation,
which is accompanied by some really cool music.
The link is a PowerPoint presentation I put together.
It has been converted to an .exe file, as everyone
may not have a PowerPoint viewer.
When the dialog box appears, please select run to continue.
Dialup users may experience a slight delay.






Please click the new Tony logo below to visit my
Around Town Photobucket Album.
To view photos in slide show format,
please scroll down and select the slide show button,
and you can adjust the speed to suit your needs.




I also have a couple car pages for your viewing pleasure.




My Favorite Music Video
Features Tony "Smoke" Stewart & Dale Earnhardt Jr.



The Eagles just came out with a great new CD called
Eagles - Long Road Out Of Eden
Below is a music video of one of he songs
Be sure to pick up your copy at Walmart
You won't be disappointed...it's AWESOME



Great Rascal Flats Video
from the movie "Cars"






Looking for a family oriented HHR forum?
That's what you'll find at ChevyHHRFamily.net
Please take a moment and visit our home.

Click on the banner below.



Here's a slideshow of ChevyHHRFamily.net members
selected as HHR Of The Month/Year


There are many places online for anything HHR
Please click on the forum banners above and tell them courthousedeb sent you.
For my fellow HHR owners who are NASCAR fans...
I have a Dale Earnhardt Tribute page.
Click on the candle graphic below if you would like to visit.

Thank you for visiting my 2006 Chevrolet HHR page.
I hope you enjoyed my presentation.
©Debbie Meade - 2006-2009
All images on this website are property of the webmaster and may not be used without permission.
This excludes the ©ChevyHHR.net and ©ChevyHHRFamily banners,
which have been added with express permission of their respective owners.
This site is not directly affiliated with ©General Motor or ©Chevrolet.
It is strictly for sharing the passion I have for my HHR.
Get Free Custom Cursors at CursorPedia.com, YOUR Online Cursor Encyclopedia!!!