CLASSMATE HAROLD KELLER RECEIVES VIETNAM WAR VETERAN PIN

Harold Keller Shown with United States Congressman Mike Coffman (CO) after receiving his Vietnam War Veteran Lapel Pin.

The phrase "Vietnam War period" is used to define the Commemoration's inclusive dates as our nation recognizes all who served on active duty in the U.S. Armed Forces at any time during the period of November 1, 1955 to May 15, 1975, regardless of duty location; and their families. No distinction is made between veterans who served in-country, in-theater, or who were stationed elsewhere during the Vietnam War period.

The 2008 National Defense Authorization Act (Public Law 110-181 § 598) empowers the Secretary of Defense to conduct a program on behalf of the nation that commemorates the 50th anniversary of the Vietnam War
By presidential proclamation on May 25, 2012, the Commemoration extends from Memorial Day 2012 through Veterans Day 2025.
(Source:VIETNAM WAR COMMEMORATION)

In May of 1957, I was faced with a 2 year draft into the Army. The Reserve Forces Act of 1955 stated that one could enlist into an Army or National Guard unit, go through 6 months of basic and MOS training. Afterwards, to be in an active reserve unit for 5 1/2 years. Needless to say, I took advantage of this program. I was assigned to a local Army reserve unit, 328th Quartermaster Company. I found that I was among Champaign High School friends, Phil Matteson, Richard Haines, Bob Apperson, Dick Stillwell, Allan Trinkle and Dick Shelby.

After 2 years in the Army Reserves, Allan Trinkle prompted me to go for a conditional release form the Army to enlist into the Air Force Reserves. It worked out for both of us and we were assigned to the 46th Aeromedical Evacuation Squadron at Chanute Air Force Base. This was much more to my liking, as we trained one weekend a month instead of one night a week.
I got my final discharge on September 20, 1963.

Since I was on active duty (even for training) from May 19,1957 to November 17, 1957, this qualified me as a Vietnam War Veteran. Today, along with 13 other Veterans, I got my Official Vietnam War Veteran- Lapel Pin at the Volunteers of America facility here in Denver. My Congressman put my pin on me and congratulated me. I really feel honored to receive this pin.

I can add this Pin to my other Military accomplishments:
Army Basic Training: Expert Medal- M1 Rifle, Member/ 2nd Regimental Bugle and Drum Corp,
Army Reserve: Quartermaster Supply Handler/ Truck Driver/ Fork Lift Operator.
Air Force Reserves: Senior Airman (E-4), Aircrew Wings Badge/ Inflight Nurse for Wounded Litter Patients.

Many of you out there may be qualified to receive such an honor.

Find out more at:
THE UNITED STATES of AMERICA
VIETNAM WAR COMMEMORATION

Submitted by Harold Keller
August 8, 2018

---

CHS 1953 - 65th REUNION * IN REVIEW *

Our 65th Class Reunion weekend is now behind us. Because this was our "Farewell Reunion" there was a sense of joy in being together, but also sadness to say farewell to life-time friendships from grade school, CJHS, and CHS. In pre-planning, the Reunion Committee did not know what expectations should be for attendance. For all events during the Reunion weekend the attendance exceeded our expectations. The good attendance is what made this reunion a success and memorable. Our optional gatherings at Steak 'n' Shake, social time on Friday night, and breakfast at the Hilton on Saturday and Sunday were well attended. The Saturday night main reunion event began with social time and showing of a Fabulous 50s video with 50s music. The opening prayer was recited by Shirley (Hausmann) Schweighart followed by a moment of silence in memory of deceased classmates. We have lost a total of 96 classmates, with 20 being during the last five years since our last reunion.

The plated sit-down dinner was followed by a Welcome and Remarks by Phil Matteson reviewing our Class of 1953 contributions to CHS history. We were the 56th class to graduate from CHS, and the current 2018 class was the 151st. Our class is definitely a part of CHS history. Phil reviewed the accomplishments of our school yearbook staff, our school newspaper staff, our drama cast, our speech team, our debate team, our musicians, our building trades group, our football, basketball, baseball, track, golf and tennis sport teams. Phil made a special mention of our most successful sport team being the wrestling team, which placed first in the Big 12, first in the Sectional, and 4th in the State. Caption Carl Meeks finished first in the state 120 lb. weight class. For his individual accomplishment representing our class, a Carl Meeks 1953 Championship banner hangs high in the rafters of CHS Combes Gym overlooking the gym floor. Members of that team who attended the reunion were Bill Hartz and Hank Hatch. Phil mentioned our one CHS 1953 classmate in the CHS Athletic Hall of Fame being Ola Bundy. Also, reference was made to Susan (Black) Drummond who, along with other CHS 1953 classmates, started the Max Maroon mascot tradition. Phil stressed that each CHS 1953 classmate was an important member of our class, and that we all can be proud of our class contributions toward the history of CHS.

In closing, Phil acknowledged a "thank you" to each classmate who helped with reunions over the past 65 years. A special "thank you" to Harold Keller for his excellent work in maintaining our class website since June 28, 1999. A special "thank you" to Shirley (Hausmann) Schweighart for her many years of organizing. As for himself, Phil stated that he has enjoyed event planning for the class going back to our ninth grade dance..."Dreamers Holiday" and our Junior-Senior Prom..."Ball Parisian."

Raffle items were won by....Charles Cremeens (Mens CHS Polo) - Don Maxwell (Womens CHS Polo) - Bob Apperson (Dr. Howard 1907 coat hook) - Terry O'Neill (CHS Athletic Hall of Fame book) - and Bob Selvey (Steak 'n' Shake Teddy Bear).

Our class website will continue for an indefinite period of time. Visit our website at www.chs1953.org for class news, directory, and 65th reunion pictures.

Classmates who made reservations for the reunion were:

Robert Alsop, Martha (Anderson) Hursey, Robert Apperson, Barbara (Bailey) Thrash,
Ruth (Bulkley) Warfield, Charles Cremeens, Patricia (Demlow) Williams, Joyce (Denman) Butsch,
Ray Griffet, Richard Haines, Tom Hammersmith, Bill Hartz, Hank Hatch, Shirley (Hausmann) Schweighart,
Wally Heintzen, Kay Kessler, Jackie (Luce) Wilen, Doris (McCown) Potts, Phil Matteson, Don Maxwell, Louis Mays,
Jim Neal, Terry O'Neill, Virginia (Percy) Strong, Kay (Pfiester) Goodling, Myrna (Primmer) Anglin,
Richard Rohr, Carolyn (Schloz) Hamrick, Nancy (Schubert) Darnall, Don Scott, Bob Selvey, Bob Slade,
Lois (Smith) Dunn, Louise (Smith) Hill, Roger Sphar, J. R. Stillwell, Keith Whited, and Ruth Woodworth.

Submitted by Reunion Committee
July 31, 2018


---

The News Gazette/ Top of the Morning, July 22, 2018

Champaign High's Class of 1953 produced a state wrestling champ in Carl Meeks, a trailblazing IHSA bigwig in Ola Bundy and even a nickname for the school's menacing mascot (Max Maroon) — plenty of fodder for their once-every-five-years reunion.

Next weekend, 38 members from the Class of '53 — and their guests — will swap tall tales for the last time in what will be a farewell 65th get-together.

"During high school, we developed a circle of friendship that lasts a lifetime," said Phil Matteson, who for many years has coordinated the reunion. "There's still that circle. It's just a smaller circle."

Holding reunions in all corners of Champaign — never in Urbana — the Class of '53 has enjoyed some memorable moments. Like the Dog-N-Suds themed shindig in '98 that saw two former Champaign High music teachers, Don Hamacher and Jim Griggs, join the festivities. They founded the restaurant in 1953 and went on to hire a slew of former Maroons.

But age has taken a toll on the group, nearly 100 of the 230-member class having passed away. So next weekend's reunion at Hilton Garden Inn will be the last one.

"Classes before us had their last reunions at 50 and maybe 55 years," Matteson said, "and we went a little longer than that. Once you reach 65 years, it's going to be a smaller group. But so many are appreciative of trying to keep this together."

The News Gazette Interviewed Phil Matteson
Submitted by Harold Keller
July 22, 2018


---

CHS 1953 - 65th REUNION NEWS

The calendar now shows July 2018, and the original June 30 deadline for reunion reservations is past. The good news to report is that the Reunion Committee's estimated attendance for our final reunion has been surpassed. We anticipate a sincere "farewell until we meet again" for life-time friendships.

The local Preservation Conservation Association (PACA) of Champaign County is removing salvaged parts from Dr. Howard Grade School prior to the building being razed for a new school in its place. PACA is getting things that are attached to the building. For example, lockers, old clocks, sinks, doors, coat hooks, and cabinets. For classmates who attended Dr. Howard, a souvenir coat hook might be available for one lucky graduate who attends the reunion.

One final reminder for classmates who have not made a reservation. There is still time to send in your reservation to our "Farewell Reunion" as the deadline was previously extended to July 11, 2018. The Class Directory is about to go to the printer with the information available.

Submitted by CHS 1953 Reunion Committee
July 1, 2018


---
A CLASSMATE REMEMBERED


Information has been received regarding the passing of Carolyn (Beck) Hammock some five years ago in the Crestview, Florida area. According to family members, there was no published obituary. Carolyn was born during 1935 in Chicago, and later adopted by Oscar A. and Louise "Bobbie" Beck. She married Michael Hammock, who preceded her in death, as did her parents. She was survived by two daughters, Debra and Laura; three sons, Robert, Jeff and Daniel; and two brothers, Ronald (CHS 1956) and Gordon (CHS 1957).

Carolyn was retired from working in Florida as a bowling lanes manager. During the early 1950s, she lived with her parents at 212 West John Street. Her father ran a neighborhood grocery store next door at 210 West John Street. Carolyn attended Lincoln Grade School, Champaign Junior High School and Champaign Senior High School. At CJHS, she was in homeroom 9-6 and participated in the Girls' Sports Activity Club. At CHS, where she graduated in 1953, she was on the Chronicle staff, participated in G.A.A., and helped on the Library staff. The caption with her senior picture in the Maroon yearbook reads...."No storm ever ruffled the current of her life."
(Source: The 1953 Maroon)

Classmate Harold Keller brought the passing of Carolyn to our attention after reading an obituary last week of her brother, Ronald Beck, who was preceded in death by a sister, Carolyn. Harold stated that he would go to the Beck neighborhood grocery store on John Street, which was only a few blocks from his house, and buy pop and candy. Harold seemed to think that Mr. Beck liked him because he would save some bubble gum for Harold, when bubble gum was scarce in 1946. Harold wonders now if Mr. Beck was setting him up with Carolyn. Harold and Carolyn both went to sixth grade at Lincoln Grade School. According to Harold, nothing ever came of it.

Submitted by Phil Matteson
June 24, 2018


---

CHS 1953 - 65th REUNION NEWS

Just a reminder....our 65th Reunion dinner is taking place on July 28, 2018 at the Hilton Garden Inn on Neil Street in Champaign. For out-of-town classmates, the reservation deadline at the Hilton within our block of rooms at our special rate is June 27....just ten days away. The deadline for our Reunion dinner reservation has been extended from June 30 to July 11, 2018. Following this email is a separate email repeating the invitation, showing the reunion schedule of events and information for dinner choices.

Submit reservations to: CHS 1953 Reunion Committee, Phil Matteson, 7 Carriage Way, Champaign, IL 61821-5119
For telephone inquiries, contact Phil at 217-352-8832

The reunion schedule of events includes a Saturday breakfast gathering, with nothing planned in the afternoon. This allows classmates to tour the town, which has undergone many changes since our last reunion. Take a tour east on Green Street, east on Springfield Avenue, and east on University Avenue from Neil Street in Champaign to Lincoln Avenue in Urbana. Many, many changes.

Dr. Howard Grade School is now a 107 year-old building. As part of a Unit 4 $183.4 million referendum approved by taxpayers, Dr. Howard is in the process of being torn down to make way for a new $16.1 million school on the same site. Marquette Grade School was sold by Unit 4 and already has been replaced with a luxury apartment complex as part of the block purchased for a total $6.78 million.

So....classmates who attended Dr. Howard or Marquette might put these sites on your tour of C-U.

Our class reunions over the past 65 years have presented a time and place for a gathering to renew life-long friendships. We graduated as a group, and the mission of the Reunion Committee has been to keep our class group together. Other classes before us stopped after their 50th reunion. We are deeply saddened when we lose a classmate, which makes our circle of friends smaller.

The current Reunion Committee has concluded that our mission will have been accomplished after this reunion. Therefore, there are no plans for future reunions beyond this 65th reunion.

Submitted by Reunion Committee
Sunday, June 17, 2018


---
A CLASSMATE REMEMBERED


Helen (Worsham) Tingleff, 82, of Harbor Springs, Michigan and Barrington, passed away peacefully on Sunday, June 20, 2018 in Petoskey, Michigan. Daughter of Robert and Myrtle (Lake) Worsham, Helen was born on June 28, 1935 in Champaign. She attended the University of Illinois where she met her husband, John Tingleff, who preceded her in death in 1999. Helen graduated in 1957 with a Bachelor's Degree in Education. Helen was a lifetime member of the Chi Omega Sorority. She enjoyed playing golf and tennis in her youth, and knitting and travel throughout her life. Helen and John took several trips around the country in their motor coach. Helen was a member of the Presbyterian Church in Harbor Springs, Michigan, where she will be interred in their columbarium with John during a private family service at a later date. Helen is survived by her sons, Stephen (Jen) and David (Ann Marie); two grandsons and a granddaughter. Those wishing to honor Helen's memory are asked to make a memorial donation to the Little Traverse Conservancy, 3264 Powell Road, Harbor Springs, MI 49740.
(Source: The News-Gazette, Friday, June 15, 2018)

During the 1950s, Helen lived with her parents at 1214 West Park Avenue in Champaign. She attended Dr. Howard Grade School, Champaign Junior High School and Champaign Senior High School. At CJHS in 1950 Helen was in homeroom 9-3 and achieved the status of Banner Kid as a member of the National Junior Honor Society, sang in the Girls Glee Club and Choralettes, and served on the Retro staff. After three years at CHS, Helen graduated with the class of 1953. In high school, she was a member of the National Honor Society, Student Council, Maroon staff, Wig 'n' Paint, G.A.A., Concert Choir, Art Club, and served on Announcement Committee, Junior-Senior Prom Committee, and Senior Banquet Committee. The caption with her senior picture in the yearbook reads...."They always save the best to the last," because her name was the last one shown in alphabetical order in the yearbook.
(Source: The 1953 Maroon, page 41)

Submitted by Phil Matteson
Sunday, June 17, 2018


---
REUNION RESERVATION
---
A CLASSMATE REMEMBERED


Dr. Laurence "Larry" B. Rice died at his home in Huntsville, Alabama on Thursday morning, March 22, 2018. He was born on Easter Sunday, April 21, 1935, to Herbert O. and Cynthia C. Rice in Champaign, Illinois, and received his early education at a two-room rural school. His subsequent education was completed at Champaign High School, the University of Illinois (B.S. in Engineering Physics), Clemson University (M.S. in Physics), and the University of Virginia (Ph.D in Physics). As a high school student, he joined the U.S. Navy Reserve as an electronics technician, completing an eight-year enlistment. While a University student, he gained summer employment and experience at General Electric, Milwaukee, Wisconsin, and at the Naval Research Laboratory in Anacostia, DC. After completing his Doctorate in 1962, he began employment at the RCA Service Company at Patrick AFB, Florida, in support of the Air Force Eastern Test Range. His work there focused on improving radar tracking data on the Range and on the USNS Arnold and the USNS Vandenburg tracking ships. In 1973, he joined Science Applications International Corporation in Huntsville, where he initially worked on both the Ballistic and Concrete Early Warning Systems. He continued with SAIC in Huntsville and in Indianapolis, Indiana until his retirement.

In June of 1963 he married Barbara, his close friend and fellow graduate student at the University of Virginia chapel. They are the parents of four children and grandparents of five grandchildren. Larry and Barbara were avid independent travelers and took every opportunity to explore places new to them. In this process they visited six of the seven continents and all 50 states, generally with children and grandchildren accompanying them. As father of a growing family, Larry served as a church youth group leader and supported his children's activities. He had a green thumb for horticulture and began raising tropical plants while living in Florida, and continued this hobby in Huntsville with many more challenges. In retirement, he was a member and past president of the Heart of Dixie Orchid Society, and an instructor and board member of the Osher Lifelong Learning Institute at UAH. Funeral services were held at St. Stephen's Episcopal Church, Huntsville on Monday, March 26, 2018. Burial was at Wabash Presbyterian Church, Allendale, Illinois. Memorials may be made to the Huntsville Parkinson's Support Group or to the Huntsville-Madison Public Library.
(Source: The Huntsville Times, March 25, 2018)

Larry graduated from Champaign Junior High in 1950. At CJHS he was in Homeroom 9-2 and played in the newly-formed organized string orchestra under the direction of Mr. James A. Griggs.
(Source: The 1950 Retro)

At Champaign Senior High School, Larry continued playing his string instrument in Orchestra, and took part in Student Council activities. The caption with his senior picture in the yearbook reads...."Others are effected by what I do or say."
(Source: The 1953 Maroon)

Larry never was able to attend a class reunion. However, in 1998, he did register to attend our 45th reunion, but his obligations in Huntsville prevented him from making the trip to Champaign. His wife, Barbara Rice, with all that is on her mind at this time, was so kind to inform the class last week regarding this sad news. She related that she was able to care for Larry at home during his final illness for which she was grateful.

Submitted by Phil Matteson
April 16, 2018


---

CHS 1953 65th CLASS REUNION NEWS

Well...the Reunion Committee thought that the advance planning for the Reunion was going very smooth, until...a couple of classmates tried to make reservations at the Hilton Garden Inn this past Saturday and were told by the operator that no Group Code for our block of rooms could be found in the reservation system.

A discussion was made first thing this morning with the Hilton Sales Office staff person as to why our Group Room Reservation Agreement, dated March 9, had not been logged into the Hilton Reservation System. In trying to help our out-of-town classmates with affordable lodging, we were given a low rate below their lowest rate. Then, a new management group took over this Hilton facility and our low rate had to be given final approval. (This was the explanation received) Our rate, and block of rooms and group code are now in the system per confirmation with front desk staff.

Our Group Rate is a King room rate without breakfast for $102, which is a lower rate than in 2013. However, the best rate is a "bed and breakfast" King room with breakfast for one at $107, or a "bed and breakfast" King room with breakfast for two at $112. Classmates may call the Hilton Garden Inn in Champaign direct at 217-352-9970, state your arrival date and use Group Code CHS53 to make a reservation, or call Hilton Reservations from the U.S. at 1-800-445-8667 and request reservation at the Hilton on South Neil in Champaign, Illinois, state your arrival date and use Group Code CHS53. Reservation must be made by Wednesday, June 27, 2018.

This email news supersedes the news dated March 11, 2018.
Submitted by Reunion Committee
April 9, 2018


---

CHS 1953 65th CLASS REUNION NEWS

The announcement for our upcoming reunion in July has resulted in local conversation and emails from classmates far away. We have been given approval to share the memo from Mrs. Debbie Appel from Vale, Colorado, that our classmate Ted is actively battling Alzheimer's disease, the same disease that affected Ted's mother and brother, Peter. Ted continues to lose his memory and mobility, and will soon be utilizing a memory care facility for more stimulation, as well as care. Mrs. Appel recalls how much Ted enjoyed his last CHS reunion, and he sends his regards to his old high school friends. Also, the committee has received word from John Wilson that the reunion date conflicts with his previous plans to be in the area next Fall; Don Maxwell will be attending his granddaughter's wedding in Knoxville, Tennessee; Harold Keller will be unable to make the trip from Colorado; and Mary Ann Stahl Baker is anticipating July to be moving time in Sun Lakes, Arizona to an assisted living facility.

Positive plans to attend the reunion have been received from Bob Apperson, Ray Griffet, Richard Haines, Tom Hammersmith, Shirley Hausmann Schweighart-Soucie, Wally Heintzen, Phil Matteson, Jim Neal, Terry O'Neill, Don Scott, Bob Selvey, Bob Slade and Keith Whited.

The committee appreciates this advance indication about attending from classmates, as this advance number for attendance helps in planning room size and table arrangement.

If you have any comments, please contact the committee by email at: chs1953@comcast.net
or telephone Phil Matteson at 217-352-8832.

Submitted by Reunion Committee
April 4, 2018


---

CHS 1953 65th CLASS REUNION NEWS

A Group Room Reservation Agreement with The Hilton Garden Inn for our upcoming reunion was signed on Friday, March 9, covering a reduced King room rate without breakfast of $102, which is a lower rate than in 2013. However, the best rate is a King room with breakfast for one of $107, or a King room with breakfast for two of $112.
Classmates should call The Hilton Garden Inn direct at 217-352-9970 and use Group Code CHS53 to obtain rate and room in our reserved block.
Reservation must be made by Wednesday, June 27, 2018.

Submitted by Reunion Committee
March 11, 2018


---

CHS Class of 1953 REUNION!

March 6, 2018
Hello CHS 1953 Classmate,
Hope all is well with you in this early part of the New Year….2018.

Another five years have passed since our last class reunion in 2013.
So, to keep us forever young at heart….our CHS Class of 1953 will have a reunion this year.
We will have our 65th class reunion on Friday, July 27, and Saturday, July 28, 2018.

The Reunion will be held at the Hilton Garden Inn,
1501 South Neil Street in Champaign.
Telephone 217-352-9970.
This location is the corner of South Neil Street and Kirby Avenue,
where the Pines was located back in our day.

Preliminary plans, subject to change, are as follows:

Friday lunch at Steak 'n Shake for early arrivals.
Friday evening casual get-together at Hilton Garden Inn with light hors d' oeuvres.
Saturday breakfast at Garden in the Hilton.
Saturday evening casual reunion at Hilton Garden Inn with buffet dining and program.
Sunday farewell breakfast at Garden in the Hilton.

Over 65 years, all costs to hold any event in Champaign have increased.
The committee, however, will keep reunion costs to a minimum for our total enjoyment.

If you have any comments, please contact the committee by email at: chs1953@comcast.net
or telephone Phil Matteson at 217-352-8832.

CHS 1953 Reunion Committee


---
A CLASSMATE REMEMBERED


After the recent good news announcement of our 65th Class Reunion this year, sad news has been received that Rev. David Ronald Warnock, PhD, a retired US Navy Lieutenant, died Saturday, September 8, 2012, at age 77 in Hurst, Texas. A celebration of life was held at Shady Oaks Baptist Church in Hurst. David was born on August 24, 1935 in Eldorado, Arkansas. He was a proud pilot in the US Navy for five and a half years. During his working career, he was an IT Bell employee and retired from Electronic Data Systems. David sang in the Bellevue Baptist Church choir. He is survived by his wife, Adoria, four daughters, one son, and grandchildren.
(Source: Star-Telegram, Sunday, September 9, 2012)

David attended CJHS for seventh, eighth, and ninth grades. In ninth grade, he was assigned to homeroom 9-6 and played French horn in Orchestra and Band.
(Source: The 1950 Retro)

During CHS days, he continued his music interests in Orchestra, Band, A Capella Choir, Troubadours, and Madrigals. Also, he was on the Chronicle school newspaper staff, in Wig 'n' Paint, played on the tennis team, member of Baton Club, in the Stunt Show, and enjoyed being on the Debate team. Along with his senior picture in the yearbook, the caption reads...."Let fools the studious despise, there's nothing lost by being wise." (Source: The 1953 Maroon)

David was unable to attend a class reunion, but his wife stated over the telephone from Hurst, Texas that he had returned to Champaign some years ago to see the old high school and relive his fond memories of school days in Champaign.

Submitted by Phil Matteson
March 11, 2018


---
MORE CHAMPAIGN NEWS "Mr. B."



Personal Note: In 1950 at Champaign Junior High School I took a Mechanical Drawing class taught by Mr. Bokenkamp, who was addressed as "Mr. B." Only boys in our CJHS Class of 1950 would remember "Mr. B" because no girls took a mechanical drawing class at that time. "Mr. B" was invited and attended as a guest teacher to our CHS 1953 45th Class Reunion in 1998. "Mr. B" might possibly be the only living teacher from our CJHS and CHS school days. For the past several months, The News-Gazette has been featuring a military veteran interview story entitled WORLD WAR II VETERAN. The following is the current article:

In taking several islands in the South Pacific, Bob Bokenkamp, a retired associate Dean of Students, said American troops got a great assist. "The Australian and New Zealand troops helped us capture some of those islands," he said. A retired University of Illinois engineering administrator, Bokenkamp, 96, grew up all over the country. "We lived wherever there were railroads, as my father was a railroad man," he explained. Bokenkamp had just graduated from Eastern Illinois State Normal School (now Eastern Illinois University) in 1943, when he enlisted in the Navy. Part of the Navy's attraction was it wasn't the Army. "He didn't want to go to Germany because he had relatives there," said his daughter, Jodie Thies, who helped out recounting Bokenkamp's story where her father's memory was hazy, something that only began recently. He was the oldest of five boys, another of whom also joined the Navy. As a mid-shipman, Bokenkamp was sent for additional training at Columbia University in New York, and then sent to the South Pacific. His job was to gain intelligence about islands held by the Japanese. The Japanese were clearly in retreat as the war progressed, and Bokenkamp saw the horrors of war, including a large number of Japanese who jumped off a cliff and drowned. After returning to the United States and after his discharge, Bokenkamp started teaching at Champaign Junior High School, followed by joining the faculty at Champaign Senior High School. He earned a master's degree in education in 1950, a springboard to joining the University of Illinois Administration at the Urbana campus. He and his wife, Alice, raised four children.
(Source: The News-Gazette, Tuesday, December 26, 2017)

Submitted by Phil Matteson
December 29, 2017


---
A LOUD CHEER FROM CHAMPAIGN



A loud cheer from West John Street in Champaign came from the O'Neill house. Long-time Champaign residents, CHS classmate Terry O'Neill and his wife, Julie, watched on TV their favorite baseball team, the Houston Astros, take the World Series with a 5-1 Game 7 win against the LA Dodgers Wednesday night, November 1. Their youngest son Dan, former CHS and Illinois baseball player, is the Astros' Senior Director of Business Operations. He joined the team in 2012, first working as Director of Major League Team Operations. He was in Los Angeles with the team for Game 7. Julie O'Neill said, "We actually saw him on TV in the clubhouse celebrating with the team."
(Source: The News-Gazette, Friday, November 3, 2017)

Submitted by Phil Matteson
November 6, 2017


---
MORE CHAMPAIGN NEWS/STAY TUNED



Champaign's largest and oldest commercial radio station, WDWS, has moved back, as of October 18, 2017, to its roots, once again sharing a building with The News-Gazette in downtown after seventy years apart. WDWS-AM, named for News-Gazette founder David W. Stevick, as well as FM station WHMS (re-named in the 1980s for Helen M. Stevick) and the more recent acquisition WKIO-FM have completed their move. WDWS-AM signed on at 8:00 a.m. on January 24, 1937 from the second floor of the original News-Gazette building at 48 Main Street. In December 1948, WDWS-FM went on the air, and the entire radio operation moved from downtown to South Neil Street. The new 420-foot tower on South Neil Street was said to be the highest structure in East Central Illinois then. The South Neil Street building was state of the art during the 1960s, after being custom-built for radio in 1948. Now, the transmitter tower remains on South Neil Street, but all the digital studios and satellite broadcasts are at the News-Gazette building at 15 Main Street.
(Source: The News-Gazette, Wednesday, October 18, 2017)
The old News-Gazette building and surrounding properties at 48 Main Street were sold last January for $l.77 million and will be converted to a project that is going to be retail, restaurant and apartments.
(Source: The News-Gazette, Sunday, October 15, 2017)

Some CHS 1953 classmates may recall during our high school days listening to WDWS-1400 radio for the Teen-Age Tune Time on Saturday mornings. Every other week the show featured playing records of the latest hit tunes, or well-liked songs from the past. The radio program was made possible by Myers' Fashions and Cable Piano. In 1952, the two regulars who gathered all the info for listeners were Sharon Cruthers and Martha Sanford. They had the job of writing all the ads used on the show and choosing a topic of discussion for each program with two CHS invited guests. (Source: The Champaign Chronicle, Friday, March 21, 1952)

Submitted by Phil Matteson
October 20, 2017


---
NEWS FROM CHAMPAIGN/CONGRATS TO A CLASSMATE FEATURED

Our classmate, Don Maxwell, spent four years in the Air Force after high school graduation. After that, he went to Southern Illinois University, got tired of that, and came back home to start farming. Having grown up on a farm he always figured he would become a farmer. Taking over farming is not easy, but doing so in the 1950s did not require a great big loan to start out for Don. The farm is now in its fifth generation, transitioning from a big dairy farm in the late 1800s to more of a corn and soybeans farm today. Don does not plan to quit anytime soon, saying....."it is my way of life."
(Source: The News-Gazette, Sunday, October 15, 2017, page A-6, Sunday special: "A Lifetime Investment"....That's why, for many aging farmers, hanging it up can be difficult)

Submitted by Phil Matteson
October 15, 2017


---
NEWS FROM CHAMPAIGN/OUT WITH THE OLD



This past week, in downtown Champaign, at 48 Main Street, a portion of Main Street was closed off while a large hydraulic crane removed the printing press at the News-Gazette (formerly the Champaign Daily News). This press had printed billions of papers for East Central Illinois, including The News-Gazette, Chicago Tribune, Daily Illini, and others. All that ended last June 25, when the press was shut down for the last time. For the first time, since September 1852, a newspaper is not being printed in Champaign. Along with The News-Gazette, the Bloomington Pantograph, the Springfield State Journal-Register, six other dailies, and a host of weeklies are now printed in Peoria and trucked back to their home town for distribution.
(Source: The News-Gazette, Sunday, October 15, 2017, page 1)

Submitted by Phil Matteson
October 15, 2017


---
A CLASSMATE REMEMBERED


Lewis R. "Ron" Selvidge, Jr., 82, passed away September 17, 2017 in the loving presence of family at St. Francis Hospital in Columbus, Georgia. Lew was born December 21, 1934, in Wichita Falls, Texas, to Lewis R. and Iva (Pickett) Selvidge, Sr. Shortly after the bombing of Pearl Harbor in 1941, WWII took Lew's dad from his job as a school principal in Antelope, Texas to Federal Civil Service as an Instructor at Chanute Air Force Base in Rantoul and the family settled in Champaign. After high school Lew drove a Coca-Cola truck for a year and then joined the Air Force in 1954. Lew married Alma Lee Wootton in Champaign before Lew was sent to McConnell AFB, Wichita, Kansas, where he served as a hydraulics specialist on B-47 aircraft. Upon completion of his tour in the Air Force, Lew earned his BS and MS in Industrial Studies at Southern Illinois University in Carbondale 1958-1963. He accepted a teaching position at State University of New York in Oswego, followed by post-graduate work at University of Illinois before his final teaching position at Georgia Southern University in Statesboro starting in 1968 and retiring in 1997 as a Professor Emeritus of Industrial Technology. He authored two text books and published many articles on Free Enterprise, World Class Manufacturing, and Total Quality Management. Lew was also a master woodworker, building many Colonial Williamsburg reproductions, in addition to custom designs of his own. One of his other passions was writing Christian Gospel tracts and bookmarks that he used for evangelism. Lew and Alma were faithful members of First Baptist Church in Statesboro where they taught Sunday school and Lew served as a Deacon. Since moving to Phenix City, Alabama in 2008 Lew was a member of Wynnbrook Baptist Church, where he was active in prayer ministry and Sunday school. Lew leaves behind a loving wife, Alma, of 64 years, sons Lewis R, III and Mark, one granddaughter, two grandsons, and sister Karol. Funeral service was held Friday, September 22, 2017 at Cox Funeral Home in Rosiclare, Illinois, preceded by public visitation. Burial was in the Karbers Ridge area.
(Source: The family of Lewis R. Selvidge, Jr.)

Ron lived with his parents and sister Karol (CHS 1958) during the early 1950s at 504 West Beardsley Street. Ron's father was an instructor at Chanute Air Force Base. Ron attended Columbia Grade School where he played on the 1947 sixth grade basketball team and was a cager, who participated in grade school league play on Saturdays in the CJHS gym. At Champaign Junior High School he was in homeroom 9-3, and played on the 1949 CJHS Comets football team at center position, becoming a letter winner. Also, Ron played in the band and participated in Social Dancing club activity.
(Source: The 1950 Retro)

At Champaign Senior High School, he preferred involvement in sports being football, basketball and baseball in his sophomore year and only football in his junior year. Along with his 1953 senior picture in the school yearbook, the quote reads...."He fears the wiles of maidens' smiles."
(Source: The 1953 Maroon, page 37)

During our grade school days on many occasions during basketball season, I would be in the Selvidge driveway. Ronnie and I, along with others, would be shooting baskets at a hoop on the front of his garage. Many H-O-R-S-E shootouts. Ron and I talked to each other and saw each other more after high school than during our junior high and high school days. School days create life-time friendships. After Ron and Alma moved to Statesboro, Georgia from Champaign in 1968, Donna and I were taking vacations to Florida in March. Upon return trips, we would swing over to Statesboro for a visit, covering a period of over 15 years. Ron seemed to enjoy return trips to Champaign for our class reunions. Donna and I helped celebrate Ron's life career and our friendship by attending his funeral service in Rosiclare, Illinois on September 22, 2017.

Submitted by Phil Matteson
September 23, 2017


---
A CLASSMATE REMEMBERED


John Edward Wible, 82, of Urbana, died at 10:05 p.m. Sunday, July 30, 2017, at Heartland Health Care, Champaign. Funeral services will be held at 11:00 a.m. Saturday, August 5, 2017, at Renner-Wikoff Chapel and Crematory, Urbana. The Rev. Rich Gregory will officiate. Burial will be in Woodlawn Cemetery, Urbana. Visitation will be held from 10:00 to 11:00 a.m. Saturday at the funeral home. John was born on March 16, 1935, in Champaign, the son of Calvin Jessie and Rinda Edith Nelson Wible. He married Betty Wilson on July 5, 1953, in Urbana. She survives. Also surviving are one daughter, two sons, eleven grandchildren, and ten great-grandchildren. He was preceded in death by one sister, two brothers, and one great-grandson. John retired from Washington National as an insurance agent. He loved to golf and was an avid sports fan. John had a great love for cats. Memorial contributions may be made to the Champaign County Humane Society. Condolences may be offered at www.rennerwikoffchapel.com
(Source: The News-Gazette, Wednesday, August 2, 2017)

John attended Gregory Grade School and played on the sixth grade basketball team that participated in league play on Saturdays in the CJHS gym. At Champaign Junior High School he was assigned to homeroom 9-6 and played guard position on the CJHS Comets football team in 1949, coached by Robert Taylor that had six wins and only one loss. (Source: The 1950 Retro) At Champaign Senior High School, in 1953 as a senior, John was elected to the Board of Directors of the state Association of Future Distributors. This eighth annual convention was held simultaneously with the Illinois Office Occupation Association meeting. In the State of Illinois, eighteen school are participating in the IOOA program, and forty-four schools are taking part in the AFD program.
(Source: The Champaign Chronicle, Friday, February 27, 1953 Vol. XXVII, No. 20)

John was Camera Shy for his senior picture in the yearbook, but the quote with his name reads..."It hurts to let go of any information."
(Source: The 1953 Maroon, page 42)

John never attended a class reunion. Shortly after high school, I would see him on occasion working in the men's department on the second floor at Jos. Kuhn & Co. After that, I saw him sometimes at the Champaign Post Office lobby on North Neil Street, picking up mail for his career job with Washington National. He always was quiet and polite.

Submitted by Phil Matteson
August 2, 2017


---
A CLASSMATE REMEMBERED


Margaret A. McHenry "Dottie" Eveland, 81, of Oakwood, Illinois died Friday, June 30, 2017, at Provena Covenant Medical Center, Urbana, Illinois. Visitation was held from 11:00 a.m. to 1:00 p.m. Wednesday, July 5, 2017, at the Renner-Wikoff Chapel and Crematory, Urbana. Funeral services were held at 1:00 p.m. Wednesday at the funeral home. Burial was at Grandview Memorial Gardens, Champaign. Dottie was born on September 28, 1935 in Urbana, the daughter of Loren R. and Thelma L. Spradling McHenry. She married Edward Eveland (CHS 1951) on February 21, 1953, in Champaign and he survives. Also surviving are two sons, three daughters, one brother, three sisters, eight grandchildren and ten great-grandchildren. She was preceded in death by two sisters and one brother. Dottie owned and operated Eveland Ceramics until she retired. She was a member of the VFW Post 5520 Women's Auxiliary and the National Ceramics Association. Memorial contributions may be made to the American Cancer Society.
(Source: The News-Gazette, Sunday, July 2, 2017)

Margaret attended Champaign Junior High School, and in the ninth grade she was assigned to homeroom 9-9.
(Source: The 1950 Retro)
At Champaign Senior High School she participated in Wig 'n' Paint, GAA, Elstaff, Commercial Club, and was Secretary in her senior year of the International Office Occupations Association club activity. The comment with her senior picture in the yearbook reads..."She, with her class, just wouldn't tarry, but hustled off her love to marry."
(Source: The 1953 Maroon, page 31)

Submitted by Phil Matteson
Wednesday, July 5, 2017


---
A CELEBRATION MOMENT



Champaign Central High School, formerly Champaign Senior High School in 1953, playing the Class 3A State Baseball Tournament on Saturday, June 10, ended their season at Silver Cross Field in Joliet against Marmion Cadets with a 7-1 loss.
The Maroons (30-11-1) completed a dream season under Coach John Staab by finishing with a fourth-place trophy in the tournament. A fourth-place finish is the best for Champaign since the program placed second in 1940, the first year of the State Tournament.
(Source: The News-Gazette, Sunday, June 11, 2017)

Our Maroon baseball team in 1953 was coached by Tom Stewart. The team won all their non-conference games and ended the season with a 17-10 record. Classmate Bob Slade was a letter winner and leading slugger with a .416 batting average. Other CHS 1953 classmates who played baseball and earned letters were: Bob Alsip, Dwight Bennett, Wendell Hull, and Tom Meeks.
(Source: The 1954 Maroon, pages 126 and 127)

Submitted by Phil Matteson
June 13, 2017


---
A CLASSMATE WHO SERVED


Note: The News-Gazette is publishing a front-page series of articles as "A SALUTE to those who served" by printing a story about their Military service. The recent story on the front page was about classmate Robert "Babe" Alsop.

ARMY SECURITY AGENCY/'A LOT OF TENSION'

At an outpost that could have been overrun any minute by the smallest of North Korean forces, Robert Alsop was part of a unit that spied on the country that it was still technically at war with. In 1955, an armistice had only been signed two years earlier on the Korean peninsula, America's least-resolved war. A Champaign High School graduate, after working a couple of years in construction, Alsop had enlisted in the Army's security branch to avoid being drafted in the infantry. "The FBI came around asking my friends about me, because I would be getting a top-secret security clearance," he says.

One of 11 children, Alsop had lost a much older brother in the first days of the Japanese invasion of the south Pacific, a brother in the Korean War and another brother who was a Marine in World War II.

Alsop left as the equivalent of a staff sergeant. Now 81, he remembers what it was like to serve in the Cold War years. The lowlight: 14 days on a ship from Seattle to Japan before flying to Korea. "I'm glad I wasn't in the Navy," he says. "The highlight was my time in Korea. I was in the Army Security Agency, and we did some very good things, such as intercepting North Korean messages, triangulating North Korean radio centers and running spies into North Korea," he says. Alsop served in the Army from 1955-57 in Korea, just north of the decisive 38th Parallel, with 15 or 20 men, only one of them an officer, at a radio outpost near the Demilitarized Zone. "There was a lot of tension at that time. We were stationed in a small outpost in what used to be part of North Korea, and it was always a tense time, even though there was no combat at the time," he says. "We had a few carbines and pistols if they decided to attack us," he recalls. The outpost was on the east coast; the nearest friendly village was Sokcho, but the troops did not venture there. He only left the outpost for rest and recreation in Japan. Instead, supplies usually were flown in. If the plane could land, things went smoothly, but sometimes mail had to be dropped by parachute. For many things, though, Alsop says the outpost was generally self-sustaining. There was a generator for power. A pumping truck was ready to suck fresh water out of a nearby stream, he says. They could travel to an Air Force base for food. Alsop was trained in Morse code, to send and receive messages, and to intercept messages from the north. Another part of the unit used radio direction finders to look for North Korean transmitters, a job Alsop did on few occasions. And others sent spies into the north. He believes they were recruited from South Korean volunteers.

Alsop wasn't allowed to discuss any of this for several years after he was stationed on the peninsula, since the operation was top-secret. But he's quietly proud of his service. Alsop took an Honor Flight to the nation's capitol in 2015.

He married Carla; between them, they have six children. He worked for Illinois Power until retirement, but didn't use a radio on that job.
(Source: The News-Gazette, Monday, May 1, 2017)

Submitted by Phil Matteson
May 4, 2017


---
A CLASSMATE REMEMBERED


Donna Ann Davis, 82, daughter of Harold and Betty Davis of Urbana, passed away on Monday, May 1, 2017, due to lung cancer. She was born on March 19, 1935 in Danville, Illinois. Davis leaves behind one sister, Jo Alice Hellmich; one son, James Brown; three grandchildren; and three great-grandchildren. Davis was preceded in death by her daughter, Kathy Mann. She leaves behind her long-time friend, Jim Kippes of Dewey.

Davis was a life-long educator and outdoor enthusiast, and she retired from the Urbana school system as a grade school teacher. She was a member of the Arrowhead Sages Bowling League, and she enjoyed playing bridge with her friends. Davis will be cremated and her remains will be scattered in Montana.

Memorial donations may be made in her name to the National Park of your choice or the St. Joseph Library. Please join her family in sharing memories on her Tribute Wall at www.sunsetfuneralhome.com
(Source: The news-Gazette, Wednesday, May 3, 2017)

Donna enjoyed dramatics during her sophomore, junior and senior years at Champaign High School. She retained membership in Wig 'n' Paint each year by working on the Stunt Show, Fall Play, Christmas Play, Mid-Winter Play, and Exchange Assembly productions. This work qualified her for National Thespians membership. Also, she participated in GAA and Maroonafins, and served on the Class Ring Committee and Junior-Senior Prom Committee. The quote with her senior picture in the Maroon yearbook reads...."She's a quiet girl - sometimes."
(Source: The 1953 Maroon, page 25)

Submitted by Phil Matteson
May 4, 2017


---
A CLASSMATE FINAL FAREWELL


On November 11, 2016, at 10:00 a.m., in the Chapel at Woodlawn Cemetery, Urbana, Illinois, a Memorial Service was held for classmate Sharon Ruth (Cruthers) Van Doren, who died December 25, 2015, and her husband, Dr. Carlton S. Van Doren, who died July 29, 2016. A gathering of about 20, including family, friends, and classmates Sharon (Lappin) Lumsden and Phil Matteson filled the small Chapel. The Rev. Carolyn H. Eklund traveled from St. Paul's Episcopal Church in Brunswick, Maine to officiate the service. The opening passage was followed by a hymn, as well as a First Reading poem by daughter, Abigail Van Doren, and a Second Reading poem by daughter, Rebecca (Van Doren) Minear. Then, the Homily was given by Rev. Eklund, followed by welcome comments and thanks to friends in attendance from daughters Abbie and Becky. After the service in the Chapel, those assembled traveled to the burial site, which was a Cruthers family plot, where they made a circle around the plot. Upon placement of the Urn containing ashes of both Sharon and Carlton into the grave, the Rev. Eklund recited a prayer while casting dirt into the grave...."earth to earth, ashes to ashes, dust to dust." Family members followed, placing dirt into the grave. Rev. Eklund led the assembled with the Lord's Prayer, blessed the people, and presented the dismissal ending with a .... "Alleluia."

All were cordially invited to join family for lunch at The Big Grove Tavern in downtown Champaign.
Submitted by Phil Matteson
November 12, 2016


---
A CLASSMATE REMEMBERED


A telephone call from classmate, Nancy (Klopfenstein) Davis, provided news of a recent classmate death.

Mary Elizabeth "Beth" (Sonderskov) Maley, age 81, of Brewster, NY, died October 8, 2016 in Danbury, CT. Beth was born on June 16, 1935 in Champaign - Urbana Illinois to the late Robert and Alice Beth (Foster) Sonderskov. She graduated from Champaign High School in 1953 in Champaign, IL. After she graduated from high school she attended the University of Illinois at Champaign and transferred to Illinois State University where she received a bachelor degree in education. She worked for one year at a public school in the suburbs of Chicago before moving to NY. She continued her education in NY at Hunter College receiving her first of two Master's degrees in deaf education. Her second Master's degree was received from Leeman College in speech and language.

On May 1, 1965 Beth married Fred Maley in Summit, New Jersey. She and Fred moved to Brewster, NY in 1969. Fred predeceased Beth on December 1, 2015. Together they were members of the First United Methodist Church of Brewster, where she was a junior choir director and a youth group leader. She was an active member of the Putnam Chorale for the last 16 years where she was the president. Beth was also a member of the American speech and hearing association. Beth began her career as a teacher of the deaf in NYC before continuing in 1974 as a speech pathologist at BOCES in Yorktown, NY before retiring in early 1996. Beth had a love for music, which originated from her childhood and included singing and playing the piano. She appreciated life and her family. Beth was always there for her children. She was a brownie leader of Den mothers and never missed a moment of their life. She valued the life she and Fred created. Beth was a humanitarian, always helping others. Even with allergies to animals, she helped all types of animals in need.

Beth is survived by her two children, Alison Voisine and Matthew Maley, as well as her brother Robert Sonderskov. Also, three granddaughters. A memorial Service will be held on Sunday, November 13, 2016 at 1:00 pm at the First United Methodist Church of Brewster, 83 Main Street, Brewster, NY. A reception will follow at the church. A private cremation was held earlier. Beecher Funeral Home assisted the family with arrangements. www.Beecherfuneralhome.com Contributions in Mrs. Maley's memory may be made to the Cholangiocarcinoma Foundation, 5526 West 13400 South #510, Salt Lake City, Utah 84096 and/or Putnam Chorale, P.O. Box 982, Carmel, NY.
(Source: Beecher Funeral Home, Brewster, NY)

During Champaign High School days, Beth was known as Molliebeth. She enjoyed singing in A Cappella Choir and Vocalettes, along with drama activities in Wig 'n' Paint, performing in a number of play productions. In her senior year, she was in newly-organized Future Teachers of America as one of the charter members, serving as Historian. It is interesting that her music and teaching interests at CHS developed further in her adult life. The caption with her senior picture in the yearbook reads…."Always happy, always gay, laughing and talking the livelong day."
(Source: The 1953 Maroon, page 38)

Submitted by Phil Matteson
November 6, 2016


---
MAMIE, IKE AND EMILY





This year of the presidential elections, I want to go back in history and tell you about the 1952 presidential election.
Emily Stipes, class of 1954 is a reporter for our school newspaper, The Champaign Chronicle. She wrote the following articles:

CHS Chronicle Reporter Rides on "Ike's Special"
By Emily Stipes

Late Wednesday Night, October 1—

Hallelulia! Now it's all up to me! Before I go to bed, I must practice a few strangle holds on my pencil for the Big Day Tomorrow.

"Dwight D. Eisenhower" are magic words nowadays. When I heard that he was going to make a whistle stop speech at Champaign, my reporter nose caught the scent—a great story, How could I miss?

Having called a friend of mine who was a friend who has a friends, I learned that by somehow finagling a press pass from a local paper, I could ride from Champaign to Decatur on the Eisenhower Special. That is, if a high school student could pass for a hardened scribe.
Mr. Robert Sink, managing editor of the Courier, sister paper to the Decatur Herald-Review, procured the secret document for me and it looks as if I am all set. Officials said I must represent "a Decatur newspaper to get on at Champaign.

Little did I now that the fun had just begun! Inquiring into the problem of which car of the train I would board, I discovered from W. P. Weipert, night chief train sender-offer of the Illinois Central, that there were but a measly five press cars, one working press car, one reception car, plus dormitories, "miscellaneous travel cars." And others, besides the General's own—a total of 18.
It is the reception car I was advised by E. C. Slingman, chief day sender-offer of the same outfit as above, to invade with my special pass, plus other multiple passes I somehow acquired along the way.

Since the General's car is to be parked midway on Chester street, we had some figuring to do. —Let's see, each car is 85 feet long and the reception car is the third car back. That means that approximately 255 feet back should be the car which, if I am lucky enough to bluff the guard, will be my golden chariot for the next hour and a half. It will be 255 feet from the south side of Chester if I get on the south end of the "Calverton," less if the door is the one open to let on the Decatur and Macon county bigwigs.
Three of us dashed to the IC tracks and the tallest of us walked off the 255 feet Wednesday afternoon. We had some trouble negotiating the bank on the east side of the tracks, after first getting confused over Chester and Chestnut streets, both so close to each other.

The stage was set, the passes are in my pocket, and the questions are in my head. I'm ready to hear the clicking wheels of Ike's Special bring me music of a super-assignment given to me by my CHRONICLE editor-in-chief, Mary Ellen Cochrun.


CHS Reporter Rides Train, Talks To Mamie, Ike
By Emily Stipes

If people who heard Ike speak Thursday could only have shaken hands with him, they would realize what a deeply sincere and good man he is. His handshake can only be described as warm and strong – but there was far more to him than that.
Although shaking his hand was a wonderful experience and by far my top thrill, there were many other interesting persons on the train besides "Mamie and Ike," as all of the train staff fondly call the Eisenhowers.

How best can I tell my story? Perhaps just as it happened.
While as I was waiting for the train to come on the IC platform, whom should I spot, also waiting, but Norma Lee Browning of the Chicago Tribune. I noticed that her typewriter was bigger than her suitcase. We chatted for a few moments, and when it was time, boarded the train together. Miss Browning is an experienced reporter who knows all the ins and outs of the journalism business and had a reservation and a ticket to complete the long tour on Ike's train. The first guard we encountered didn't want to let her go on. (Miss Browning a seasoned scribe, is having trouble! How will it be for me?)
When the guard finally let her through, I—calmly. To all outward appearances, asked him where the press car was. He took only one look, and in I walked—to the RECEPTION car, the one all the VIP's were riding on. Thinking I'd have a better chance to see Ike and Mamie there than in the press car, I sat down and awaited my chance.

I saw some of the nationally known reporters sauntering back to their car and decided to follow for a look-see. The working press car was a made – over parlor car. Tables for typewriters had replaced plush easy chairs. But the rug was still there.
The reporters were all in fine spirit and busily typing their stories, hesitating only to drop the ashes off on the beautiful flowered rug. All the women reporters were complaining about how hard it was to keep their hose intact. They were planning to make a quick trip to some drug store in Springfield to replenish their supply.

While I was walking back to the reception car, the women in front of me pulled back curtains of a compartment marked "Men's Room" and peered in. I gasped and noticed that the name of some prominent political figure was posted by the door. On passing the lady's rest room, I noticed that it was being occupied by the TV men!

After inquiring around, I found that I wanted to interview Mamie. I must first see Mrs. Ann Wheaton, Mrs. Eisenhower's press secretary. After I found her and presented my problem, she went right to Mamie and secured an audience for me.
The inside of Ike's and Mamie's personal car is paneled in pine. It has a small kitchenette, two sitting spaces and a large sleeping compartment. Mamie was sitting at a table in one of these sitting spaces with Mrs. J. S. Dodd, her mother, and Mary Jane McCaffree, her personal secretary, arranging flowers.
She looked bright and not the least bit worn. She had on a navy blue dress trimmed in white and wore a bracelet made of gold four leaf clovers. With "Ike" on it.
May I make the personal observation that her pictures don't flatter her in the least? Actually, to me, she is a striking-looking woman as well as one having great charm.
Mrs., Eisenhower is an entertaining conversationalist and gesture with her hands while she talks. It is easy to observe that she loves children and young people. When we stopped in Tolono, she interrupted herself so she could wave to the people.

I didn't get to ask any questions I'd planned, but in my half-hour interview, I heard Mamie bemoan the fact that she wanted to see her own furniture and live with it for a while. She also claimed that she had made no plans for the White House, but just lived her life day by day.
The General's wife always seemed to be smiling and somehow the conversation always came back to the young people of today.

I returned to the reception room to interview some of the VIP's sitting in there. I talked to many of them. All were so cordial and nice. Among them were Mrs. Pat Loomis, official receptionist for the General, Mrs. H. M. Hollingsworth, Chairman of the Republican State Central committee, and Mrs. Alexander, vice chairman of the National Citizens for Ike.

Then as we were nearing Decatur, one of the men on the train told me that, if I wanted to see the General, I should follow some VIP's who were going back to see him, It wasn't too hard to slip in among them. The GREAT MOMENT HAD COME!
We walked into Ike's and Mamie's car and there in the same little space where I'd interviewed Mamie was the General himself.
He looked a bit worn, but his eyes were shining and full of little darts of light. When he shook my hand he exclaimed how nice it was to see some young people. I asked him if he would possibly answer one question. (You see, he has a kind of an understood agreement with the press not to answer any questions put by just ONE reporter, for he might reveal something big on which the others would be "scooped.")

But smilingly, he agreed to answer my question. Yes, he thinks that young people of today ARE more interested in politics and world affairs than they were in his day.
Why, when he was a boy in Kansas, the only things he knew much about did not extend past the borders of the state. I've always wondered what it was to be a journalist, a reporter traveling in a presidential candidate's train, or if I would like to be a reporter. I'm more certain now that I would.

After this experience, I find you get opportunities to meet the big people of our times, In this case I mean big, not only in the sense of popularity, nut big also in their hearts. I only wish that I were old enough to vote for Ike!

(Source: The Champaign Chronicle- October 3. 1952- with permission of EMILY (STIPES) WATTS )
Submitted by Harold Keller November 1, 2016


---
CONGRATULATIONS TO CHS 1956

The Champaign High School Class of 1956 arrived in Champaign for their 60th reunion this weekend.
This was the last high school class to graduate from the Green Street building location. They conducted a "moving day" in 1956, with each student helping move library books, materials and supplies to the Champaign Junior High School building on University Avenue, which then became Champaign High School starting with the class of 1957.

The CHS 1956 group gathered Friday evening, July 8, at the old Coca-Cola Bottling Plant building on South Neil Street, which has now been converted to the Papa Del's Pizza Factory. This casual evening was attended by about 90+ graduates and guests, with a private pizza buffet and bar.

On Saturday evening, July 9, the class of about 100+ went to the Champaign Country Club for an informal dinner, followed by a "pass the mic" program. A piano player provided background music during dinner. The reunion organizer indicated this would be their last class reunion.

Submitted by Phil Matteson July 10, 2016


---
A REMEMBRANCE ATTENDED

A quiet and friendly group of about 90 people gathered at noon on Saturday, July 2, at the American Legion Hall in Pesotum for an informal celebration of life for Tom Meeks, who was a US Army Veteran. Tom's family, including his first wife Karen Newhope, and second wife Lorita, who are good friends, greeted everyone with a request to sign the guest book. Interment was at 4:00 p.m. at St. Joseph's Cemetery in Pesotum, which is the same cemetery where his son is buried. It was Tom's desire to have his ashes near his son, Tommy, who took his life at age 18.
The Champaign High School Class of 1953 was represented to remember our classmate Tom. In attendance were Gene Fincham, Tom Hammersmith, Phil Matteson, Terry O'Neill, Bob Slade, Shirley Schweighart, and Ron Stahl, who attended Lincoln Grade School and CJHS with Tom before continuing school in Urbana.

Submitted by Phil Matteson
July 2, 2016


---
A REMEMBRANCE


Thomas W. Meeks, 80, of Camarillo, California, formerly of Champaign, died October 22, 2015, at Los Robles Hospital, Thousand Oaks, California. A celebration of life for the U.S. Army veteran will be at noon July 2 at the American Legion Hall in Pesotum. A light lunch will be provided. Interment will be at 4 p.m. July 2 at St. Joseph's Cemetery, Pesotum.
(Source: The News-Gazette, Sunday, June 26, 2016.)

Submitted by Phillip K. Matteson
June 26, 2016


---
A CLASSMATE REMEMBERED


Erma Jean (Knupp) Pemberton, age 80, of Howell, Michigan, passed away at her home Tuesday, July 7, 2015. She was born February 20, 1935 in Toledo, Illinois. After some time as a foster care child, Erma was adopted by Donald and Constance (Bidwell) Carter. She enrolled at the University of Illinois in the Fall of 1953, but later transferred to Southern Illinois University, graduating in 1957 with a Bachelor's Degree in Teaching. While in Carbondale, Illinois attending school, she met Ronald D. Pemberton and they were married on May 3, 1958. She and her husband relocated to Howell, Michigan and Erma began teaching Special Education in Detroit public schools, retiring in 1967. She was involved with the Great Lakes New Foundland Dog Club. She was preceded in death by her husband Ronald, who passed away on July 22, 2002 and her daughter, Jo, in 2014. She is survived by her daughters, Lisa, Beth, and Ann; four grandchildren and five great-grandchildren. Memorial contributions may be made to the Livingston County Meals on Wheels.
(Source: MacDonald's Funeral Home, Howell, Michigan)

In the early 1950s, Erma lived at 706 South Fourth Street, Champaign in a house owned by Clyde W. Titus. (Source: Champaign and Urbana City Directory 1950) At Champaign Junior High School during her ninth-grade school year 1949-1950, she was assigned to Homeroom 9-5 and participated in Girls' Glee Club, Junior Red Cross, Future Homemakers of America, and Sewing Club. The Fall Revue production in the CJHS gym on the evening of November 3, 1949 was a fun time for Erma, who performed in the Hop Scotch Polka Act along with her classmate friends Donna Carter, Ruth Bulkley, Sarita Alexander, and Carol Sue Stahl.
(Source: The 1950 Retro)

At Champaign High School, she participated on the Maroon Yearbook staff, Wig 'n' Paint drama, Girls' Athletic Association, Senior Class Stunt Show, and Future Teachers of America. The caption with her senior picture in the yearbook says...."A girl with a wealth of golden hair."
(Source: The 1953 Maroon)

According to her daughter Ann in a recent telephone conversation, Erma always referred to her years in Champaign at CJHS and CHS as enjoyable years. She was unable to attend class reunions due to distance and schedule, however her thoughts were with us.

Classmate Ruth Bulkley Warfield provided the news about Erma's passing.

Submitted by Phil Matteson
April 11, 2016


---
A CLASSMATE REMEMBERED


Sharon Ruth (Cruthers) Van Doren, 80, formerly of College Station, TX, and Anderson, SC, passed away peacefully of natural causes at the Mid Coast Hospital in Brunswick, ME, on December 25, 2015.
She is survived by her husband of 60 years, Dr. Carlton S. Van Doren of Anderson, SC; her daughter Abigail Van Doren and son-in-law Paul Womer of Brunswick, ME; her daughter Rebecca (Van Doren) Minear and son-in-law Scott Minear of Houston, TX; and her granddaughter Mallory Minear also of Houston. Sharon was born in Urbana, IL, attended the University of Illinois, and received her Bachelor of Arts degree from the University of South Dakota in Vermillion. Sharon taught at elementary schools in South Dakota and Michigan. Later, with her fondness for travel, she was a travel agent for A&M Travel in College Station. Throughout her life, she had a great love of small dogs who accompanied her everywhere. Accordingly, in lieu of flowers, the family requests donations be made to the American Society for the Prevention of Cruelty to Animals or to a local animal humane society or shelter of the donor's choice. There will be a private memorial service for Sharon at St. Paul's Episcopal Church in Brunswick at a date and time to be determined. Interment will be at Woodlawn Cemetery in Urbana. Condolences may be expressed to the family at www.FuneralAlternatives.net.
Arrangements are under the care of Funeral Alternatives, 8 Pleasant St. Brunswick, Maine,
(Source: Anderson Independent Mail - 12/29/2015)

Sharon was born on July 1, 1935 to Clarence W. and Lucille Cruthers. During the early 1950s she lived with her parents at 608 West Washington Street. Her father was a clerk at the Champaign Post Office.
(Source: Champaign and Urbana City Directory 1949)

At Champaign Junior High School, with the Class of 1950 during ninth grade, Sharon was in Homeroom 9-1. She appeared in the "Down at the Station" production act in the 1949 Fall Revue. Also, she was very busy as Editor-in-Chief of the 1950 Retro Yearbook and Secretary of the Student Council
(Source: The 1950 Retro)

At Champaign Senior High School, with the Class of 1953, Sharon was named Outstanding Student for the month of March 1953. She was chosen for her good citizenship and wide participation in school activities. Being very active in dramatics and music, she was also in Thespians, Wig 'n' Paint, and was a member of the Drama Board. She was likewise an active member of the A Capella Choir, Vocalettes, and Baton Club. Sharon represented her school both as Vice President of the Student Council and as a member of the student cast for the "Maroon and White Teen-Age Tune Time," a radio program on WDWS heard every other Saturday morning. She was also Secretary of the Student Council in her junior year.
(Source: The Champaign Chronicle, Friday, March 13, 1953)

The caption with her senior picture in the Maroon Yearbook reads...."Pretty hair, sunny smile, laughing and joking all the while."
(Source: The 1953 Maroon, page 24)

Sharon did not attend our class reunions in recent years because of the travel distance and health issues. However, she always remembered her CHS 1953 classmates by sending a personal note offering wishes for a successful reunion evening in Champaign.

On behalf of CHS 1953 classmates, I thank Sharon's daughter, Abigail Van Doren, for wanting to share the obituary information regarding her mother.

Submitted by Phil Matteson
December 30, 2015


---


CHS BASKETBALL ALUMNI NIGHT
Maroon Basketball celebrated Alumni Night during and after Friday's, December 4, home opener at Combes Gymnasium. First-year coach, Jeff Finke, wanted to get energy and excitement around the program by inviting former coaches, players, and managers to meet the current players. Alumni watched the game as a group in the bleachers behind the CHS bench, and attended a meet-and-greet gathering after the game. During half-time, Ted Beach (CHS 1947) and George Shapland (CHS 1949) were recognized as outstanding alumni. In this home opener, CHS was nervous at the start. During a five-minute stretch in the first quarter, the Maroons could not break the Normal West zone. Then, in the fourth quarter, they started to run their offense with good scoring. CHS won the game 56-46. I attended this Alumni Night to represent myself, along with other CHS 1953 players and managers, who were affiliated with CHS basketball. Unable to attend were: Captain Stan Butts, Ted Appel, Jack Dixon, Wally Heintzen, Larry Hopkins, Louie Mays, Bob Selvey, Bob Slade, and Ray Wise.

With the crowd and buzzer noise, I was back in thought to 1951, 1952 and 1953. My thoughts were with our deceased CHS classmates who participated in basketball. In memory were Tom Carleton, Ron Koch, Tom Meeks, and Ray Schalk.

Submitted by Phil Matteson
December 6, 2015


---
A CLASSMATE REMEMBERED


Janet L. Gray passed away last March 11, 2015 in Champaign. She worked for many years with, and retired from, the Illinois Department of Public Health in Champaign as an Office Associate.
(Source: Champaign High School Alumni Directory 2008, page 95.)

Janet never married and was preceded in death by her parents and twin brother, Louis (CHS 1953), who died February 5, 2004. She is survived by a niece, Nina L. West, who is the Independent Executor of the Estate. Janet was cremated after her death and funeral arrangements are still incomplete at Heath & Vaughn Funeral Home and Tribute Center, 201 North Elm Street, Champaign, IL 61820.

Janet attended Gregory Grade School where she started to attend a special sight-seeing class to help improve her sight. In 1950 she graduated from ninth grade at Champaign Junior High School. At Champaign Senior High School, she was interested in singing by being in the Concert Choir during her sophomore year, and in the A Capella Choir during her junior year. Her real interest was in Junior Red Cross during all three years at CHS.

In the yearbook, for some unknown reason, Janet had her name incorrectly shown as Mary, which was her mother's name. The caption with her senior picture reads...."She's quiet and good natured."
(Source: The 1953 Maroon, page 27)

Submitted by Phil Matteson
November 17, 2015


---
A CLASSMATE REMEMBERED


An email message has been received from Lorita Meeks stating Thomas "Tom" Wayne Meeks, 80, of Camarillo, California passed away 9:30 p.m. on Thursday, October 22, 2015. He was born on March 27, 1935 in Urbana, the son of W. Cecil Meeks and Ella May Meeks. His father was a Foreman at Swift Soy Bean Mill.
(Source: Champaign and Urbana City Directory 1949)

During the late 1940s, Tom lived with his parents at 9 East Springfield Avenue in Champaign and attended Lincoln Grade School, where he played sixth grade basketball. At Champaign Junior High School, during ninth grade in 1950, he was assigned to 9-2 homeroom and was a letter winner in football playing quarterback and in basketball playing guard.
(Source: The 1950 Retro)

At Champaign Senior High School Tom continued to prefer sports; however, he participated in Student Council during his sophomore year. During his senior year he was on the committee to plan Senior Skip Day and was voted King of the Vice-Versa Dance. In sports, he was on the football team, played basketball, being voted most valuable in 1953, and played baseball, being elected captain of the 1953 team. Tom earned membership in the "C" Club during both his junior and senior years by earning a letter and having active participation in sports. The caption with his senior picture in the yearbook reads...."When he fights, he fights to win."
(Source: The 1953 Maroon, page 33)

After graduation from CHS in 1953, Tom worked a short period of time at Goodell Engineering in Champaign, along with classmate Eddie Castor, until he joined the US Army and served for two years. After service, he briefly worked as Produce Manager at the Eisner Grocery Store in Champaign. Then, he was employed 37 years for the US Postal Service, becoming Postmaster in Sadorus, Illinois. He moved to California where he married Lorita in 1994. Tom worked eighteen years at Guardsmark doing security work in California, until he retired in 2014. Survivors include Lorita, first wife Karen Newhope, daughters Cheri Tingly of Iowa, Cyndi Heimerich of California, sons Scott Meeks of California and Eric Meeks of Colorado. Also surviving are one brother, Vachel Meeks (CHS 1950), and one sister, Pamela Fulfer, eleven grandchildren and one great-grandchild. He was preceded in death by his parents and a son, Tommy Meeks.

Tom attended our 50th class reunion in 2003 and said that he had a good time returning to Champaign for a visit, spending a lot of time with Ron Koch. However, Tom stated in 2013 that he lost interest in returning again after learning that Ron had passed away.

Submitted by Phil Matteson
October 27, 2015


---
My Pet Project by Harold Keller


No, my Pet Project is not the Chevy. It belonged to Al Trinkle (Class of 1952). We were in the Air Force Reserves in the early 1960's. But read on.

I was born and raised on a farm near Rankin Illinois, located about 40 miles north of Champaign. My parents moved to Champaign in 1946. In September, I entered the 6th grade at Lincoln school. Following Lincoln, I then attended CJHS and CHS.

In 1996 my brother contacted me to inform me that the Village of Rankin was planning to build a Veterans Memorial. It would include names of men and women who had lived in or near Rankin and served their country in war and peace.

For several years I searched the internet to see if anyone had ever made a web site for this monument. Recently, I decided to contact the Rankin Village board to see if a web site existed and ask permission to make one.

Well, my pet project is finished. You can visit it on the world wide web at:
www.rankinveteransmemorial.com

Names of more than 700 men and women from the Rankin area who served our nation in war and peace are embedded on this monument.

The names include veterans from the following wars: Civil War, Spanish American War, WW I, WW II, Korean War, Lebanon Conflict, Vietnam War, Operation Enduring Freedom and Operation Iraqi Freedom.

I hope you will take the time to visit the site.
Harold Keller
Webmaster www.chs1953.org
Submitted October 25, 2015


---
CLASSMATE FEATURED IN THE NEWSPAPER

Classmate Terry O'Neill and his wife, Julie, have T-shirts, hats, and magnets to prove that they are a pair of Houston Astros baseball fans in Champaign, which is definitely Cubs and Cardinals territory. They cheer the Astros because their son, Dan, works for the baseball team. A former Champaign and Illinois baseball star, Dan is Houston's manager of team operations, handling everything from travel arrangements to ticket distribution. Terry pays extra to his Cable company so that every Astors game is available on his 32" TV. And if the Astros keep winning? If they reach the World Series, Terry and Julie will be there. Until then, the long-time Illini fans will watch from their cozy house on West John Street, where they have lived together for 53 years, and where Terry grew up.
(Source: The News-Gazette, Saturday, October 10, 2015)

Prior to post-season Game 3 of the American League Division Series at Houston today, the series with the Kansas City Royals is tied 1-1.
Submitted by Phil Matteson
October 11, 2015


---
A CLASSMATE REMEMBERED


Sad news has been received from classmate Nancy (Klopfenstein) Davis that Mary Jane (Bruggeman) Stevens, 79, of Downers Grove, Illinois passed away on Tuesday, September 16, 2015. She was the daughter of Charles A. and Kathleen Bruggeman, and wife of Philip Stevens. Mary Jane is survived by three children: Perry, Sandra and Jeffrey; five grandchildren; two great-grandchildren, and her sister, Freda A. (Bruggeman) Breland (CHS 1949). She was preceded in death by her parents and husband. Visitation will be 3 to 9:00 p.m. Sunday, September 20, at Hallowell & James Funeral Home, 301 75th Street, Downers Grove. Funeral service will be 10:30 a.m. Monday, September 21, at Faith United Methodist Church, 59th Street and Fairview Avenue, Downers Grove. Interment will be in Clarendon Hills Cemetery. In lieu of flowers, memorials may be given to Faith United Methodist Church or American Cancer Society. (Source: Chicago Tribune Media Group)

During the 1940s and 1950s, Mary Jane lived with her parents at 912 West Healey Street, which was a "Sears Roebuck House." Her father was Store Manager of the Sears Roebuck & Co. store in downtown Champaign. After attending South Side grade school, Mary Jane graduated from Champaign Junior High School in 1950. At CJHS during ninth grade, she was assigned to homeroom 9-2, appeared in the Fall Revue act entitled Casey Jones, and participated in Girls' Glee Club, Future Homemakers of America, and Drama Club. At Champaign High School, Mary Jane graduated with the class of 1953, where she was active in Wig 'n' Paint, GAA, A Capella Choir, and Vocalettes all three years. Besides theatre including National Thespians, sports including Maroonafins, and singing groups, she was very involved during her senior year serving as Class Treasurer, being a Class Memorial Committee member, and taking part in the Stunt Show, Musical Moods, and FTA. The caption with her senior picture in the yearbook reads...."Pep, personality, and perseverance personified." (Source: The 1953 Maroon, page 22) After CHS graduation, Mary Jane attended and enjoyed each class reunion with her husband and friends.

Submitted by Phil Matteson
September 20, 2015


---
A CLASSMATE REMEMBERED


A telephone call has been received from a local relative of classmate Roy Feldcamp, with information that Roy passed away August 5, 2015 in Springfield, Illinois. Details are somewhat incomplete without an obituary, however he recently had simple surgery for gallbladder removal and developed complications from the surgery. Roy married his wife, JoAnn, May 2, 1957 in Altamont, Illinois, where they resided for the past 56 years. In Altamont, Roy owned his own small engine repair business.

At CHS, Roy was in Future Farmers of America during each school year. From incomplete reunion records and recollections, Roy never returned to Champaign for a CHS 1953 class reunion. The caption with his senior picture in The 1953 Maroon reads...."A good lad, and cheerful."
(Source: The 1953 Maroon, page 26)

Submitted by Phil Matteson, August 9, 2015


---
A TEACHER REMEMBERED


Donnabelle Kirby, 105, departed this life on Thursday, May 21, 2015. She was born on July 10, 1909 in rural Douglas County. She married Francis "Frank" Kirby on June 25, 1945 at University Place Christian Church, Champaign. He departed this life on June 10, 1995. Mrs. Kirby is survived by a nephew, two nieces, and 18 great-nephews and great-nieces. She was preceded in death by her parents, two brothers, three sisters, six nieces and nephews, and one great-nephew. Mrs. Kirby received her Bachelor of Science and Masters degrees in Education, and completed course work toward a Ph.D. in Physical Education from the University of Illinois. While a student at the University of Illinois, she excelled in track and field, gymnastics, soccer, and field hockey. In the spring of 1928, at a Woman's Track and Field event with Big 10 schools participating, she set a new track record of 11.6 seconds in the 100-yard dash. In 2003, at the age of 94, she was awarded a Varsity "I" because of her participation in women's sports at the University of Illinois.

Her teaching career began at the Baldwin School in Sadorus Township. Her transportation to school was to ride her horse "Molly" from her parent's country home in Douglas County. One of the farmers near the school kept "Molly" until the school day was over, when she and "Molly" returned home. In the fall of 1929, she was hired for the Pesotum school system. In 1936, she joined the Decatur school system, followed in 1943 by a move to LaGrange at Lyons Township High School. In the fall of 1945, Mrs. Kirby began her long and highly successful career in the Champaign Unit 4 schools....first at Champaign Junior High School, and then in 1956 to Edison Junior High School, from which she retired as Senior Physical Education teacher and Chairman of the Department.

Memorial donations in remembrance may be made to the donor's choice. Visitation will be from 5 to 7:00 p.m. Thursday, May 28, at Morgan Memorial Home. Funeral services will be at 1:00 p.m. Friday, May 29, at the funeral home. Burial will follow in Mt. Hope Cemetery, Champaign.
(Source: The News-Gazette, Tuesday, May 26, 2015)

Submitted by Phil Matteson
May 27, 2015


---
ROGER EBERT STATUE
Last year there was a dedication of the new Roger Ebert statue located in front of Champaign's Historic Virginia Theatre. Even though Roger is no longer with us, the Ebertfest continues.


Photos courtesy of JoAnn (Joyce) Pairman, CHS 1958


---

THIS DAY IN CHS HISTORY
In 1915, an audience estimated at 800 was present for the formal dedication of the new Champaign High School building on West Green Street, held in the school auditorium. Architect, N.S. Spencer, turned over the building's keys to W. L. Gray, president of the school board. Spencer, in his address, said the building was in the shadow of the greatest University in the middle West and the high school soon would be the greatest in the middle West.
(Source: The News-Gazette, Wednesday, May 6, 2015)

Submitted by Phil Matteson
May 6, 2015


---
THIS WEEK IN CHS HISTORY

In 1915, elaborate preparations were being made for next week's Home Coming at Champaign High School, including the official opening of the new school on West Green Street by the Board of Education on May 5. A May festival would occur on May 6. An Alumni program would be May 7, and the eighth annual Alumni Dinner served in the new gymnasium of the new high school, was to be Saturday, May 8. A five-piece orchestra would furnish music during the dinner and for a dance at 9:00 p.m.
(Source: The News-Gazette, Wednesday, April 29, 2015)

Submitted by Phil Matteson
May 4,2015


---
A CLASSMATE REMEMBERED



Word has been received from classmate Shirley Price Taylor that her friend, Shirley Pheris Foster of Huffman, Texas, died after fighting cancer for about two years. Additional information was obtained in a telephone conversation with sister-in-law, Helen Merry Pheris (CHS 1952) that Shirley was born on August 8, 1935 to William and Helen Mack Pheris. She married Ben Foster in 1956, and during their early married years his work with Lockheed Aircraft had them moving to Michigan, California, and ending in Houston, Texas where he worked as a Field Technician for NASA. Shirley retired from Pepsi-Cola of Houston, Texas as an Administrative Assistant. She was preceded in death by her parents, seven brothers and sisters, husband Ben, and daughter Kimberly. She is survived by sons Bill and Kevin, and five grandchildren living in the Houston, Texas area.

Shirley attended kindergarten and grade school in Champaign prior to Champaign Junior High School and graduation from Champaign Senior High School. In ninth grade (1949-1950), she was in home room 9-9 and participated in the Fall Revue as a member of a girl's group performing tumbling feats.
(Source: The 1950 Retro, pages 46 and 62)

As a junior at CHS (1951-1952) she was a member of G.A.A. and the Commercial Club. In her senior year at CHS (1952-1953), she continued in Commercial Club and took part in Office Occupations. The caption with her senior picture in the 1953 Maroon Yearbook reads...."She doesn't say much, but her smiles say all."
(Source: The 1953 Maroon, page 35)

Submitted by Phil Matteson
December 7, 2014


---
NEWS FROM CHAMPAIGN ABOUT A NEW HIGH SCHOOL?

Champaign school board members were presented by two members with a proposal for what to do with the current high school building (formerly Champaign Junior High School) if and when the new Central High opens in September 2017. The proposal is to convert the building into a mixed-use public/private development called a "Live/Work Community." Under the proposal, all Administrative functions would move from the Mellon Administrative Center to the first and second floors. Another section of the building would be where small business ventures are identified and started. Part of one floor and the basement would be converted into leased office suites, artist's lofts, and an art gallery. The shops and kitchens would be for rental use, and Combes Gym and the theatre would be for community functions.
(Source: The News-Gazette, Tuesday, March 18, 2014.)

However, prior to March 18 a committee made up of teachers, principals, parents and students recommended moving Edison Middle School to the building. For Champaign voters, the choice on November 4 is simple: accept a hefty property tax hike or reject a proposal to fix the two public high schools. But one decision you won't have to make, if the Unit 4 Champaign Schools Superintendent has anything to say about it, is whether to pay for replacing 79-year old Central High, or renovating 51 year-old Centennial High. They are a package deal.
(Source: The News- Gazette, Friday, April 4, 2014.)

From the Unit 4 point of view, the where-to-build-a-new-Central is over. Its official end will come in May when Unit 4 becomes the sole owner of 80 acres of farmland in northern most Champaign. The plot will cost the district $3.2 million, or $40,000 an acre.
(Source: The News-Gazette, Friday, April 4, 2014.)

The Champaign Unit 4 school administration and board are relentless in their determination to create a new high school campus somewhere in north nowhere. Is there a Plan B if the deck of cards put up by the board should fail?
(Source: Guest commentary by Dannel McCollum, a former Champaign Mayor, The News-Gazette, Sunday, April 13, 2014.)

One thing Champaign school board members can agree on: it's time to replace the one building in the District that is older than Wrigley Field. It's Dr. Howard Elementary School.
(Source: The News-Gazette, Wednesday, April 16, 2014)

It was good to see that the Champaign-Urbana area was rated No. 5 in the nation in Smart Growth America's rating of compact metropolitan areas. The Champaign School District's decision to locate a new high school on the very edge of town will promote urban sprawl, raise transportation costs for the families of the students and staff, and isolate the new campus from the rest of the community. The plan should be scraped.
(Source: From Our Readers, The News-Gazette, Wednesday, April 23, 2014.)

In the "Comedy of Errors" that has characterized the Champaign School Board and Administration, the latest scene was to hire a firm to conduct a rather confusing poll as to where and under what circumstances the public wants the proposed new high school to be located. With the results in, the school Superintendent said she "fears" that the questions "weren't clear enough."
(Source: From Our Readers, The News-Gazette, Sunday, June 15, 2014.)

With more questions than answers about a proposed tax hike to pay for school construction, the Unit 4 Superintendent sometimes finds herself at a loss for words. "I wish I could say more. But so much is up in the air right now," she said.
(Source: The News-Gazette, Sunday, July 6, 2014.)

A new Champaign Central High School will have to wait, at least until next April, or possibly longer. By a 1,200-vote margin on November 4, voters turned down the plan to build a new $97.7 million Central High School on the northern edge of town and $51.3 million to renovate Centennial High School, the largest school construction proposal in county history.
(Source: The News-Gazette, Wednesday, November 5, 2014.)

Submitted by Phil Matteson
November 23, 2014


---
A CLASSMATE REMEMBERED


Barbara June Cook Williams, 79, transitioned peacefully on Sunday, September 28, 2014, at her Urbana home surrounded by her family and dedicated caregivers. Barbara was a resident of Urbana for the past 32 years. She was a graduate of Champaign High School in 1953. Then, she attended Tennessee State University followed by work for the School City of Gary, Indiana. She retired from Governors State University in 1987. Barbara was preceded in death by her father, Earnest T. Cook; mother, Nettie L. Cook; and brother, Gernon Head. She is survived by her husband, Willie J. Williams; two daughters; and two grandsons. Barbara was a devoted mother, wife, skilled homemaker, gifted interior designer with a knack for silk flower arrangements, and a master gardener of flowers and vegetables. Celebration of life memorial services will be held at 11:00 a.m. Saturday, October 11, at Stone Creek Church, 2502 South Race, Street, Urbana, IL 61801. In lieu of other expressions of sympathy, please make donations to the Alzheimer's Association.
(Source: The News-Gazette, Sunday, October 5, 2014)

During the 1950s, Barbara's father and his brother operated Cook Brothers cleaners with locations at 505 North Fourth Street and 21 Main Street in Champaign. Barbara lived with her parents at 412 East Church Street.
(Source: The Champaign-Urbana City Directory 1950)

At Champaign Junior High School in 1949-1950, Barbara was in 9-7 homeroom and sang with Girls Glee Club. (Source: The 1950 Retro, page 40) She continued singing in the Concert Choir at CHS during her sophomore and junior years, along with being on the Class Ring Committee. In her 1953 senior year, she participated in Wig 'n' Paint, the Stunt Show and served on the Class Memorial Committee. The caption with her senior picture in the yearbook reads, "A winning way, a pleasant smile, dresses so neat, and much in style."
(Source: The 1953 Maroon, page 24)

Submitted by Phil Matteson
October 8, 2014


---
A CLASSMATE REMEMBERED



Information has been received that Carolyn "Sue" Fletcher Batchelor, 79, of Palm Bay, Florida passed away Wednesday, July 16, 2014. A native of Champaign, IL, Sue moved to Florida in 1985. She was a member of the VFW Ladies Auxillary, Moose Lodge, and American Legion. She enjoyed Bingo with friends and doing crossword puzzles.

She is survived by her husband of 59 years, William "Bill" Batchelor; son, David L. Batchelor of Port St. Lucie; daughter, Judith Newhouse of Palm Bay; sister, Barbara Ann Truitt of Illinois; 6 grandchildren, and 15 great-grandchildren.
(Source: Fountainhead Funeral Home, July 24, 2014)


---
A CLASSMATE REMEMBERED


Belated information has been received that Donna Carter Reifschneider, 76, passed away January 15, 2012 in Scottsbluff, Nebraska. Burial took place at Bayard Cemetery in Scottsbluff. Donna was born October 9, 1935 in Ogden to James and Virginia Eubanks Carter. She attended grade school in Ogden and continued at Champaign Junior High School when her family moved to Champaign. She graduated from Champaign Senior High School in 1953. She worked for Supreme Bakers as a finance clerk. In 1954, she met Kenneth and was married September 8, 1954. They moved to Fairbanks, Alaska for two years. After Ken's discharge from the Air Force, they moved to a farm near Minatare, Nebraska, where they farmed for forty years until retiring to Scottsbluff in 1990. Donna was a long-time member of the Zion Evangelical Church where she taught Sunday school, sang in the church choir, and was a member of the Valley Voices. She loved to garden and raise flowers, being awarded the Golden Spade numerous times. She served on the Scottsbluff Extension Council, was a 4-H leader, member of Women's Guild, and a member of the Pleasant Hour Extension Club for 35 years. She loved to travel and go fishing with Ken. Their travels took them to Spain, Africa, Germany, Austria, Canada, Alaska, Hawaii, the Bahamas, and across the United States. Donna is survived by her husband of 57 years, Kenneth; son Jeffrey; daughter Paula; brother Jim (CHS 1961); four grandchildren, and numerous nieces and nephews. She was preceded in death by her parents, two sons, and two brothers.
(Source: Jolliffe Funeral Home, January 19, 2012)

During the early 1950s, Donna lived with her family at 507 South Randolph Street. Her father was treasurer of R&P Motors, Inc. Packard Motor Car Sales & Service located at 511-513 South Neil Street.
(Source: Champaign-Urbana City Directory 1950)

Upon moving to Champaign from Ogden, Donna attended CJHS ninth grade 1949-1950 in homeroom 9-4. She participated in the Spring Opera as part of a three-girl group, which included her, Barbara Alexander, and Mary Cochran. Then, she took part in the Fall Review "Hopscotch Polka" act with Carol Sue Stahl, Erma Knupp, Ruth Bulkley, and Sarita Alexander. Donna sang in the Girls Glee Club and the select group of Choralettes, along with joining the activity clubs of Future Homemakers of America and Girls' Sports.
(Source: The 1950 Retro)

At CHS 1950-1953, Donna joined the Girls' Ensemble and continued her music and music and singing interests in the band, A Capella choir and Vocalettes. The quote with her senior yearbook picture reads...."Always nice , always kind."
(Source: The 1953 Maroon, page 23)

Submitted by Phil Matteson
May 22, 2014


---
A CLASSMATE REMEMBERED


From an obituary for Alora Bowles (CHS 1947) in The News-Gazette last month, the article revealed that her brother and our classmate, Quinton Bowles, preceded her in death. Additional information about Quinton was obtained by telephone conversation with his other sister, Barneda Bowles Waddell (CHS 1941).
Quinton O. Bowles passed away on February 9, 2014 in Columbia, Maryland. He was born in 1935 in Champaign, being one of eight children born to Theotto and Luvata (Cabell) Bowles. He was survived by his wife Alfreda, who now resides in a nursing home, and four siblings; Barneda (CHS 1941), Theola (CHS 1943), Alora (CHS 1947), and Destin (CHS 1949). He was preceded in death by his parents, a son (Daryl), and three siblings; Wilburn, Yvonne, and Morris (CHS 1940).
After CHS graduation in the summer of 1953 and at the request of Don Hamacher, Quinton worked inside at the original Dog n Suds root beer stand at the NW corner of North Prospect Avenue and Bradley Avenue. He served up the only items on the menu, being a 20-cent Coney dog and a mug of root beer. Later, Quinton worked in the home office in charge of shipping root beer and related items of uniforms, paper goods, and root beer labels. Don Hamacher, co-founder of Dog n Suds, stated in his personal memoir published in 2012, that Quinton was a "super employee." Quinton and Alfreda were married in 1958. They both were bowling enthusiasts. Quinton retired as a percussionist with the United States Army Field Band stationed at Fort George G. Meade. He retired from the band after twenty-two years of touring around the world. In 1958, Quinton attended our CHS 1953 45th class reunion, which made Dog n Suds the theme. He was able to reunite with Don Hamacher and Jim Griggs.

During the early 1950s, Quinton lived with his family at 411 West Maple Street and attended Gregory Grade School. His father at this time was a janitor at Piggly Wiggly #1 grocery store located at 130 West Church Street.
(Source: Champaign-Urbana City Directory 1950)

During grade school, Quinton started his interest in playing drums while taking part in the Summer Band Program put on by the Champaign Park District. When he attended Champaign Junior High School from 1947 thru 1950, his interests continued to be in band, along with football. He played the snare drum in band conducted by Mr. Victor Self. In football, coached by Mr. Robert Taylor, Quinton was a letter winner at tackle position for the CJHS Comets.
(Source: The 1950 Retro)

At Champaign Senior High School, Quinton concentrated his participation in music by taking part in playing the majestic kettle symphonic drums in both the orchestra and band, sang in A Capella choir and Troubadors, which earned him membership in the Baton Club. In his sophomore year, he participated in football and joined the Art Club. His main interest in sports was tennis, which he played all three years, winning his "C" and membership in "C" Club. The quote with his senior yearbook picture states...."Humor is the harmony of the heart."
(Source: The 1953 Maroon, page 22)

Submitted by Phil Matteson
May 4, 2014


---
MAROONS MARCH MADNESS 2014

The CHS Maroons ended the 2012-2013 basketball season 5W - 20L and had not won a Class 3A Regional title in six years. CHS started the current season with new coach Wayne McClain, who previously coached high school championship teams at Peoria Manuel, followed by years as assistant coach under Lou Henson at the University of Illinois.

On Friday night, March 7, the Maroons (16W - 10L) knocked off cross-town rival Centennial (24W - 4L) 50-45 at a sold-out Combes Gym to capture the Class 3A Regional Championship. The Maroons became the best in town, beating both Centennial and Urbana, and now the best in the regional.
(Source: The News-Gazette, Saturday, March 8, 2014)

On Tuesday night, March 11, the Maroons (17W - 10L) beat the second ranked Class 3A team in Illinois, stunning the Springfield Lamphier Lions (25W - 2L) 78-73 in the Class 3A Sectional semi-final game in Mattoon. The Maroons withstood an attacking 1-3-1 zone defense the Lions displayed and made critical plays in the second half to prevail, while never trailing in the game.
(Source: The News-Gazette, Wednesday, March 12, 2014)

On Friday night, March 14, the CHS Maroons (18W - 10L) played top-ranked Lincoln Railsplitters (32W - 2L) in the championship game of the Class 3A Sectional Tournament in Mattoon in front of a sold-out crowd of 2,200. March Madness turned to March sadness, as CHS lost 47-30. The Maroons are not champions of the state, but are definitely champions of Champaign-Urbana for 2014.
(Source: The News-Gazette, Saturday, March 15, 2014)

C-C-CHS! Submitted by Phil Matteson
March 16, 2014


---
A NEW CHAMPAIGN HIGH SCHOOL?

After years of debate, the site selection for a new Central High School will take place Monday night, December 9. The much-anticipated announcement will not take place Monday night. The School District says it will negotiate a contract with the land's seller before revealing the site. The District Superintendent revealed some details:

....The School Board will wait until next fall's election, at the earliest, to ask voters for a property tax increase.
....The School Board will seek a site with at least 47.7 acres.
....The final site will be decided by how each board member ranks a lengthy list of criteria.
....Once the site is selected, the School Board will allow students, faculty and staff members to give their ideas for what the school needs, which will drive both the building's design and how much money to request from taxpayers.

(Source: The News-Gazette, Thursday, December 5, 2013)

Submitted by Phil Matteson
December 22, 2013


---
A TEACHER REMEMBERED



Harold "Alex" Alexander, 89, of Arden Hills, Minnesota, passed away on Tuesday, November 5, 2013 in Minnesota. He was born January 4, 1924 in LaHarpe, Illinois. He married Marjorie Roberts on June 13, 1948. He was Professor Emeritus at the University of Illinois (Interior Design 1966-1980) and the University of Minnesota. He is survived by a loving wife, Marjorie, of 65 years of marriage; and five children; Jeffrey, Cassie, Peter, Timothy, and Pat; eight grandchildren, and one great-grandchild. Alex was active in the Episcopal Church of St. John in Champaign, and St. Matthew of St. Paul, Minnesota. Alex loved art, design, reading, writing, flowers, and traveling all around the world. He always had interesting stories to tell. Memorial service will be held at St. Matthew Episcopal Church, 2136 Carter Avenue, St. Paul, Minnesota, on Saturday, November 30, 2013, at 2:00 p.m. Memorials may be made to the McNeely Conservatory at Como Park in St. Paul, Minnesota.
(Source: The News-Gazette, Sunday, November 24, 2013)

At Champaign Senior High School in 1950, the school paper reported new teachers on the staff. The article read....New faculty head of the art department is Mr. H. H. Alexander. After attending Western Illinois State College in Macomb, he completed his studies at the University of Illinois. He now resides in Urbana with his wife and son, Jeffrey, who was born on the 4th of July. Mr. Alexander was in the Air Force three years and has been a practice teacher here. Painting and drama are his chief hobbies.
(Source: The Champaign Chronicle, Vol. XXV No. 2, Friday, September 22, 1950)

In our junior year at CHS, Mr. Alexander was a teacher sponsor, who helped us with our Junior-Senior Prom responsibility. We turned the CJHS gym into a scene from Paris called "Ball Parisian." Outdoor cafes' lined both sides of the gym with the Eifel Tower rising at center court to the rafters. The 1952 Maroon stated that the junior class did an extraordinary job on the prom that will be remembered for a long time to come.
Thank you, Mr. Alexander.

Submitted by: Phillip Matteson
November 24, 2013


---
NEWS FROM CHAMPAIGN

.....The Champaign School Board will consider a total of 15 sites for a possible new Champaign Central High School before it starts to narrow that list. The goal is to choose a site for the new high school by the end of the year. More things the Board will have to decide: (1) when to ask taxpayers in an election for a property tax increase, and (2) whether that referendum would ask for money for a new Central High School, or for other renovation projects as well.
(Source: The News-Gazette, Saturday, November 9, 2013)

.....After on-and-off talks dating back almost a decade, Champaign Central High School is closer than ever to having a new mailing address. The school district is considering sites that are 30 acres and larger. That's considerably smaller than the 70 to 80 acres it went searching for in previous years, but a whole lot bigger than the five acres the high school occupies now.
(Source: The News-Gazette, Sunday, November 17, 2013)

.....The six site finalists for the new Champaign Central High School were announced late Monday night by the school board. All sites are located north of the city, over two miles from the current location.
(Source: The News-Gazette, Wednesday, November 20, 1013)

Submitted by: Phil Matteson
November 24, 2013


---
POST REUNION NOTES

"It was a real enjoyable evening. The roast beef hot dinner was very good. The displays of downtown Champaign pictures put the town back together during our time growing up." ... Ray Griffet, St. Joseph, Illinois

"I think it was the best reunion we have had over the past sixty years." ... Gene Fincham, Champaign, Illinois

"The committee worked extra details with the maroon and white M&Ms, putting a "M" on the maroon ones and a "W" on the white ones." ... Don Scott, Palatine, Illinois

"No complaints. Very good." ... Richard Haines, Mahomet, Illinois

"Let's get the local classmates here at the reunions. I traveled some distance to attend, and I would like to see and talk to some local classmates." ... Jan Royse, Laramie, Wyoming

"I gave each member of the reunion team an A+ grade." ... Wendell Hull, Durham, North Carolina

"I thoroughly enjoyed the reunion. It was relaxed, fun, and interesting. Lots of nice little touches." ... Wally Heintzen, Hinsdale, Illinois

Our 60th reunion is behind us and part of our class history, along with our previous reunions. With the loyalty of our classmates, we look forward to 2018. Be positive and stay healthy.

CHS 1953 Reunion Committee
July 31, 2013


---
HAPPY BIRTHDAY TO DONNABELLE KIRBY

Mrs. Donnabelle Kirby, B.S., M.S., taught girls' physical education, health, Social Dancing, and Tumbling at CJHS during our 7th, 8th, and 9th grade years in 1948, 1949, 1950. She taught at CJHS from 1945 to 1974. Mrs. Kirby was recognized as a pioneer in girls' athletics, and as being a promoter and administrator responsible for the implementation and development of girls' athletic programs at CJHS. She graduated from the University of Illinois in 1935, and at the age of 94 was the oldest recipient to receive a Varsity "I" letter from the University of Illinois at a Recognition Brunch held in the Assembly Hall on Sunday, November 23, 2003. At this same event, our classmate, Ola Bundy, a 1958 graduate of Illinois was also honored with a Varsity "I" letter. Mrs. Kirby will celebrate her 104th birthday on July 10, 2013. If you would like to wish her a Happy Birthday, send a card to Donnabelle Kirby, Prairie Winds of Urbana, Apt. 210, 1905 Prairie Winds Drive, Urbana, IL 61802.

Submitted by Phil Matteson
July 4, 2013


---
A CLASSMATE REMEMBERED



Martha E. Sloan Liebman, 77, passed away on April 27, 2013, at her home in Redlands, California. She was born on August 11, 1935 in Champaign to Robert D. and Florence C. Sloan. After graduation from Champaign Senior High School in 1953 she attended the University of Illinois before transferring to Southern Illinois University, where she graduated in 1960 with a teaching degree. Martha started her career as an elementary teacher in Los Angeles, where she taught for five years. She married Arthur Liebman in 1966 and continued her teaching career in Redlands, retiring in 1999. Martha loved her Koinonia Bible Study group, where she formed close and living friendships. She enjoyed monthly lunches with retired teachers. Her brightest star was her only grandson. Martha is survived by her husband of nearly 47 years, Arthur; daughter Lori Liebman Bruch; son Brent Liebman; grandson Jacob Bruch; and sister-in-law Mildred Sloan of Phoenix, AZ. A Celebration of Life service was held May 8, 2013. You may honor Martha by contributing to a fund for needy families at the school where she taught. Make check payable to Franklin School, 850 East Colton Avenue, Redlands, CA 92374. On the memo line, indicate in memory of Martha Liebman.
(Source: Telephone conversation with Arthur Liebman and newspaper obituary provided by Classmate Virginia "Ginny" (Hanson) Rose.)

During the early 1950s, Martha lived with her parents at 204 West Ells Avenue. Her father was a pipefitter for ICRR and her mother was a bookkeeper at Busey First National Bank. (Source: Champaign and Urbana City Directory 1950.) In ninth grade, 1949-1950 school year at Champaign Junior High School, Martha was in 9-6 homeroom. She participated in the Girls Glee Club, Future Homemakers of America, and Social Dancing. (Source: CJHS 1950 Retro) At CHS during her sophomore year, she worked on the Chronicle school newspaper staff and participated in G.A.A. (Girls Athletic Association). In her junior year, she continued with the Chronicle and G.A.A., plus served on the Junior-Senior Prom Committee. Then, in her senior year was involved again with G.A.A., along with F.D.A. (Future Distributors of America) as Chapter Reporter. The comment with her CHS 1953 Maroon senior class picture reads...."Friendship is not a plant of easy growth."
(Source: The 1953 Maroon)

Submitted by Phil Matteson
July 1, 2013



---
A CLASSMATE REMEMBERED



Last week on Thursday, I received a telephone call from Tom Meeks in California relaying the news that Ron Koch passed away after a short illness fighting cancer. Tom and Ron normally would share hotel room expenses when attending our reunions. Tom still plans to attend our 60th reunion, which will give him a chance to see his brother, Vachel, who is married to classmate Donna Keene.

Ronald R. "Ron" Koch, a resident of Montgomery, AL passed away May 22, 2013. He attended Purdue University on a football scholarship and later retired as president of Hudson-Thompson Co., a local Montgomery business. A Celebration of Life will be held at 1 pm on Saturday, June 1st at Southern Memorial. Mr. Koch is survived by his wife Nancy Koch; sons, Ron (Angela) Koch, John (Susan) Koch; daughter, Elizabeth Johnson; 6 grand children, 5 great-grandchildren; sisters, Debbie Reeland, Paula Yanney and many many friends.
(Source: Montgomery Adviser, Friday, May 31, 2013)

Ronnie attended Holy Cross Roman Catholic School, graduating from eighth grade in 1949. He continued to ninth grade at Champaign Junior High School with the class of 1950. At CJHS, he was in homeroom 9-5 and was a letter winner, playing End for the Comets football team, and Forward on the basketball squad. At CHS, he participated in football, basketball and track during all three years, earning him "C" Club membership in his junior and senior years. In his sophomore year he was class treasurer. At the annual Champaign Elks banquet after football season Ronnie was elected the Most Valuable Player for the 1952 season. He received the trophy and congratulations from Coach Fred Major at the Elks Club on November 11, 1952. In track, at the Urbana Relays, he placed third in the individual discus event. During these high school days, Ron dated Nancy J. Reed (CHS 1954), who later became his wife. Ron enjoyed returning to Champaign for our class reunions, and he was very involved with our 15th reunion in 1968 when he provided some very nice door prizes.

The caption with his senior class picture reads...."If there's nothing else to do at night, I study."
(Source: The 1953 Maroon, page 30)

Submitted by Phil Matteson
May 31, 2013


---
A CLASSMATE REMEMBERED



From our class reunion invitation mailing last month, we now learn that...
JACQUELINE JOBE DOBBS, of St. Peters, Missouri, died on Wednesday, February 6, 2013 at the age of 77. Loving wife of John "Ed" Dobbs; dear daughter of the late William J. Jobe and Violet Anglin; devoted mother of Debbie (Denis) Wilhelm, John (Susan) Dobbs, and Brett (Tamara) Dobbs; cherished grandmother of Tyson, Bess, Blake, Johnny, Christopher, Sean, Magan, Sherri, and Nicci; loving great-grandmother of Madison, Charlise, Anna, Noah, Braden, and Morgan. She is also survived by her two sisters and one brother. A private service will take place at a later date.
(Source: Internet Obituary Search)

Jackie was born August 9, 1935. During her Junior year at CHS, she particpated in Commercial Club and Rifle Club activities. Then, in her Senior year she continued in Commercial Club, along with Library and I.O.O.A. The caption with her 1953 senior picture in the yearbook reads..."May your heart be ever gay."
(Source: The 1953 Maroon, page 29)

Submitted by Phil Matteson
May 9, 2013


---
A CLASSMATE REMEMBERED



There is an old saying that bad news comes in threes. Well, this has happened to our class, in that Sonny Matteson passed away March 17, and Julia Clark Job on March 24, and now...
Edward Lee Castor, 78, of Danville, formerly of Champaign, died at 4:15 p.m. Thursday, March 28, 2013, at the Veterans Affairs Illiana Health Care System, Danville, Illinois. Graveside services will be at 11:00 a.m. Tuesday at Danville National Cemetery with military rites by American Legion Post 210. Chaplain Brian Manigold will officiate. Rortvedt Funeral Services of Tilton is in charge of arrangements.
(Source: The News-Gazette, Sunday, March 31, 2013)

Eddie was born January 23, 1935, the only child of W. Ralph and Elma Castor. His father was a helper at Hansen Inoculator Co., a bacteriological laboratory on North Lincoln Avenue in Urbana. During the late 1940s and early 1950s, Eddie lived with his parents at 505 South Edwin Street.
(Source: Champaign and Urbana City Directory 1950)
He attended Dr. Howard Grade School. At CJHS in 1950, in the ninth grade, he was in homeroom 9-9.
(Source: CJHS 1950 Retro)
The caption with his CHS 1953 Maroon senior class picture reads..."He's a good boy in school, but have you ever seen him any other place?"
(Source: The 1953 Maroon)

Following in the steps of his father, who served in WWII, Eddie enlisted in the U.S. Army after CHS graduation. In the Army, he was awarded the National Defense Service Medal and a Pistol Marksmanship pin. He was a Korean War veteran serving for two years. After his tour of duty, he encouraged both his sons to serve their country, which they did. Eddie was survived by his sons, Mark and Jeff.

Upon completion of his service duty, Eddie worked for Goodell Engineering, Inc., a civil engineering firm in Champaign. His working career as a land surveyor covered a 30-year period, which included survey work on Marco Island in Florida. In the late 1990s, he returned to Champaign-Urbana from Florida with a support system for his weakness. About 2007, his son, Mark, had to move Eddie from Rantoul for additional assistance to Bowman Estates in Danville until February 2013, when he was admitted to the VA hospital in Danville.

While living in Champaign during the 1960s, Eddie did attend an early class reunion, but we have not been in touch with him for over 45 years. Classmate Ray Griffet remembers a story about Eddie from the mid 1940s. Ray had a pair of roller skates, but most streets in Champaign were dirt. So, when Ray had a chance to be near the nice wide sidewalk on the UI quad, he would skate over from Mathews Avenue, where his sister worked at Bud's Cafe. On one particular day, he got acquainted with Eddie, who was also skating on the quad. After skating together for a while, Eddie said he could outrun Ray in a foot race. They did race and Ray says he won. However, I wonder what Eddie would say about that.

Attending a burial service in a National Cemetery was a new experience for me. It was a clear, sunny day for the service. The few people in attendance under the tent were protected from the chilling wind by the sides of the tent. After the ending words spoken by the Chaplain, the silence of the cemetery was broken for a moment by the rounds fired in a gun salute, followed by the calming sounds of taps, saying farewell to our classmate, Eddie Castor.

Submitted by Phil Matteson
April 3, 2013


---
A CLASSMATE REMEMBERED


Sad news continues to be our Class News to start 2013.
Julia Clark Job, 77, died Sunday, March 24, 2013 in Knoxville, Iowa. Julia was born July 28, 1935 in Champaign to Robert and Louise Clark. Julia graduated from Champaign High School and attended the University of Colorado, where she was a member of the Pi Beta Phi Sorority. In 1956, she was united in marriage to Ned K. Job. Julia enjoyed walking, flower gardening, golf, playing bridge, being outside with nature, and spending time with her family. She handled designer clothing for many years. Julia was a long-time member of the First Federated Study Club of Knoxville. Julia is survived by a son, Stuart, and a daughter, Susan; brother, Stuart Clark (CHS 1957); a daughter-in-law; seven grandchildren; and many nephews and nieces. She was preceded in death by her husband of 56 years, Ned; her parents; a son, Matthew; and a brother, Robert Clark, Jr. Memorial services will be at 11:00 a.m. Thursday, March 28, at Celebrate Community Church, Knoxville, Iowa. Prior to the memorial, a private family interment will be held in Graceland Cemetery in Knoxville. Memorial contributions may be made to First Federated Study Club Scholarship Fund.
(Source: The News-Gazette, Tuesday, March 26, 2013)

During the early 1950s, Julia lived with her parents at 916 West Clark Street and attended Dr. Howard Grade School. Her father was a wholesale beverage distributor, with offices on North Elm Street in Champaign. In the ninth grade at CJHS, she was in home room 9-5, sang in the girls Glee Club, and participated in Bureau of Decorations and Girl's Sports. (Source: The 1950 Retro) During all three years at CHS, Julia was a member of Wig 'n' Paint, GAA, Cheerleaders, and Maroonafins. In her 1952 Junior year, she also sang in both A Capella Choir and Concert Choir, along with serving on the Junior-Senior Prom Committee. In her 1953 Senior year, she was also on the Maroon staff, sang in A Capella Choir, served on Class Skip Day, and participated in the Stunt Show. Because she was a Varsity Cheerleader, the caption with her senior picture reads...."Come on, you kids, let's really yell."
(Source: The 1953 Maroon, page 23)

Julia attended our class reunions until her health was a factor. Her husband, Ned, was one of our classmate spouses who enjoyed coming to our reunions. In fact, he was getting ideas for his own class reunion while attending our 45th in 1998.

Submitted by Phil Matteson
March 26, 2013


---
A CLASSMATE REMEMBERED



Deak "Sonny" Laverl Matteson, 78, of Sebring, Florida, formerly of Champaign, passed away Sunday, March 17, 2013, at home. He was born March 13, 1935 in Champaign to Thorne Deak and Mary (Rosenberger) Matteson. He graduated from Champaign High School. He was on the wrestling team and came in second in the State tournament in 1953. After graduation he joined the U.S. Army and was in the 82nd Airborne Division. Deak is survived by two sisters, Beverly Grob and Carol Langer; and one brother, John Matteson, all of Urbana; and children, Gail, Deak Jr., Melinda, Sean, Victoria, Travis, Janet, Matthew, Joseph; and long-time friend, Debbie Burnsed. He was preceded in death by his parents. Cremation services were held in Sebring, Florida.
(Source: The News-Gazette, Friday, March 22, 2013)

According to his sister, during his four-year tour of duty in the U.S. Army, Sonny was stationed for a period of time in Okinawa. Sometime after completion of his service duty, he established DLMC, Inc. based in Florida. This construction work required traveling across the country for periods of time. He planned to attend our 50th class reunion in 2003 by sending in his reservation; however, he never showed because of a job completion deadline somewhere at a shopping mall in Texas.

In the early 1950s, Sonny lived with his parents at 109 Wesley Avenue in Savoy. At CJHS, he was in homeroom 9-5. His Activity Club preference in 9th grade was Social Dancing. (Source: CJHS 50-Retro) During his 1951 sophomore year at CHS, he participated in football, wrestling and F.F.A. (Future Farmers of America.) Then, in his 1952 junior year, he continued in F.F.A. and wrestling, becoming a member of "C" Club. In his senior year, he was President of the F.D.A. (Future Distributors of America) and wrestled, earning another year of membership in the "C" Club. Sonny was on a successful 1953 wrestling team that had a 9-5-1 season record. In the Big 12 tourney at Mattoon, where Sonny was defending champion, the team copped first place and Sonny was again an individual champion. In the Sectional at Urbana, the team again won the title with a second place by Sonny. In the State finals, Sonny was one of seven Maroon representatives going to the tourney, where the team placed fourth, helped again by an individual second place from Sonny in his 145 lb. weight class. During the regular season, Sonny wrestled 15 times, ending with a 12 won - 3 lost individual record. (Source: The 1953 Maroon, pages 106, 107, 108 and 109) According to his sister, Sonny was survived by six former wives. This bit of information puts added meaning to the caption associated with his CHS senior picture, which reads..."How could the girls get along without me?"
(Source: The 1953 Maroon, page 32.)

Submitted by Phil Matteson
March 22, 2013


---
A CLASSMATE REMEMBERED



Information has been received from Bob Alsop, Donna Keene Meeks, and former Illinois Power Company (now known as Ameren Illinois) employees, that Carl J. Conley was listed as deceased in the current Ameren magazine (formerly known as Illinois Power Highlights.)

Per telephone conversation with his daughter Joyce, who now resides in Oak Lawn, Carl died August 1, 2012 in Bradenton, Florida. He was born on July 23, 1935 to Edgar and Retta Conley. He married Marilyn VanDeventer (CHS 1955), who preceded him in death on December 21, 2011. After CHS graduation Carl served in the Army, and after his discharge he went to work for Illinois Power Company starting in the Gas Distribution department. He later switched to Line Distribution, being promoted to Superintendant and retiring in the late 1990s. In retirement, Carl moved his family to Bradenton. In recent years, he experienced serious heart problems. Carl is survived by daughter Joyce A. Klepac; son John A. Conley; sisters Eva Burton and Lilly Jones; one granddaughter, and two great-grandchildren.

In the early 1950s, Carl lived with his parents at 309 East Park Street. His father was a foreman at Meadow Gold Ice Cream.
(Source: Champaign and Urbana City Directory 1950)
In ninth grade, Carl was in home room 9-1.
(Source: CJHS 1950 Retro)
At CHS, Carl participated in football and baseball. The caption for his senior picture reads..."He who means no mischief does it all."
(Source: The 1953 Maroon, page 24)

Submitted by Phil Matteson
January 17, 2013


---
A CLASSMATE REMEMBERED



Kenneth Eugene Mullins, 78, of Champaign, passed away on Saturday, January 12, 2013, in Champaign. Ken was born February 28, 1934, and graduated from Champaign High School in 1953. He married Beverly (Phinney) Mullins (CHS 1954) in November 1955. He served in the U.S. Air Force from 1954 to 1958 with duty as Air Policy security at the Pentagon and at Chateauroux Air Base, France. Upon returning to Champaign after service in 1958, Ken stared working at The News-Gazette as a printer, retiring 40 years later in 1998. Ken and his wife started American Markers, a local stamp and engraving company, in 1967. He continued working at their shop on a full time basis until his recent illness. Ken was active in the local AMVETS Post 3, and served as the Illinois AMVETS state commander from 1974 to 1975. He was very involved supporting local veterans' activities. He is survived by his wife, Beverly of Champaign; son Michael of Sewickley, Pennsylvania; and daughter Michelle of Seguin, Texas. He was preceded in death by his parents, Kenneth and Drucilla Mullins, and his brother Robert Mullins.
(Source: The News-Gazette, Tuesday, January 15, 2013)

At the start of his days attending CHS in the early 1950's, Ken lived at 310 West Maple Street. The caption with his senior picture in the yearbook reads..."A good worker in whatever he does."
(Source: The 1953 Maroon, page 33)

Submitted by Phil Matteson
January 15, 2013


---
A TEACHER REMEMBERED



Donald R. Hamacher, musician, teacher and co-founder of Dog n Suds, passed away Friday morning in North Myrtle Beach, S.C., January 4, 2013, at 92 years of age. He is survived by his wife of 69 years, Margaret "Maggie" Hunter Hamacher; two daughters, Diane Oberlies, and Jeanine Kuhn-Coker; four granddaughters; and eight great-grandchildren. Don was born in Richmond, Missouri, where his family owned the Hamacher Mill. He had three older sisters who preceded him in death. Don funded his own college education at Missouri University by playing in the Eddie Gibbons dance band. He met Maggie in college, married and started their life together in Robinson. In 1951 they moved to Champaign where Don was a high school music teacher. Always the entrepreneur, Don and another music teacher, Jim Griggs, started a hot dog and root beer drive-in called Dog n Suds in the summer of 1953. In 1975, Don and Maggie moved to North Myrtle Beach, where he continued his love for music and business while obtaining his real estate broker's license. Don was former president, honorary lifetime member and board member of the Long Bay Symphony. He directed the choir at Lakeside Baptist church, started the Grand Strand Singers, was president of the Coastal Concert Association, organized and directed the All City Christmas Cantata, and was grand marshal of the North Myrtle Beach Christmas parade. He was an active member of Ocean Drive Presbyterian Church and sang in the choir. A memorial to celebrate his life will be held Saturday, January 26, at 2:30 p.m. at Ocean Drive Presbyterian Church.
(Source: The News-Gazette, Sunday, January 13, 2013)

In 1951, Mr. Hamacher was added to the CHS staff, filling the position as music instructor and assistant to Director, V.C. Shaul. Mr. Hamacher graduated from Richmond High School in Missouri during 1938. He completed undergraduate studies at Missouri University, graduate work at Indiana University, receiving his master's degree from UCLA. He was music supervisor for seven years at Robinson High School. In 1950, he served as director of the concert choir at MacMurray College in Jacksonville.
(Source: The Champaign Chronicle, Vol. XXVI, No. 1, Friday, September 14, 1951)

During his early years at CHS in 1952, 1953 and 1954, Mr. Hamacher worked with boys and girls vocal groups. He directed A Cappella Choir, Troubadors, Concert Choir, Octet, Madrigals, and Modernaires. He also organized, directed and produced "Musical Moods," a program of three moods....religious, classical, and popular.
(Source: The 1952 Maroon, pages 98 and 99; The 1953 Maroon, page 86)

In 2012, a Memoir by Don Hamacher, as told to Gail Ritrievi, entitled "A Journey through Life with Don Hamacher, Co-founder of Dog n Suds" was published.

Submitted by Phil Matteson
January 13, 2013


---
WENDELL HULL- OLYMPIAN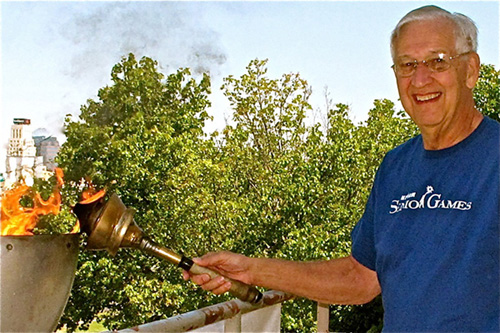 Wendell Hull was selected to carry the Olympic Style Torch to kick-off the Durham NC senior Games this year/2012. He got a gold medal in the Durham games and a silver in the NC State games in Raleigh. What a way to usher out the "old" and bring in the new-year.

Submitted by Harold Keller
12-31-2012


---
CLASSMATES MISSING!

CHS 1953 Classmates,
Our mailing last month revealed that we have lost touch with the following :

Ed Castor
Phyllis (Lichtenwalter) Keagel
Carolyn (McCord) Henke
Richard Townsley
Judith (Turner) Kurland
M. Rex Wood

Please respond if you have a current address for any of these classmates.
CHS 1953 Reunion Committee
chs1953@earthlink.net


---
A CLASSMATE REMEMBERED


From our recent mailing announcing our 60th reunion next year, returned sad news has been received from Betty Pettit that her husband, John M. Pettit, died in January 2010. After graduation from CHS in 1953, John graduated from the University of Illinois in 1957. He received his Master's and PhD degrees from Ohio State, where he met his wife Betty. His field of work involved helping students with speech disorders. His employment at the University of Maine was followed by years at Radford University in Radford, Virginia, from which he retired as Professor Emeritus. John is survived by his wife Betty, daughter Anne E. and son John J.

At the start of our junior year at Champaign High School, John transferred from Bloomington High School. He immediately became involved in many of the Music Department activities and the dramatic productions. During his junior year, John participated in Band, A Capella Choir, Troubadours, Boys' Octette, Madrigals, Wig 'n' Paint, Stunt Show, Junior-Senior Prom, and Hi-Y. During his senior year he was active in the same groups, along with Boys' Quartet, Orchestra, Modernaires, Music Contest, Baton Club, Contest Play and Fall Play. The caption with his senior picture in The 1953 Maroon Yearbook reads..."A man that loves and laughs must surely do well."

Submitted by Phil Matteson
December 28, 2012


---
A CLASSMATE REMEMBERED


Betty Lou Baker Shafer of Schertz, Texas passed away on Saturday, May 26, 2012 after a courageous eight-year battle with ovarian cancer. Betty was born November 6, 1935 in Urbana. She was preceded in death by her beloved husband, Jerry Shafer (CHS 1952) and her parents, Lou and Colletta Baker. Betty is survived by five children, five grandchildren, two great-grandchildren, her brother Jim Baker of Schertz, and her sister Mary Margaret Miebach of Philo, Illinois. After 36 years of government service, Betty retired from The Air Force Agency in 2002.
You are invited to sign the electronic guest book at www.schertzfuneralhome.com.
(Source: The News-Gazette, Wednesday, May 30, 2012)

During the 1950s, Betty Lou lived at 807 West William Street. She helped plan "Class Skip Day" - an event honoring the graduating class on Thursday, May 14, 1953 at Kickapoo Park. At the CHS 1953 Baccalaureate, Sunday, May 24, 1953, Betty Lou, along with eight other senior girls, sang "'Til We Meet Again."
(Source: The Champaign Chronicle, Friday, May 22, 1953)

While attending CHS, Betty Lou participated in Wig 'n' Paint, GAA, Basketball Cheerleader, Office Help, Junior-Senior Prom Committee, Senior Class Skip Day, and Senior Stunt Show. Her senior picture caption says...."Short as any dream."
(Source: 1953 Maroon)

Submitted by Phil Matteson
May 30, 2012


---
CONGRATULATIONS TO MYRNA AND "RED"

Myrna Primmer and Eugene "Red" Anglin of Mahomet celebrated their 60th Wedding Anniversary at the home of their daughter Peggy Cler in Savoy with close friends and family on April 21. The celebration was also hosted by daughters Karen Pasley and Jennifer Mueller. The couple eloped on April 15, 1952. They have three children, Karen Pasley of Mahomet, Peggy Cler of Savoy, and Jennifer Mueller of Champaign; five grandchildren; and one great grandchild. "Red" (CHS 1951) retired from the University of Illinois Steam Distribution Department in 1993. He worked for the U. of I. for 35 years. Myrna retired as a receptionist at Busey Bank in Champaign in 1999. Prior to working at Busey Bank, Myrna was employed as the office manager for Weberg Furniture in Champaign for 18 years.
(Source: The News-Gazette, Wednesday, April 25, 2012)

Submitted by Phil Matteson
April 26, 2012


---
A Teacher Remembered


Thomas C. "Tommy" Stewart, 86, of Champaign, passed away Sunday, March 25, 2012. Thomas was born October 9, 1925 to Thomas C. and Elizabeth Crawford Stewart in Gary, Indiana, and married Lulu Belle Nash in June 1950. He is survived by his wife, son Thomas C. (Cynthia D.) Stewart, Jr., daughter Susan Stewart, four grandchildren, and four great-grandchildren. He was preceded in death by his parents, four siblings, and a stillborn baby son. Tommy graduated in 1944 from Lew Wallace High School in Gary, where he lettered in football and baseball and spent summers life guarding on Lake Michigan. After graduation he enlisted in the U.S. Navy serving two years, mostly at Pearl Harbor. In 1946 he chose to play football at the University of Illinois, where he played in the 1947 Rose Bowl game. Upon graduating from Illinois in 1951, he took a teaching position at Bement High School and became the head football coach. In 1952, Tommy left Bement to be assistant football coach and PE teacher at Champaign High School. He took over as head football coach in 1953 and retired in 1983 from CHS. The family will hold a private funeral ceremony at Mt. Hope Mausoleum. A public memorial service is planned at Combes Gym in Champaign Central High School from 2:00 to 4:00 p.m. on Saturday, March 31. In lieu of other expressions of sympathy, the family asks that donations be made in Tommy's name to the Champaign County Humane Society, or to the Tommy Stewart Memorial Fund at Champaign Urbana Schools Foundation, PO Box 1166, Champaign, IL 61824-1166.
(Source: The News-Gazette, Wednesday, March 28, 2012)

When Hall of Fame football coach Tommy Stewart retired in 1983, he was the winningest active coach in the State of Illinois. He compiled a 31-year football record of 199-74-10 at CHS. His 1981 team won a still-standing school record of ten games. Tommy was a head coach in three sports....football, baseball, and swimming. Also, he was an accomplished official in basketball, working the state finals twice.
(Source: The News-Gazette, Monday, March 26, 2012)

Coach Tommy Stewart was truly one of a kind.

Submitted by: Phil Matteson
March 28, 2012


---
A CLASSMATE REMEMBERED



Olevia Anderson Robertson was born on October 11, 1935, in Friars Point, Mississippi to Albert and Rosie Anderson. Within the year the family relocated to Champaign. Olevia was the eldest of 18 children. She was an active member of Mount Olive Baptist Church. After graduation from CHS, she attended the American Baptist College in Nashville, Tennessee. She married James L. Robertson on August 18, 1955, becoming a military wife. During her life she traveled to, or lived in, all 50 states, Guam, Philippines, Bahamas, Mexico, and Canada. She and her husband, upon his retirement from the Air Force, returned to live in Rantoul. Her love of reading included a love of learning. Throughout her life she took several courses at local community colleges, including Parkland College in Champaign. Olevia served as a Girl Scout troop leader for more than ten years. She was employed as a secretary at Mount Hope Baptist Church for 25 years, retiring on October 3, 2004. She was preceded in death by her parents, one sister, and two brothers. She is survived by her husband, four daughters, three grandsons, a great grandson, and 14 brothers and sisters. A Celebration of Life will commence at 11:00 a.m. Thursday, March 1, at Mount Olive Baptist Church, 808 East Bradley Avenue, Champaign.
(Source: The News-Gazette, Tuesday, February 28, 2012)

During the 1950s, Olevia lived with her parents at 313 East Bradley Avenue. Her father was a mechanic doing auto repair work, and her mother was a homemaker.
(Source: Champaign-Urbana City Directory 1950)

During our days in high school, she is remembered as a polite and quiet girl. The caption under her senior picture reads..."Always nice, always kind."
(Source: The 1953 Maroon, page 20)

Submitted by Phil Matteson
February 29, 2012


---
A RANDOM PERSONAL MEMORY

During the winter of 1946, outdoors on the front yard grounds of Lottie Switzer grade school, a group of young boys were practicing basketball to represent the 6th grade team. There was no need to have tryouts, because only six boys were interested in basketball. The weather was chilly, but the sun was shining...the boys did not complain. The ball was bounced on the cinder-covered ground area and the shots were directed to a hoop (without a net) attached to an old telephone pole...the boys did not complain. The young boys were Joe Bland, Fred Hill, Phil Matteson, Jerry Waugh, Richard Williams and Robert Williams.

In the winter of 1947 during 7th grade, my interest in playing basketball continued at CJHS. At this age, a young boy follows a hero at a higher school level. My local heroes in basketball were the "Whiz Kids" at the University of Illinois. My scrapbook contained their newspaper pictures. For 65 years I have not forgotten my heroes, pausing to reflect as each one passed away beginning in 2000 with Jack Smiley, then Andy Phillip and Ken Menke. Today I attended the visitation, and tomorrow the funeral, for the last "Whiz Kid," Gene Vance, who has been my neighbor for the past 23 years. My basketball heroes have graduated, but they are still playing in my memory lineup.

Submitted by Phil Matteson
February 22, 2012


---
SIXTY YEARS AGO IN THE CHAMPAIGN CHRONICLE

* Saturday is the date of the annual donkey basketball game in the CJHS gym. The game is sponsored by the CHS Future Farmers of America. Price of admission is 50 cents for high school students, 75 cents for adults, and 25 cents for gradeschoolers. Among CHS boys who signed up are Quinton Bowles and Jack Dixon. Among girls who will play are "Perky" Paris and Virginia Percy.
* CHS's entry to the "Shorthand Penmanship Contest" will be in the form of a team with Mrs. Helen Krumsiek as sponsor. Some team members are Barbara Bailey, Betty Lou Baker, Shirley Hausmann, and Margaret Clabaugh. All entrants will write the same letter in shorthand.
* A New Year's Eve party was held at Tresa Petersen's house. Among those present were Ruth Woodworth, Joyce Denman, Shirley Price, and Carolyn McCord.
* A slumber party was given by "Perky" Paris at her sister's home after New Year's Eve dates. Among those seen there were Lois Smith, Louise Smith, Julia Clark, Jan Royse, Barbara Bailey, Shirley Hausmann, Nancy Shubert, Rita Warmbier, Esther Pittman, and Betty Lou Baker.
* Champaign wrestlers defeated Peoria Manual last Friday, 41-5. This was the Maroon's third victory in five starts. Dick Nesmith and Wendell Hull scored 6-2 wins over their opponents.
* Approximately 100 girls received awards at the GAA tea held December 19. Awards were the "I" - "C" and the numerals. Junior recipients of the "I" award were: Donna Davis, Mary Ellen Heinicke, Gay Parkhill, Tresa Petersen, Betty Stilwell, Ruth Woodworth, and Helen Worsham. Recipients earning the "C" award were: Sarita Alexander, Barbara Bailey, Mary Jane Bruggeman, Ruth Bulkley, Julia Clark, Mary Ellen Cochrane, Tresa Petersen, Carolyn Schloz, Nancy Shubert, Martha Sloan, Lois Smith, Louise Smith, Carol Stahl, Betty Stilwell, Jeanenne Taylor, Ruth Woodworth, Donna Davis, Carolee Kofoid, Sharon Lappin, Jackie Luce, Margaret McHenry, and Gay Parkhill. Juniors awarded their 53's were: Betty Lou Baker, Carolyn Fletcher, Kay Kesler, Doris McCown, Virginia Percy, Shirley Pheris, and Esther Pittman.
(Source: The Champaign Chronicle, Vol. XXVI, No. 14, Friday, January 11, 1952)

Submitted by: Phil Matteson
January 11, 2012


---
RANDOM NEWS FROM CHAMPAIGN

Looking back at 2011:

~~Cheddar's Restaurant, which had been on North Prospect Avenue for 16 years, was torn down in the Spring to make way for a new LongHorn Smokehouse Restaurant, now in operation.
~~A former popular Champaign BBQ spot, Po Boys, moved to Urbana.
~~Carle RX Express, which has been around for 27 years, sold its assets, including its stores, to Walgreen's.
~~The last area Jerry's IGA located in Round Barn Shopping Center closed.
~~City of Champaign has been interviewing candidates for its new police chief, as the current chief will retire early in 2012.
~~The owners of Bunny's have purchased the former Jolly Roger restaurant building in downtown Urbana, along with parking lots and three commercial lots. In all probability, the building will be torn down for some new undetermined development in the future.
~~Meatheads Burgers & Fries recently opened on the former Adair's Dairy Bar site, developed in 1949 on South Neil Street. This site has also been the location for Ponderosa Steakhouse in 1969, and Block Buster in 1984. The Meatheads chain prides itself on fresh Angus beef burgers, hand-dipped shakes (memories of Adair's), and french fries hand-cut from Idaho potatoes. Shake flavors include vanilla, chocolate, strawberry, mocha, Oreo, and coffee, with chocolate sprinkles (the soda jerk at Adair's used to make a special root beer shake).

Looking ahead to 2012:

~~The former Howard Johnson's Motel across from West Side Park in downtown Champaign is slated for a $15 million renovation to become a supportive living facility. The project is currently delayed by difficulties in obtaining financing.
~~Jet's Pizza, a fast-growing chain, plans to open a store on South Neil Street on the former Katsinas Cafe restaurant site. Jet's is probably best known for its deep-dish square pizza, and the Champaign location will be its first in downstate Illinois.
~~The Unit #4 Board of Education selected Judy Wiegand to become the School Superintendent in Champaign effective in 2012. She already has 25 years experience in the Unit #4 school system. During our days at CHS, the Superintendent was Dr. E. H. Mellon.

Submitted by Phil Matteson
January 2, 2012


---