Meet Milo Lebowitz!
Meet Milo Lebowitz, a handsome orange tabby cat, whose considerable charm and charisma are exceeded only by his tawny good looks. Milo is very much the "man of the house", a responsibility he takes very seriously indeed. When female companionship palls, he retreats to the privacy of his "Sanctum Sanctorum". He is a "Renaissance Cat", who is a prolific writer, photographer, and general bon-vivant tabby. This debonair cat has many strings to his bow, and is a proud member of the "Boyz Baseball Club", where he enjoys the company of his co-conspirators, Henry and Sluggo. Here are our favorite photos of Milo, truly "A Cat for All Seasons"!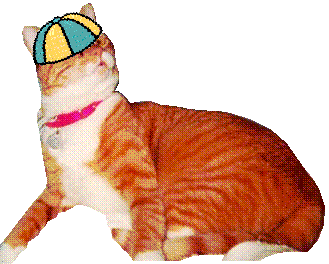 Milo sporting his jaunty baseball cap!

Here is Milo sporting his favorite baseball cap! He is a proud member of "The Revoltin' Boyz Baseball Club", where he enjoys the comradeship of his pal, Henry Von Tudor of the BFCC, Sluggo De Bug, and his buddy, Sammye, who just happens to be Queen Bitsy's personal lackey! Milo's friends live with bossy female cats, so they decided to form a special club where they can get together and do some serious male-bonding. As Milo succinctly puts it, "Sometimes a guy's got to do what a guy's got to do"! Don't let his macho stance fool you. This handsome charmer has a heart of mush, and is a sucker for a pretty feline, and is a devoted brother to his sister, Otie and his roommates, Alison and Ditzy. To know Milo is to love him, which is very much the case with the denizens of Chez Lebowitz!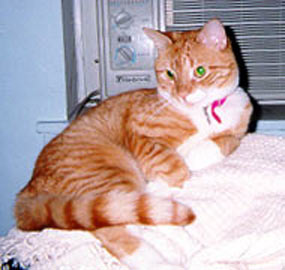 Milo is as sweet as he is handsome!

Everyone at Chez Lebowitz loves this picture, because it shows what a sweet guy Milo is! He is such a charming tabby! He is very devoted to his sister, Otie and watchers over her with brotherly concern. He is quite fond of his rather rotund roommate, Ditzy and enjoys sumo wrestling with her. They love to get each other is kitty hammerlocks and roll around on the floor. Milo and Alison are very fond of each other, and can often be found engaged in sweet mutual grooming, preferably in the sunniest spot at Chez Lebowitz. To know Milo is to love him and we do!
Milo is an avid bird-watcher!

One of Milo's favorite hobbies is bird-watching. All of the Lebowitz kitties are proud members of the Audubon Society - New Jersey Chapter, and most recently have joined the "Backyard Birding Guild" under the auspices of his erudite friends, "The Wicked Twins" - Dwnn and Taliesin! After a leisurely breakfast and his morning ablutions, Milo joins his feline friends, Ditzy, Alison and Otie at the windowsills at Chez Lebowitz and makes gacking noises at the elusive birdies beyond his grasp! We have been told that these are "stutterings of frustration", and when Milo is involved in such activities, we find him most endearing! I guess by now you have surmised that Milo is much-loved at Chez Lebowitz, and he is prized not only for his tawny good looks and savoir faire, but for his affable nature. He is very special, not only to his feline friends, but to yours truly, the "concierge" at Chez Lebowitz!