Meet Ditzy Lebowitz and Friends!
Meet Ditzy Lebowitz, a pleasingly plump calico kitty, whose considerable charm and charisma are exceeded only by her passion for Meow Mix! Thanks to the popularity of her websites, Ditzy has attracted quite a loyal following on the net. She has also met some very wonderful kitties in her travels in cyberspace, and would like to share with you her favorite photos. So without further ado, we present, "Ditzy Lebowitz and Friends"! Hope you enjoy the pics and please visit us again soon!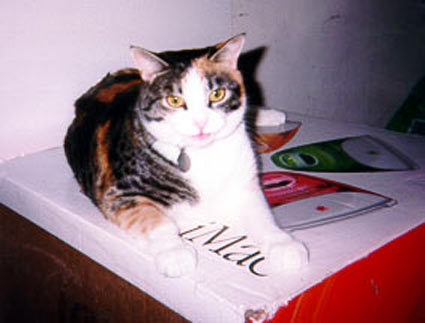 Meet Ditzy Lebowitz!
Here is Ditzy atop her very favorite place in the world - atop her beloved iMac box. Ditzy is a cyberkitty in every sense of the world. When Ditzy is not busy devouring endless bowls of Meow Mix, she can be found plugging away at her iMac, editing her websites and answering fan-mail. By the way, Ditzy has never met a sack of Meow Mix she didn't like!
Ditzy, Milo, Alison and Otie Birdwatching at Chez Lebowitz!
Ditzy, Milo, Alison and Otie are avid birdwatchers and they enjoy watching the birdies from the windowsills at Chez Lebowitz! They are all members of the Audobon Society - Feline Chapter, and recently joined "The Birdwatching Guild" at The Cat's Meow Club, under the leadership of their friends, "The Wicked Twins", Dwnn and Taliesin! Milo and Otie love making gacking noises at the elusive birdies just beyond their grasp. These unique "gacking" utterances are actually "stutterings of frustrations", or so we've been told!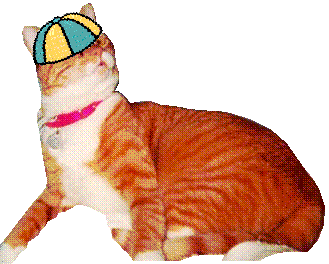 Milo sporting his favorite baseball cap!
Meet Milo Lebowitz, a handsome orange tabby cat whose considerable charm and charisma are exceeded only by his tawny good looks! Milo is very much the "man of the house", a responsibility he takes very seriously indeed! Milo is a proud member of the "Revoltin' Boyz Baseball Club" where he enjoys the companionship of his good pals, Henry Von Tudor, Sluggo De Bug, Sammual and Opie. When he is not on the baseball field, he can be found in the solitude afforded by his lair, which he refers to as his "sanctum sanctorum". If you are a kindred spirit, Milo just might invite you in for some fine catnip brandy and cigars from his private humidor at Dunhills of London. His hopitality is impeccable, and an invitation to Milo's den is most prized indeed!

Support freedom
American Red Cross
Salvation Army
NY Firefighter's Fund
United Way