The Twin Towers were heavily damaged in Hurricane Charley and Francis in 2004 and then Wilma in 2005
and were just re-opened to allow residents to move back in after 4 years Aug 8th 2008
Coming by Land ?

Four Freedom Park opens at 9:00 a.m.
FREE ADMISSION
Boats arrive in Bimini Basin
early so you land lubbers should get to Four Freedoms Park early too
and stake your claim to seats in the bleachers
to see them in all their splendid & imaginative lighting themes
And bring a camera -
You can submit your pictures to me too !!!
Four Freedoms Park is located Just South Of Cape Coral Parkway
on Bimini Basin ( see map here )
( 1 /2 mile west of Coronado OR 1/8 mile east of Palm Tree Blvd )
Behind the Twin Towers ( Sunset Towers )
Sun Trust, The Ice Cream Stand and Capital Bank

Looking west from Coronado and Cape Coral Parkway you will see
Cape Coral's own version of the
'Twin Towers' reaching for the skies
The park is adjacent to the Sunset Towers
and JUST south and east of them
~~~~~
Parking in the immediate area ( within 1500 feet of Four Freedoms park
is plentiful & even if you get there late
you should NOT have a problem finding parking within easy walking distance of the park


Click HERE for a larger picture of the Area
For disabled / handicapped drop offs
ASK traffic officers to allow you to do so
-There is a vacant lot
just west of the towers and east of Family Dollar
This year the owner of this lot gas told the city
he will charge a $10.00 fee to park in that his lot
a BIG Bah Hum Bug to him
Others
Try SE 47 Terrace just north of the Pkwy
there is a huge open lot @ Coronado ( east of the park )
and 47th Terrace - next to the Hampton Inn
and behind ( north ) of the CVS drug store -
all within 1/4 mile of the park
Thousands come to the park early and stay late to listen to the live music -
enjoy the food, the ambiance and wait with great anticipation to witness the start of the parade
as the boats pass out into the Canal system

~~~~~~~~~
Festivities officially start @ 4:30
with an address of the crowd by the Park Commissioner followed
by


Live Bands
and Performances by

local choirs and groups
to keep the blood flowing
If you are not fortunate enough to know someone who lives along a parade canal
THIS IS the place to be
To see all the boats queying up and
filing past the crowd gathered in the park
Wear a sweater - Bring lawn chairs and blankets
Again check to see if COOLERS will be allowed in the park area
The "coolers allowed" info was taken from a site
touted as the "Official Cape Coral Event Site"
of the City Of Cape Coral found
HERE
Don't blame me if the "coolers allowed" info is wrong
call City Hall @ 239-574-2128
and check with them
In previous years coolers were NOT allowed @ any public events
You have been warned !!!!!!!!!!
Again Call City Hall @ 239-574-0804 TO VERIFY THIS
~~~~~~~~~~~~~~~
There will be food & beverages stands ( Beer & Pop )
and MUSIC for the Capers congregated for the festivities from 4:40 to 7:00+ p.m. and A fireworks show
And For the Kids --


an appearance by the Special Snow Bird -- Santa Clause is scheduled for 6:25 p.m.
There will be displays, kiosks, booths and bins
set up to collect toys from the Toy For Tots ( Marines Of Cape Coral - new and packaged toys ONLY )
and canned food donations collection sites all around the park area
Again don't forget to call 239-574-0804
to check about the Coolers
~~~~~~~~~~~
A Big "Thanks a Whole Lot"
goes out to the Cape Coral Breeze & The News Press
For their in depth info :) + (!)
STOP @ the News-Press website
http://www.News-Press.com
HERE
and send THE EDITOR an email
telling them about this page ( http://ccbp.2ya.com )
and send them your photos of all events
~~~~~~~~~~~~~~~
Below you will find a link to a site which tells you how to watch
- The Space Station and satellites as they pass over your Home
************
The Pictures From previous Boat Parades
are linked further down on this page
as well as links to send your pictures of this years happenings
If you are planning to participate in the event
send me pictures of you decorating your boat
OR if you have photos of your house party along the parade route
use email links to me
to GET YOUR pictures posted on this top viewed
Cape Coral Activities Site
~~~~~~~~~~~
Maybe you would like to help a boater decorate his boat
OR hitch a ride on a boat for the Parade
~~~~~~~~~
See the link to the
Parade Naviagtion Rules"
for instructions on how to queue up ( line up )
Please do NOT play your boat radio loud while
you are in Bimini Basin or on the Parade route
Do NOT blow your horns
unless it is to signal a manuever
Edwina Hahn is one of the co founders of the Parade
Every year, Edwina always spoke to the boaters prior to the parade
on VHF Channel 68
Please tune to that channel, this year for a tribute to Edwina who passed away in 2008

Again, To signal the start the parade
-- and to memorialize the original boaters no longer with us due to age and passing
Two Fireworks will be set off from the lead boat
"Thor's Hammer" @ 7 pm.
Listen for BOOM - BOOM
This is also the signal for the boat to start lining up to join the parade
~~~~~~~~~~~~
~~~~~~~~~~~~~~~~~
~~~~~~~~~~~~~~~~~~~~~~~~~~~~~~
Thousands more line the canals at fancifully decorated houses along the route
- coordinating their christmas parties & the Parade - with backyard Barbeques and frivolity
- giving the boaters hoots and howls of encouragement and a light show to behold too !!!!
~~~~~~~~~~~~~~~
For the Boaters to donate items of food or toys: just hail a Sea Tow Boat
or the Marine Toys for Tots Boats
as they will be trolling the basin collecting
canned food and toys from the boaters
anchored in The Basin before the start of the parade
Boats can start gathering in the Bimini Basin anytime
IF YOU HAVE ANY QUESTIONS,
call the numbers listed above
*******************
As usual - the plans right now are:
the Dec 20 th 2013 Cape Coral Fla. Boat Light Parade will start at
7:00 p.m. with a short Fireworks display then with two loud "Booms" will signal the boat captians to start to quey up behind the lead boats
~~~~~~~~~~~~~
*******************
Jason Aldens Neat Page about Boating and More
~~~~~~~~~~~~~~
*******************
Go to this Link
for tips on how to take great Night photos of Xmas Lights
~~~~~~~~~~~~~~~~~~~~~~~~~
*******************
~~~~~~~~~~~~~~~~~~
IF you are NOT familiar with Cape Coral


HERE
is an interactive Road Map use the arrows ALONG the margin and the zoom feature to navigate around
Courtesy of MSN
~~~~~~~~~~~~
Cape Coral was the famous "Swampland in Florida" until 1957
when the Rosen brothers decided to change mangrove swamps into a Paradise
Cape Coral is an actual Cape --
so the correct way to refer to the area is "I live ON Cape Cape Coral"
- Or "I work ON Cape Coral"
-- just like Cape Codders do
NOT "I live IN Cape Coral"
~~~~~~~~~~~~
@ 115 sq miles ( approx 273 sq km )Cape Coral
is the second largest city geographically in the state of Florida
( Jacksonville is the largest ) and the Cape that is ONLY 1/10th the size
of the whole state of Rhode Island which is Land area: 1,045 sq mi. (2,706 sq km).
The Cape is the twelfth largest city in population ( 112,000 )
~~~~~~~~~~~~
A few lots which in 1957 sold on Cape Coral for $250.00 per 125 x 85 secion
( just the land ) still sell for up to $1,000,000.00 in prime locations on the river.
The average lot on the Cape was around $40,000.00 in 2003
That has been dropping drastically in the past few years
Cape Coral is an engineering Miracle as it has over 400 miles of man-made fresh and salt water canals
( MORE than Venice Italy or any city in the U.S. )
laid out in a grid which affords its residents direct access by boat to the River and Gulf of Mexico
- The city was laid out and dredged out by the two Rosen brothers ( Not personally )
It is estimated - over 40% of Cape Residents own boats
Cape Coral directly borders the Caloosahatchee River to its East and South
and Matlache' Pass - Pine Island - Pine Island Sound - Sanibel Island
- Captive and North Captiva
and then the Gulf Of Mexico 7 miles to its West & South and
Punta Gorda to its North
( Made Famous By Aug 2004's Hurricane Charley )
~~~~~~~~~~~~~~~~~~~~
*******************
~~~~~~~~~~
Now a Bit of Scolding -

While you are sitting in front of your computer
safe and secure, in a nice air conditioned house in Mid December,
I would like you to stop reflect on the troops
who are protecting us and our way of life
Think about what they go through each day
What it must be like to be in combat
risking your life on a daily basis
Then stop
HERE at My
Supports the Troops page

The item offerd was invented
out of a paralyzing spinal injury suffered by the inventor - Me
The story behind it and the picture with Mickey Mickey Mantle, MY brother and Myself
is linked on the page at the


Mickey Mantle Link seen HERE
Send one of these great items to any soldier
OR
use it yourself
it will benefit anyone who ever said "My Feet Are Killing Me"
it was
Packaged By Adult Handicapped
By Participating you provided jobs for them TOO
+ PLUS +
You can Donate to any cause you designate too


Just CLICK HERE for all the details
Please Show Our Troops Cape Coral Has Not Forgotten Them
No matter where you live OR what your opinion on the war
Those boys and girls
are protecting the freedoms we all enjoy
and they should be remembered and supported

Come on Capers
Pitch in and Support the Troops
by visiting the above site
~~~~~~~

Click HERE to
Remember Those Who Sacrificed
for Us OVER 48 years Ago
IN Vietnam
I lost many good friends
BUT WE ALL LOST OVER 58,200 Americans
~~~~~~~~~~~~~

CLICK
Here for a Video Of a Cape Coral House With
Hurricane Shelter/Fall Out / Bomb Shelter
~~~~~~~~~~~~~

above is A video with some mobile homes for sale in the AREA
*******************

Above IS A VIDEO OF the
0ver 365 Sunsets Consecutive Sunsets
I have taken On Cape Coral FL
Without Missing One Night
And visit this site for info on the Cape Coral Sunset Celebration

CLICK HERE
*******************

Visit Uptown Bingo For the best,
friendliest Bingo on the Cape
Click HERE In 2006 we had another 10 special guests
@ 7:00:27 p.m. to 7:04:39 - the 7 space shuttle Discovery ( STS 116 ) ASTRONAUTS
AS WELL AS 3 International Space Station Occupants
passed over the Cape Coral Area
while they were attached
If you have never seen a passover
It is thrilling to know that over 218 miles up in the sky,
there are people TRAVELING @ 17,212 mph, looking down at you


The path was from almost due west to due east
They were directly overhead @ around 7:02 p.m. you can go
HERE to get more info on the shuttle
and how to see your house from space as well
and complete instructions on how to view the shuttle and space station as they fly over your home
CLICK HERE
See My Video of Shuttle Launches seen from my backyard on Cape Coral
180 Miles away
~~~~~~~~~~~~~~
*******************
Here is the first
of the many
Videos Linked
from this page

In the above video you can See The Image of Jesus on a Fish Skull
The waters around Cape Coral
are one of the few places on earth this
fish may be caught
~~~~~~~~~~~~~~
Above Pic is Gilligan
My Blue and Gold Macaw as he opens Beer Cans & Smokes
See Our Bomb Shelter Too
HERE

~~~~~~~~~~~~~~~~00~~~~~~~~~~~~~~~~~~~
~~~~~~~~~~~~~~~~
Watch this video to see a Bull Shark swimming
just feet off the Cape Coral Yacht Club Beach
*******************

Throw a line Here
for Tom Buckards 2006 Thors Hammer Pics
&
Captain Jim Vaigl's Irish Miss
The "dis - is - it" - Mike and Paula ? ( no last name )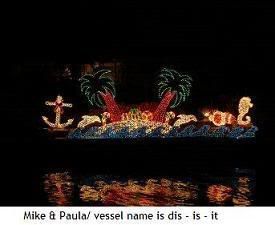 *******************
!
******
Another BIG event is the Cape Coral SeaHawks Club R/C Airplane Air Show
Here is a video of an Air Show event
See this video for the Cape Coral SEAHAWKS Annual Air Show
Held usually the second Week End in March
These are radio controlled airplanes
that are so realistic it is amazing
The web site for the Cape Coral Sea Hawks is
HERE
~~~~~~~~~~~~~~~~~~
The Above video is the Cape Coral Air Show with radio controlled planes and models R/C/ airplanes
March 15 2008 - Cape Coral Sea Hawks
*******************
This page is here to See great Videos of Cape Coral Attractions
including a home with an actual 1962 bomb shelter
Talking Birds
share your thoughts, ideas, tips on Cape Coral Life and post photos of The Boat Parade or any event
share and find things to do while visiting cape coral florida
Places to eat
and get more info about Cape Coral
Find out all about what's happening from Bingo to Concerts on Cape Coral
@ the designated links
Bookmark this page too !!
It will be updated throughout the year with other Cape Coral Events AND News

Check Out the Cape Coral Boat A Long & Light Parade Pics and Video AND
See amazing videos of Space Shuttle launches
as seen from Cape Coral
180 Miles from the launch site and More
~~~~~~~~~~~~
~~~~~~~~~~~
Now here is a video for a friend of mine who is 73 and very talented
He's trying to supplement his meager SS income by selling
His hand made creations ( furniture / sculptures / carvings
Everything in the vid was made by him
Please Buy Something from Him

*****

Click Here for the Details on a
Century Home For sale
~ Rural Setting
with a 2 bdr mobile home added/attached, a fireplace room, fishing pond and huge Barn / garage - in Pierpont OH.
Off Ohio Rt 7 & Marcy Road Near Pymatuming Lake Reservoir -
about equidistant from Pittsburgh, PA. - Erie, PA. Cleveland, OH. and Youngstown
Under $45,000.00 will take it
Ideal Hunting Lodge, Summer Home, Retirement or Year Round Abode
A Place for the grand kids to get away
Needs work but remember - IT IS over 100 years Old

The century house is in OHIO
**~~~~~~~~~&&~~~~~~~~~**
If you need your computer fixed
Or want to learn the tricks to keep your PC running at top efficiency



Alliance Computer Services is for you
You MUST EMAILS US AND Mention you saw the ad here
and were referred by this page TO GET YOUR discounts
YOU get 50% OFF YOUR FIRST service
and then the LOWEST PRICED Computer repairs YOU WILL find
we can do remote repairs anywhere in the World.
ALL work is 100% Guaranteed
PayPal and credit cards accepted
email James for more info and MORE discounts at


HERE
****
If you need reliable - Guaranteed major appliance repairs


Here is the Best in the area
Erich Zimmerman - Action Services
Mention Bill Liam and name is Mink get $25.00 off your first repair job
******
If you need your computer fixed
Or want to learn the tricks to keep your PC running at top efficiency



Alliance Computer Services is for you
Mention you saw the ad here and were referred by Tomski and Liam Mink
and get 10% OFF the already LOWEST Priced Computer repairs in town
and we can do remote repiars anywhere in the World.
*********

Many of my offers have an Honor System Military Discount
to ALL Veterans, Active Duty Soldiers their spouses
to show Support for Our Troops and Veterans
Send Any / Soldiers great gifts by stopping @


This Link
And consider what it has to offer
The Buy One Get One FREE WITH a FREE BONUS
item is my own Invention


The hands free devices seen there were
invented by me after I suffered a paralyzing spinal cord injury
and is ideal for anyone who has ever said "
My Feet are Killing Me"
OR
"I'm Stressed Out"
I know thats you
and every soldiers who ever put on a uniform
Thet were Packaged By Adult Handicapped
By Participating you provide jobs for them TOO

http://www.soldiers22.angelfire.com/soldiers.html
************~~************

My Pontoon Boat Safety Device
This site offers my invention - the pontoon Boat Safety Device
What is your families safety worth to you ?
*********
&&&&&&&&&&&
I also must add the site


Found HERE
It too has an 87% OFF Military and Veterans and Families Discount
BUT EVEDRYONE GETS SOME MONEY OFF
I dare you to try to prove this does not work
Before you say "Sure, when Pigs fly"
Visit the site ~ LISTEN TO THE INTERVIEW AND READ
You can get info on how to pay 1940 PRICES FOR YOUR GAS, GROCERIES AND Other purchases
Read what those who have the info say about it
Its amazing and 100% true

share it with family AND FRIENDS - It's like giving them $1250.00 each TOO
Get info on
How to get up to $1250.00
through a promotion a major bank is running
I have developed thE METHOD the info reveals too
and It works - Guaranteed
I have my $1250.00 already
Get Yours
~~~~~~~~~~
*********
~~~~~~~~~~~~~~~~
There is a Great Land Mark Restaurant
(CLICK HERE FOR Al Whalen's The Moorings - Face Book Page )
For discounts and specials
Great New England Style Sea Food
Click the map Below for directions

View Larger Map
and brand new restaurant
Sea Food Market and Bistro
The Lobster Lady
that EVERYONE is talking about
They have a Face Book Page where you can get ALL the info you need
See their photos and a menu
on their Face Book Page
If you leave a comment ---
tell them you saw it ON
( The Cape Coral Boat Parade Web site by Old man Liam )
It's located at 1715 Cape Coral Pkwy, Cape Coral, FL 33914 ∑ 1 239-471-0136


Click On Pic for larger map

CLICK HERE FOR The Lobster Lady"'s Face Book Page
and please like it
and don't forget to tell them where you saw it
Are you Looking for a Furnished Mobile Home
in The Cape Coral / Ft Myers area ?
To See the Video Tours

Stop HERE
http://www.angelfire.com/un/mhfl/mhfla.html
Join Our Prayer Group
http://cruci34.angelfire.com/prayer_for_the_missing.html
++++++
********