Daddy's Girl
Nick stepped out into the cool October air, he turned and reached out his hand and 5 little tiny fingers took his hand. They walked hand-in-hand up a small hill and stopped upon reaching the top.

Nick couldnt move, less then ten feet away there lay a silver casket,he felt like his whole world was inside that casket.

"C'mon daddy!" The little girl pulled Nick's hand. "I want to talk to mama before everyone comes!"

"Ok Lillie, I'm coming.." He said softly, choking on tears as they came to the head of the casket.

Lillie reached out her arms and Nick scooped her up gently. She laid a single peach rose on the casket and looked at the sky.

"Mama, its me, Lillie. Daddy is here to, everyone will be coming soon, they will miss you too, but not as much as Daddy and I will miss you mama!"

In the distance a line of solomn black limousines pulled into the cemetary. The procession stopped and everyone began to come up the hill.

During the service Nick sat silent, letting a few stray tears fall, but Lillie sat happily, staring at the sky.

After the service was over and the crowd began to leave, Nick stayed, staring at the now lowered casket.

"Daddy...are you comin'?" Lillie asked.

"I'll be right there darling, go down and talk to your uncle Brian now, ok? I just need a second."

The little girl turned and headed down the hill, her shiny yellow curls glistening in the sun. Half way down the hill she turned around and started back, she stopped just short of where Nick was standing.

"Dont worry daddy," she said. "I told mama even though I was always her little girl it would be ok, I could be daddy's girl now....I think she'd like that."

Nick didn't turn around, so Lillie turned and raced down the hill, calling out for her "Unkie Brian".

Nick threw another peach rose into the ground. "Don't worry Mel, I'll take of care of her, she is after all, daddy's little girl."

Nick turned and headed down the hill, whiping the tears from his eyes.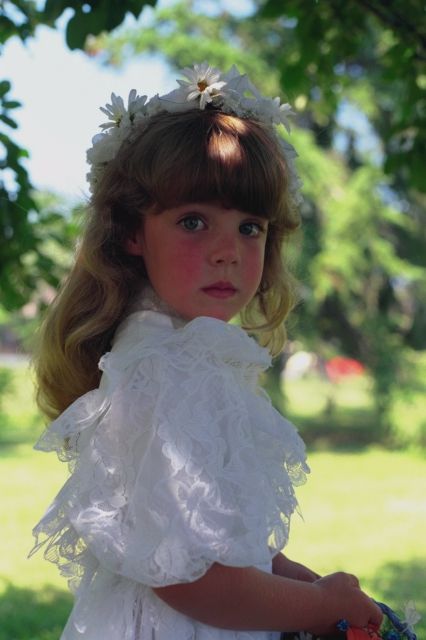 Dont forget to email your comments!
Email: roatchie@hotmail.com