Bookmark This Page! Link to our site! Click here to comment

Anxiety, alienation, torture, angst, conflict, doubt, agony, desolation, terror, hopelessness, nightmares, deceptively lucid prose, despair, futility, tragedy, hatred, oppression, grotesque imagination, mystery, stylistic perfection, torture, guilt, insecurity, and an essential inner truth.
When asked if there was some hope... Kafka responded:
"Plenty of hope--for God--no end of hope--only not for us."
Franz Kafka (1883-1924) perhaps the most influential of 20th-century writers. Birthplace Prague, Czech Republic
"I am separated from all things by a hollow space, and I do not even reach to its boundaries. ...Everything appears to me construed. I am cashing after constructions. I enter a room, and I find them in a corner, a white tangle. ...There is nothing but
a spiritual world. What we call the sensory world is the evil in the spiritual world,
and what we call evil is only a necessity of a moment in our eternal development."
"One morning, when Gregor Samsa woke from troubled dreams,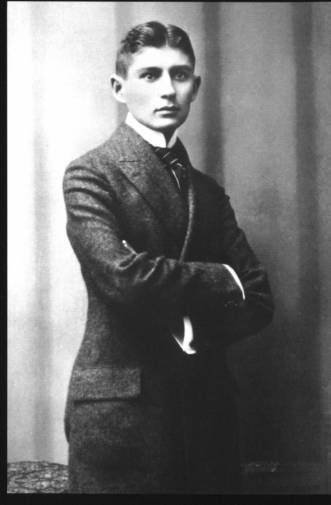 he found himself transformed in his bed
into a horrible vermin." Franz Kafka (1883-1924)

Kafka's THE METAMORPHOSIS
adapted by Peter Kuper
Illustrated novel of Kafka's classic.
www.randomhouse.com/crown/metamorphosis/
"Our art is a dazzled blindness before the truth: The light on the grotesque recoiling mask is true, but nothing else."
Franz Kafka: The Metamorphosis the text online...
http://www.learnnc.org/lessons/LauraRose5232002501 Lesson Plans The Metamorphosis by Franz Kafka
The Kafka Project by Mauro Nervi
"I write differently from the way I speak, I speak differently from the way I think, I think differently from the way I should think - and so it goes on into the darkest depths of infinity" (Letter to Ottla, July 10, 1914)
Archive of Quotes
Franz Kafka Biography All three of Kafka's sisters killed in Nazi concentration camps
The diaries of Franz Kafka, 1910-1923 "I follow two girls who keep looking back, anxiously and curiously, at my anxiety and curiosity, but also indecision..."
Franz Kafka
Online Literary Criticism Collection the Internet Public Library
Kafka Lesson Plans, Teaching Guides, Novel Units, and Study Guides ...
Kafka's Metamorphosis - Literature lesson plan (grades 9-12)
The Metamorphisis, in the Penal Colony, and Other Stories: With Two New Stories
by Franz Kafka
Collected Stories (93 Edition)
by Franz Kafka

Best Short Stories/Die SCH"Nsten Erz"Hlungen : a Dual-language Book (97 Edition)
by Franz / Appelbaum, Stanley (ed.) Kafka
Some useful links: Writing Resources
The books at the left are recommended resources for those who want to write effectively. They can supplement any secondary, college, or graduate-level writing project. If you would like to obtain either book, click at left. The Writers Harbrace Handbook is a basic guide and rulebook for writers. It has particularly useful resources on rhetoric. Adventures in writing is designed as a practical guide for the writing process. The book is designed for people who want to improve their writing, including students from non-English based learning environments.
For questions, contact Tim@WritingResource.org/
Click the notepad at the right for direct support or click below to visit our store and
Support our Public Benefit Nonprofit.